Opponents matter in fantasy football. Exactly how much they matter is fair to debate, but you know you'd rather an offensive player facing Team X than Team Y. You'd rather a defense facing Miami than Kansas City. We know this.
Each week in this space, I'll be taking a look at some of the key matchups to exploit in a given week, good or bad, at each position. And we'll start things off with my mismatch of the week.
Mismatch of the week
Evan Engram, TE, New York Giants (vs. Arizona): Literally the only concern about Engram for Week 7 is his health. If he plays, he's the week's TE1. He came into Week 6 as the position's leading scorer, and this week he gets the tight end Christmas in a matchup against a Cardinals team that has allowed far and away the most PPR points per game to the position and four of the seven best individual TE games all season.
Good situations
Jacoby Brissett, QB, Indianapolis Colts (vs. Houston): The Texans have allowed 20-plus fantasy points to four of the six quarterbacks they have faced, including a 36-point outing to Matt Ryan in Week 5. The two exceptions? Gardner Minshew in his first career start (and even then he got to 18.4) and Kyle Allen in his second start (and as much as Allen has been fine so far, he's not a high-upside player). Brissett is a relatively surprising top-12 in fantasy points per game and per dropback so far this year, coming off a bye, and getting his weapons back healthy.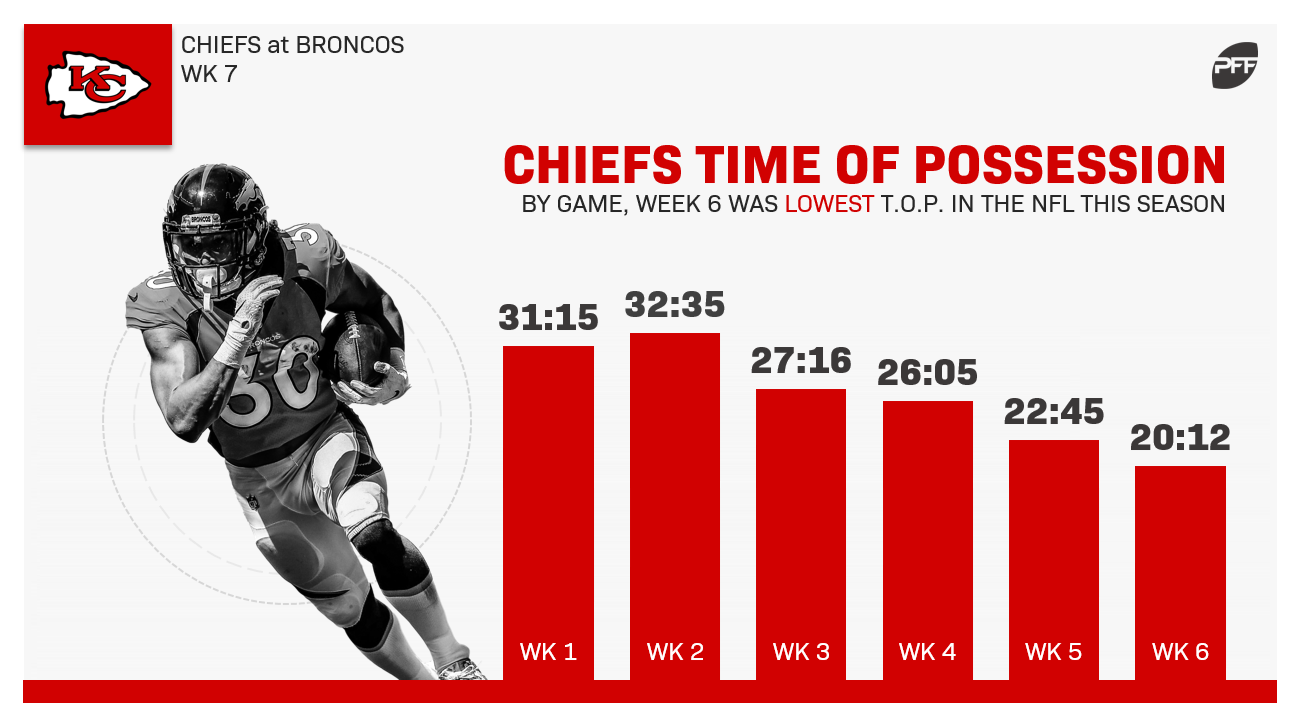 Phillip Lindsay, RB, Denver Broncos (vs. Kansas City): Two weeks ago at this time, the Chiefs were averaging 29:18 time of possession per game — below average, but the team typically scores so fast that they don't necessarily need the ball for as much time as others. The last two weeks, as the Chiefs lost both times at home, their time of possession has been 22:45 (vs. Indianapolis in Week 5) and 20:12 (vs. Houston in Week 6). The latter of those is the lowest time of possession any team has had all year. It's far too early to say the league has figured out the Chiefs to any great extent, but a big part of it needs to be keeping the ball out of Patrick Mahomes' hands and taking advantage of the Chiefs' poor run defense. That all sets up well for Lindsay to get a lot of productive work Thursday.
Larry Fitzgerald, WR, Arizona Cardinals (@ NY Giants): Fitzgerald's numbers have dipped a bit since his explosive start to the season. He had at least 14.0 PPR points in each of the season's first three weeks but hasn't reached 13.0 since. That said, he still has at least 9.0 points in every game, and his target numbers have stayed solid — he has at least 5 targets in every game, at least 7 in every game but one. Against a Giants team that has allowed the most plays of 15-plus yards (45) this season and with an excellent WR/CB matchup, Fitzgerald's surface numbers could get back to matching his usage this week.
Jordan Akins/Darren Fells, TE, Houston Texans (@ Indianapolis): Over the last four weeks, only 10 tight ends have multiple touchdowns. These two are two of them, including Fells being tied with Austin Hooper for a league-leading 3. Hooper is the No. 1 fantasy tight end in that time with 83.9 points (31.7 ahead of second place, somehow) — Akins and Fells have combined for 84.4 (both have at least 40 and both are top-11 in that time). Meanwhile, the Colts have allowed the third-most PPR points per game to tight ends, including double-digits to at least one tight end every game but Week 2, and 12-plus to two different Raiders tight ends in Week 4. The Texans guys get an excellent TE matchup this week.
Bad situations
Carson Wentz, QB, Philadelphia Eagles (@ Dallas): If the Cowboys defense plays like it did against Sam Darnold Sunday, then Wentz shouldn't have much to worry about — the defense looked really bad. But before that, the Cowboys were allowing only 13.9 points per game to opposing starting quarterbacks and hadn't let anyone reach 20 points. Working in Wentz' favor in Week 6 was a pass-friendly gamescript, with the Vikings jumping out to a lead early and forcing the Eagles to pass and try to keep up. But with Amari Cooper banged up and a question mark for Week 7, the Cowboys might not be able to light it up as much, keeping the Eagles from throwing as much this time around.
Aaron Jones, RB, Green Bay Packers (vs. Oakland): The only running back to top 12 PPR points against the Raiders this year was Dalvin Cook back in Week 3. No one else has reached even 60 rushing yards, and other than that game, David Montgomery's Week 5 touchdown is the only touchdown running backs have scored against the Raiders. Meanwhile, for all of Jones' upside, when he and Jamaal Williams are on the field, it's been a pretty even split this year — Jones has played 52.3% of snaps, compared to 49.2% for Williams. If Jones doesn't have the job to himself, he doesn't offer that much upside.
Terry McLaurin, WR, Washington (vs. San Francisco): The 49ers were fine against receivers before their bye, but not special. In two games since, they've been incredible, limiting Browns and Rams receivers to a combined 37.2 PPR points, with Jarvis Landry's 4-catch, 75-yard game the best individual performance. San Francisco has faced mostly good offenses this year and allowed only 12.8 points per game; Washington is not a good offense. McLaurin's been a revelation this year, but he's likely to struggle in Week 7.
Darren Waller, TE, Oakland Raiders (@ Green Bay): Zach Ertz is the only tight end to reach double-digit PPR points against the Packers. In that same game, Dallas Goedert managed the only TE touchdown the Packers have allowed. Outside of the Eagles game, the Eagles have allowed only 6.8 PPR points per game to the position — and, while they haven't faced a murderer's row, that includes Kyle Rudolph, Noah Fant, Jason Witten, and T.J. Hockenson. Meanwhile, for all Waller has done well this year — and it's been a lot — he still doesn't have an end-zone target, even in Week 5 with Tyrell Williams out, and only has three targets in the red zone. A tough defense to score on, and a tight end who hasn't been put in much position to score. Bad mix.