Opponents matter in fantasy football. Exactly how much they matter is fair to debate, but you know you'd rather an offensive player facing, say, Tampa Bay than Chicago. You'd rather a defense facing Miami than Kansas City. We know this.
Each week in this space, I'll be taking a look at some of the key matchups to exploit in a given week, good or bad, at each position. And we'll start things off with my mismatch of the week.
Mismatch of the week
Julio Jones, WR, Atlanta Falcons (vs. Philadelphia): Last year, Jones' season started excitingly, in that he had huge yardage in Week 1, but frustratingly, because he didn't score. This year, Jones' season started excitingly, in that he scored in Week 1, but frustratingly, because he had only 31 yards. He's like Jack Sprat and his wife all rolled into one. In Week 2, though, Jones draws an Eagles defense that (a) allowed the third most PPR points to receivers last year, (b) let the Washington offense, of all teams, amass 380 passing yards and three passing scores, and (c) since its Week 9 bye week last year, has allowed 60 explosive pass players (15-plus yards), second-most in the league. Back at home, Jones is set up for a huge Week 2.
Good situations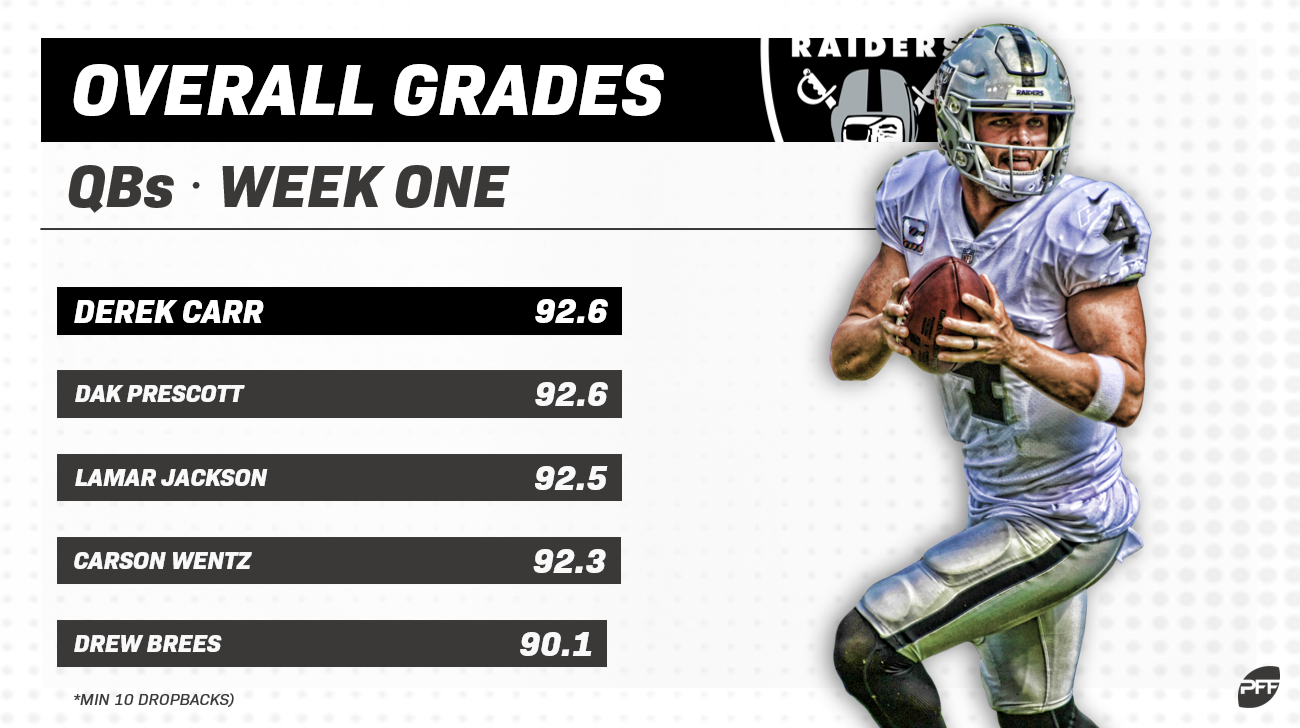 Derek Carr, QB, Oakland Raiders (vs. Kansas City): Listen, I'm sure Gardner Minshew is a wonderful human being, and it's certainly possible he was wildly underrated entering the draft. But a sixth-round rookie coming off the bench in Week 1 and putting up a 100% adjusted completion percentage on 25 pass attempts (22 completions, 2 drops, 1 batted pass) isn't supposed to happen. That's on the defense as much as it is on Minshew himself. The Chiefs promise great gamescripts for opposing quarterbacks and plenty of production when they do have to throw. Carr might not have the ceiling he would have had with Antonio Brown, but he was our second-highest-graded passer in Week 1 at 92.6, behind only Lamar Jackson.
Matt Breida, RB, San Francisco 49ers (@ Cincinnati): Part of the appeal of Chris Carson in Week 1 was the run-heavy nature of the Seattle offense, sure, but it was also the opportunity to face a Bengals team that might allow me to get 4.0 yards per carry if I was out there. Ultimately, Carson wasn't great — he only had 46 yards on the ground at 3.1 yards per carry — but he did total 26.1 PPR points thank to receiving production and a pair of scores. With Tevin Coleman out for Week 2, Breida will take over the No. 1 RB role, and while Raheem Mostert is going to get his share of carries as the No. 2, Breida should have every opportunity to run over the Bengals.
John Brown, WR, Buffalo Bills (@ NY Giants): For all the big individual games put up by Marquise Brown, John Ross, Sammy Watkins, and John Brown himself in Week 1, it was the Giants who allowed the most PPR points to opposing receivers, letting Amari Cooper, Michael Gallup, Randall Cobb, and the Cowboys to put up 64.1 points on them, including 100-plus yards to Gallup and Cooper and touchdowns to Cooper and Cobb (as well as two more touchdowns to tight ends). Brown is going to be hit and miss all year in the true DeSean Jackson mold, but for those hunting upside, he offers a lot of it.
Vance McDonald, TE, Pittsburgh Steelers (vs. Seattle): The Steelers went up against one of the league's best secondaries in Week 1 against the Patriots, so it's possible all will be right in Pittsburgh as soon as the opponent gets a little easier. But other than JuJu Smith-Schuster (whose 69.6 grade wasn't any great shakes), none of the Pittsburgh wide receivers reached even a 60.0 PFF receiving grade. Among all Week 1 receivers, James Washington ranked 86th in PFF receiving grade, Diontae Johnson 87th, Ryan Switzer 98th, Johnny Holton 101st, and Donte Moncrief a cool 121st out of 124 receivers who had at least one target. McDonald didn't exactly distinguish himself either, with a 45.0 receiving grade that was 54th out of 57 tight ends, but he's a known quantity in an offense that doesn't have a lot of them, and they're facing a Seahawks defense that just let C.J. Uzomah and Tyler Eifert combine for 9 catches for 93 yards.
Bad situations
Drew Brees, QB, New Orleans Saints (@ LA Rams): I had Cam Newton ranked as my No. 19 fantasy quarterback last week, easily the lowest I saw him ranked anywhere. Sure, part of that was his recovery from injury, but as I noted multiple places, it was also because the Rams defense is good, and with Aqib Talib active it's great. Turns out I was even too high on Newton, as the only starting quarterback he outscored for fantasy was the injured-early-in-the-game Nick Foles. You don't want quarterbacks facing the Rams. The fact that Brees is on the road, where he's historically struggled far more than at home, just adds to it.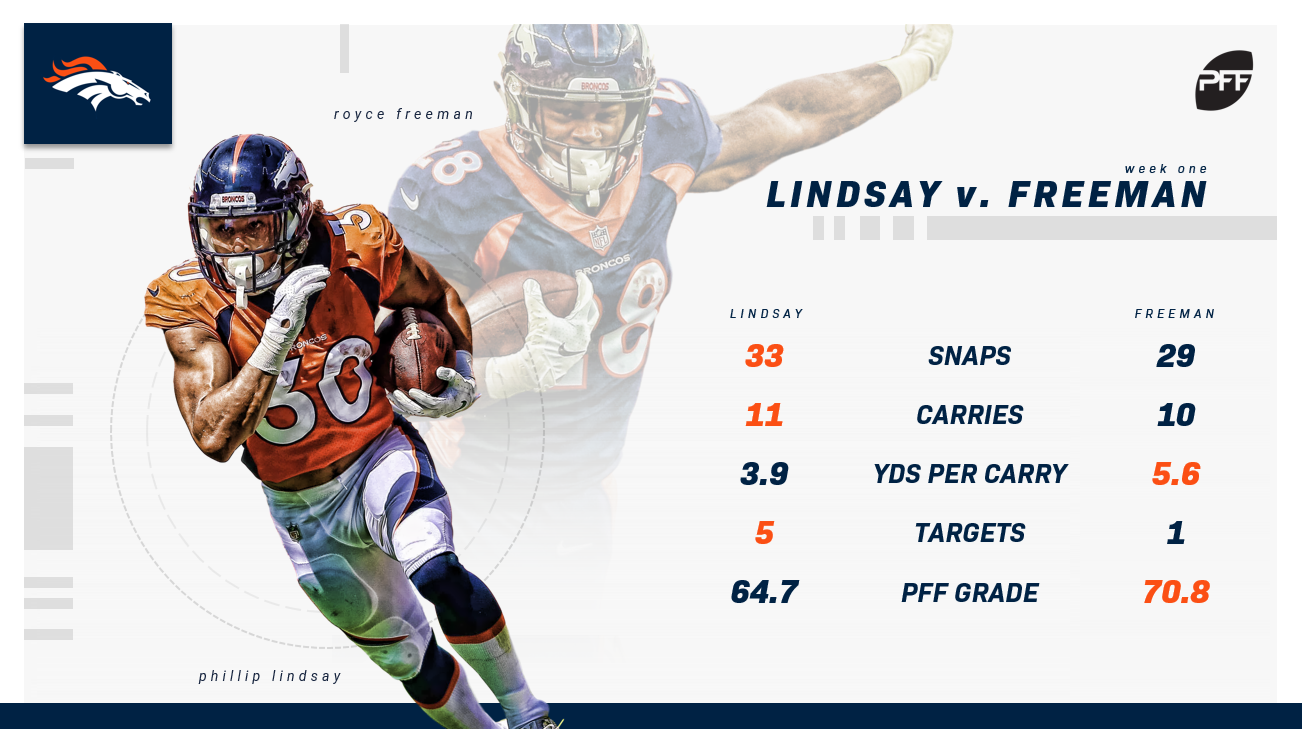 Phillip Lindsay, RB, Denver Broncos (vs. Chicago): We might have a full-blown committee in Denver. Lindsay drew 11 carries Monday against the Raiders while Royce Freeman had 10. Lindsay played 33 offensive snaps; Freeman played 29. Lindsay did have 5 targets to Freeman's 1, so he's got the large side of the committee by a little, but still, his usage in Week 1 did not portend a year like he had in 2018. And now facing a Bears defense that looked just as fearsome in Week 1 as it did in 2019? Be worried, Lindsay drafters.
Davante Adams, WR, Green Bay Packers (vs. Minnesota): In my head, I'm already dreaming up the trades I'm going to offer teams with Adams after this week, because there's a good chance the star receiver starts his season with two bad weeks. He was held to his worst game since 2017 against the Bears in Week 1 (and on Thursday night, guaranteeing it was widely noticed), and now is likely to face Xavier Rhodes in shadow coverage this week — Rhodes just held Julio Jones to one target and no catches in his coverage in Week 1 (Jones' production came on the 30% of routes he saw a different corner). Adams will be fine for the full season, but there might be some mild panic after Week 2.
Kyle Rudolph, TE, Minnesota Vikings (@ Green Bay): Two tight ends played on 100% of their teams' offensive snaps in Week 1. The first was Oakland's Darren Waller, who was targeted 8 times, caught 7, and had 70 yards, coming through on his sleeper potential. The second, believe it or not, was Rudolph, who saw … zero targets. Yes, the gamescript led to the Vikings shutting down the passing game almost completely in Week 1, but still, this is going to be a run-dominant offense, and the targets that are available will be centered on Adam Thielen and Stefon Diggs first and foremost. Rudolph is little more than a blocker now. In Week 2, he faces a Packers defense that allowed exactly one touchdown to opposing tight ends through the season's first 14 weeks last year.