The Fantasy Focus is a weekly column that breaks down everything you need to know to set your fantasy football lineups. Make your start and sit decisions with fantasy facts, injury information, matchups stats, predictions for the week and more.
Making start/sit decisions doesn't have to be a complicated process. Simply start the best players and there you have it. Okay, I know. Easier said than done. But there is a way to streamline your process: don't overthink it.
One of the greatest things about fantasy sports is this activity allows you to dive deep into the stats. But sometimes this abundance of information can cause us to overload and weight things more heavily than we should.
For example, I've seen this question a lot: "Should I start Wide Receiver X because my opponent his quarterback?" On the surface, the logic is easy to understand. But this line of thinking overlooks the prime objective of fantasy sports: to score the most points. So in this example you would start Receiver X if he's better than all of you other options, but he rides the pine if he isn't.
Obviously, none of us actually knows who is going to score the most points each week, but we can establish a range of potential outcomes. If a game is played 100 times, how many times will Player A outscore Player B. From there, you start the player who scores the most points more than 50% of the time.
Of course, there are many factors that will impact that range of outcomes. One that often gets the most attention is the player's matchup. But there's an argument to be made that we often focus too much on the matchup. Sure, the matchup will affect fantasy output, but it's something that should only move the player up or down just slightly in your rankings.
You've probably heard the phrase "start your studs" many times before, and this is wise advice. But a better piece of advice is to "start your best players."
Greenline: ATL -4, O/U 51.7
Fantasy facts: Jameis Winston and Matt Ryan are tied for the league lead in 300-yard passing games with seven apiece. Neither player has been the most consistent option this season, but it's tough to deny their upside. Ryan is an elite play this week and Winston should be started as a top-10 option.
Matchup upgrade: Julio Jones hasn't quite been the elite fantasy option we've seen in the past, but don't let that get you down. Jones is in a smash spot this week against the shaky Bucs secondary. There isn't a bad matchup to be had on the other side of the ball, but Jones should see plenty of Carlton Davis. The Bucs corner has allowed four receiving touchdowns in his coverage over his last three games. Calvin Ridley also gets an upgrade and should be considered a top-10 play this week.
It's been an up-and-down season for Matt Ryan, but the resurgent Falcons are riding a two-game win streak, and Ryan is in play as a DFS option this week. He gets a fantasy cheat code of a matchup against the struggling Bucs secondary. Over the last month, Tampa Bay has allowed a league high-3.5 passing touchdowns per game. Ryan should have no problem reaching value in this contest.
While the Falcons have looked better on the defensive side of the ball over the last two weeks, there's no reason to fade the Bucs passing game. Mike Evans and Chris Godwin remain WR1 plays.
Matchup downgrade: Our speculation in last week's piece on Brian Hill's efficiency (or lack thereof) was spot on, as the Falcons back was a fantasy bust despite seeing a healthy workload last week. Now that we know what to expect, it's tough to trust Hill as anything more than a flex option, especially given how the Bucs have performed against running backs. Tampa allows the second-fewest fantasy points per game to the position.
Key injuries: Along with Devonta Freeman, Austin Hooper remains sidelined. However, there's a chance he returns next week.
Greenline: BUF -2.4, O/U 37.4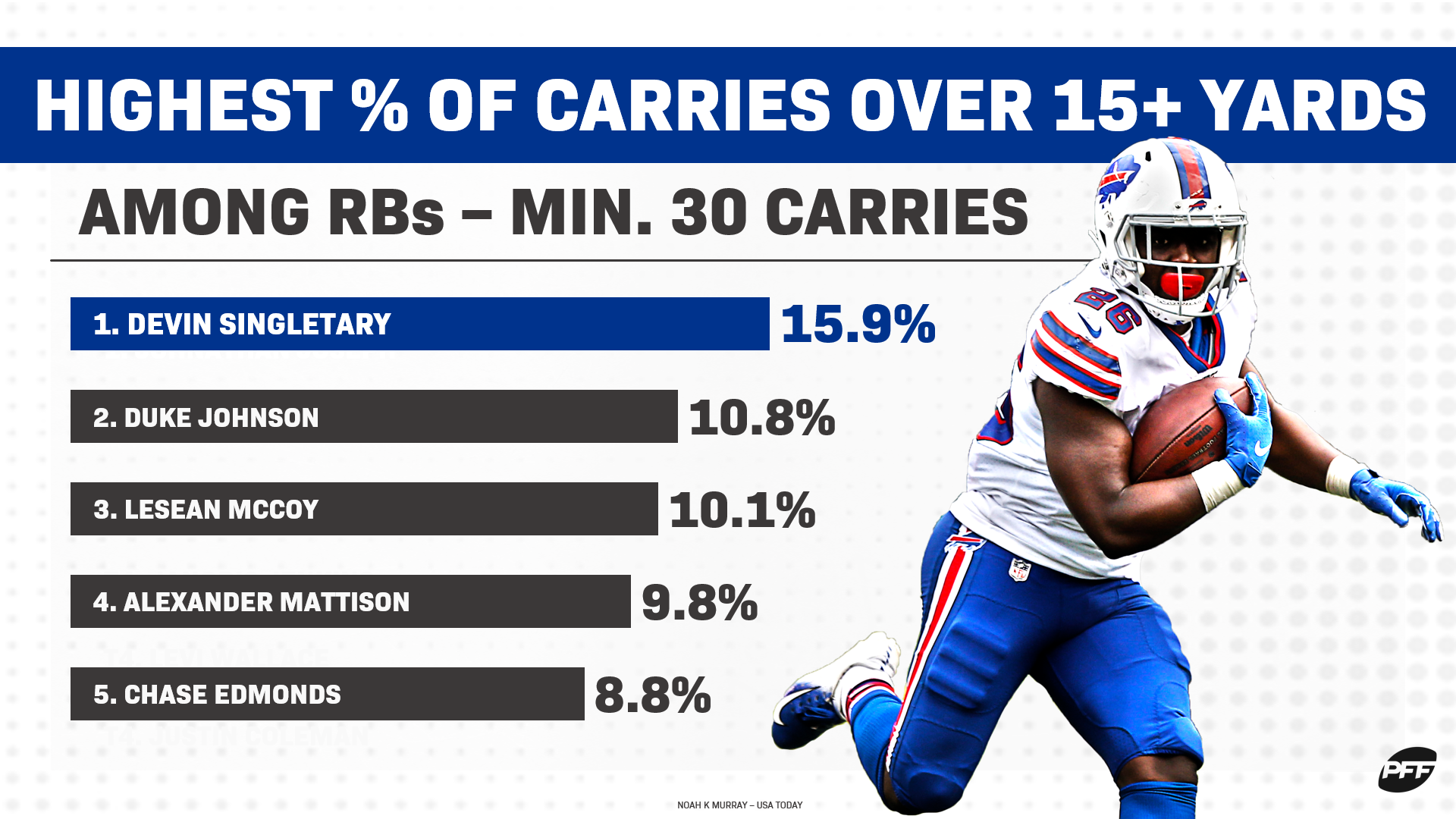 Fantasy facts: Devin Singletary has 10 runs of 15-plus on just 63 carries this season. The player with the next fewest carries to top double-digits in this stat is Derrick Henry with 11 runs of 15-plus on 187 carries. That's off-the-charts upside out of the young running back. There's no denying the fact that this is a tough matchup, but Singletary's high ceiling keeps him in the RB2 conversation.
Matchup upgrade: We finally saw Phillip Lindsay get a bulk of the carries last week. Lindsay racked up 16 carries, while Royce Freeman saw just eight. Look for the volume to continue this week for Lindsay, which is a good thing in this matchup. Buffalo has struggled against the run through the middle of the season. Since Week 5, the Bills allow 109 rushing yards and one rushing score per game to running backs.
Matchup downgrade: This isn't the best game for wide receiver matchups. Courtland Sutton is surging for the Broncos, but he draws a tough matchup with a shadow likely to come from Tre'Davious White. The Bills corner hasn't allowed a touchdown in his coverage this season. That said, Sutton owners in season-long should still use him as a WR2. DeVante Parker had no issues in White's coverage last week.
We also have a tough matchup on the other side of this contest with John Brown set to draw a shadow from Chris Harris Jr. Brown was a monster last week, but this matchup shouldn't be taken lightly. There still will be enough volume for Brown to produce WR2 numbers, but don't expect a repeat of last week's performance.
Key injuries: None
Greenline: CHI -6.4, O/U 40.2
Fantasy facts: There have been some rumblings among the fantasy playing public that Saquon Barkley is a fantasy bust this season. That take really seems to miss the mark. Sure, he caught some bad luck with the high ankle sprain early in the season, but in the four weeks since returning from injury, Barkley has totaled the seventh-most PPR points per game among running backs. He's certainly helped those numbers with 22 catches on 27 targets. Yes, he struggled on the ground when we last saw him, but Barkley is still locked in as an RB1 play with an elite ceiling.
Matchup upgrade: Last week wasn't a highlight for Allen Robinson, as the Bears receiver managed just 4 catches for 15 yards. But pay that line no mind, as Robinson drew a brutal matchup with shadow coverage coming from Jalen Ramsey. He gets a much more favorable matchup this week against a trio of Giants corners that has allowed a whopping 14.9 yards per catch and 10 receiving scores this season.
Matchup downgrade: Daniel Jones has displayed a very high ceiling at points this season, but this isn't the week to roll with the young signal-caller. The Bears have done a good job of defending the pass this season and are one of just four defenses who enter the week allowing fewer than a passing touchdown per game.
Key injuries: Sterling Shepard is practicing in full and looks like he'll get back on the field this week. Keep in mind that Golden Tate will likely remain the top receiving target this week, but Shepard should be picked up. The Giants will again be without Evan Engram who is listed as doubtful. … After some question as to whether Mitchell Trubisky would be healthy enough to play this week, the Bears signal-caller is not listed on the injury report. He's expected to start for Chicago.
Greenline: PIT -7.4, O/U 38
Fantasy facts: Joe Mixon is about the only thing going right for the Bengals for fantasy purposes. Excluding his Week 9 bye, Mixon is a top-five fantasy running back over the last month. This production has been largely the product of volume with 62 carries and seven catches over that span. Of course, Mixon's matchup is a tricky one this week.
Matchup upgrade: At this point of the season, we know we're upgrading anyone who face the Bengals, especially in the run game. That is going to prove slightly tricky this week in the Steelers' backfield. James Conner is out, so we can expect Jaylen Samuels to be busy in the passing game. However, the return of Benny Snell will likely take early-down work off Samuels' plate. That means we can't really trust Samuels as anything more than an RB2 play with Snell sliding in as a desperation flex option.
Matchup downgrade: Mixon is seeing healthy volume for the Bengals, but there's no downplaying this matchup. The Steelers are one of the better run defenses in the league and currently hold opposing running backs to 3.7 yards per carry. Mixon is best viewed as an RB2 play this week.
Key injuries: In addition to Conner, the Steelers look like they'll also be without JuJu Smith-Schuster, who sustained a concussion and a knee injury in last week's contest against the Browns. James Washington gets a slight fantasy uptick but can't be trusted as anything more than a WR3. Also, A.J. Green isn't back. Shocking.
Greenline: CLV -10.2, O/U 45.3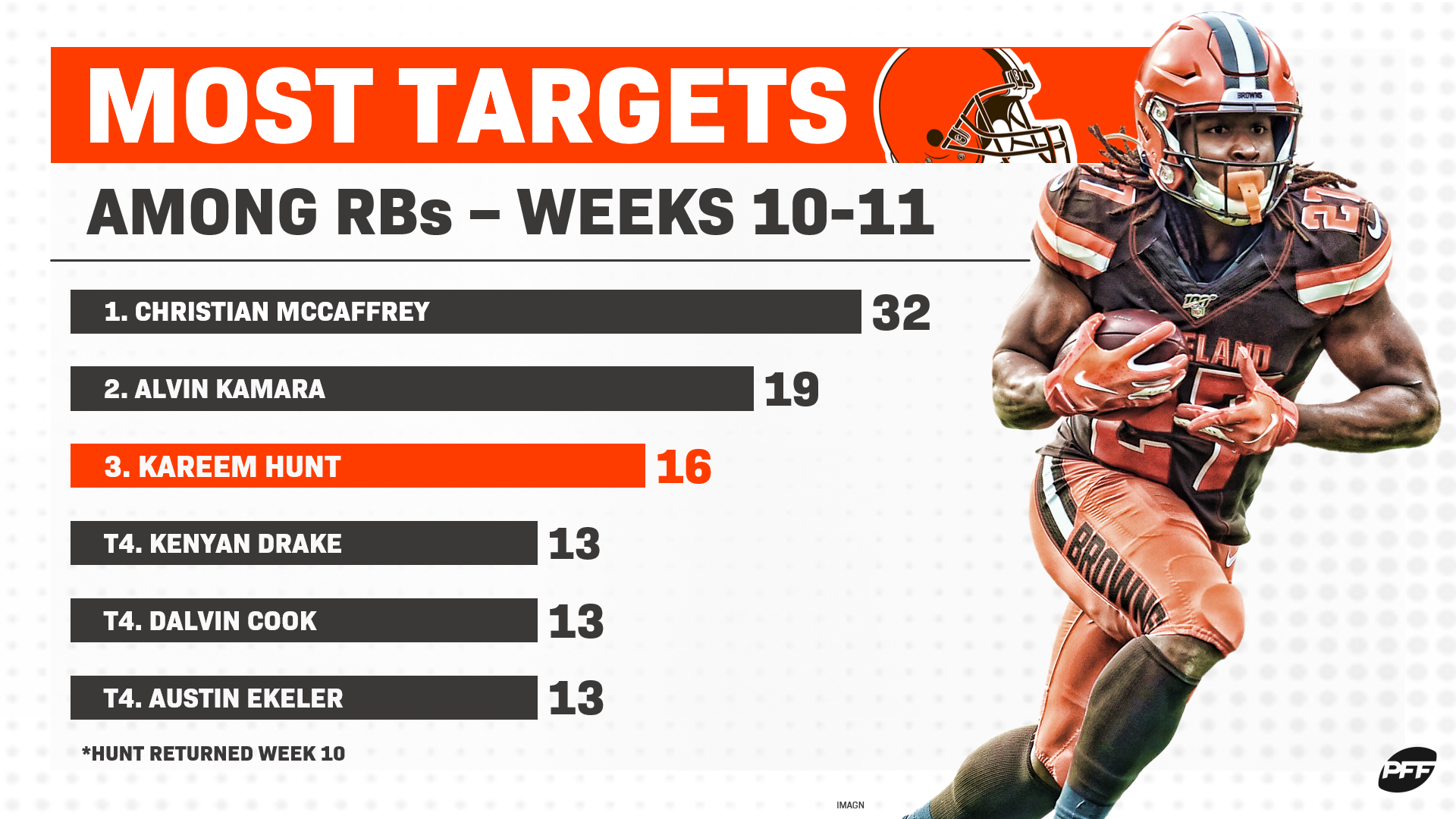 Fantasy facts: Since Kareem Hunt returned in Week 10, only two running backs have seen more targets: Christian McCaffrey and Alvin Kamara. Hunt has 13 catches on 16 targets during that span. While Hunt isn't doing much in the run game, all that work in the passing game has elevated him into back-end RB2 territory this week.
Matchup upgrade: It's been a long season for Odell Beckham, but the Browns receiver finally gets a matchup worth exploiting for fantasy purposes. The Miami Dolphins may not be as bad as they initially looked in 2019, but this defense is still surrendering the second-most touchdowns per game to opposing wide receivers. In DFS, Beckham offers a premium fantasy ceiling at a slightly discounted price this week.
Matchup downgrade: All the matchups are neutral or better in this one, so start everyone as you normally would.
Key injuries: Both Beckham and Jarvis Landry are listed as questionable, but neither are threats to sit out.
Greenline: NO -11.1, O/U 47.4
Fantasy facts: Over the last three weeks, D.J. Moore leads all receivers in targets with 35. Despite last week's offensive debacle for Kyle Allen, Moore still managed to post eight catches for 95 yards and finished as the No. 13 receiver in PPR. Keep firing Moore up as a front-end WR2 play.
Matchup upgrade: Injuries hampered Alvin Kamara in the middle of the season, but the Saints star is back to full health and playing like an elite fantasy option. Kamara posted an impressive 10 catches on 10 targets last week and finished as a top-five fantasy running back. He'll continue to do damage in the passing game this week, and should have no problem racking up yards on the ground. Over the last month, the Panthers have surrendered 126 rushing yards and a massive 2.3 rushing touchdowns per game to running backs.
Matchup downgrade: Technically speaking, this is a bad matchup for Christian McCaffrey, with the Saints allowing the fourth-fewest fantasy points per game to running backs. Of course, that doesn't matter for season-long because McCaffrey is a perma-start. However, his extremely high price point in DFS makes him a strong fade candidate this week.
Key injuries: None
Greenline: OAK -2.7, O/U 45.9
Fantasy facts: Josh Jacobs was widely expected to be the top fantasy option out of this year's rookie running back class, but few saw him as a top-10 option. But Jacobs has been just that with the 10th-most fantasy points among running backs heading into this week. A big part of his success has been his ability to create on his own. Jacobs currently leads the league with 54 forced missed tackles as a runner. All that elusiveness means we can expect him to continue producing going forward.
Matchup upgrade: In a week with so many of the top fantasy quarterbacks on bye, you could be in the market for a streamer. Sam Darnold certainly fits the bill. The Raiders have been extremely fantasy-friendly to quarterbacks this season and currently allow a massive 8.2 yards per attempt with 2.4 passing scores allowed per game to the position.
Matchup downgrade: There aren't any major downgrades in this contest.
Key injuries: None
Greenline: PHI -1.4, O/U 48.1
Fantasy facts: Russell Wilson has had an eye for the end zone this season. The Seahawks quarterback leads the league with 39 end-zone throws on the season. This week he faces a Philadelphia defense that is tied for third in the league with 31 end-zone throws against. Sometimes fantasy football is as simple as two plus two equaling four. This is one of those times. Wilson offers a massive ceiling this week.
Matchup upgrade: The Eagles managed to hold Tom Brady in check last week, but the Patriots really didn't have a receiver who could threaten the Seahawks deep. Seattle has two of them in D.K. Metcalf and Josh Gordon. Both players get a nice upgrade in this matchup. Of the two, Metcalf is the preferred play in season-long. In DFS, it's wise to get some exposure to both of them.
Matchup downgrade: Philly's run defense remains one of the better in the league, and currently allow the second-fewest rushing yards per carry to running backs at just 3.36. Chris Carson could struggle in terms of efficiency in this one, so he's worth fading in DFS. That said, Carson should see more than enough volume to remain a back-end RB1 play in season-long.
Key injuries: Jordan Howard is still not cleared for contact, so look for the Eagles to roll with Miles Sanders and a healthy dose of Jay Ajayi this week. Ajayi has name recognition, but he's only worth adding in deep leagues where the waiver wire is completely picked over.
Greenline: DET -3.4, O/U 40.9
Fantasy facts: Over the last two weeks only Lamar Jackson and Kyler Murray have more rushing yards than Jeff Driskel, who has 88 over that span. Driskel was a surprise top-five fantasy quarterback last week and gets to face a Washington defense that has been known to give up the occasional big game to opposing quarterbacks. Don't get too cute with this one. Driskel is still a very volatile play, but he's deeper streamer option for those in need this week.
Matchup upgrade: Sorry, Ty Johnson owners. The Lions just don't want to use the rookie as anything more than a change-of-pace back. Last week they called up former Alabama bruiser Bo Scarbrough up from the practice squad and proceeded to feed him 15 carries. Look for another healthy dose of Scarbrough in this contest. While he isn't going to be efficient, Scarbrough warrants flex consideration against a Washington defense that surrenders the sixth most fantasy points per game to running backs.
Matchup downgrade: Terry McLaurin quickly established himself as the Redskins' top pass-catcher and has posted a very respectable 566 yards and five scores this season. However, this isn't the week to roll with the rookie wideout, as he'll likely draw a shadow from Darius Slay. The Lions corner is holding opposing receivers to just a 57% catch rate with only one touchdown allowed in his coverage this season.
Key injuries: Adrian Peterson missed Wednesday's and Thursday's practice with a toe injury. We saw the same thing from him last week, and he ultimately suited up. However, if Peterson can't play, Derrius Guice would make for a sneaky RB2 play in this plus matchup.
Greenline: TEN -3.1, O/U 41.8
Fantasy facts: This contest features two of the league's most effective runners after contact. Both Derrick Henry (3.78) and Leonard Fournette (3.66) rank in the top-five in yards after contact per rushing attempt. Not so coincidentally, both backs are also top-10 fantasy options with Henry ranking seventh among running backs and Fournette eighth in PPR scoring.
Matchup upgrade: Henry is a good bet to continue his productive ways this week against a Jaguars defense that gave up two 100-yard rushing performances to the Colts last week. Jacksonville allows a league-high 5.38 yards per carry to opposing running backs, so expect Henry to have his way in this contest.
Matchup downgrade: All of the matchups in this one are at least middle of the road.
Key injuries: Keep an eye on Delanie Walker's status. The veteran tight end has been limited in practice this week and could finally get back on the field. If he does, Jonnu Smith will slide out of the tight end streamer conversation.
Greenline: NE -6.9, O/U 45.8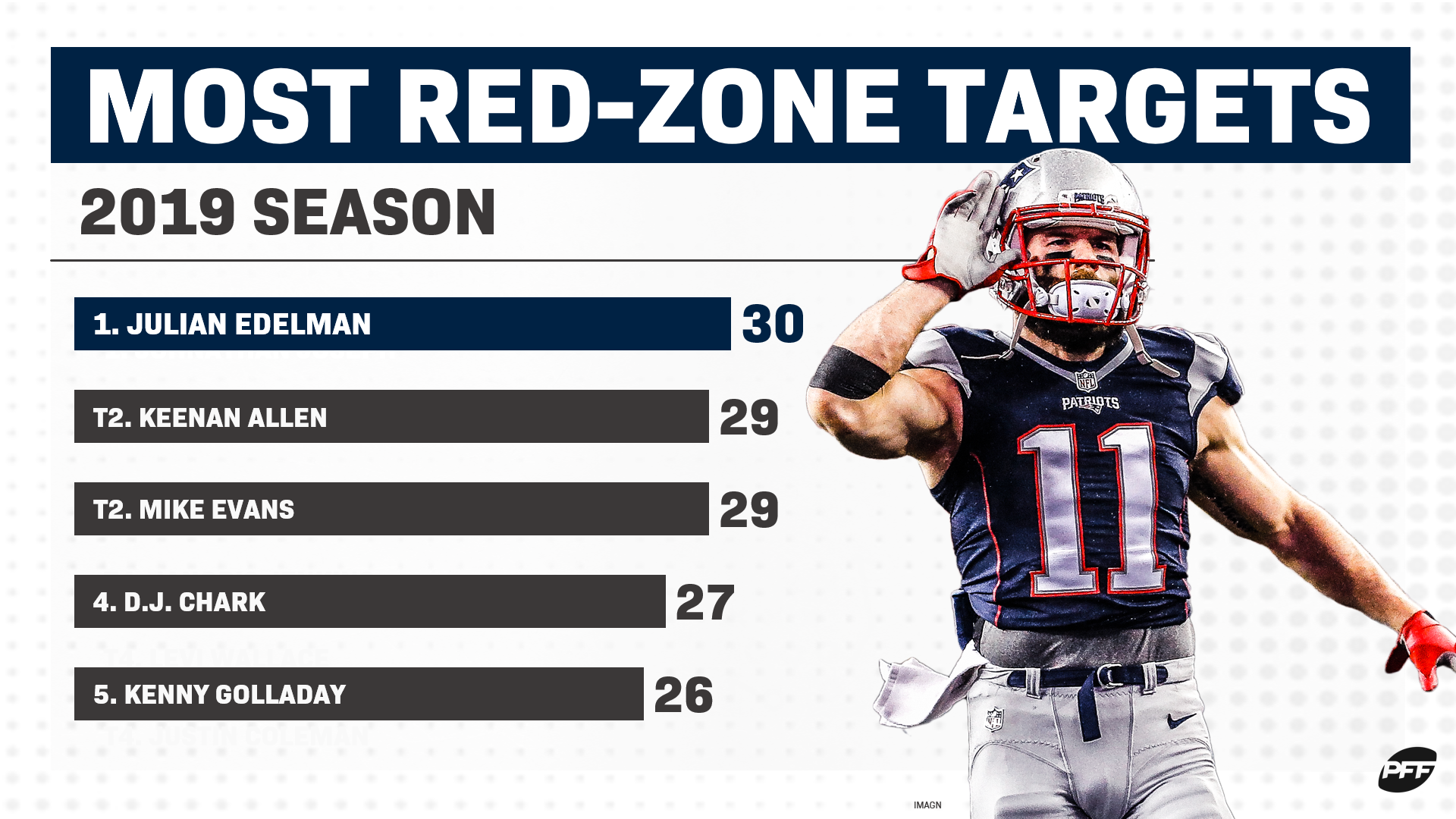 Fantasy facts: Julian Edelman leads the league with 30 red-zone targets. Remember that at PFF, we track red-zone targets based on where the receiver is located and not the line of scrimmage. The closer the receiver is to the end zone, the more valuable the target. Edelman's workload in the red zone will continue to give him that nice high weekly fantasy floor we've come to expect.
Matchup upgrade: It's tough to find a favorable matchup in this contest.
Matchup downgrade: Not only is Amari Cooper banged up with a nagging knee injury, but he also has to face the New England Patriots secondary this week. This matchup almost certainly means a shadow for Cooper from Stephon Gilmore. The Patriots corner has been as advertised this season, allowing just a 46% catch rate with zero touchdowns scored in his coverage.
Key injuries: It was initially reported that Mohamed Sanu was going to miss several weeks, but the veteran receiver will attempt to practice Friday. While he's still very iffy for this week, it may not end up being an extended absence for Sanu.
Greenline: SF -2.3, O/U 47.7
Fantasy facts: It's been a frustrating year for injuries in fantasy with some of the bigger names getting hurt this season. One of them is Davante Adams, who missed over a month with a toe injury. While Adams is listed as questionable, he's expected to play and should see plenty of volume. In his last three games, Adams has seen a massive 36 targets.
Matchup upgrade: Matt Breida hasn't practiced this week and isn't likely to play. That means another full dose of Tevin Coleman is on tap. Coleman posted disappointing numbers last week, but don't let that dissuade you from starting him. Green Bay enters the week as the No. 3 fantasy matchup for running backs, putting Coleman on the fringes of RB1 territory.
Matchup downgrade: While we do expect heavy volume for Adams this week, we shouldn't downplay the matchup. On paper, the 49ers are one of the toughest overall fantasy matchups. For wide receivers, San Francisco's secondary features three of the top-25 corners in PFF grades. Season-long owners of Adams may be intimidated, but this isn't the time to fade your studs. That said, those in DFS contests with the Sunday night game may want to look elsewhere.
Key injuries: George Kittle managed to get to limited on Thursday. Another limited session on Friday would likely put Kittle into game-time decision territory. Since it's the Sunday night game, Kittle owners should be prepared with a backup play. That means Ross Dwelley, Gerald Everett, or Nick Boyle will likely be your best options.
Greenline: BLT -1.2, O/U 46.9
Fantasy facts: This just in: The Ravens really like throwing to their tight ends. So far this season, a massive 44.6% of their targets have gone to tight ends. That leads the league and it isn't particularly close. While Nick Boyle's recent uptick in work had some Mark Andrews owners concerned, there's no reason to worry. There's enough meat on the bone for multiple tight ends to eat in this offense.
Matchup upgrade: Good luck finding an upgrade in this one.
Matchup downgrade: Cooper Kupp was one of the hottest receivers in fantasy over the first two months of the season, but the Rams wideout has cooled off over his last two games. Unfortunately, that trend isn't likely to reverse this week. Kupp and the Rams get a rough matchup against a talented Ravens secondary. Since adding Marcus Peters in Week 7, Baltimore has allowed just two touchdowns to opposing wideouts, which is tied for fourth-fewest over that span. We're also going to downgrade Marquise Brown, as the young Ravens receiver is likely to see a shadow from Jalen Ramsey this week.
Key injuries: Brandin Cooks has cleared the concussion protocol and will be back on the field this week. Cooks should be considered a boom-or-bust WR3 option in this tough matchup.