While preparing my fantasy football rankings each week, I come across statistics and trends worth monitoring. The following are 32 interesting stats — one for each NFL team — that helped inform my Week 16 rankings. Several can be found in premium stats as well as the PFF fantasy stats.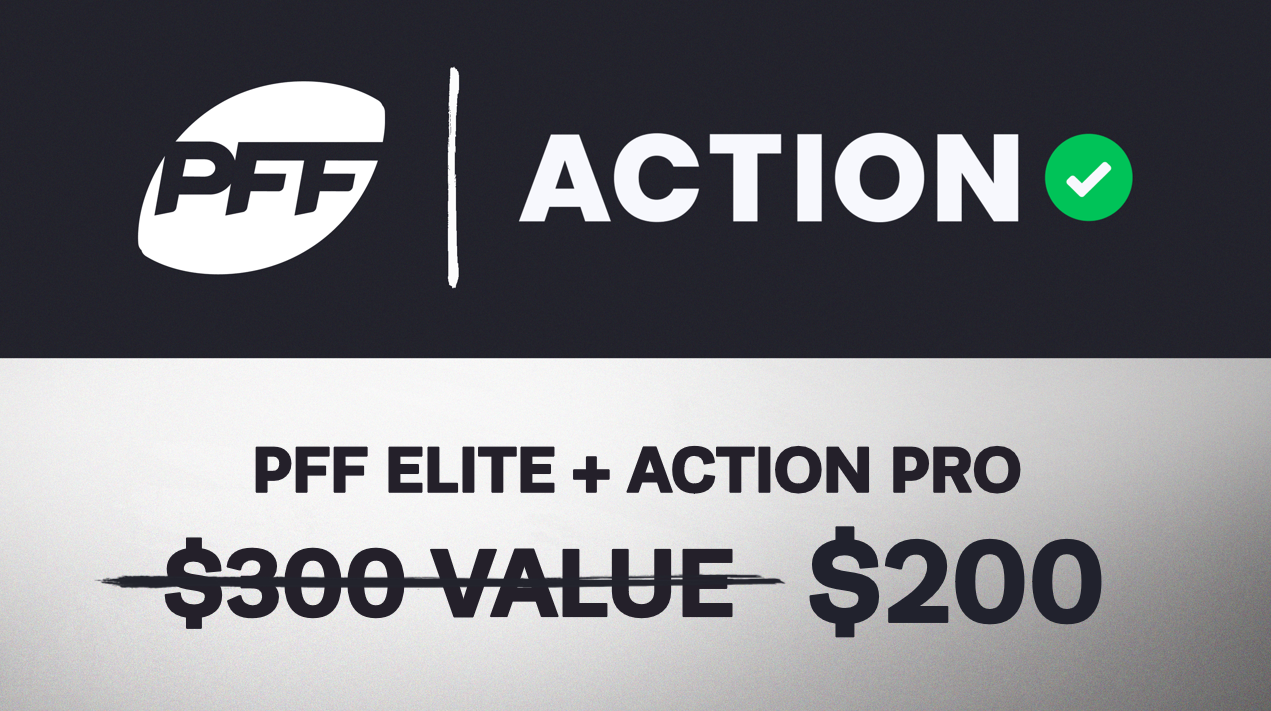 Arizona Cardinals – Dan Arnold is one of five tight ends to have three touchdowns on end-zone targets in the last eight weeks. He is the only one of the five with a perfect catch rate on his end-zone targets.
Atlanta Falcons – Calvin Ridley reached 100 receiving yards for the seventh time this season this past week. He is tied for the league lead among wide receivers after only tallying two such games in 2019.
Baltimore Ravens – Lamar Jackson leads the league with 1.27 fantasy points per dropback over the last four weeks, roughly a half point ahead of any other quarterback.
Buffalo Bills – Stefon Diggs has an incredible 85.1% catch rate over the last eight weeks, which is the best among pass-catchers with at least 20 targets. He's caught 63 of the 74 passes thrown his way.
Carolina Panthers – When Teddy Bridgewater is under pressure, he's had the second-best adjusted completion percentage the last four weeks at 82.6%.
Chicago Bears – Allen Robinson has earned 22 first downs over the last four weeks, ranking second among all wide receivers.
Cincinnati Bengals – Joe Burrow has the lowest adjusted completion percentage on deep passes (20.8%) among QBs with more than 25 deep attempts. He has completed nine of 48 deep passes, and one pass was dropped. His replacements have been even worse, with Ryan Finley completing one of seven deep passes and Brandon Allen completing zero of six.
Cleveland Browns – Baker Mayfield has thrown eight touchdowns to receivers in the end zone over the past four weeks. That leads the league.
Dallas Cowboys – CeeDee Lamb has 775 receiving yards from the slot this season, second-best among all slot receivers. 
Denver Broncos – Noah Fant is averaging 2.65 yards per route run over the last four weeks, ranking third among tight ends.
Detroit Lions – The Lions pass defense has allowed a league-high 2,270 passing yards over the last eight weeks. Their team coverage grade in that time also is the lowest.
Green Bay Packers – Robert Tonyan ranks third in fantasy points per snap among tight ends at 0.29.
Houston Texans – Deshaun Watson is up to eight 300-yard passing games on the season. He's one game behind league leader Patrick Mahomes and has matched his total from the last two seasons combined.
Indianapolis Colts – Jonathan Taylor has averaged 0.37 missed tackles per carry over the last four weeks. He has a lead of 0.09 over all other backs.
Jacksonville Jaguars – James Robinson has the third-most carries of 10 or more yards at 31.
Kansas City Chiefs – Travis Kelce has as many 100-yard games over the last eight weeks as all of the other tight ends in the league combined (five).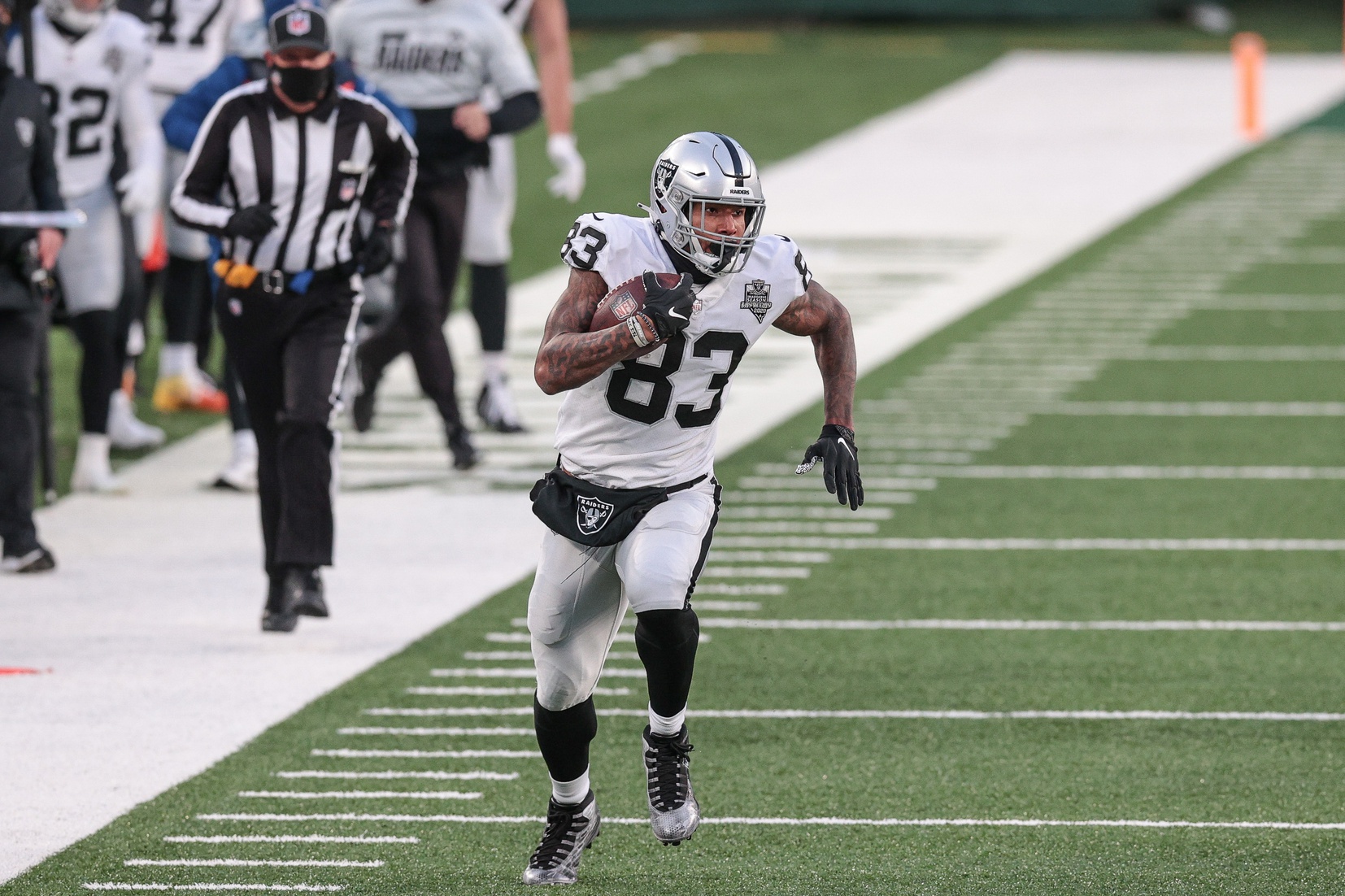 Las Vegas Raiders – Darren Waller has 36 red-zone targets this season, giving him a 10 target lead over any other tight end.
Los Angeles Chargers – Tyron Johnson averaged 0.35 fantasy points per snap over the last eight weeks. He ranks fifth among wide receivers in that time.
Los Angeles Rams – Jared Goff has thrown for 300 yards six times this season. That's the most among quarterbacks in the NFC and fifth-most among all quarterbacks.
Miami Dolphins – The Dolphins have used five different halfbacks, four different tight ends and seven different wide receivers over the last three weeks. That is either the most or tied for the most at each of those positions.
Minnesota Vikings – Adam Thielen remains the league leader in end-zone targets (18) and touchdowns (12). Teammate Justin Jefferson is up to seven end-zone targets, but he has only converted two into touchdowns.
New England Patriots – James White has maintained a 1.98 yards per route run, ranking second-best among all running backs.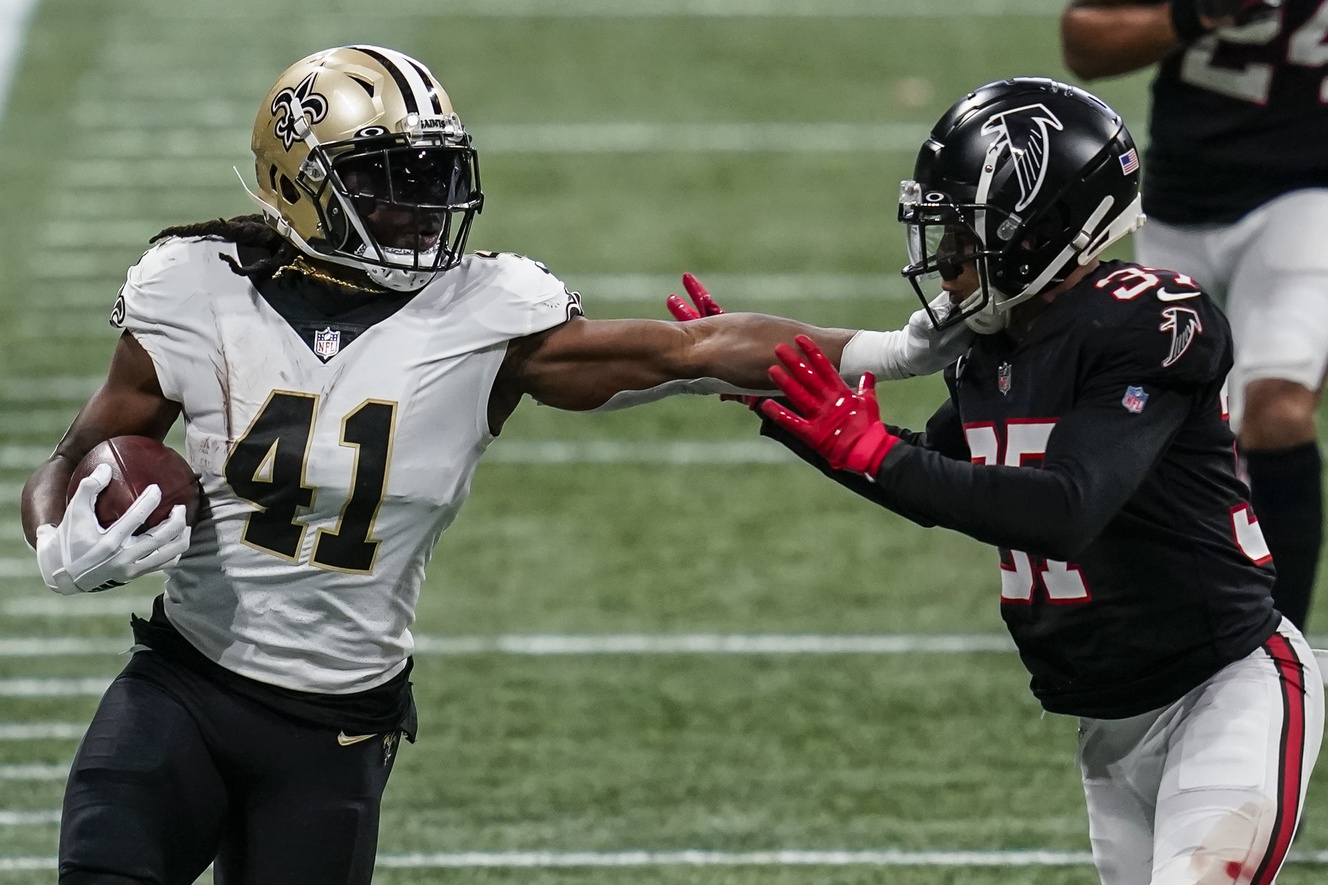 New Orleans Saints – Alvin Kamara is up to 739 receiving yards on the season, giving him a lead of over 250 yards compared to all other backs. Even if his receiving yards were cut in half, he'd still rank fourth among running backs.
New York Giants – Wayne Gallman's elusive rating of 91.8 over the last four weeks is tied for fifth-highest among running backs.
New York Jets – The Jets have made 225 stops in the run game, placing them at second among run defenses. They also rank third in forced fumbles at six.
Philadelphia Eagles – The Eagles run defense has missed a league high 78 tackles on the season.
Pittsburgh Steelers – Pittsburgh's pass rush has generated a league-high 320 pressures this season. They only need 10 pressures over the last two games to surpass their 2019 total of 329.
San Francisco 49ers – Kyle Juszczyk leads all running backs in red-zone targets (5), catches (3) and touchdowns (2) over the last four weeks.
Seattle Seahawks – Seattle has allowed a league-high 220 first downs in the pass game. They allowed 130 over their first seven games but only 90 in their last seven.
Tampa Bay Buccaneers – Ronald Jones has run for 100 yards on four separate occasions this season. He is tied for the fourth-most 100-yard games this year.
Tennessee Titans – Anthony Firkser ranks second among tight ends in yards per route run in the slot at 1.90.
Washington Football Team – Washington's pass defense has allowed 144 first downs in the pass game, ranking second-best in the league.