The beasts of the NFL continued to bolster their weaponry Tuesday. After the Patriots traded for Mohamed Sanu Tuesday morning, the 6-0 San Francisco 49ers answered by acquiring Emmanuel Sanders from the Denver Broncos Tuesday afternoon.
For fantasy football, Sanders' arrival in San Francisco should work to solidify a receiver corps that hasn't been bad in 2019, but has definitely had room to improve and has been frustratingly unpredictable on a week-to-week basis. Four different 49ers receivers have more than 100 yards so far and four different guys have touchdowns (and not the same four), but no one on the roster before Tuesday had 200 receiving yards or more than a single score.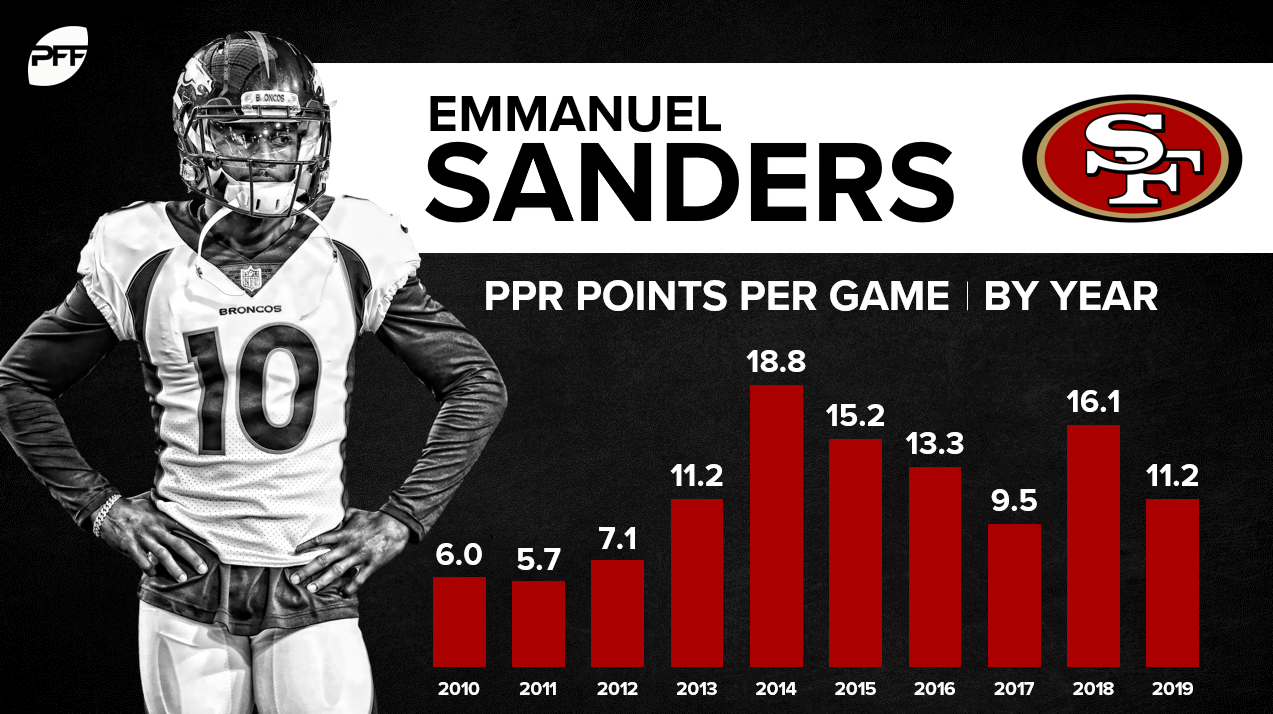 Sanders started the season hot, with 184 yards and two touchdowns in Weeks 1-2. He's been quieter since, with three games or 10 or fewer yards and a 104-yard Week 4 and a 60-yard Week 7 scattered in, but a healthy Sanders immediately becomes the 49ers' top wide receiver. He'll likely line up on the outside to start alongside Marquise Goodwin, with Dante Pettis manning slot duties. Deebo Samuel is dealing with an injury right now, but when he's healthy he, Richie James Jr., and Kendrick Bourne allow the offense to be versatile.
This is still likely to be among the league's run-heaviest offenses, and George Kittle is going to command his target share as well, so this isn't a situation where Sanders is likely to be a WR1. That said, he should slide in almost immediately as a solid WR2 or a high-upside flex play at a minimum. The rest of the team's receivers, however things shake out, aren't likely to be much beyond desperation plays as Kittle, Sanders, and the running backs do their work.
Back in Denver, Courtland Sutton has established himself as the team's No. 1 receiver, and that's just more secure after this move. When Sanders missed the last four weeks of the 2018 season, we saw Sutton, DaeSean Hamilton, and Tim Patrick — all rookies at the time — split the team's receiving work. None of the three really popped at the time. This year, Hamilton has gotten plenty of playing time (290 offensive snaps), while Patrick has been on injured reserve.
Sutton, as mentioned will be the Broncos' No. 1 receiver. Hamilton is likely to be the No. 2, spending a lot of his time in the slot. That leaves the No. 3 role a huge question mark, between Patrick (if he returns from IR), Fred Brown, Juwann Winfree, and Diontae Spencer. For fantasy, do we care about a low-usage anonymous third receiver in a bad offense? Not really.