The New England Patriots have acquired wide receiver Mohamed Sanu from the Atlanta Falcons in exchange for a second-round pick, according to Adam Schefter.
The Patriots are 7-0, having beaten their opponents by a combined 175 points — the largest point differential through seven games by any team in almost 100 years. In spite of that, just hours after their 33-0 Monday night victory against the Jets, Bill Belichick still felt the team needed to get better, and so he sought out a trade to do just that.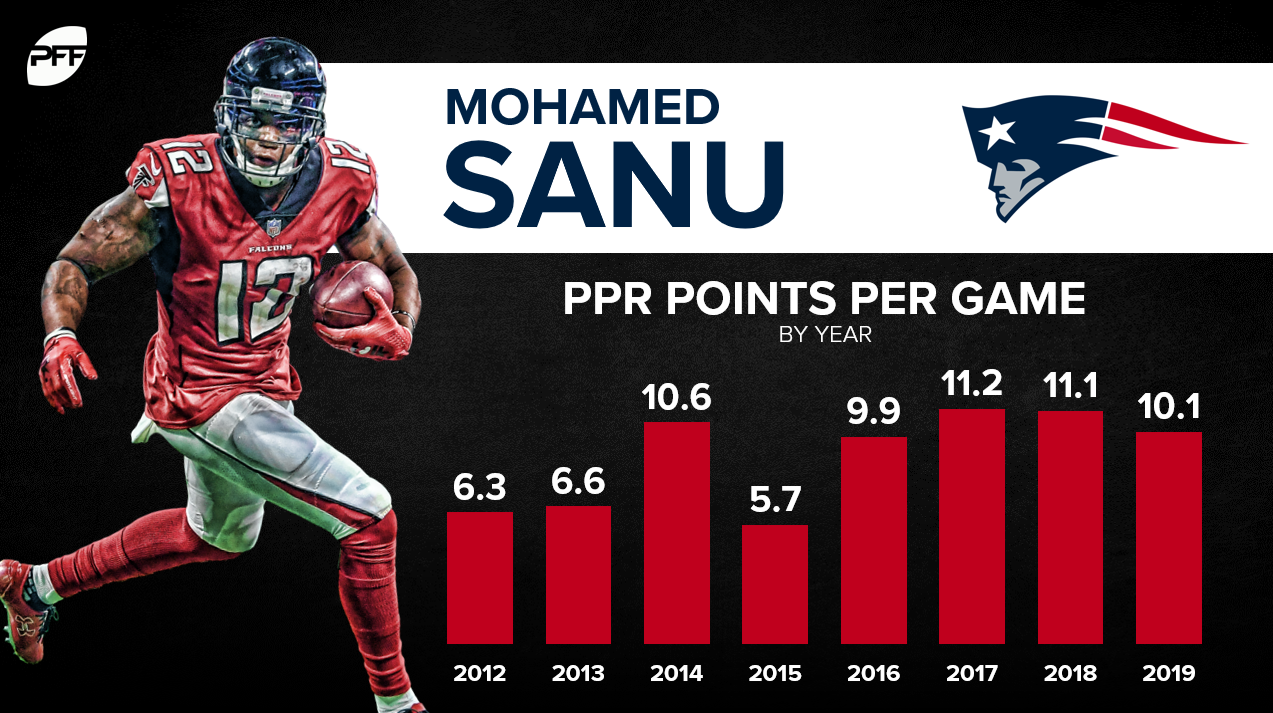 A second-round pick feels steep for Sanu, but this was probably New England's greatest area of need. After losing Rob Gronkowski, Chris Hogan, and Danny Amendola in the offseason, the team was quick to sign Antonio Brown after being released by the Raiders, but Brown's New England tenure lasted only one game. First round rookie N'Keal Harry underwhelmed in training camp and is still on injured reserve. Wide receivers Phillip Dorsett, Julian Edelman, and Gunner Olszewski were all questionable heading into Monday's game, and Josh Gordon — who has struggled this season — sat out with knee and ankle injuries. Perhaps, implied by this trade, Gordon could be out for a while.
Also partly implied by the substantial cost to acquire Sanu, we should expect him to be the No. 2 or No. 3 target in this passing offense, after Edelman. That means Dorsett will continue to be a starter until Gordon returns, but when he does, he'd likely join Jakobi Meyers, Harry, and Olszewski as fantasy afterthoughts. This also means Sanu's fantasy stock should climb as a consequence of the trade — Sanu was fourth in the target pecking order in Atlanta, ranking just 54th in fantasy points per game (10.1).
Although New England's WR2 hasn't done much for fantasy in recent years — at least not since Brandon LaFell finished as a low-end WR2 in 2014 — this Gronk-less offense should be able to support multiple fantasy-viable receivers. In spite of the fact that they've won six of their games in massive blowouts, the Patriots still rank fifth in pass attempts per game (39.6).
The truth is — it's Bill Belichick. We have no idea what he's going to do. But the cost to acquire Sanu implies he'll have a key role in this offense. And history suggests the Patriots will again have a top offense. Put all of that together and there's a good chance he's significantly more valuable for fantasy today than he was yesterday.
If forced to take a stand on Sanu's value across the rest of the season, I'd rank him as a mid-range WR4 for fantasy. If Gordon's injury lingers and Sanu assumes the No. 2 role in the offense, that could make him as valuable as a high-end WR3. But, more than likely, the Patriots will remain a spread-the-ball around offense, where Edelman is the only consistent producer week-to-week.