This season, we are taking periodic stock of which teams are being attacked voluminously in specific areas due to a defensive imbalance for fantasy football purposes. It's been about a month since our last look and with Week 14 here, the fantasy playoffs are kicking off, so it's a good time to check for faltering, strengthening, or entirely new funnel defense trends.
The term "funnel defense" was coined several years ago by the esteemed Adam Levitan and has become common parlance among DFS players and other fantasy aficionados. It refers to defenses that are simultaneously soft in one area and stout in another. The resulting effect is offenses often funnel action toward the path of least resistance.
Pass funnels
The Lions defense is night-and-day different of late. Through nine weeks, opponents handed off against them at a league-high 50.9% rate during neutral situations (game is within one score). In the four weeks since then, Detroit has faced the fourth-highest situation-neutral pass rate (66.3%). It's an enormous swing in approach and flips the Lions from the league's largest run-funnel defense to one of its premier pass funnels.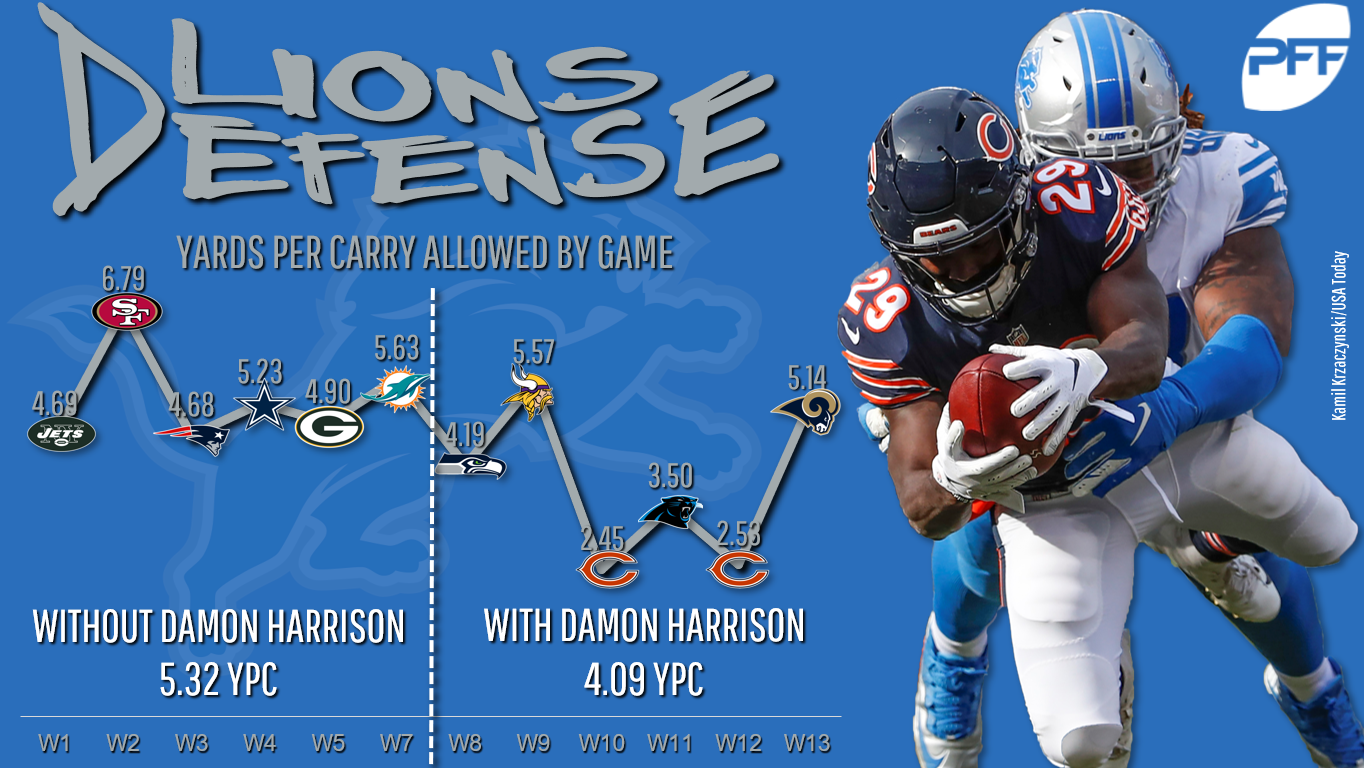 The obvious explanation is that their trade for Damon Harrison transformed Detroit's run stopping from sieve to satisfactory. Opponents averaged 5.3 yards per carry before he came aboard (second-highest) and have dropped to 4.1 yards since (22nd). In the process, it became more obvious how pathetic the Lions' pass defense is. They grade 30th in pass rush and 31st in coverage. Compared to their 11th-highest-graded run stopping, the choice to funnel action to the air became easy.
Week 14 at Arizona Cardinals
Few teams are more poorly equipped to take advantage of an inviting pass-funnel defense than the Cardinals. With Christian Kirk done for the season, they are trotting out a besieged rookie quarterback, a superb all-around running back they barely throw to, twilight Larry Fitzgerald, and a few guys they found in a Home Depot parking lot. Even though Josh Rosen's league-worst pass protection faces an equally flaccid Lions pass rush, we're better off moving on to one of the many other Week 14 matchups considering this game's pace projects to be somewhere between painfully glacial and Jermaine Gresham.
The Saints pass-funnel defense has been under more balanced attacks lately. While they still face the seventh-highest situation-neutral pass rate (60.2%), it has dropped to 20th during the last five weeks (56.2%). This is almost certainly the result of who they've faced, including the Cowboys and a Rams offense that passed on only 52% of situation-neutral snaps during their Week 9 loss in New Orleans.
Another theory is the Saints have become such a dominant force – last Thursday in Dallas notwithstanding – opponents are trying to slow games down and keep Drew Brees on the sideline. The Cowboys pulled it off, but they'd take the same approach even if they were playing the Jets. If the trend continues, however, and is paired with New Orleans' tendency to hog the ball, Saints games may see continued drainage of overall play volume. Their contests average the second-fewest combined snaps during the last month.
Week 14 at Tampa Bay Buccaneers
The Week 1 track meet these teams held — which generated 84 points and saw 856 yards and seven touchdowns come via the air – gives zero credence to the above theory. Perhaps that scenario will be more relevant next week in Carolina. Even if it does affect this matchup in Tampa Bay – where the Bucs allow significantly less scoring – it's hard to turn away from specific passing game weapons. If DeSean Jackson sits out, Chris Godwin is a must-play and Adam Humphries' already high floor solidifies. Fading Mike Evans or Michael Thomas would be overly aggressive even if depressed play volume concerns are realized. The best course may be to concentrate on Saints running backs, Evans, Thomas, Godwin-if-Jackson-misses, and perhaps Humphries – while ignoring ancillary wideouts and tight ends.
By far our worst-graded pass defense, the 49ers have allowed the fourth-highest passer rating and their 27 passing touchdowns surrendered are only two behind the league lead. They face a middling number of attempts (34.2 per game; 18th) mostly due to spending so much time trailing. When games are within seven points, however, opponents pass at the third-highest rate (61.9%).
While the 49ers don't have a shutdown run defense, they allow only 4.2 yards per carry (11th-best) and 108.2 rushing yards per game (18th-most). The path of least resistance in San Francisco is inarguably through the air. Recent foes Russell Wilson (four passing touchdowns), Jameis Winston (312 yards, two touchdowns), and even the ghost of the ghost of Eli Manning (three touchdowns) enjoyed the 49ers' funnel.
Week 14 versus Denver Broncos
While Phillip Lindsay has propelled the Broncos during their three-game winning streak, Denver still ranks 10th in situation-neutral pass rate during the last five weeks (62.8%). With Richard Sherman lining up on the left side 97% of the time, he'll affect Tim Patrick the most, as the former standout Seahawk cornerback is targeted less frequently than all 115 qualifiers at his position. Focusing on DaeSean Hamilton – who will take Emmanuel Sanders' spot in the slot – and Courtland Sutton will be the preferred path through the funnel.
The Eagles remain a pass-funnel defense, as they've been for multiple seasons. No team is thrown against at a higher situation-neutral rate (66.4%). However, the strength of the funnel is diminished of late. Certain run-committed offenses have foregone the pass in favor of unceremoniously jamming it down Philadelphia's throat. The Eagles regained their footing – slightly – in Week 13, but Mark Sanchez's presence and the absence of Washington's offensive line had a lot to do with it.
During the last month, Ezekiel Elliott, Alvin Kamara, Mark Ingram, Saquon Barkley, and Adrian Peterson have combined for 524 rushing yards on 70 carries (7.5-yard average), with five touchdowns and 19 forced missed tackles by the Eagles. In the nine weeks prior to that, Philadelphia allowed 4.5 yards per carry and four rushing touchdowns. Their weakest defensive link remains a barely-there perimeter pass coverage group, but talented rushing attacks apparently can thrive against them as well.
Week 14 at Dallas Cowboys
Speaking of talented rushing attacks, one of the Eagles' tormentors from the past month is back for more. This time the game is in Dallas, although having three of their four recent contests in Philadelphia didn't help. Amari Cooper finished with six catches on nine targets for 75 yards in his second game with the Cowboys during a Week 10 win. Now he's fully integrated and should feast on the Eagles' accommodative cornerbacks. Digging deeper into Dallas' pass catchers beyond a Michael Gallup dart-throw or two isn't advisable. Philadelphia's pass funnel will not sway the Cowboys from feeding Elliott, and as we already saw – Zeke can eat Eagle.
Denver Broncos
It is odd to think of the Broncos as a pass funnel after many years of aerial domination on defense. Yet, with Chris Harris – our fourth-highest-graded coverage cornerback – shelved by a fractured fibula, the "No Fly Zone" is a thing of the past. Opponents have already shown they are not intimidated by Denver's secondary while passing at the sixth-highest situation-neutral rate (61%) even with Harris healthy.
The Broncos' sixth-highest-graded run defense has allowed only 3.7 yards per carry and zero rushing touchdowns during the last six weeks. Their pass coverage grade ranks 13th best but is buoyed almost entirely by Harris. If opponents were throwing against them at a high rate with one of the league's premiere defensive backs in the lineup, there's little doubt how Denver will be attacked now that he's out.
Week 14 at San Francisco 49ers
While Harris locked down the slot 68% of the time, it was easy to fade inside receivers. Now it's open season. Whereas a healthy Harris would've given pause to riding Dante Pettis' hot streak, because he'll likely kick inside to the slot if Marquise Goodwin or Pierre Garcon returns (Pettis has a 42% slot rate for the season), now it doesn't matter nearly as much. Even Nick Mullens – who threw for the season's quietest 400-plus yards last week – is in play for 2QB leagues or as an ultra-contrarian DFS stack in a matchup presenting sneaky back-and-forth potential.
The Patriots aren't the first defense that comes to mind when thinking of pass funnels, but they've been near the top of the list all season – at least in terms of volume. Opponents throw against them at the league's second-highest rate (64.7%), and it's been the same story during the last five weeks (64.3%). While their secondary is underrated and sports the second-highest coverage grade, their 29th-graded pass rush is about as intimidating as Pat Patriot.
New England's 13th-highest-graded run defense is adequate and allows a middling 4.6 yards per carry (13th-highest), yet opponents simply don't stick with it. The Patriots have faced the sixth-fewest rushing attempts despite their pass defense yielding the fifth-fewest yards per attempt (6.9) and opposing quarterbacks registering the sixth-worst passer rating against them. Perhaps teams will lean run-heavier as New England's pass defense continues solidifying, as has been their habit during much of Bill Belichick's tenure.
Week 14 at Miami Dolphins
The Dolphins would love to stay mostly on the ground for as long as possible. They rank 14th in situation-neutral run rate on the season (43.6%), and seventh-highest during the last five weeks (47.3%). When they faced the Patriots back in Week 4, the Dolphins passed on eight of 12 snaps while the game was within one score, and then proceeded to get blown out. We can expect a different approach – and hopefully a full game from Ryan Tannehill – for the rematch in Miami. While the Patriots tend to struggle on the road against the Dolphins, it's more likely than not the elusive and versatile Kenyan Drake finds easier sledding against New England's athletically challenged linebackers than undead Frank Gore, who contributes little in the passing game.
Run funnels
Arizona Cardinals
The Cardinals have been a run funnel all season. Opponents tend to hand off against the worst teams in the league, and Arizona has stunk from the start. They've faced the fifth-highest situation-neutral run rate (45.3%) despite the Packers inexplicably throwing on 68.9% of their 74 snaps while the game was within one score on Sunday. Not running on the Cardinals' fourth-worst-graded run defense will deservedly get a coach canned.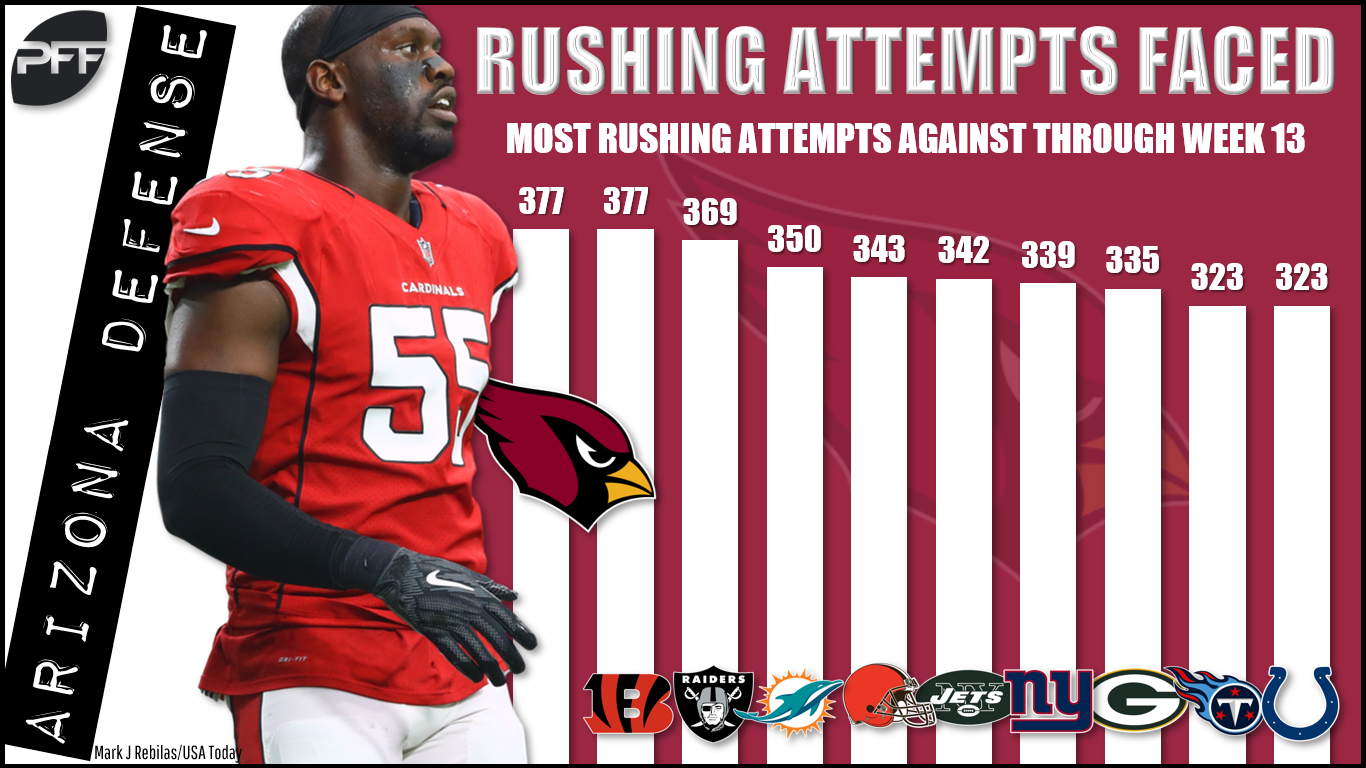 No defense has faced more rushing attempts (377) or allowed more touchdowns on the ground (17) than Arizona's. They are allowing 140.9 rushing yards per game (fourth-most) and recently placed middle linebacker Josh Bynes on injured reserve. He is our third-highest-graded linebacker against the run, and the only reason the Cardinals run stopping grade isn't circling last place.
Week 14 versus Detroit Lions
The Lions head to the desert with a middling run rate during the last five weeks (41.2%; 18th-highest). Kerryon Johnson is expected to miss his third straight game, and they are down to LeGarrette Blount pounding away behind our 21st-graded run-blocking unit, while ceding work to Theo Riddick and Zach Zenner. The larger concern is that Lions games (122.3; fifth-fewest) and Cardinals games (122.7; eighth-fewest) produce pathetic play volume. Detroit has the eighth-fewest rushing attempts for a reason, and it's not only because they stink. If anything, throwing a dart at Bruce Ellington in the slot – where Arizona's strong perimeter coverage funnels targets – is more appealing than dipping into the Lions' backfield.
The Browns display several run-funnel traits, even if they haven't been treated as one lately. During the last five weeks, Cleveland has faced the eighth-lowest situation-neutral run rate (37.4%). The rub is they've played mostly pass-heavy teams recently, with the Bengals, Steelers, Falcons, and Chiefs ranking first, second, third, and seventh in pass rate while games are within one score.
On Sunday the Browns faced the Texans, who rank fourth in run rate, and they deployed the week's … fourth-highest run rate. Despite Browns' opponents mostly preferring to pass during the last five weeks, Cleveland's third-worst-graded run defense allowed 5.1 yards per carry. With a pass-coverage unit grading 14th-best and allowing the seventh-lowest yards per attempt average, we can reasonably expect balanced offenses to skew toward the ground against the Browns going forward.
Week 14 versus Carolina Panthers
The Panthers have a fairly versatile offense, essentially ranking dead center with the 17th-highest pass rate (56.7%). If rumors of Cam Newton's creaky shoulder are to be taken seriously – and recent comments by the quarterback and his coach indicate they should be – Carolina may be even more run-committed than usual. That would seem like a good thing for Christian McCaffrey, but when a running back is already playing over 97% of snaps (100% three straight weeks) and averaging 20.8 touches in his last six games, there's not a lot of room to add more. Either way, McCaffrey gets a value bump – if that's even possible – heading into the Panthers' matchup in Cleveland, and we should project slightly lower pass volume from Newton.
Through eight weeks, only the Eagles, Patriots, and 49ers faced a higher situation-neutral pass rate than the Falcons (62.3%). In the five weeks since then, only the Bengals, Bills, and Raiders have faced a lower pass rate when games are close (49.5%). During that time, Atlanta has faced 152 rushing attempts (third most), and they're allowing 5.1 yards per carry – which would be a league-high for the full season.
The Falcons got standout linebacker Deion Jones back last week, and he inarguably helps their sixth-worst-graded run defense. However, even with Jones playing 64 snaps in Week 13, Atlanta got steamrolled for over 200 rushing yards by a Ravens team essentially telling the Falcons they would be handing off. Perhaps they deserve a pass for failing to hold up to the Runnin' Ravens, but it doesn't wash away the stain they already wore.
Week 13 at Green Bay Packers
Whether or not we think Mike McCarthy was the main reason or the only reason Green Bay's offense bottomed out, he's gone and we're left to figure out what Joe Philbin will do – a position we hoped to never be in again. Will the Packers, who throw at the sixth-highest situation-neutral rate (63.2%), instead ride into Atlanta's funnel with a running game that's averaged 5.0 yards per carry (third-highest)? Will that endear Philbin to Aaron Rodgers and help his audition for a permanent head-coaching role? That's probably overthinking things and doesn't even factor in the face-meltingly stupid decision to dust off Jamaal Williams last week. Limiting Aaron Jones' snaps won't make Rodgers happy, but nothing will please him more than calling his own plays and flinging it around the yard. This is one of those times it's probably okay to admit having no idea what will happen and grabbing enough exposure just in case the game pops.