This season, we will be taking periodic stock of which teams are being attacked voluminously in specific areas due to a defensive imbalance for fantasy football purposes. It's been about a month since our last look, so as we head into Week 11 it's a good time to check for faltering, strengthening, or entirely new funnel defense trends.
The term "funnel defense" was coined several years ago by the esteemed Adam Levitan and has become common parlance among DFS players and other fantasy aficionados. It refers to defenses that are simultaneously soft in one area and stout in another. The resulting effect is offenses often funnel action toward the path of least resistance.
Several funnel defenses are off the Week 11 slate due to byes (Bills, 49ers, Dolphins), or because they played Thursday night. Green Bay had been gashed on the ground of late by everyone from Raheem Mostert, to Frank Gore, to Cordarrelle Patterson. After Thursday night, we can add the Seahawks backfield triumvirate to that list. to that list. The Packers faced the seventh-highest situation-neutral run rate entering Week 11 (45.1%), and we can expect their next two opponents – Dalvin Cook and David Johnson – to continue the steamrolling.
Pass funnels
The Saints profile as a classic pass funnel defense. Their run-stopping grades fourth-best and their pass coverage grade ranks fourth-worst. They are a bottom-five defense in allowing passing yards, yards per attempt, completion percentage, and passer rating. Their run defense ranks top five in rushing yards per attempt (3.7), and nobody surrenders fewer yards per game on the ground (80.1).
Even when runners are performing relatively well against the Saints – as Joe Mixon (5.5 yards per carry) and Todd Gurley (5.2) did recently – they don't get enough volume to matter (23 combined carries) because New Orleans allows so few plays (59.3 per game; third-lowest). Attacking them through the air is preferable, and opponents have done so at the 11th-highest situation-neutral rate (59.8%). It should probably be even higher.
Week 11 versus Philadelphia Eagles
The Eagles should have no problem heading full steam into the Saints funnel. Philadelphia ranks seventh in neutral-situation pass rate (63.6%), and their rushing attack is a shadow of what it was last season. Rookie Josh Adams offers a whiff of hope, but it's no secret this offense only goes as far as Carson Wentz carries it. Fortunately, our fifth-highest-graded passer since Week 3 is up to the task.
However, choosing among his evolving wide receiver corps is trickier than simply loading up on Wentz and Zach Ertz for a potential Superdome shootout. The juiciest matchup, in the slot versus P.J. Williams, is not an easy projection. Nelson Agholor's slot rate actually rose to 74% during Golden Tate's Eagles debut, but the former Lion ran 60% of his limited routes on the inside. If we don't want to mess with that, Alshon Jeffery at light ownership is an interesting tournament pivot.
Philadelphia Eagles
The Eagles defense has been widely recognized as a pass funnel since the term became popular. This year is no different, with Philadelphia's 10th-worst-graded pass coverage dragged down by pathetic perimeter play. Seemingly still reeling from the absence of safety Rodney McLeod, they lost their only positively graded coverage cornerback, Ronald Darby, to a torn ACL in their Sunday night loss to the Cowboys.
With noted Duraflame log Jalen Mills still shelved by a foot injury, the cast of characters playing cornerback sound like they were fished out of the Eagles' Super Bowl parade drunk tank. Even after Ezekiel Elliott plowed their run defense last week, it still grades 12th-best and allows the seventh-fewest rushing yards per game. It makes sense that opponents throw against Philadelphia at the league's highest situation-neutral rate (67.1%).
Week 11 at New Orleans Saints
While the most likely outcome is the Saints slicing up the Eagles secondary – especially if their own pass funnel defense contributes to a back-and-forth affair – we can be sure Sean Payton took note of Philadelphia's run defense snafu on Sunday night. New Orleans' pass rate in neutral situations ranks only 19th highest. We have seen the Saints go run-heavy, while controlling the clock for huge swaths of games – and we saw it recently against the Bengals.
Of course, the Eagles are not the Bengals. Philadelphia averages 67.1 plays per game (fifth-most) and Cincinnati manages only 58.2 (fourth-fewest). This game will not be played on the road, where the Saints have shown a tendency to slow down and play a ground-based ball control style. The most likely scenario is this game morphs into a back-and-forth, aerial display. However, if we are interested in a "next-most-likely" scenario for DFS, it probably involves a heavy dose of Saints handoffs.
Not all pass funnel defenses are easy to throw against. The Steelers just happen to be significantly harder to run on. Their third-highest-graded run defense surrenders the fourth-fewest rushing yards per game and has not allowed a running back more than Christian McCaffrey's 77 yards on the ground. Only 27% of their yardage allowed has come via handoffs (fifth lowest) according to the intrepid Scott Barrett.
Throwing against the Steelers is preferable, and opponents do it at the league's highest situation-neutral rate during the last five weeks (68.7%). That rate through five weeks was 58.1%, which ranked only 16th-highest. Pittsburgh's 21st-graded pass rush and 15th ranked coverage grade doesn't scream "attack me," but they make up the path of lesser resistance. With three stud quarterbacks left on their schedule, there's a strong chance those grades finish lower than where they are now.
Week 11 at Jacksonville Jaguars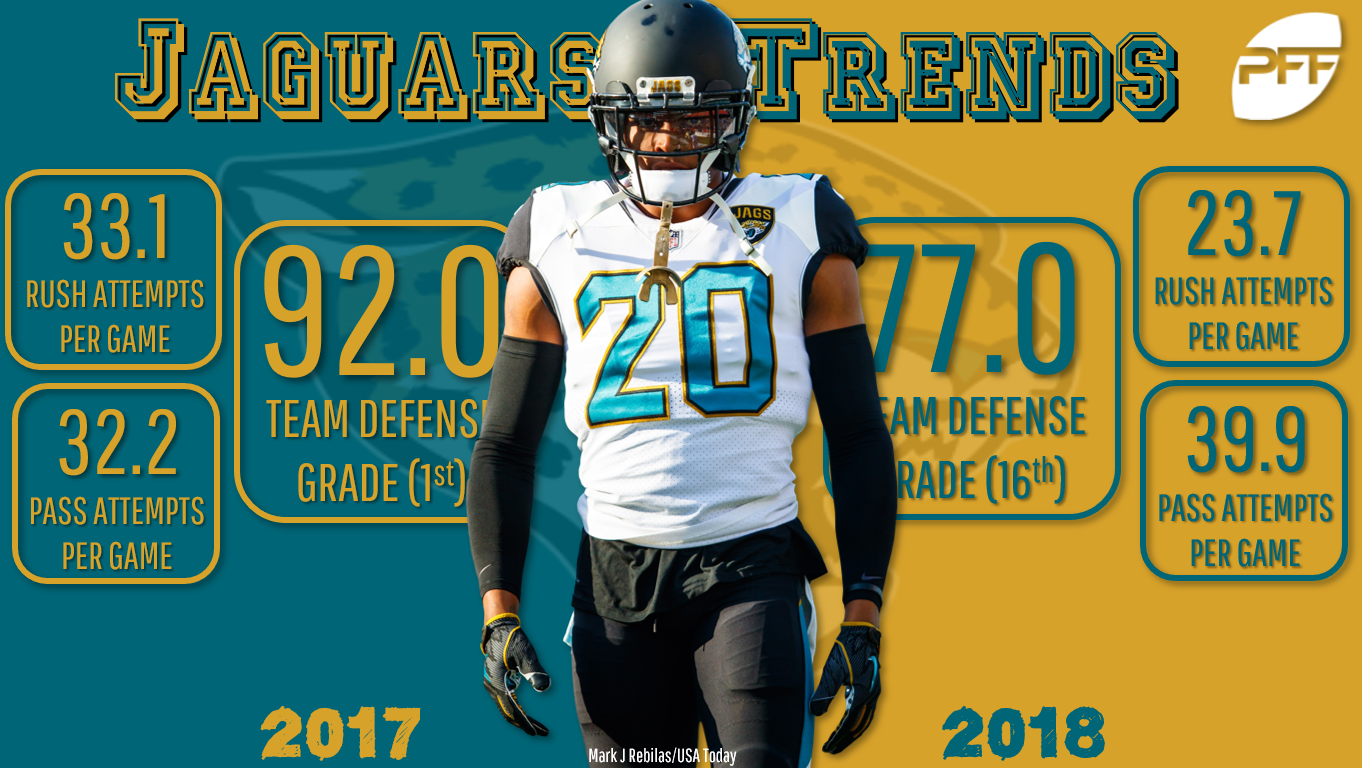 This is not one of the weeks the Steelers have a stud quarterback on the schedule (#analysis). With Leonard Fournette back and the Jaguars coming off a bye, they ran on half of their situation-neutral snaps last week (seventh-highest). Prior to Week 10, Jacksonville had a 39.5% situation-neutral run rate (21st-highest). In their two meetings last year, Jaguars coaches wisely had Blake Bortles take only 28 and 17 dropbacks.
The Steelers had the 30th-graded run defense in 2017, and the Jaguars had the league's best defense holding them in games while they pounded away with Fournette. Things are different now, and more Bortles – especially with the game at home – might be in the cards. Tight end James O'Shaughnessy is an interesting dart throw. He had a solid Week 10 performance, doesn't have David Grinnage around to split snaps with anymore, and faces a Steelers defense that's given up several meaty games to tight ends.
Speaking of defenses that profile as pass funnels and aren't particularly inviting to throw against, the Texans allow 72% of their yards through the air (seventh-highest). Opponents had a 53.7% situation-neutral pass rate against Houston through five weeks (fourth-lowest), but over the last five weeks it's jumped to seventh-highest (63.1%). Of course, the Texans defense has also been playing better of late, allowing an average of 15.2 points in their last five games, versus 27 in the first four.
Houston's fourth-highest-graded run defense is allowing the sixth-fewest rushing yards per game (92.9) and the second-fewest yards per carry (3.6). Their ninth-highest graded pass rush aids a banged-up coverage unit grading 18th-best and featuring some valuable (Kareem Jackson) and some flammable (Shareece Wright) players. Their recent bye will improve their health, but the secondary remains the softest spot of an otherwise strong defense.
Week 11 at Washington
Washington is going to run right at the strength of the Texans in part because trying to win shortened games by tiny margins is their plan, and because they aren't capable of producing an effective passing attack. They hand off at the fourth-highest situation-neutral rate (48.9%), letting Adrian Peterson grind the clock to dust – along with our senses – four yards at a time.
With Jackson taking out Michael Floyd or another sacrificial lamb on most routes, and a rejuvenated Tyrann Mathieu giving Maurice Harris a hard time in the slot, there is a flicker of hope that Josh Doctson – who will see a lot of old friend "Char-eece" Wright – can deliver a big play. We would likely need Alex Smith to either face a two-touchdown deficit or undergo a lobotomy. So we're saying there's a chance.
Run funnels
The Lions remain a run funnel, although the spout is starting to clog up. Opponents still hand off against them at the league's highest rate (50%), and during the last five weeks it's been nearly identical (49.8%; third-highest). Their performance, however, has improved noticeably with the addition of Damon Harrison. Over the last three games, their run defense grade has leapt from the bottom of the league to 13th-best.
In their last two games, Detroit has bottled up Latavius Murray (3.1 yards per carry), Dalvin Cook (2.1 if his long run is conveniently removed), Tarik Cohen (2.1), and Jordan Howard (1.9). Sooner or later, opponents will realize their 30th-graded pass rush and 30th-graded coverage are easier marks. If not for the Lions' propensity to vampire play volume from their games, they'd be the top defense to target in fantasy.
Week 11 versus Carolina Panthers
The Panthers are the fifth-most run-heavy offense in neutral situations so far this season (47.7%), and they seemingly profile as a ground-based opponent who will gladly enter Detroit's run funnel. However, this is a different Carolina offense – especially lately. During the last five weeks, the Panthers have a 58.6% pass rate when games are within one score (20th-highest). Prior to that, they ranked third-lowest (49.8%).
This isn't to say the Panthers will abandon their run-based identity, especially against a team that has been fileted on the ground for most of the season. But just as Detroit's defense has changed its profile, so too has Carolina. In a game that is all but guaranteed to be cursed by low play volume, the Panthers' big-play weapons may still hit for fantasy gamers – even if they don't enter the Lions' shrinking run funnel.
The Cardinals allow the fourth-most rushing yards per game (140.3) and only the Browns have allowed more touchdowns on the ground. Opponents hand off against Arizona at the second-highest rate during neutral game situations (47.6%), which are increasingly prevalent now that their offense doesn't resemble rush hour traffic, and their games aren't insta-blowouts.
This is not to say the Cardinals are good – only somewhat more competitive. Opponents will still lean toward the run, and not only because Arizona's third-worst-graded run stopping is he path of least resistance. When their offense begins to break the 20-point barrier, which they've done one time (Week 5), opponents will more frequently challenge a secondary with mostly solid safety play and Patrick Peterson's shut-down coverage.
Week 11 versus Oakland Raiders
This may be the week the Cardinals cross the 20-point Rubicon for the second time, but the question is if their opponent would even notice. The Raiders have a one-way ticket to the offseason, and the shades are pulled down tight. Last week they were the eighth-most run-heavy offense during 33 situation-neutral snaps, as they ground the clock to dust and sleepwalked to a pair of field goals in a two-touchdown loss.
On the off chance this game stays reasonably close, and Jon Gruden forgets to replace Doug Martin with Jalen Richard, the former muscly hamster isn't the worst fantasy dart throw during a week with six teams on bye. He has 13, 11, and 15 carries the last three games. Oakland will run the ball with little regard for success rate, and even less regard for Arizona's defensive profile. The only funnel most Raiders are thinking of contains a Mai Tai.