Welcome to the Week 14 edition of Snaps, Pace, & Stats, where we examine trends in snap totals and no-huddle usage. It is meant to be a 30,000-foot view of upcoming games, with the goal of identifying which matchups will – and which will not – be played on fertile fantasy football soil.
This week's slate shapes up oddly, with seven divisional rematches and few matchups pitting two up-tempo offenses. Even games with high projected totals have noticeable snap volume downside due to shifting offensive styles and preferred paces. That it is the first week of the fantasy playoffs just ratchets up the pressure. Hopefully we can identify some sweet spots to pounce on and pitfalls to avoid.
Up in pace
| | | | | |
| --- | --- | --- | --- | --- |
| Rank | Week 13 Snaps | 2018 Snaps/Game | Opponent Wk 13 Snaps | 2018 Opp Snaps/Gm |
| 1 | Baltimore (77) | Baltimore (71.7) | Atlanta (77) | Cleveland (72) |
| 2 | Chicago (77) | Tampa Bay (67.7) | N.Y. Giants (77) | Cincinnati (69.8) |
| 3 | Green Bay (74) | New England (67.1) | Arizona (74) | Kansas City (69.5) |
| 4 | Houston (74) | Indianapolis (66.8) | Cleveland (74) | Arizona (68.1) |
| 5 | San Francisco (74) | Pittsburgh (66.8) | Seattle (74) | N.Y. Jets (66.3) |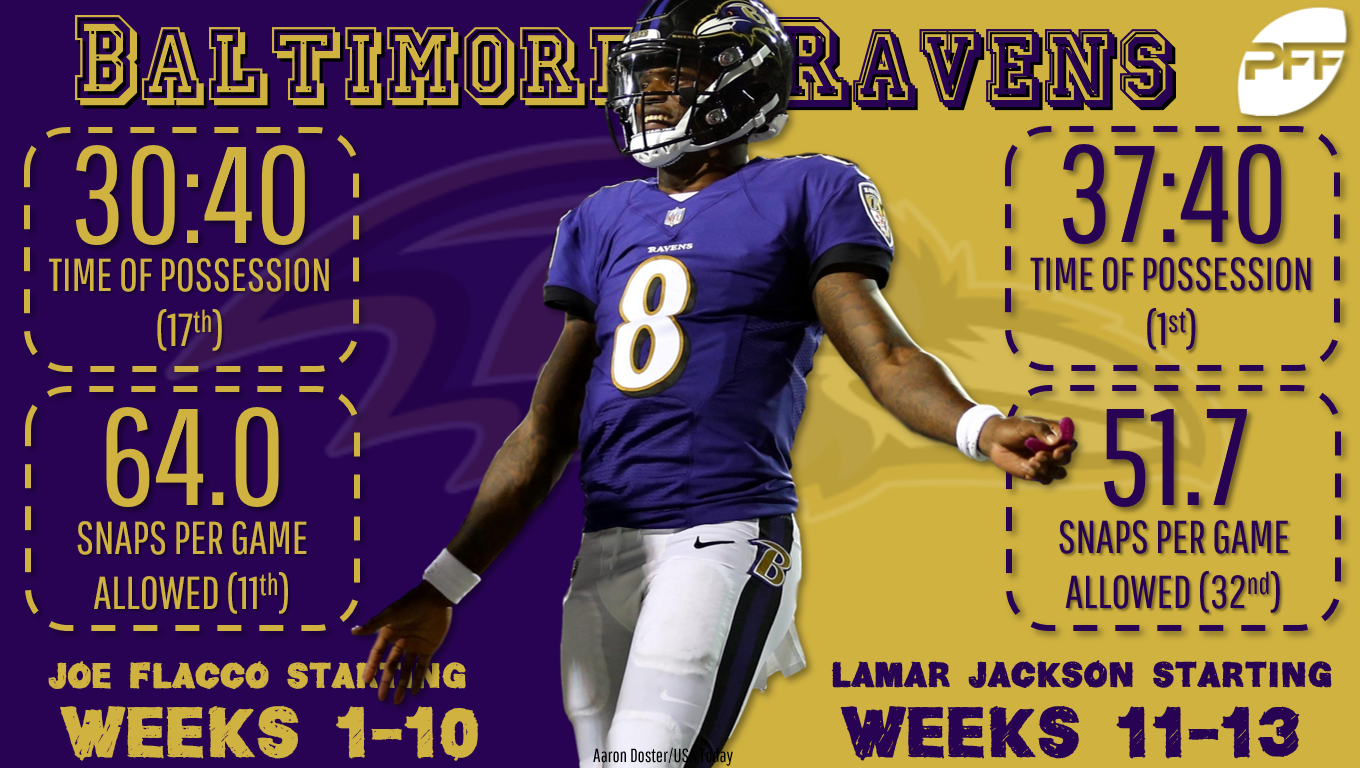 The Ravens would not have been described as ball hogs before Lamar Jackson took over as starting quarterback, ranking 17th in average time of possession after 10 weeks (30:40). Since then, nobody is remotely close to their 37:40 mark. They are still first in plays per game, and have added nearly four to their average. However, Baltimore has gone from allowing the 11th-most snaps per game (64.0) to the NFL's fewest (51.7). Pivoting from the third-highest situation-neutral pass rate as of Week 10, to the league's lowest will result in that kind of dramatic shift. It's especially true when a team is successful on the ground and deploys a strong defense. It also doesn't hurt to face the Bengals, Raiders, and suddenly impotent Falcons.
A trip to Kansas City will be an entirely different experience for Jackson and the rolling Ravens. Even if the Chiefs aren't able to produce many plays, the league's premier points-per-snap offense will still score. Ranking only 21st in plays per game and seventh-lowest in average time of possession, Kansas City is used to doing a lot with a little. Still, there is hope for higher-than-expected play volume. Both defenses have been treated as pass funnels when games are within one score, ranking first and second in opponent pass rate during the last five weeks, and in the top eight for the full season. Both teams play in high-snap-volume contests, as they rank top four in average combined play totals, and each offense operates at an elevated pace during neutral situations (game is within seven points). We know what the keep-away Ravens will try to do, and even if they're relatively successful, this game still offers plenty of fantasy goodness.

Subscribe to PFF Edge to continue reading

Already have a subscription? Sign In