Estimated reading time: 9 minutes
---
Week 1 has come and gone. Sixteen NFL games brought joy, laughs and tears so today, we'll focus on the latter sadness and break down just how close some came to achieving fantasy football glory.
What follows is a breakdown on all the "Sheesh" moments from Week 1. I've re-watched every game and used PFF's backend tools to help determine instances when:
Pass-catchers could have scored or picked up big yardage with a more accurate pass

Pass-catchers did receive an accurate pass that should have resulted in a score or big gain, but the ball was dropped

Ball carriers managed to get inside the three-yard line, but didn't score

Players scored or picked up big yardage, but the play was nullified by penalty

Other random shit happened that tilted fantasy football managers of all shapes and sizes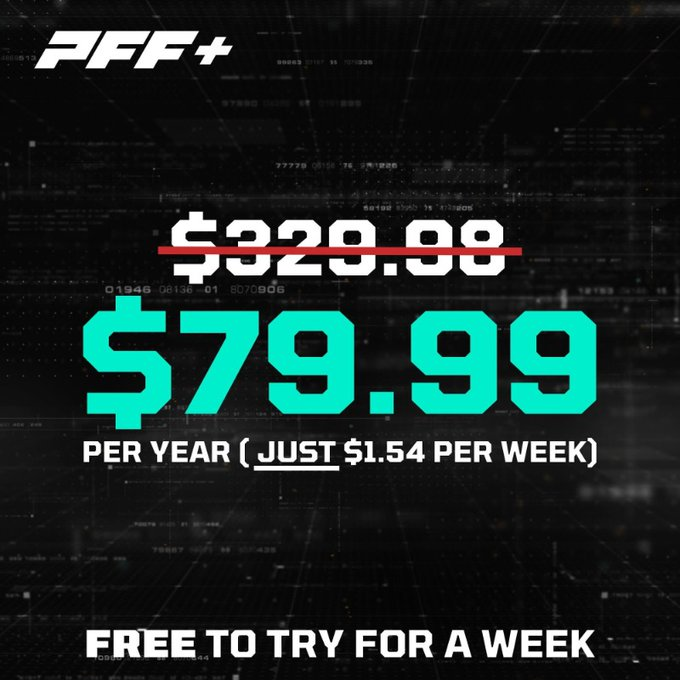 But first: The Week 1 Sheesh Award for the most-tilting overall performance goes to …
Yes, Chase caught 10 passes for 129 yards and a touchdown while looking borderline unguardable all afternoon. Also yes, his performance was so close to being much bigger:
Chase had a chance to secure an eight-yard touchdown in the second quarter but failed to get his second foot down as well as secure the ball all the way to the ground.

Chase dropped a slant late in the fourth quarter that sure looked like it had a chance to go for a 29-yard touchdown considering his defender fell down at the catch point.

Chase

sure looked like he crossed the goal line

while reeling in a 12-yard reception late in the fourth quarter. Instead of challenging, the Bengals rushed to the line and ultimately turned the ball over on downs.

Chase made an absolutely absurd one-handed snag from 17 yards out but couldn't quite get both feet inbounds. Friendly reminder for any professional receivers reading this:

Wear white shoes

. Luckily, in this instance, Chase still managed to cap off the drive with a score.
Chase's fantasy managers likely aren't too upset about yet another WR1 performance, although this one truly had the makings of a week-winning performance had things gone just a bit less "sheesh-y."
---
Pass-catchers could have scored or picked up big yardage with a more accurate pass
The following pass-catchers should have had a much bigger day at the office, but unfortunately, their respective quarterbacks weren't quite up to the task for at least a moment. The following three misses subjectively sucked the most:
Tyreek Hill coulda shoulda woulda had a bomb touchdown on the first snap of his Dolphins career with a good snap pic.twitter.com/0NYxV0DNPL

— Ian Hartitz (@Ihartitz) September 13, 2022
Amari Cooper looked good in Week 1 despite the 3-17-0 receiving line pic.twitter.com/QyOFKkR9KJ

— Ian Hartitz (@Ihartitz) September 12, 2022
Also note:
---
Dropped touchdowns
Sometimes players get open and receive a catchable pass but, unfortunately, drop the ball and cost their team six points. One veteran signal caller had to deal with this on multiple occasions.
Indianapolis Colts QB Matt Ryan had not one, but two touchdowns dropped during his up-and-down debut. The first to rookie Alec Pierce was particularly egregious, and the second to Ashton Dulin was at least punched out. Either way: sheesh.
Matt Ryan wasn't getting much help from receivers not named Michael Pittman on Sunday pic.twitter.com/ZSIwmvB4zx

— Ian Hartitz (@Ihartitz) September 12, 2022
There were six more pretty egregious drops in Week 1 on passes that should have resulted in six points more times than not:
---
Other "sheeshes"
This needs to count for fantasy points I am outraged please do something @JoeBiden pic.twitter.com/Up4notTgS9

— Ian Hartitz (@Ihartitz) September 12, 2022
Denver Broncos TE Eric Tomlinson added to the party of near touchdowns by snagging a Russell Wilson bullet in the corner of the end zone. Unfortunately, as you can guess by now, it wasn't a score — Tomlinson's second foot was out of bounds. Why do NFL pass-catchers still wear non-white cleats when it arguably buys them an extra three inches toward being deemed inbounds? The world may never know.