We are now three weeks into the fantasy football season and the data continue to pile up. Utilizing data and information to make better decisions is vital to fantasy football and DFS success, with three games approaching a large enough sample size to feel confident in our research. This column will use PFF's extensive data to highlight stats that reveal team and player mismatches for every game of every week.
Here are the facts and stats to know for Week 4:
This column highlighted Philadelphia's struggles with outside wide receivers last week (though it was Marvin Jones Jr., not Kenny Golladay, who erupted) – for the season, the Eagles coverage unit has allowed outside wide receivers to rack up 57 targets (most), 468 yards (second), and five touchdowns (most). Of course, this sets up as a prime Davante Adams explosion spot. While Adams has had an uneventful first three games, he has still done damage when lined up out wide by averaging 4.63 yards per route run (15th). Last season, Adams led the league with 10 wide touchdowns and had 126 targets (second) and 1,069 yards (fourth).  Also, don't forget Marquez Valdes-Scantling – he actually has 16 wide targets to Adams' 14 this year.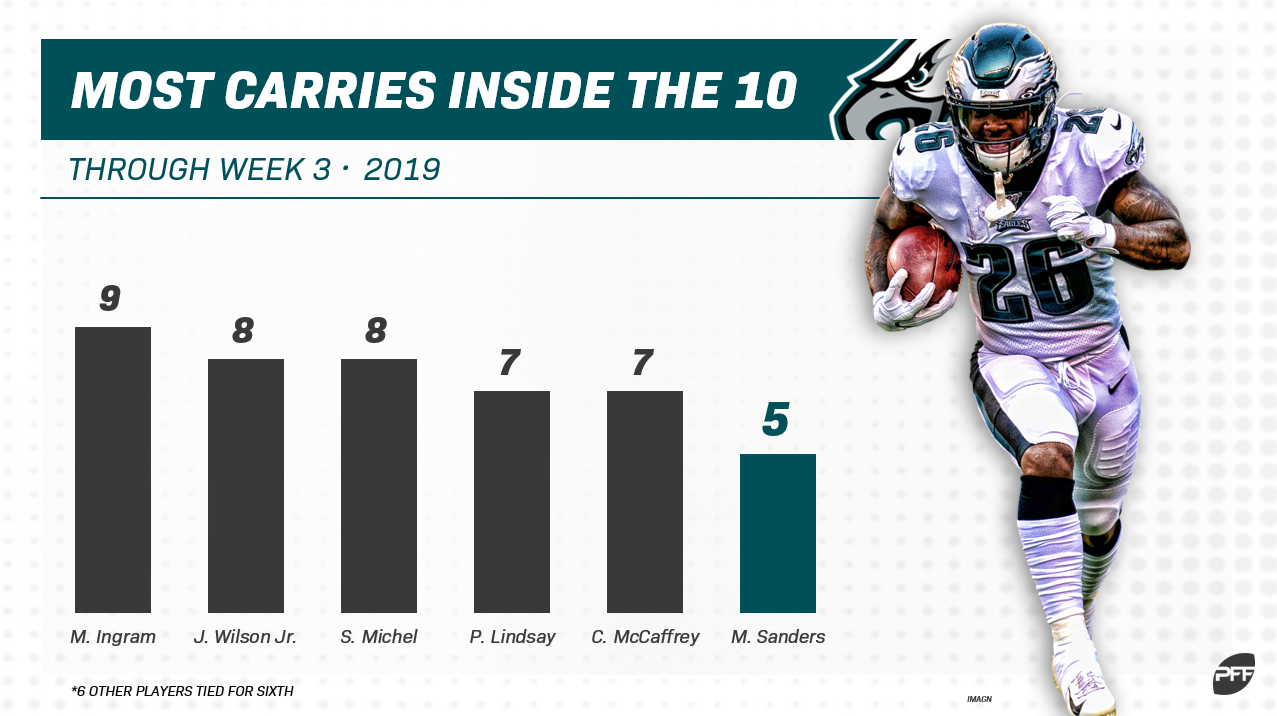 For all the praise of Green Bay's improved defense, the Packers have been susceptible to the run – they are allowing 3.5 yards after contact per rushing attempt (29th) with just 11 tackles for a loss (21st) and have a league-high 20 missed tackles. Phillip Lindsay just gashed the Packers run defense for a 21-81-2 line, and we have a similarly spry back on the Eagles in Miles Sanders that is set up in an intriguing spot. Sanders has five carries inside the opponent's 10-yard line (tied for the sixth-most) and is one of just 12 running backs to receive at least five of these high-value touches. Of these 12 RBs, Sanders is the only one yet to find the end zone. Positive regression is coming. Sanders also appears to be wresting touches away from Jordan Howard — he has 39 to Howard's 28.
The days of fantasy analysts poking fun at Julio Jones' touchdown ineptitude seem like a distant memory – he leads all wide receivers with four touchdowns through the first three games. Jones is up to his usual impressive production, averaging a sizeable 2.39 yards per route run (14th) and with zero dropped passes. PFF projects him to see a lot of Malcolm Butler in coverage, which is a very winnable matchup. Over the last two games, Butler has given up three touchdowns (most), 2.52 yards per cover snap (fifth-most), and a 153.2 passer rating (fourth-highest).
Daniel Jones announced himself to the NFL and fantasy world with authority in last week's victory over the Bucs. Jones now gets a cupcake matchup with a Washington defense that just let Mitchell Trubisky have his way with them. Perhaps the biggest issue with the Redskins defense is their inability to pressure the quarterback with just a 27% pressure rate (fourth-worst). On these clean dropbacks, their coverage unit is allowing an obscene seven touchdowns (most), 82.4% completion percentage (fifth worst), and 132.1 passer rating (sixth). Jones was pressured last week on a league-high 56% of dropbacks, and this number should go way down against the Redskins. During Jones' senior year at Duke, he was a much better passer when kept clean (105.9 passer rating) than under pressure (51.0 rating).
The Giants secondary continues to be extremely problematic, unless your name is Mike Evans, who had no problem with it at all. Janoris Jenkins and DeAndre Baker are both getting completely pasted in coverage — they have allowed a combined five touchdowns with passer ratings of 140.2 and 157.1, while averaging 2.56 (sixth-most) and 3.15 (most) yards per cover snap. Regardless of who is at quarterback for the Redskins, Terry McLaurin and his 141.8 passer rating and 2.16 yards per route run is in play.
The Miami #FishTank is a breeding ground for fantasy goodness and the Chargers are up next on the docket. Keenan Allen has a preposterous 35.3% target share (tops in NFL) and is another easy lock and load this week. Allen's matchup is even better in the slot, where he has a 31% target share, six explosive plays of 15-plus yards (most), and is averaging 3.25 yards per route run (fifth). Miami slot corners Jomal Wiltz and Chris Lammons do not have a prayer of covering him. Wiltz allows 2.59 yards per slot cover snap and a 156.3 passer rating. Lammons is even worse on a per snap basis with 3.44 yards per slot cover snap and a 118.3 passer rating.
Mike Williams is also a viable contrarian play — he had four deep targets last week but failed to connect on any. The Dolphins are allowing a 53% catch rate on deep passes (eighth-most) and four touchdowns (second).
Josh Jacobs followed up a dazzling NFL debut with two straight disappointments, but there is an opportunity to right the ship against a Colts defense that is having serious issues stopping the run — the Colts are allowing a generous 3.7 rushing yards after contact per attempt (third-most) while giving up an explosive run of 10-plus yards on a league-high 19% of rushing attempts. The Colts run defense has 14 missed tackles (sixth-most) and is missing a tackle on 23% of runs (fifth). Jacobs has forced 10 missed tackles (eighth-most) with 178 rushing yards after contact (fifth), at 3.96 rushing yards after contact per attempt (eighth).
Kyle Allen shredded the Cardinals defense when given ample time to throw — on plays with a snap to pass greater than 2.5 seconds, Allen completed 12-of-14 passes for three touchdowns and a perfect 158.3 passer rating. The Texans are allowing opposing quarterbacks to have a time to throw of 2.5 seconds or more on 56% of dropbacks (fifth-most) with a league-high 59 pass attempts. However, on these extended cover snaps the Texans have only allowed two passing touchdowns with a 93.3 passer rating (12th).
Offenses continue to victimize Detroit's Justin Coleman out of the slot — he saw a league-high nine targets in Week 3 and for the season has 25 targets (five more than anyone else) while allowing three touchdowns (most). The sledding gets a whole lot tougher with the Patrick Mahomes aerial assault coming to town. Operating out of the slot for the Chiefs are Sammy Watkins (67% slot snaps) and Mecole Hardman (57% slot), who are both in smash spots with this matchup. Although Watkins has been quiet since a Week 1 explosion, he still is seeing targets on 26% of slot routes, the seventh-highest rate among all wide receivers. I would be remiss not to also mention that this will be Mahomes' first NFL regular season game in the friendly confines of a dome. Fire up the Chiefs passing unit with extreme confidence.
The Browns are in trouble, and the subpar play of Baker Mayfield is largely to blame. Cleveland's offensive line is conceding a 36% pressure rate (14th-most) and Mayfield has been anemic on these pressure dropbacks — 37% completion percentage (28th), 4.6 yards per attempt (28th), 28.3 passer rating (29th), and a 24% sack rate (sixth most). The Ravens pressure opposing quarterbacks on 38% of dropbacks, the ninth-highest rate in the league.
Bill Belichick is up to his usual trickery with the Patriots backfield and a three-headed monster is developing between Sony Michel, James White, and Rex Burkhead. The Bills have a stout run defense but have allowed production to RBs via the passing game, which sets up nicely for White to celebrate the birth of his baby boy with a bang performance on the field. Here is the production Buffalo has surrendered to RBs – 87% catch rate (fourth-highest), two touchdowns (most), and a 106.5 passer rating (ninth) with PFF's 30th-ranked coverage unit. In the first two games, White ran a route on 64% of Tom Brady's dropbacks and was productive with 1.74 yards per route run (13th) and a 121.4 passer rating (ninth). Don't forget Burkhead either — he is also involved in the passing game with a route on 59% of Brady's dropbacks.
Tampa Bay's run defense continues to surprise, as they have a league-high 21 tackles for loss/no-gain with a 2.90 average depth of tackle (second), while living in the backfield with just 0.3 rushing yards before contact per attempt (second). Offenses are starting to take note — the Bucs defense has seen a combined 38 rush attempts over the last two weeks, third-fewest in the league. A home game against a pass funnel defense sets up nicely for Jared Goff and the Rams pass-catchers. Specifically, we have a tantalizing buy-low spot on Robert Woods — PFF projects him to line up in Carlton Davis' coverage, who's 25 targets are seventh-most in the league. Woods made his bones running crossing routes last season, accounting for 22% of his yardage total. No defense has surrendered more production to crossing routes this season than the Bucs with 18 targets (most) and 204 yards (most).
Week 3 of the 2019 season will forever be known as Mike Evans week. Unfortunately, the good times are unlikely to continue this week with a very difficult matchup against a stout Rams defense. Whether Evans sees Aqib Talib or Marcus Peters hardly matters — neither is allowing much of anything in coverage with a combined 10 catches for 115 yards through three games. Offenses are recognizing the Talib/Peters duo's prowess and attacking the slot, where the Rams have seen 43 targets (third-most). Yet, the Rams cover the slot exceptionally too – 54% completion percentage (second-lowest) and 46.1 passer rating (second). Chris Godwin should be the focal point of the Bucs passing attack, but efficiency is a question mark.
Last week, we highlighted Arizona's struggles with tight ends, and Greg Olsen went off for two touchdowns. While my first instinct was to go right back to the well in this matchup with Seattle's Will Dissly, digging deeper yields a word of caution – over the last two games, Dissly has only run 45 routes on Russell Wilson's 95 dropbacks, which is a sub-50% rate. The Nick Vannett trade adds an interesting wrinkle with his 44 routes run now up for grabs. Will Vannett's entire route share immediately transfer straight to Dissly? Keep in mind, Dissly's career-high snap number is just 47 and he is coming off a serious injury. Vannett was not an integral piece of Seattle's offense and only had five targets. Finally, Seattle just signed Luke Willson – will he play this week, and if so, how much? Dissly should be a very popular play this week, but a lack of opportunity creates a realistic path to failure. A pivot to Tyler Lockett or D.K. Metcalf could make a lot of sense.
Dalvin Cook is quickly establishing himself as one of the premier NFL running backs. He leads all RBs with 233 rushing yards after contact and 15 missed tackles forced, and these numbers could have been even better if it weren't for two blowout gamescripts. This week presents an interesting opportunity to buy a contrarian Cook with a bet on talent and scheme over matchup, especially considering the Vikings lead the league with a 59% run-play percentage. While the Bears run defense is elite in just about every metric, they have missed tackles at a 15% clip (19th) without having faced any of the league's top backs.
Offenses are attacking the Broncos defense by avoiding Chris Harris Jr. (9.1 cover snaps per target, 20th-fewest), instead picking on Isaac Yiadom (4.1 cover snaps per target) and Kareem Jackson (6.5). Harris has vacated the slot this year and now lines up predominately out wide (89% of snaps), where PFF projects a matchup with second-year breakout receiver D.J. Chark Jr. and his perfect 158.3 passer rating when targeted. Dede Westbrook had a forgettable Thursday night performance with two bad drops, but still had nine targets and could be primed for a bounceback — Kareem Jackson surrendered a long slot touchdown to Marquez Valdes-Scantling last week.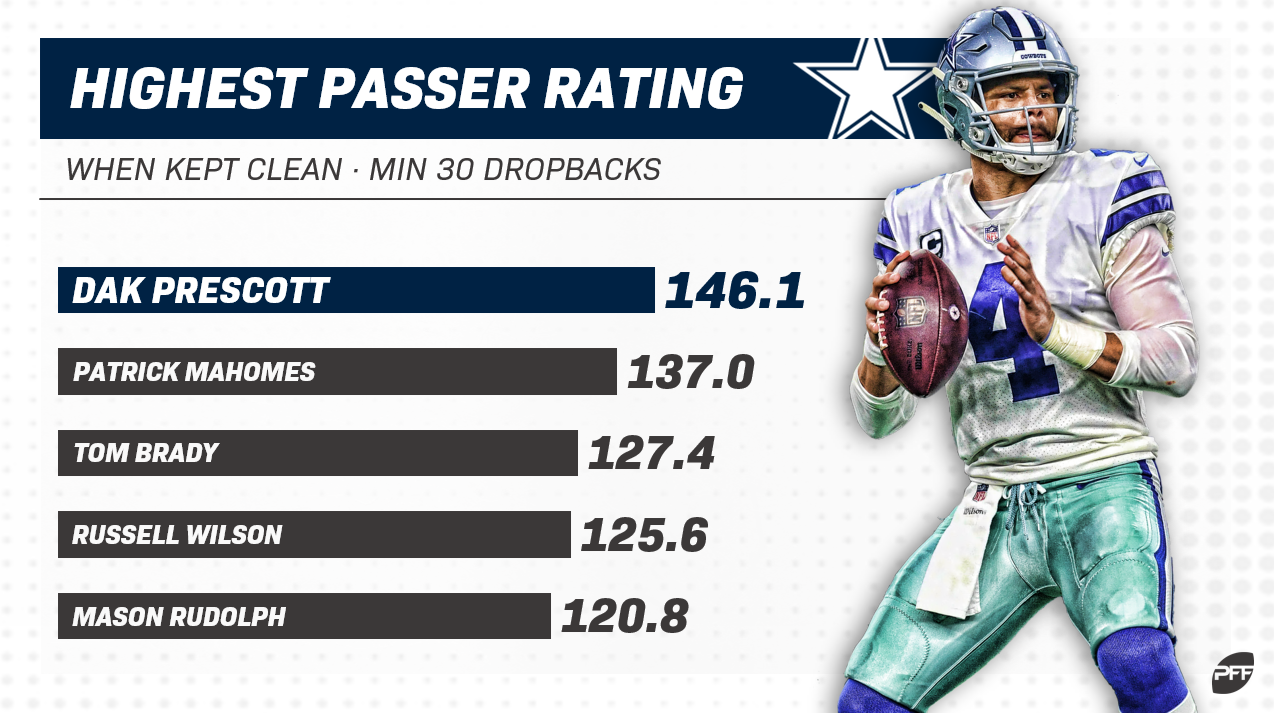 Dak Prescott has been lighting up opposing defenses when given a clean pocket, leading the league with a stellar 146.1 passer rating and nine touchdowns while ranking third with 9.6 yards per attempt. The beefy Dallas offensive line has kept Prescott clean on a league-high 79% of dropbacks. Having started the season with three defensive cupcakes (ranking 20th, 29th, and 30th in pressure rate), the Cowboys now travel to the Superdome where they will take on the Saints, who's ferocious 44% pressure rate is second-highest in the NFL, led by Cameron Jordan and his 20 total pressures (second-most among all defenders).
Small sample size caveat, but this year in 21 dropbacks under pressure, Prescott does not have a touchdown and has tossed two picks for a 59.2 passer rating. Something to consider given how dominant the Prescott-to-Amari Cooper connection has looked thus far.
A matchup with the Bengals presents Mason Rudolph with a major opportunity to bounce back from a poor performance against the 49ers. Small sample size caveat, but Rudolph has found success utilizing the play action fake, where he has a 69% completion percentage and 109.1 passer rating on 14 dropbacks. Without play action, Rudolph drops to a 52% completion percentage and 76.8 passer rating. The Bengals defense has no clue how to respond to play action fakes this season, allowing an incomprehensible 92% catch rate (most), four touchdowns, and a perfect 158.3 passer rating. Predictably, Cincinnati's play action woes stem from their inability to stop the run – they have surrendered 16 explosive runs (second-most), which sets up James Conner for a get-right spot.