Following up Saturday's Wildcard DFS Primer, it's time to take a look at every game on the Sunday slate from a DFS perspective. As usual, I'll call out my favorite DFS plays and game stacks. Stacking has been a tried-and-true approach to winning tournaments — if the right stack hits, then it's an instant print fest.
I'll also highlight key injury notes that could prove to be potential game-changers. Get amped for Super Wild Card Sunday! Mitchell Trubisky in prime time — what could be better?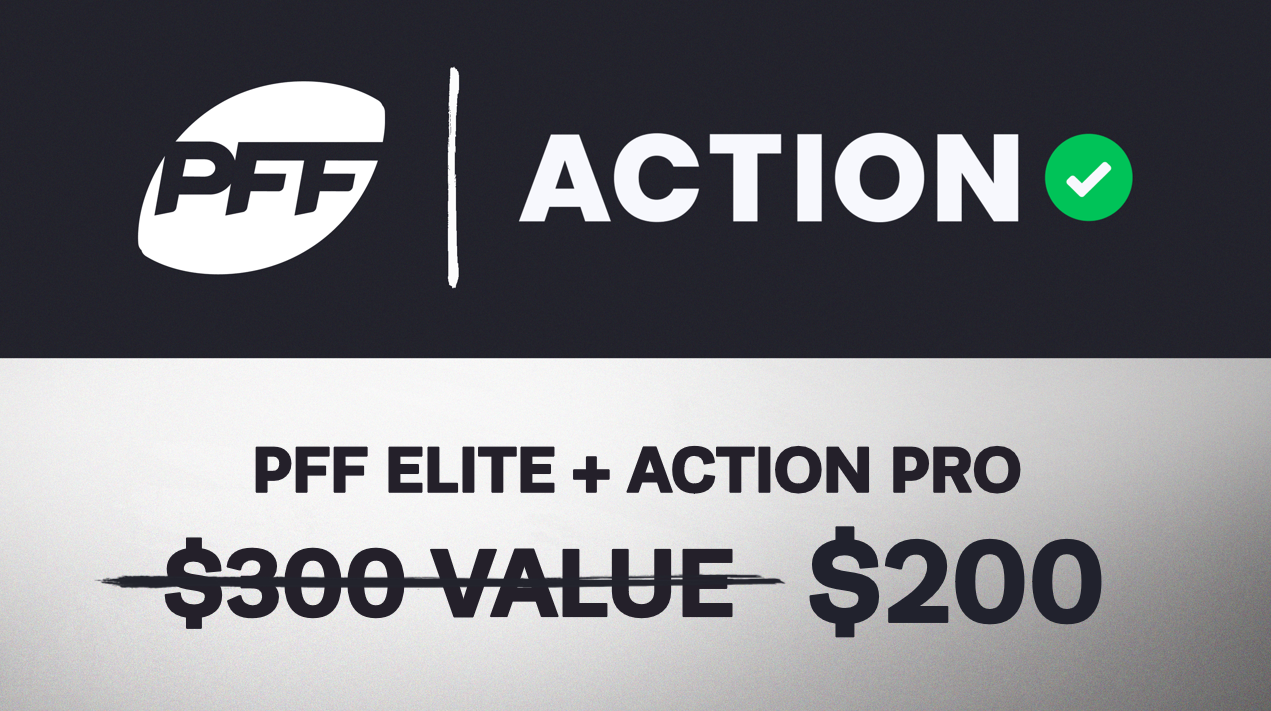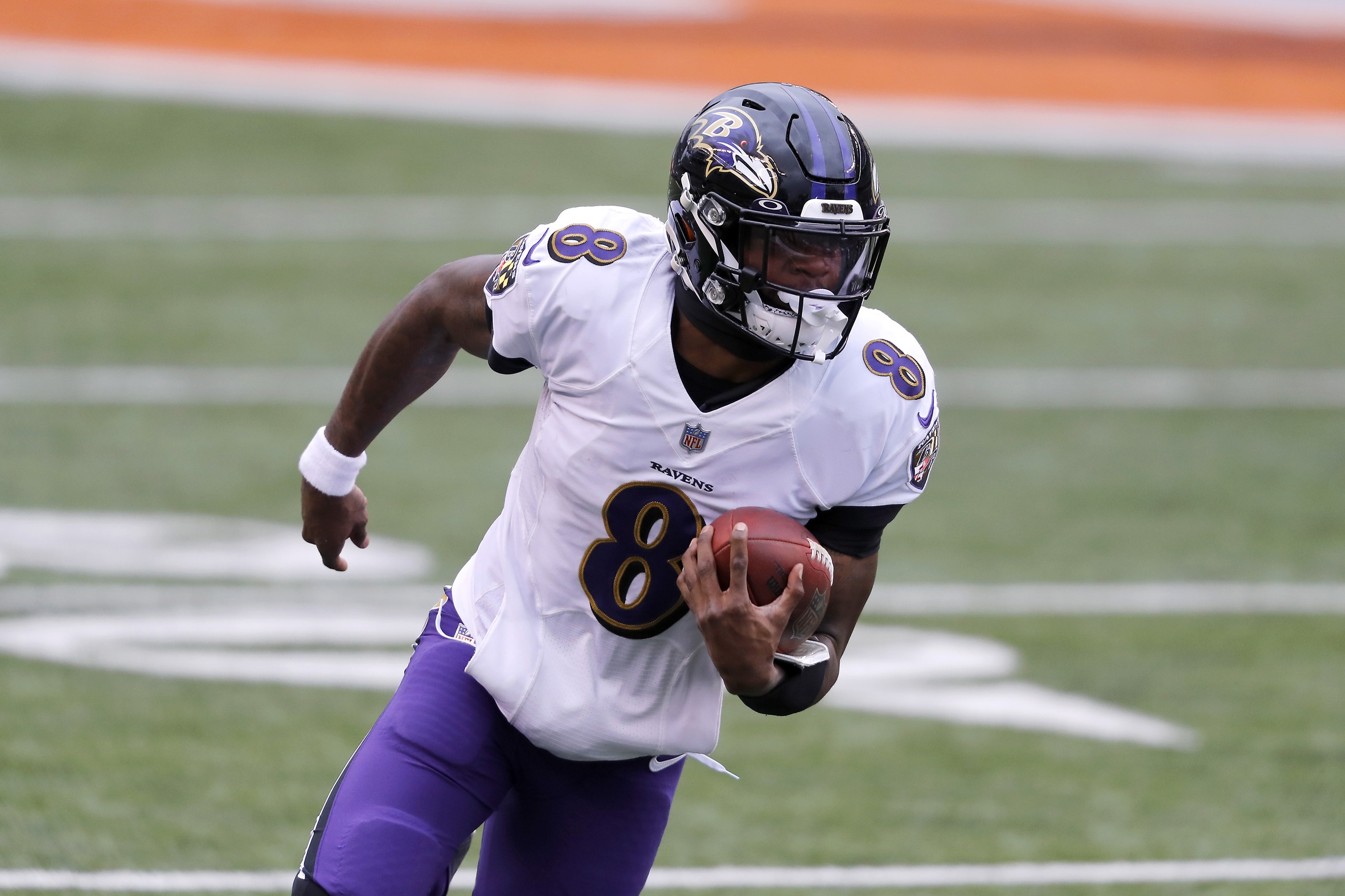 There's no doubting that Lamar Jackson has morphed back into MVP form during his team's run to the postseason. He's certainly had his fair share of easy opponents, but great QBs are supposed to overwhelm inferior defenses.
*The Titans' defense has entered the chat.*
Tennessee has allowed the second-most passing touchdowns and fifth-most fantasy points to QBs over the last two weeks. This would project Jackson to have an above-average day as a passer. 
The Ravens' QB has been a far superior passer this season versus zone (78.0 PFF passing grade, 8.1 yards per attempt, 97.0 passer rating) than against man coverage (60.7 PFF passing grade, 6.4 yards per attempt, 80.9 passer rating). 
Tennessee has slightly leaned toward playing zone more than man, but that's especially true versus the Ravens. They predominantly ran zone against Jackson when these teams first met, and the Ravens' quarterback posted an 80. 1 PFF passing grade. Against man, Jackson posted a 58.9 PFF passing grade.
The issue with running more man coverages against Baltimore is that Jackson could run wild against it. L-Jax has faced man coverage on just 25% of his dropbacks this season — the second-lowest of any QB in the playoffs (Drew Brees, 24%).
Another big part of the Titans' failures on defense is their lack of pass rush. They rank dead last in pressure rate (21%) since Week 13. Jackson from a clean pocket has thrown 10 touchdowns (fourth), earned a 127.5 passer rating (seventh) and averaged 8.5 yards per attempt (ninth) in that same time period. 
And last but surely not least, Tennessee's defense is the worst versus play-action. They rank 32nd in yards per attempt (13.3), 32nd in EPA per play allowed (0.88), 32nd in passing touchdown percentage allowed (18.4%), 32nd in QBR (149.1) and 31st in explosive pass play percentage (29%) allowed since Week 13.
Jackson ranks first in play-action rate (43.2%), third in passing touchdowns (six) and seventh in PFF passing grade (87.7) in that same time span. 
The 2019 unanimous MVP is sure to have a field day in this game as both a passer and rusher, so he should be able to bring some of his teammates along for the ride.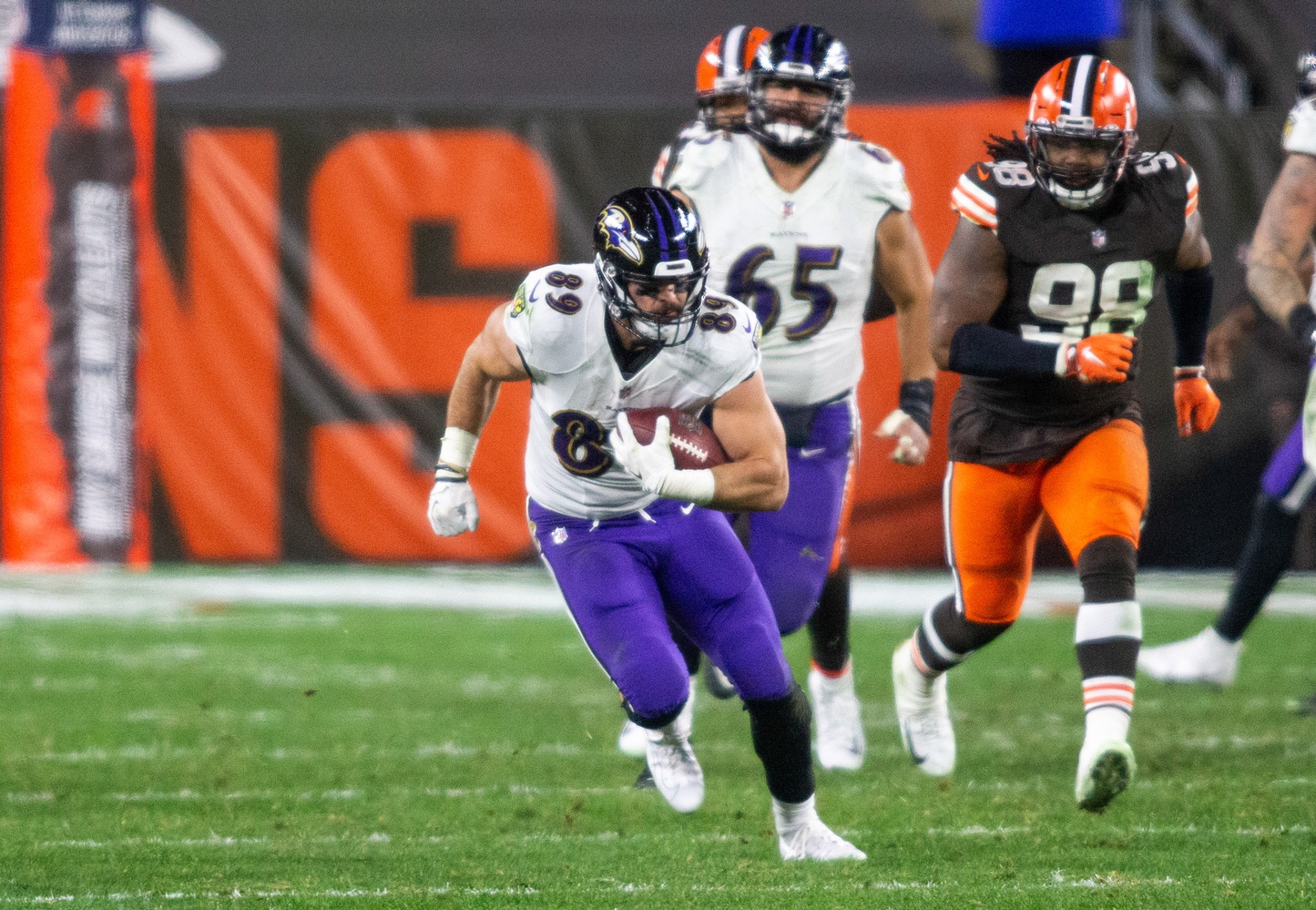 Mark Andrews is still my priority option among the Ravens' pass-catchers because he has commanded a team-leading 34% target share and 36% air yards share since Week 14. He also caught five of seven targets for 96 yards and a touchdown the last time these teams played. No team has faced more end-zone passes since Week 14 than Tennessee.
The Ravens' tight end should also be the main benefactor of facing zone coverage, as he is Lamar's go-to option versus that scheme. Andrews owns a 37% target share in zone coverage and is averaging an insane 3.05 yards per route run. 
The targets and efficiency are going to be there for Andrews to be well worth paying up for at the tight end position. No tight end has scored fewer fantasy points versus expectation than Andrews over the past two weeks, so the boom game is looming. 
Stacking Jackson with Andrews is a must in the Sunday-only slates, but DFS gamers shouldn't go any farther. Marquise Brown is in a great spot, but he's better served as a one-off player rather than a stacking partner with Jackson.
During Jackson's latest run, Brown shockingly is negatively correlated to his quarterback in terms of fantasy points. The relationship between them presents a negative correlation coefficient of -0.27. Better yet, Andrews and Brown have a negative correlation coefficient of -0.66. 
For Jackson to hit a high ceiling, he needs to create a ton of rushing production, which ultimately hurts his receivers. In reality, he can only support one pass-catcher as a true stacking partner. 
On the two-game slate, it's best to play Brown in lineups that don't feature Jackson to gain leverage on the lineups that do play the Ravens' quarterback. 
The same logic applies to J.K. Dobbins, who also has a negative correlation with his quarterback (-0.31). The argument could be made that as good as the matchup is for Jackson, it might be even better for the Ravens' rookie running back. 
The Titans have allowed an absurd 5.9 yards per attempt to opposing RBs over the past four weeks.
Dobbins has been the clear 1A in the Baltimore backfield to Gus Edwards' 1B, so it's hard to not love him in this game. He played his second-highest snap share of the season the last time these teams played and had his second-most productive fantasy outing.
He rushed 15 times for 70 yards and also added two catches for 15 yards. Meanwhile, Edwards played his lowest snap share of the season (21%) and carried the ball only three times. 
Playing committee RBs in plus-matchups has worked all season, so follow the process and lock Dobbins into any lineup that does not feature Jackson at QB. He's an ideal RB to target in any Josh Allen-led lineups for the two-game slate. 
On the Titans' side of the ball, I've already voiced my opinion on fading the likes of both Ryan Tannehill and Derrick Henry. And as scary as it is to fade the Big Dog, I'm sticking to my guns. 
I am much more interested in attacking this game with the pass-catchers. A.J. Brown has a 35% target share over the past four weeks — tied with Davante Adams for the highest in the league. 
The second-year wide receiver has also been Ryan Tannehill's favorite target (37% target share since Week 7) versus man coverage. The Ravens have run the second-most coverage snaps from man coverage this season and will likely be implementing the same defensive scheme on Sunday with their top three cornerbacks healthy. 
Brown's target share is important to call out versus man coverage because it falls to 21% against zone. And Brown is negatively correlated with the other Titans' pass-catchers, so he's a solid bring-back option in Ravens stacks or as a pivot off Stefon Diggs in the two-game slate. 
If salary can't be found, paying down for Corey Davis to jam in another high-priced wide receiver makes tons of sense. 
The Titans' wide receiver for all intents and purposes has busted hard in back-to-back weeks with just five catches for 39 yards despite 13 targets. He has been plagued by drops, resulting in 17.1 fantasy points under expectation — second-most at the WR position over the last two weeks.
That's usually a tell-tale sign to target the player. It also helps Davis' case that he leads the team in end-zone target share (38%), giving him a high chance of scoring in what could be a shootout.
Davis also saw three deep targets in Week 17, which raises his ceiling considering the possibility he could take a long pass to the house. That played out the last time he faced Baltimore when he caught five passes for 113 yards.
I don't project Jonnu Smith to see huge volume in this game considering his target share against man coverage is a meager 10%. He's also run just 87 routes since Week 14, which ranks ninth among tight ends playing this weekend.
The strategy behind playing Smith has everything to do with correlation, as he is the most negatively correlated Titans' receiver with Henry (-0.75). That's because Smith's production — like most tight ends — is tied to touchdowns. Whenever he scores, that is one less score for the Big Dog. 
Smith caught a touchdown the last time he played the Ravens, but overall the matchup doesn't give me confidence he can necessarily repeat. Baltimore has not allowed an opposing TE to score since Week 11. 
The silver lining with Smith is that he is super cheap, so he won't necessarily nuke a lineup if he can't find the end zone. 
A three man-stack of Jackson-Andrews-Davis is probably my favorite way to attack this particular matchup.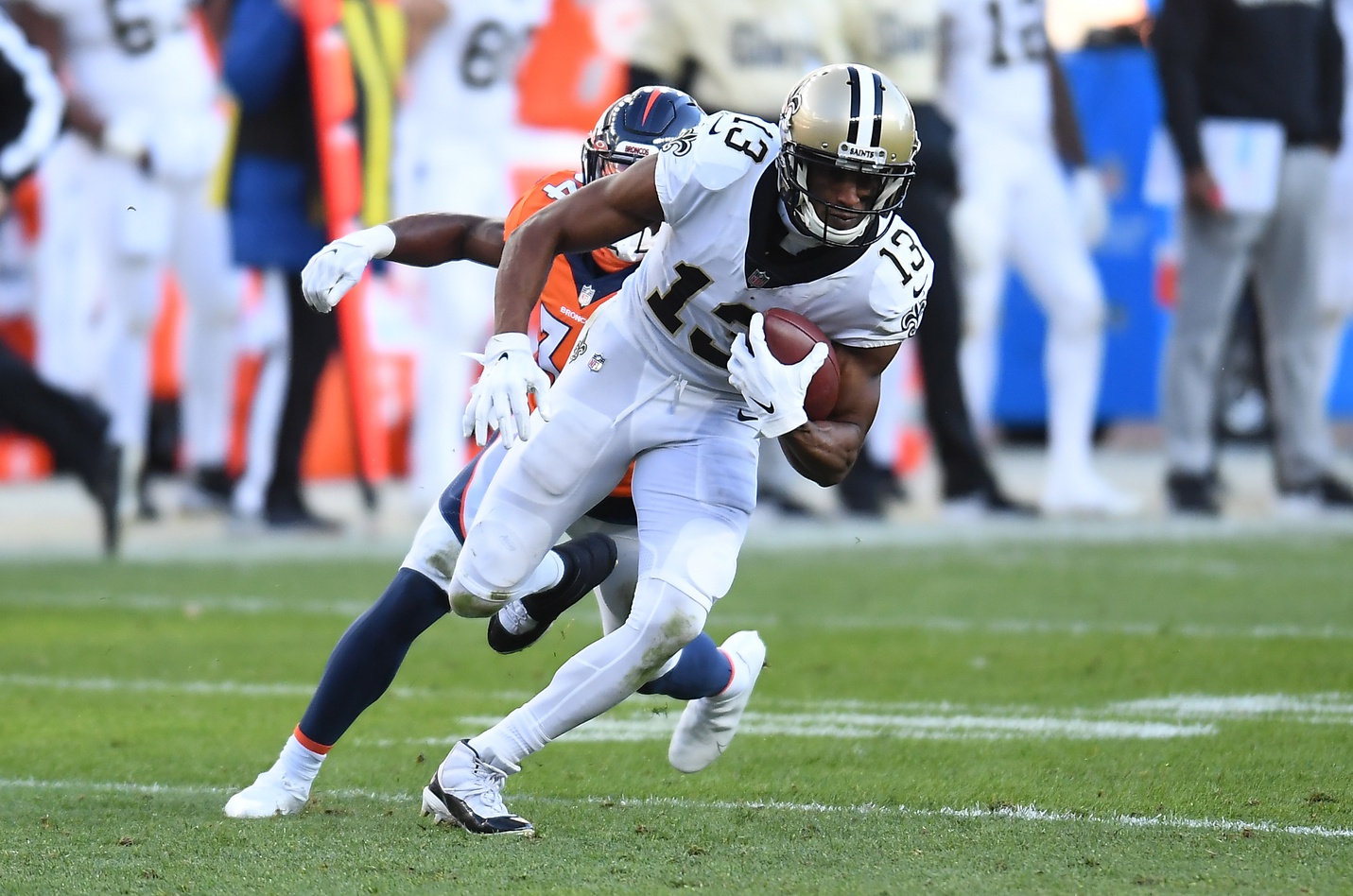 I don't know if there is any better value across Wildcard Weekend than Michael Thomas. The Saints wide receiver has obviously been a massive disappointment for the entire season, playing in just seven games. 
But during his final four games before going on IR, he was seeing north of 38% of the team's targets. That did come with Taysom Hill at quarterback, but it would not shock anyone to see Thomas command the most targets in the Saints offense based on his well-established chemistry with Drew Brees. 
By all accounts, Thomas looks like he's full-go for the Saints' potential playoff run. The matchup also favors him — Chicago ranks 31st in TD percentage allowed (9%), 26th in yards per target (9.6) and 29th in passer rating (124.6) allowed to WRs. 
Remember that it was just last season that DFS gamers were paying up to $9K or $10K to fit Thomas into lineups. Stay ahead of the curve before the salary increases next week if the Saints emerge victoriously. 
Thomas' return puts a damper on playing Emmanuel Sanders at his mid-range price. His target share is just 17% in games played alongside Thomas, and that could be inflated because four of those six games came with Hill at quarterback.
As we all know, Hill hardly targeted Alvin Kamara this season. This situation is likely to revert back to what it was, with Thomas and Kamara atop the pecking order. 
Kamara has averaged more than twice as many fantasy points with Brees than with Hill under center (29.2 versus 14.2) this season. All signs on Twitter indicate that Kamara is going to play on Sunday, so he would be my primary pay-up running back option. 
The matchup isn't ideal, as Chicago has allowed the seventh-fewest fantasy points to RBs the past four weeks. But Kamara always has 30-point upside in PPR formats. He was also super involved in the passing game with nine catches for 93 yards on 13 targets the last time he faced the Bears.
Chicago may also be without linebacker Roquan Smith, who finished third in the NFL in tackles during the regular season. Smith earned PFF's highest coverage grade (91.4) vs RBs. His loss is Kamara's gain. 
Thomas and Kamara are negatively correlated (-0.45), so I would be playing them solely as one-off plays. You can pair them with my lock of the week at tight end, Jared Cook, as he has a surprisingly positive correlation with both players this season.
Cook's four end-zone targets are tied for the most on the team, so I absolutely love him against the Chicago Bears. They have faced the fourth-most end-zone targets among playoff teams since Week 13, and they have also allowed the second-most fantasy points to TEs this season. Two Packers tight ends caught TDs against them in Week 17.
When these teams played earlier in the season, Cook caught five of seven targets for 51 yards and a touchdown.
With all the Saints' love, I do think Brees is a sneaky QB to build under-owned stacks around. Brees has thrown three touchdowns in two of his last three games despite missing one or both of his best weapons on offense. He threw four touchdown passes the last time he played with both Kamara and Thomas in the lineup.
We are also seeing more reports that Brees is much healthier now than he was earlier in the year.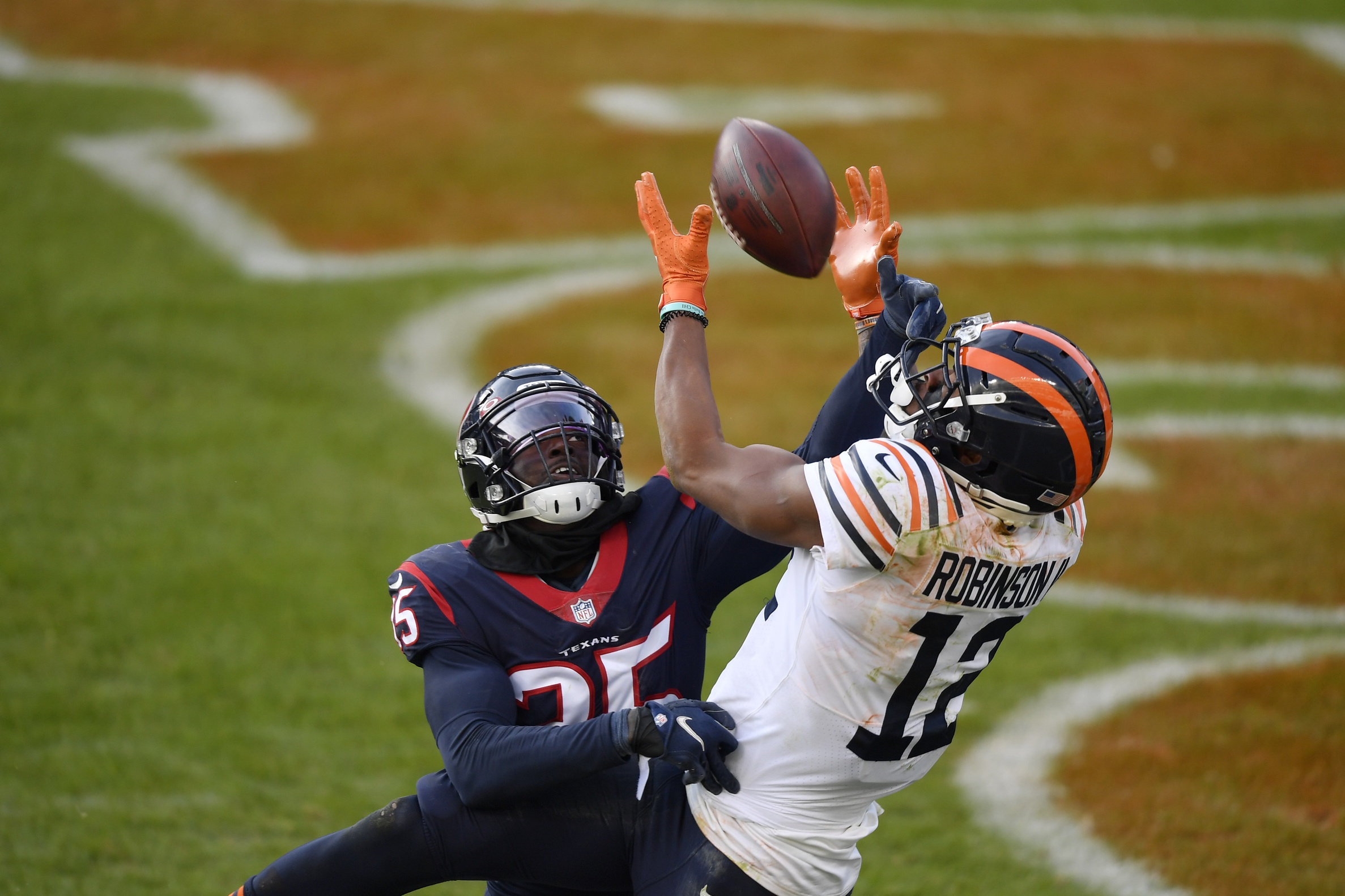 Flipping over to the Bears' offense, Trubisky initially stood out as a dirt-cheap quarterback option. He ranks third among QBs in expected fantasy points per game (22.4) but has underperformed (-19.7 fantasy points) more than any other QB the past three weeks.
We usually want to chase the expected fantasy points because they are indicators of untapped potential, but this is Trubisky we're talking about. His two peak performances (25 fantasy points) came against two of the league's worst defenses. 
The Saints have PFF's fourth-highest graded defense this season, so Trubisky can't be in play outside of large-field GPPs. 
What works in Trubisky's favor is that he will face prime "pass game" conditions playing in the only game indoors. And he might be able to create some magic under pressure.
New Orleans ranks fourth in pressure rate (41%) since Week 13, and Mitch has been surprisingly good in the face of pressure this season. His passer rating under center (99.9) ranks third among QBs since he took back the starting job. 
I won't go crazy playing Trubisky and will focus on getting exposure to him through his top wide receiver, Allen Robinson II. A-Rob leads the NFL in end-zone target share (62%) over the last four weeks, and New Orleans has faced the second-most end-zone targets among playoff teams over the last two weeks.
Darnell Mooney's team-leading 13 targets from last week seem unlikely to repeat (he's also currently battling an ankle injury), so naturally the passing targets will find their way back to Robinson. His target share (29%) ranks fourth-highest among receivers playing this weekend over the last four weeks. 
Robinson scored over 20 fantasy points the last time he played the Saints. 
David Montgomery has achieved "en Fuego" status over the past month or so, and yet he still might fly under the radar in a tough matchup versus the Saints. But don't overlook the raw volume he continues to see. 
Montgomery has averaged nearly 30 touches per game in his last three outings and showed his pass-game upside last week, in case the Bears fall behind. He caught all nine of his targets for 63 yards. 
New Orleans has also been leakier on run defense the past four weeks, allowing 5.3 yards per attempt and six rushing TDs to running backs. Montgomery is the clear GPP pivot off a chalky Jonathan Taylor in the two-day slate. 
We've seen a negative correlation between Montgomery and Robinson this season (-0.34), so I'd avoid playing them in the same lineup. 
My favorite cheap tight end is easily Cole Kmet. No TE has produced fewer fantasy points versus expectation over the last three weeks — he and Trubisky have just missed on a few big plays despite overall solid usage.
He caught seven balls for 41 yards on eight targets last week. He's now seen at least six targets in four of his last five games.
As I wrote in my Week 17 recap, it's just a matter of time until Kmet finds the end zone, and that could easily be this weekend. The Saints have faced the most end-zone targets to TEs both over the last four weeks and in the regular season as a whole.
They have also allowed the third-most receptions, second-most targets and fifth-most fantasy points to the position since Week 14. Kmet ranks third in routes run among tight ends playing this weekend in the same time period.
I'd much rather play Kmet than Jonnu Smith on the Sunday-only slate. Mooney has not practiced all week, which could easily lead to an uptick in targets for Kmet should the rookie WR not play Sunday.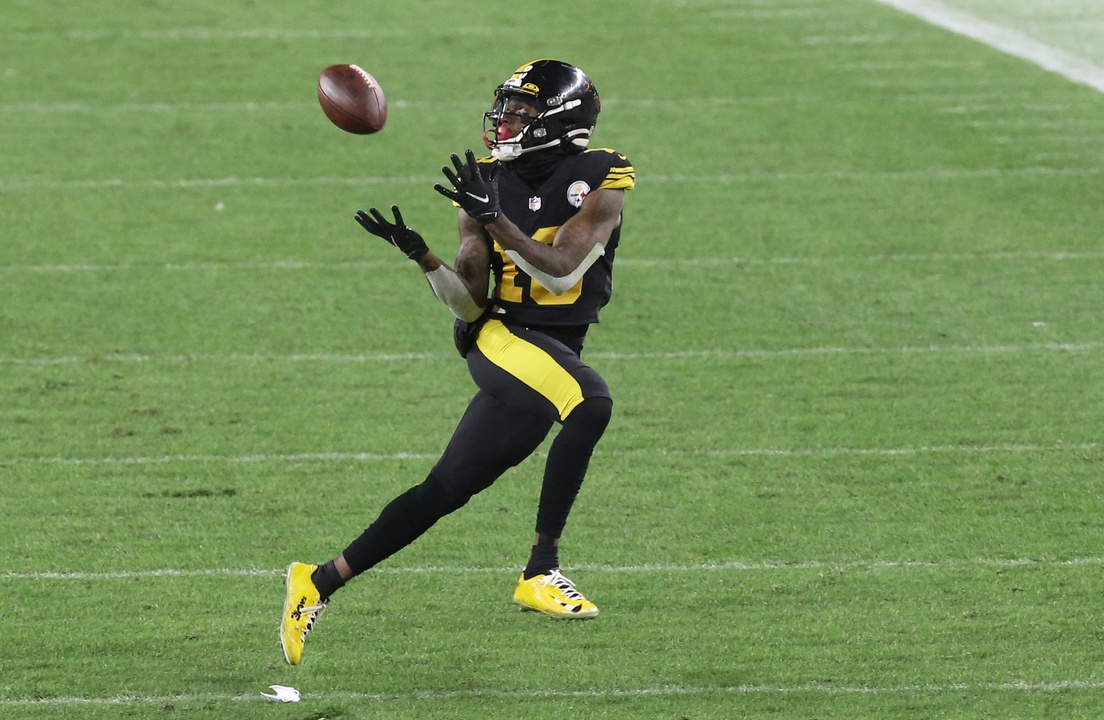 The last game of Wildcard Weekend is likely to offer a hammer that drives DFS lineups up the leaderboards.
For me, Diontae Johnson looks like the best wide receiver option based on how often he sees targets with Ben Roethlisberger under center. 
In their last eight games played together, Johnson has seen fewer than 10 targets once. He's by far the safest option among the Steelers' trio of receivers.
The upside play is rookie Chase Claypool, who has seen the third-most deep targets in the NFL. A week off could do wonders for Big Ben's deep ball, so we could easily see Claypool emerge as the late-game hammer who flips the slate on its head. 
Cleveland has faced the third-highest rate of deep passes (25%) since Week 14. The Steelers wide receiver has averaged over 21 fantasy points in his last two games versus the Browns. 
The Browns will also be without starting safety Ronnie Harrison (placed on COVID-list), who will be replaced by Andrew Sendejo. Sendejo is PFF's 95th-graded safety (39.2) out of 99 qualifiers. 
It should also be noted that in the second half of the Steelers' comeback win over the Indianapolis Colts, Big Ben reportedly started to call his own plays. That made the offense click, and it was Claypool who led the team in targets (seven) during the second half. 
JuJu Smith-Schuster still remains a fade for me because he doesn't have the target security of Johnson or the upside of Claypool. His aDOT (6.3) and yards per reception (9.0) rank dead last among all WRs who saw at least 100 targets in the regular season.
The Steelers have struggled to run the ball all season, and I doubt we see a change this week versus the Browns. They have allowed the fewest fantasy points to RBs over the last four weeks. That makes James Conner virtually unplayable. 
Ultimately, a simple stack of Big Ben/Claypool would work with Johnson serving as a one-off play. Also, the Steelers' defense is probably my favorite pay-up DST option — they've compiled eight sacks, two interceptions and a defensive touchdown in two games against Cleveland this year.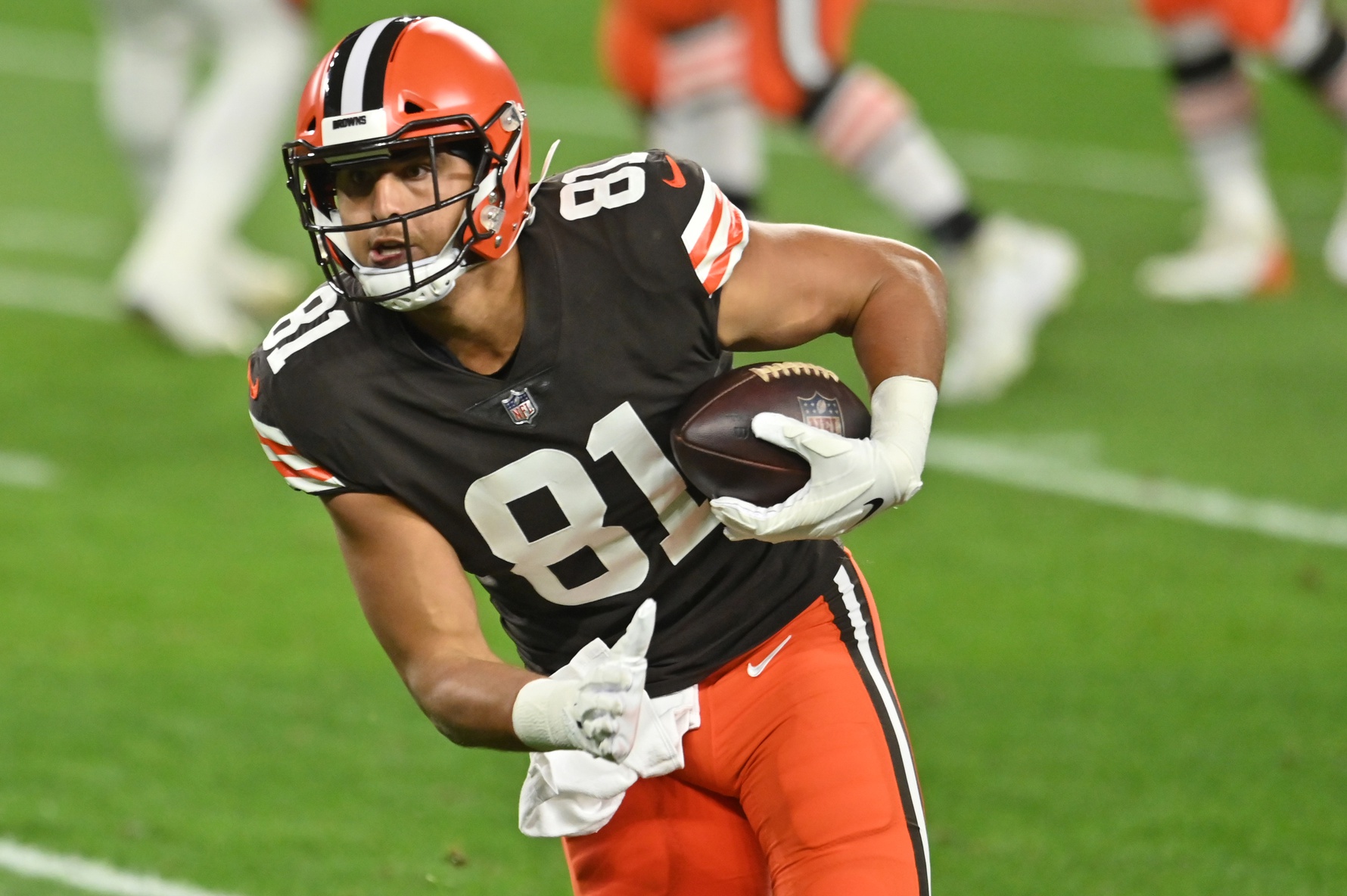 For the Browns, it's slim pickings, to be honest. Remember that you don't have to roster teams from every offense just because there are only three or six games on a slate. 
I'm 100% out on Nick Chubb and I hardly see much appeal with Jarvis Landry. He had just three catches for 40 yards the last time he played Pittsburgh's starters. He would have also disappointed in fantasy with just five catches for 51 yards last week had he not scored. 
The only player from the Browns I'd consider is Austin Hooper — he ranks second in expected fantasy points per game among tight ends over the last three weeks. Baker Mayfield is bound to be under pressure, so he will likely key in on his safety blanket at the tight end position.
The Browns will be without starting left guard Joe Bitonio (80.9 PFF run-blocking grade) and head coach Kevin Stefanski due to Covid. Per PFF's Eric Eager, Bitonio has been the league's most valuable guard this season.