Following up Saturday's Divisional DFS Primer, it's time to take a look at every game on the Sunday slate from a DFS perspective. As usual, I'll call out my favorite DFS plays and game stacks. Stacking has been a tried-and-true approach to winning tournaments — if the right stack hits, then it's an instant print fest.
I'll also highlight key injury notes that could prove to be potential game-changers. Get HYPED for Sunday! Two future H.O.F. quarterbacks over 40 years old going head-to-head after their afternoon naps? Giddy up!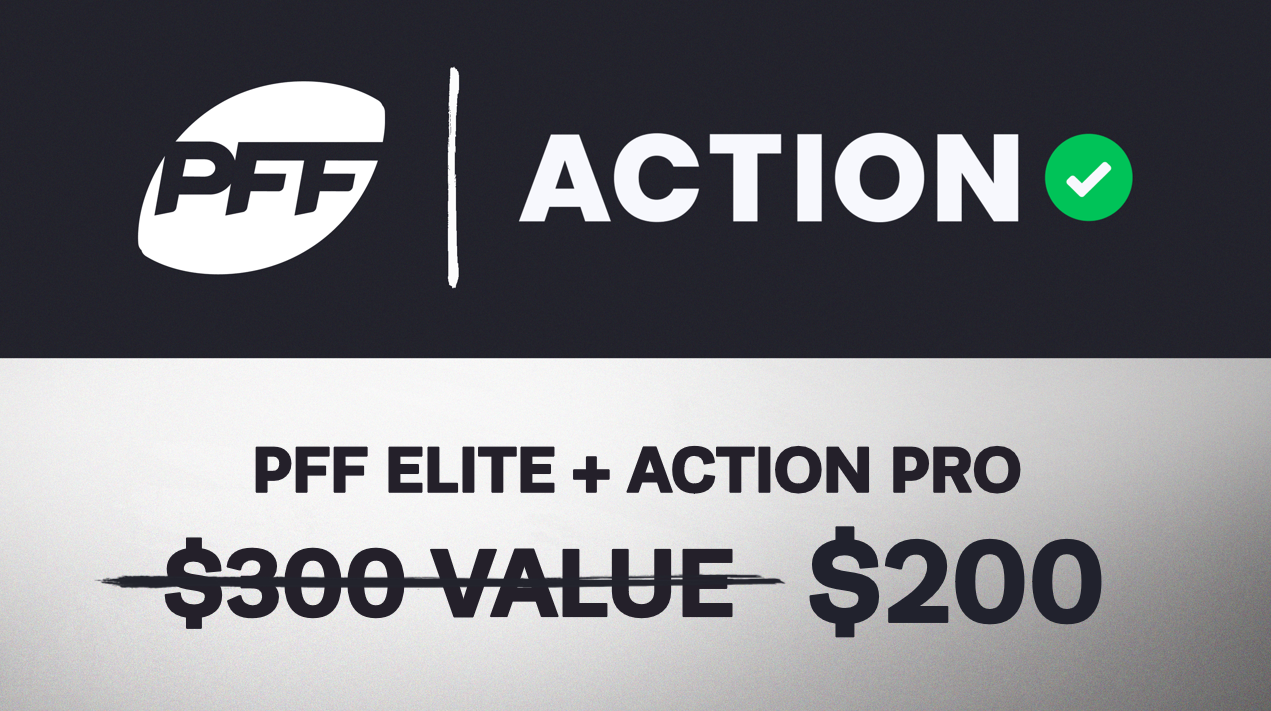 NFL Sunday kicks off with K.C.-Cleveland, the matchup with the highest over/under of the week (57). As 10-point favorites at home, the Kansas City Chiefs have an insane 33.5 implied point total. 
Patrick Mahomes was not featured anywhere in my DFS locks and fades piece because it seems pretty self-explanatory that he is by far the best QB playing this weekend. The Cleveland Browns just allowed 500 passing yards to a washed-up Ben Roethlisberger and over 300 passing yards to backup Mason Rudolph the week before.
Cleveland allowed an average of 37 fantasy points to the QB position in its last two games against legitimate fantasy quarterbacks (Lamar Jackson, Ryan Tannehill).
Let's not forget that betting on the combination of Andy Reid and Mahomes after bye weeks remains undefeated. The Chiefs are 6-0 after a bye week, averaging 38 points per game. 
The Chiefs QB has also shown a tendency to run more in the playoffs. Per Ian Hartiz's Mismatch Manifesto, Mahomes averaged seven rushing attempts, 55 rushing yards and 0.6 rushing touchdowns per game during last year's postseason run.
Mahomes averaged just four rushing attempts and 20.5 rushing yards during his 15 games played in the regular season. 
Needless to say, there's no surprise that Mahomes is projected to be 50% rostered.  
With Mahomes' salary so expensive, there's an argument to be made that he can be tough to squeeze into lineups along with his super-expensive pass-catchers. 
The way to access the Chiefs' elite offensive weapons without playing Mahomes might be to roster Baker Mayfield as the cheapest QB on the slate. His projected ownership is currently at 1.2%, and that doesn't add up to me because he has been playing well above average. 
Mayfield has averaged 21.7 fantasy points per game (ninth) and 20.8 expected fantasy points per game (fifth) since Week 13. His PFF passing grade (90.5) is better than Mahomes (88.5) since Week 9.
We have seen Mayfield score 30-plus fantasy points on three separate occasions this season (same as Lamar Jackson). They all came in games when the defense gave up at least 34 points.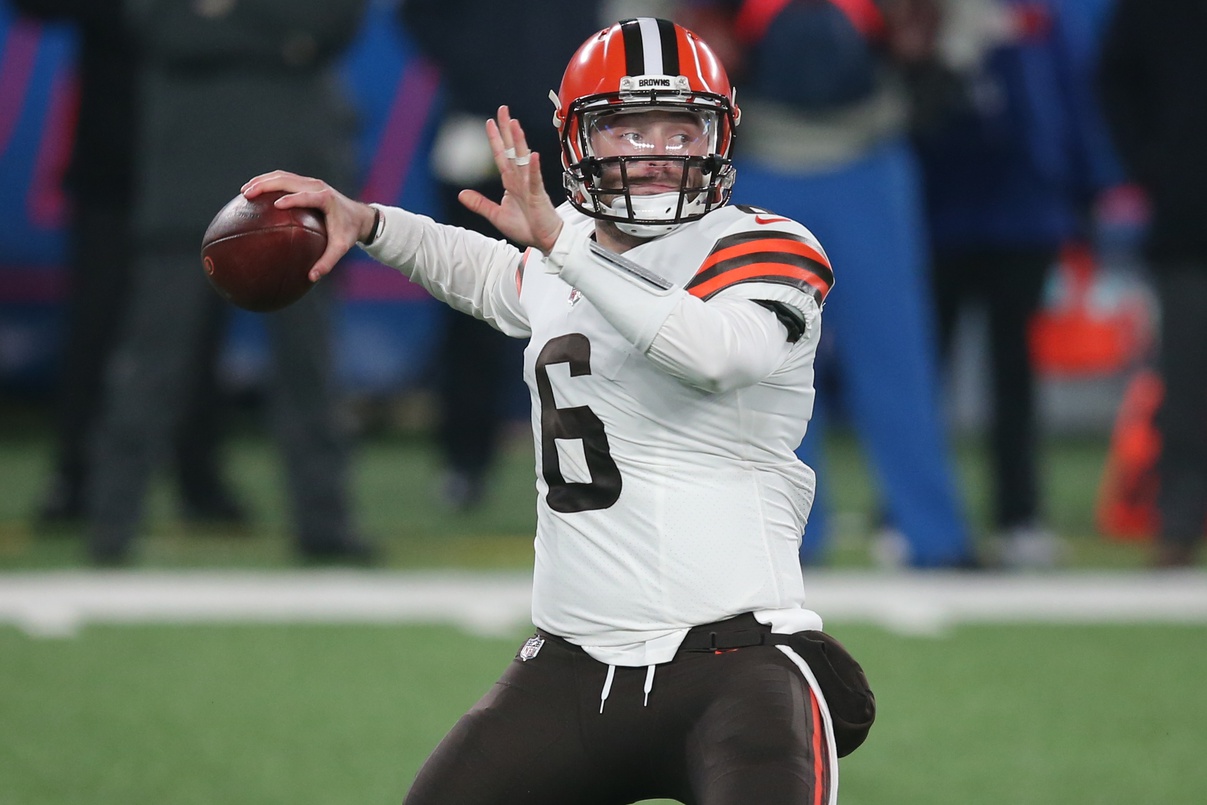 The matchup favors Mayfield and the Browns' passing game through the air. After starting the season stout versus opposing passing attacks, the Chiefs allowed the second-most fantasy points to QBs over the final four weeks of the regular season.
Also, the Browns don't always operate as this super run-heavy team like the market believes. They are throwing at the seventh-highest rate (63%) in the NFL in the first quarter and the 10th-highest rate (65%) in the first three quarters since Week 13. 
The Browns also rank seventh in pass-play percentage on early downs (62%) outside the fourth quarter during that same time span. Because K.C. ranks second in that category (67%), we are going to see a ton of passing attempts on early downs for both the Chiefs and Browns, which is extremely conducive for offensive fireworks.
On early downs, Kansas City has allowed a 124.4 passer rating (30th), 8.9% touchdown rate (31st) and 17.8% explosive pass rate (28th) since Week 13. 
Mayfield has shown of late that he can be leaned on in the passing game, so DFS gamers should feel great playing him at an insane discount in order to get access to Mahomes' pass-catchers. 
Remember that if Mahomes throws for 300 yards, there's a good chance Mayfield can match him. 
We also know that one of the Browns' biggest strengths is their efficient running game behind arguably the league's best running back in Nick Chubb. He actually projects to be the lowest-rostered running back priced above $6K on DraftKings despite the fact that he is facing one of the league's weaker run defenses.
The Browns' lead back is my much preferred option over Kareem Hunt because he has been uber consistent since returning from his injury in Week 10. Chubb has averaged 19.1 fantasy points per game, 14.6 expected fantasy points per game and has yet to score fewer than 14 fantasy points in any game. 
Chubb has also been used much more in the passing game. He has more targets (12 vs. 10), catches (11 vs. eight) and routes run (69 vs. 65) than Hunt in the team's last four games. 
Clyde Edwards-Helaire was downgraded to DNP on Thursday, putting his availability in question for Sunday's matchup. Still, PFF injury expert Mario Pilato believes CEH will be suiting up for Sunday, so let's at least consider him for DFS this weekend. 
I'm personally not targeting the 2020 first-round pick in my lineups. He's currently the third-most popular running back on the slate, and I don't see that paying off considering how little the Chiefs rely on their running backs. With Mahomes at the helm, I seriously doubt their game plan features "establishing the run" against a Browns defense that has been shredded through the air and has been solid on the ground.
Cleveland closed out the season allowing the fewest fantasy points to RBs (final four weeks), and they continued their effectiveness against running backs in the wild card round. The Steelers running backs rushed for 52 yards at 3.3 yards a pop. 
Even if CEH were to miss this game, we'd likely just see more of a 50-50 committee between Le'Veon Bell and Darrel Williams like we've seen at times earlier in the season. 
Fading the Chiefs ground game in favor of their pass-catchers seems like an absolute no-brainer. That starts at the top with Tyreek Hill — he has run 58% of his snaps front the slot this season, and the Browns have faced the second-most targets to slot WRs in 2020.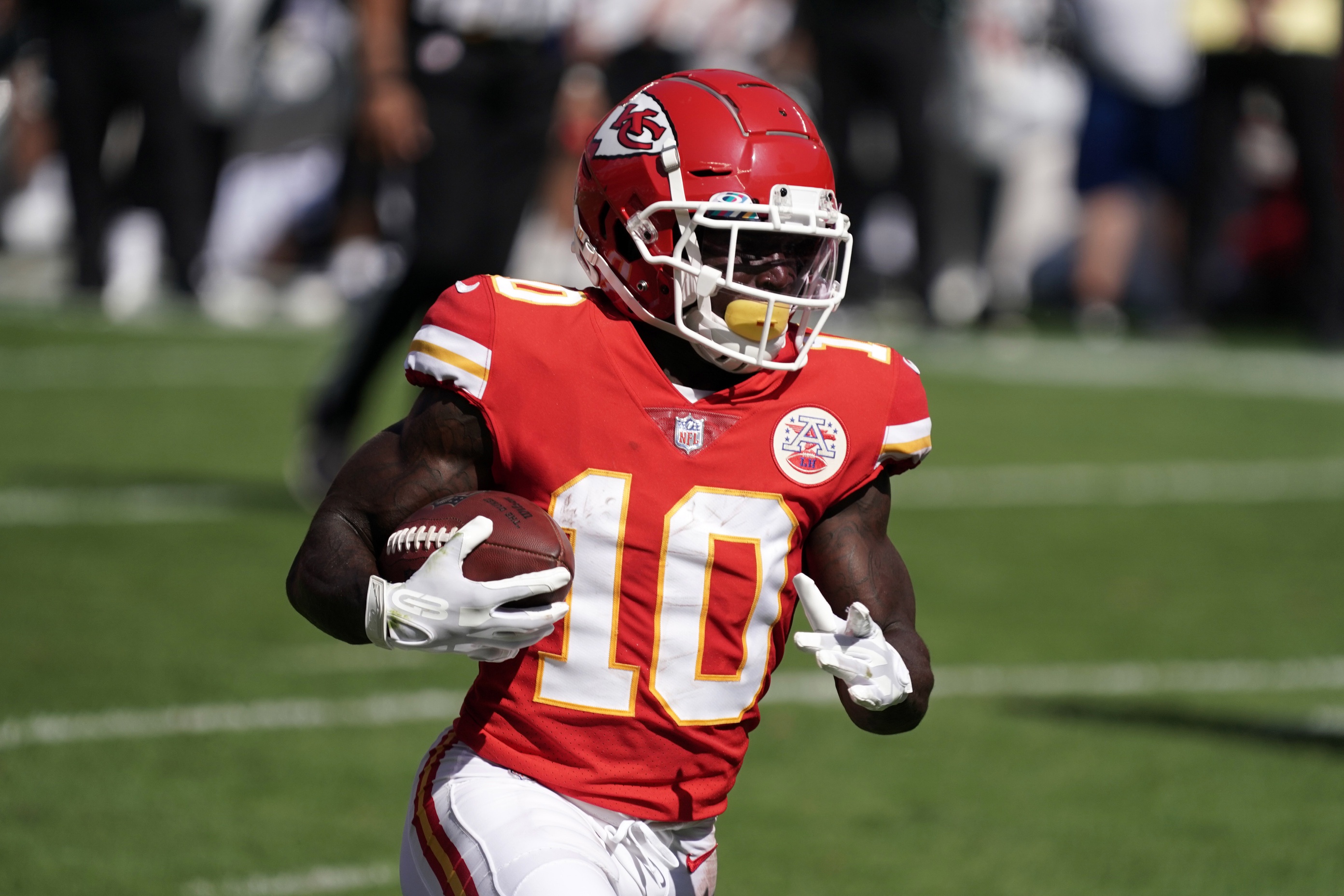 Hills overall matchup makes him such a slam dunk play over Davante Adams, especially considering that Hill is cheaper and their ownership projections are very close (52% vs 42%). 
With Sammy Watkins out, we need to plan for how to approach the ancillary Chiefs receivers like Mecole Hardman and Demarcus Robinson.
Hardman will likely garner the most ownership due to his big-play upside, but his role hasn't changed much when Watkins has missed time. His target share was just 9% during the stretch of games that Watkins missed earlier in the season.
Robinson's target share (13%) isn't much better, but he averaged nearly 33 routes run per game, much more than Hardman (20). D-Rob was able to turn his usage into fantasy points, scoring double-digit fantasy points in four of five games with Watkins inactive. Hardman only had one. 
Jarvis Landry has seen at least six targets and has averaged 19.2 fantasy points per game since Week 12. He's been a big part of Mayfield's successful stretch run. Still, I don't necessarily think the matchup calls for a ceiling game for Landry.
No team has allowed fewer targets to slot WRs since Week 10 than the Chiefs. If Landry is going to get the job done, it will have to be off touchdowns on limited volume.
I might be more inclined to pay down for Browns primary perimeter wide receiver Rashard Higgins. He owns a 26% target share since Week 12 and an average depth of target (14.9) that more than doubles Landry's (6.9). 
Donovan Peoples-Jones at $3K looks like a solid punt play at the wide receiver position on the surface. After all, he is going to run a ton of routes in a game with a 57-point projected total, right? 
Well, that may not entirely be the case, as KhaDarel Hodge's return from the COVID-19 list will ensure that he and DPJ are splitting reps as the team's No. 3 receiver.
Both tight ends in this game were listed as my lock-button plays because they each find themselves in spectacular matchups. Travis Kelce is the player I want to pay up for the most, and Austin Hooper can open up a ton of salary for other options. 
A double stack of Mahomes, Kelce and Hill can be done with some of the values at running back if the roster construction also features Higgins and Hooper in the FLEX. Double-TE lineups don't usually fare well on traditional DFS slates, but they can work in smaller slates. 
Using Mayfield instead of Mahomes provides the same potential to add Kelce/Hill but also allows for an additional higher-priced RB and/or wide receiver. 
This will be the third time the Buccaneers and Saints face off during the 2020 season, with the Saints emerging victorious in the two prior contests. But, as I described in writing up Tom Brady as a lock for Sunday night, this Bucs offense is not the same unit that was steamrolled by the Saints defense earlier in the season.
I fully expect the Buccaneers to have success throwing the ball, and the ownership projections are telling me that's a hot take. Brady's projected ownership is at 2.9%, and his top three wide receivers are all below 7%. 
That looks like easy leverage to me, especially with Chris Godwin having one of the most  advantageous matchups this week against slot cornerback Chauncey Gardner-Johnson. The Saints have faced the most targets and allowed the second-most receptions to wide receivers in the slot since Week 14. 
Antonio Brown is also way too cheap at $5.4K on DraftKings. He leads all Tampa wide receivers in fantasy points per game (21.4) since Week 15. I don't anticipate him drawing coverage from Saints star cornerback Marshon Lattimore.
Mike Evans will most likely draw the Lattimore treatment, and that has not gone in his favor so far this season. Per PFF's shadow matrix, Lattimore has covered Evans on 65% of his routes. He has seen four targets and totaled exactly zero catches. 
Godwin and Brown will be my heaviest-owned Buccaneers wide receivers, and that concludes my interest in Bucs pass-catchers. Rob Gronkowski maintains fade status for me, as the lovable big guy continues to lose work to fellow tight end Cameron Brate. 
Leonard Fournette is by far my favorite sub-5K running back on DraftKings — he has produced during a recent three-game stint as the team's lead back with Ronald Jones sidelined. 
Fournette averaged 20.1 fantasy points, 17 expected fantasy points and 18 touches per game during that time frame. The matchup is obviously tough, but in comparison to the other featured sub-5K running back on this slate — Devin Singletary vs. the Ravens — there is hardly a difference as far as matchup.
Fournette has the pass-catching chops and goal-line work to overcome a lack of efficiency on the ground, which can't necessarily be said for Singletary. 
What gets tricky about the Fournette situation is that we may not have news on whether Jones will play until after games kickoff, as he is a game-time decision for Sunday. That may lead to Fournette being much lower-owned, but savvy DFS owners should prepare lineups ahead of time that can adjust on the fly when news breaks.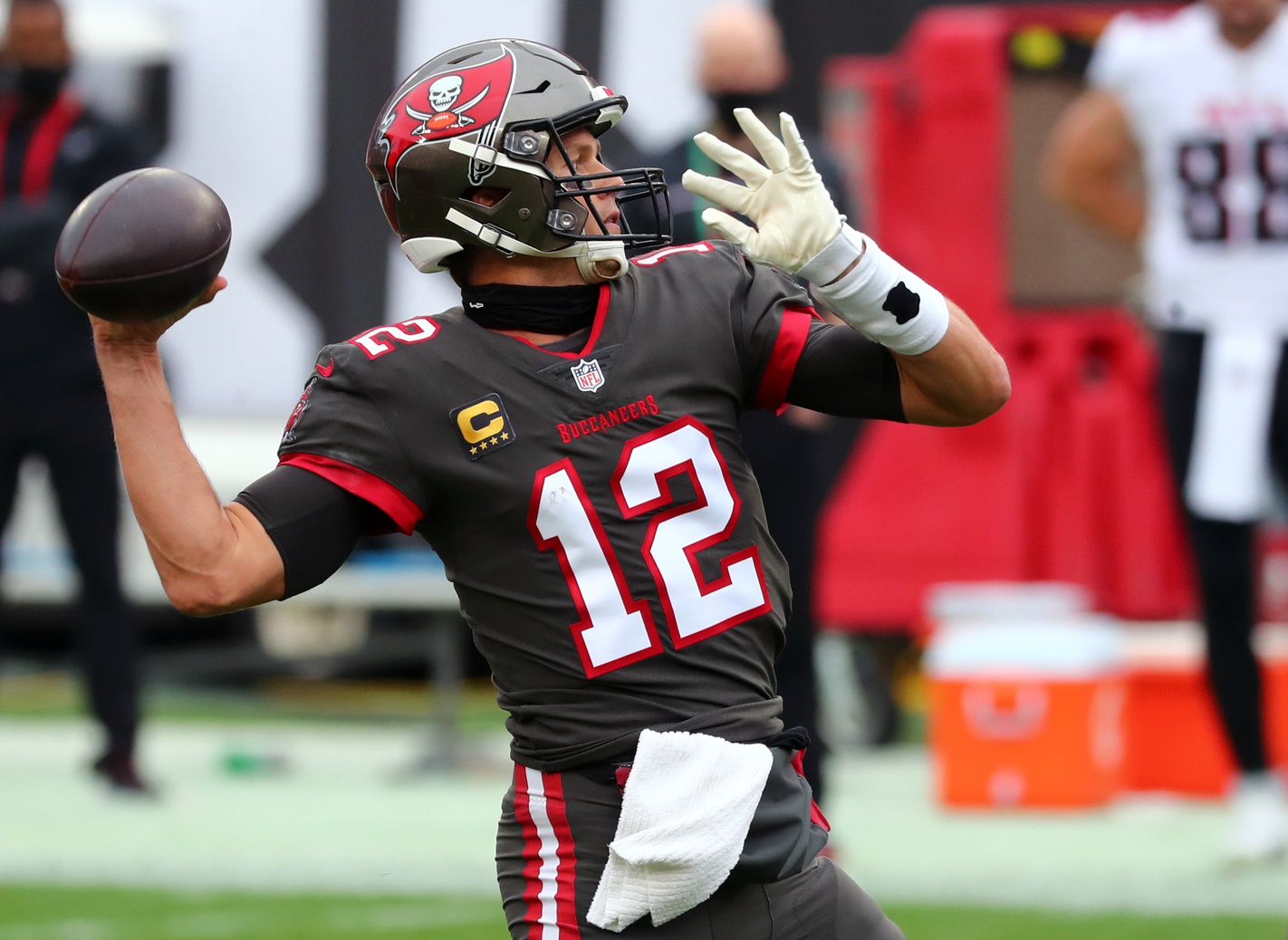 Even if we don't have news during the Saturday games, don't be afraid to play Fournette lineups, as the gap between action on Saturday and Sunday will provide ample time for adjustments. Leveraging late swaps is extremely important on these small slates. 
Drew Brees should be able to move this ball on the Tampa Bay offense, as their secondary has looked leaky in recent weeks. Taylor Heinicke made them look like a defense from the AAF in the Wild Card Round. 
Tampa also blitzes at the second-highest rate in the NFL. Brees owns an 8:1 TD:INT ratio, 72% completion percentage and 119.8 quarterback rating versus the blitz this season. 
Brees' ability to win in this matchup doesn't necessarily make him the QB to target in DFS. His individual upside might be the lowest of any quarterback.
Brees' aDOT (6.5) ranks 42nd out of 44 qualifying quarterbacks, and Taysom Hill continues to enter the game for both goal-line work and the occasional deep chuck to a streaking wide receiver.
Among the QBs playing this weekend, Brees is the only QB that has not scored 30 fantasy points in a game this season. That includes falling short of 30 fantasy points in a game against the same Buccaneers in which he threw four touchdown passes. 
Alvin Kamara is by far the best option at running back on this slate and should be the first player inserted into any cash lineup. Sean Payton is feeding Kamara like there is no tomorrow.
The Saints' superb running back carried the ball 23 times in Week 18, which broke his career-high of 22 carries in Week 16. Fresh off the COVID list, Kamara did not look limited in any capacity, and DFS managers should feel fine playing him as one of most likely RB candidates to hit 20 touches.
Tampa Bay's defense is one of the league's best versus running backs, but Kamara's upside is linked to his work in the passing game. The Buccaneers allowed the most receptions to running backs during the regular season.
In two games versus the Bucs earlier this season, Kamara averaged 19.8 fantasy points and 20.3 expected fantasy points per game. Latavius Murray has been missing practices this week, which could lead to Kamara's third-straight game with more than 20 touches. 
Michael Thomas made his long-awaited return to the Saints' lineup last week and started out red hot. He was targeted by Brees early, catching a touchdown in the first quarter.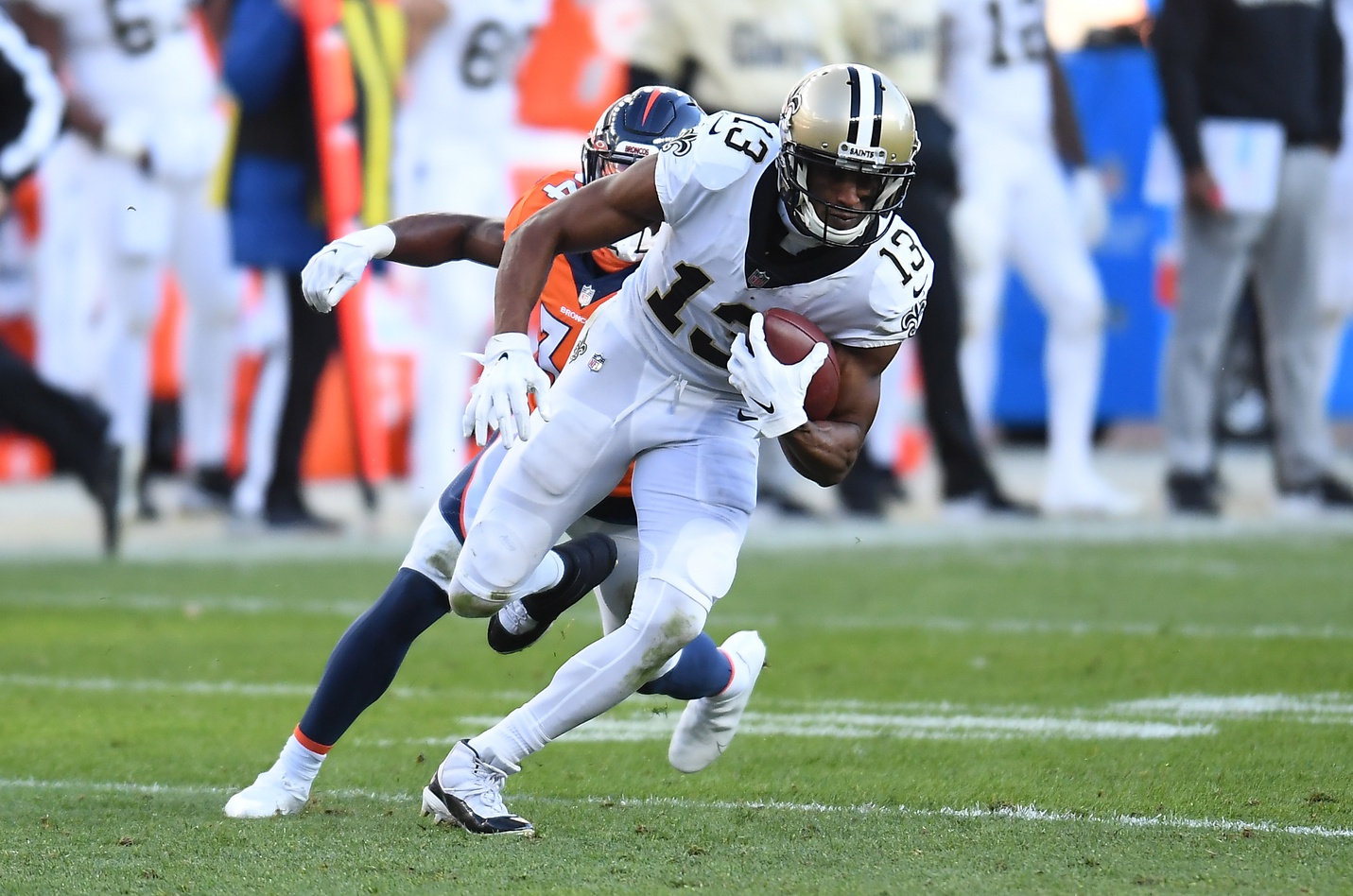 Thomas commanded seven targets (19% target share), which tied Deonte Harris and Jared Cook for the most on the team. Harris' performance sticks out like a sore thumb. He was targeted on 50% of his routes (14), which vaulted him the team lead in receiving yards (83).
I fully expect Thomas to be much closer to the 10-target range in this matchup because there's a much higher chance of the Saints finding themselves trailing. He led the NFL in targets last season during negative game scripts, and the vast majority of his targets this season have come when the team has been trailing. 
Tampa Bay leads the NFL in offensive scoring since Week 15. Thomas is frankly too cheap at $6.7K. 
Emmanuel Sanders was basically a non-factor in the team's game plan during Wildcard Weekend with just two catches on three targets. But one of his targets was in the end zone, where he has frequented quite often in past matchups versus the Buccaneers.
Tampa Bay has done what it can to neutralize Thomas in the two matchups the teams played this season — eight catches, 68 yards, 14.8 fantasy points — while Sanders has been productive with two receiving touchdowns.
Sanders ran a full compliment of routes in Week 18, and it's hard to expect Harris to command another seven targets on 14 routes this week.
Considering the matchup, Jared Cook on paper looks like a strong play. Tampa Bay allowed the eighth-most fantasy points to TEs over the last four weeks of the regular season, and Cook totaled 80 receiving yards when these teams first played in Week 1.
On the flip side, Cook also caught two passes for 30 yards in the second matchup, so he is far from untouchable in this spot. There are much better tight end options across the board at different price points, so I'd hate to burn my TE slot on Cook. He saw seven targets last week for the first time since Week 8. 
For stacking, if we build around a game flow that features the Buccaneers building a lead, we will want to stack Brady with two pass-catchers in Godwin and Brown. A bring-back of Kamara and/or Thomas to round out the full game stack seems to make the most sense. 
If I'm only building a few lineups, I would defer to using skinny stacks in this game as opposed to going all in on Brady. Paring Thomas/Godwin or Brown/Kamara ensures we get exposure to the only game being played indoors this weekend.