It can be difficult for two fantasy owners to agree on a trade in season in a redraft fantasy football league. Doing the same in a dynasty league is even harder. That's why we've produced the following dynasty trade value chart. It follows a similar logic to the weekly trade value charts Tyler Loechner has produced in past seasons. Simply balance the total values on both sides and you have a fair dynasty trade. The difference here is the valuations are for dynasty leagues and rely on both PFF's 2019 projections and positional aging curves that account for factors like recent production and draft pedigree.
Both the PPR and Non-PPR values are estimated for 12-team leagues with a starting lineup of 1 QB, 2 RBs, 3 WRs, 1 TE, and 1 flex player.
Your trade options will depend on your current dynasty rosters, but I've mocked 10 trades to illustrate the types of trades that might make sense. Often the best path to success in dynasty is to align your roster for a title window of a few years. That approach naturally pairs up win-now teams with rebuilding teams.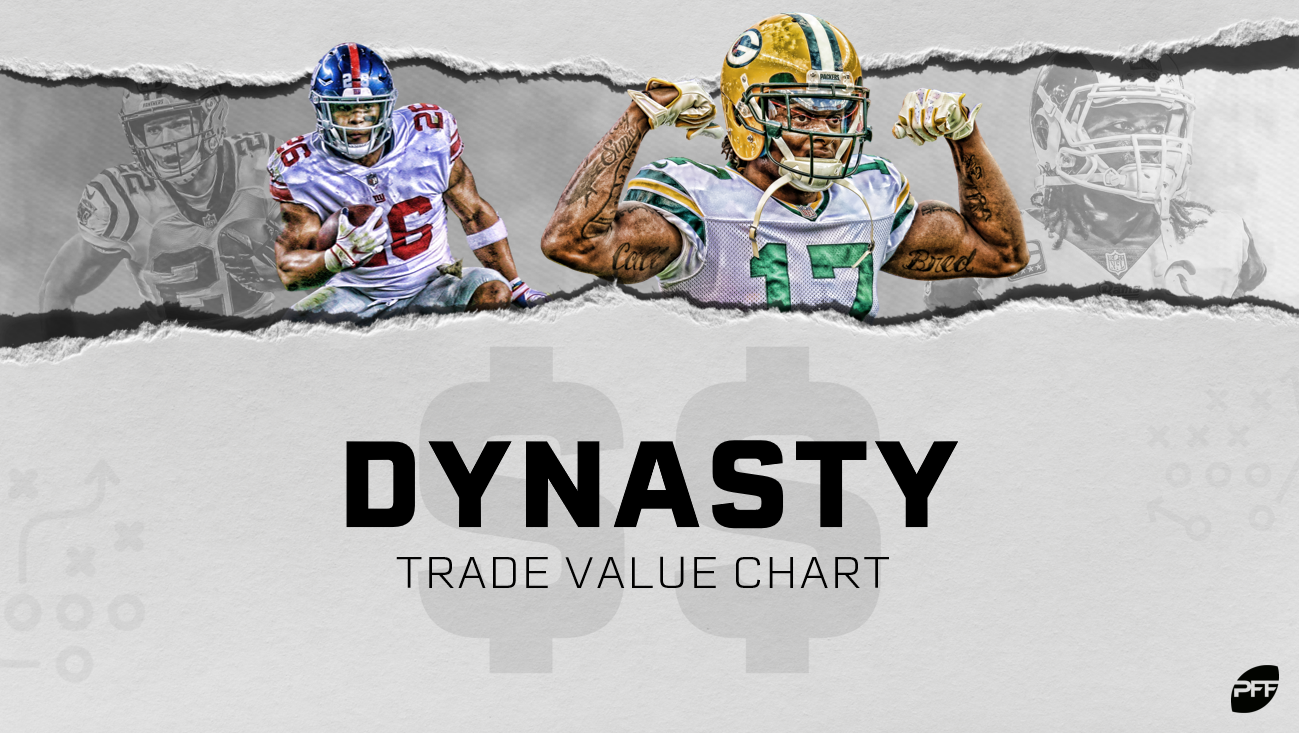 In a snake draft, Barkley is the No. 1 pick this season, the same as Todd Gurley was in 2018 and David Johnson was in 2017. That's why it is a necessity to consider player value when making a trade. Barkley is about as valuable as any dynasty asset has ever been. He is a durable, athletic phenom coming off a rookie season of 261 carries, 91 receptions, and 15 touchdowns, and he'll still be 22 years old when the 2019 season kicks off this September. He is $19 more valuable than any other dynasty asset. If you have the constitution to unload him in an extreme win-now move, you need a return of at least two fantasy stars like Gordon and Brown.
Elliott and Beckham neatly demonstrate the inner-working of a dynasty valuation. Elliott is two and a half years younger than Beckham but plays the more volatile position of running back. Elliott has had a suspension while Beckham has had some injuries and was traded this offseason. Those are pretty different profiles, but for two players who are really productive when they play, it adds up to the same $49 of value in PPR dynasty. Feel free to trade one for the other if you are a Cowboys or Browns fan or need a running back or receiver.
Jacobs isn't the same slam-dunk prospect that Barkley was in 2018, but he's still the consensus No. 1 dynasty player who landed in a favorable situation with the Raiders where he can dominate touches as a rookie. To consider moving him, target a collection of valuable veterans with shorter windows of potential success like Ingram, Drake, and Brees.
Were it not for Barkley, Guice would have likely been the No. 1 dynasty choice in 2018 rookie drafts. An ACL tear delayed the start of his career by a year, but he's just half a year older than Jacobs and has similar long-term value. Still, if the injury and lack of college receptions make you nervous, you should be able to move Guice for a higher-floor, lower-ceiling prospect like receiver Moore.
Mahomes threw for 5,000 yards and 50 touchdowns in the equivalent of a redshirt freshman season in the NFL. That may make him too fun to trade in your eyes, but in typical dynasty formats, even a historically great young quarterback is only so valuable above the replacement level. Should you choose to cash in off of what will likely be the best season of Mahomes' career, you can downgrade to the No. 2 dynasty quarterback, Luck, and also add a premium rookie like the first receiver taken in the 2019 draft, Brown.
If you are taken with the idea of trading Mahomes but want to do so to dramatically shift your resources away from quarterback, consider a move for Trubisky. Trubisky was tied with Cam Newton and Deshaun Watson for fifth at the position with 0.55 fantasy points per dropback, is just one year older than Mahomes but is likely just a quarter of the price. With those savings, you can add an impact running back or receiver like Fournette, who is likely undervalued after an uneven sophomore season.
Kittle is the closest thing the skill positions had in 2018 to Mahomes. He exploded in his second season for 88 catches on 128 targets, fewer than just Zach Ertz (154) and Travis Kelce (139) and 20 more than the rest of the field at the position. But unlike Mahomes, Kittle will face renewed competition from his teammates in 2019. With Dante Pettis back for his sophomore season and joined by Day 2 rookie receiver picks Deebo Samuel and Jalen Hurd, Kittle could see fewer targets this year through no fault of his own. That makes him a trade candidate in dynasty. If you are willing to trade him for Henry returning from injury, you can likely also snag a top rookie asset like Harry.
Green has been an incredibly consistent fantasy performer for the better part of a decade, but he is coming off his first season with fewer than 10 games played and will be 31 years old when the new season kicks off. If your dynasty roster isn't primed for a 2019 title, it may be the right time to unload him to start to rebuild. Trading Green and another veteran like Jeffery can jump start a rebuilding effort and land you a package of valuable young receivers like Godwin, Sutton, and Miller.
Lindsay was on the short-list for fantasy MVP in 2018, but he wasn't a top draft pick and may have owed a disproportionate amount of his success to his blockers — his 3.05 yards before contact per attempt was more than half a yard clear of the field of backs with 100 or more carries. If like me you aren't fully convinced by his breakout rookie season, why not trade him and handcuff Freeman for Penny and Carson of the Seahawks? They were next to each other in the top-10 at the position with 3.40 and 3.36 yards after contact per attempt, which makes them more convincing top talents to my mind. Meanwhile, Lindsay's rookie success inflated his value such that this type of trade would allow you to add another cheap asset like one of the second-tier rookie receivers.
The soon-to-be 42-year-old Brady has enjoyed an unprecedented graceful decline, but that still added up to a 12th-place fantasy finish among quarterbacks in 2018. In a league with just 12 starting spots for the position, Brady is close to a replacement-level fantasy asset, even if he plays another few seasons. His name value may net you more in a rebuilding trade, but it is justifiable to move Brady for a lottery ticket player like Rosen. Rosen may never match what Brady did last year in his best career season, but if he does, he has a full career in front of him to produce for his fantasy owners.
Those were just some rough ideas. Here is the full trade value chart:
Subscribe to PFF Edge to continue reading

Already have a subscription? Sign In