Welcome back to our bi-weekly check on the value changes in dynasty fantasy football leagues. We're heading into Week 15, which means it's playoff time, but whether you're in or out of the dynasty playoffs, the offseason is right around the corner.
Before we look at some of the names that are sure to be discussed in dynasty circles, let's look back at the last edition and see if the temperatures changed. Aaron Rodgers has just three touchdowns over these last two weeks, but things are looking up now that we know he's getting a new coach next year. The same goes for Baker Mayfield, who has only thrown two touchdowns over the last two games but threw for nearly 400 yards in one of those games. We may have been early in our recommendation to keep Gus Edwards thanks to the mangled body of Kenneth Dixon returning, while Josh Adams looks great but has been only 50/50 shot to see double-digit carries in a game, keeping him a sell candidate. Antonio Brown is coming off his worst game of the season with just 35 yards in what was a preview of life as a Steelers receiver without Ben Roethlisberger. And Doug Baldwin caught just two passes in Week 13 while he had to sit out Week 14 with a hip injury, proving just how fragile Baldwin has become and still an easy sell.
Let's see which side you're on of this week's recommendations.
(PFF dynasty rank: 8)
Count me as one of the skeptics who wasn't quite sure if Luck would ever come close to his pre-injury production. He missed the entire 2017 season with a shoulder injury that was serious enough that his career was in jeopardy and no one could get a straight answer out of the Colts about it. Even entering the 2018 season, when it appeared Luck was healthy enough to return, it was fair to wonder if Luck would be the same.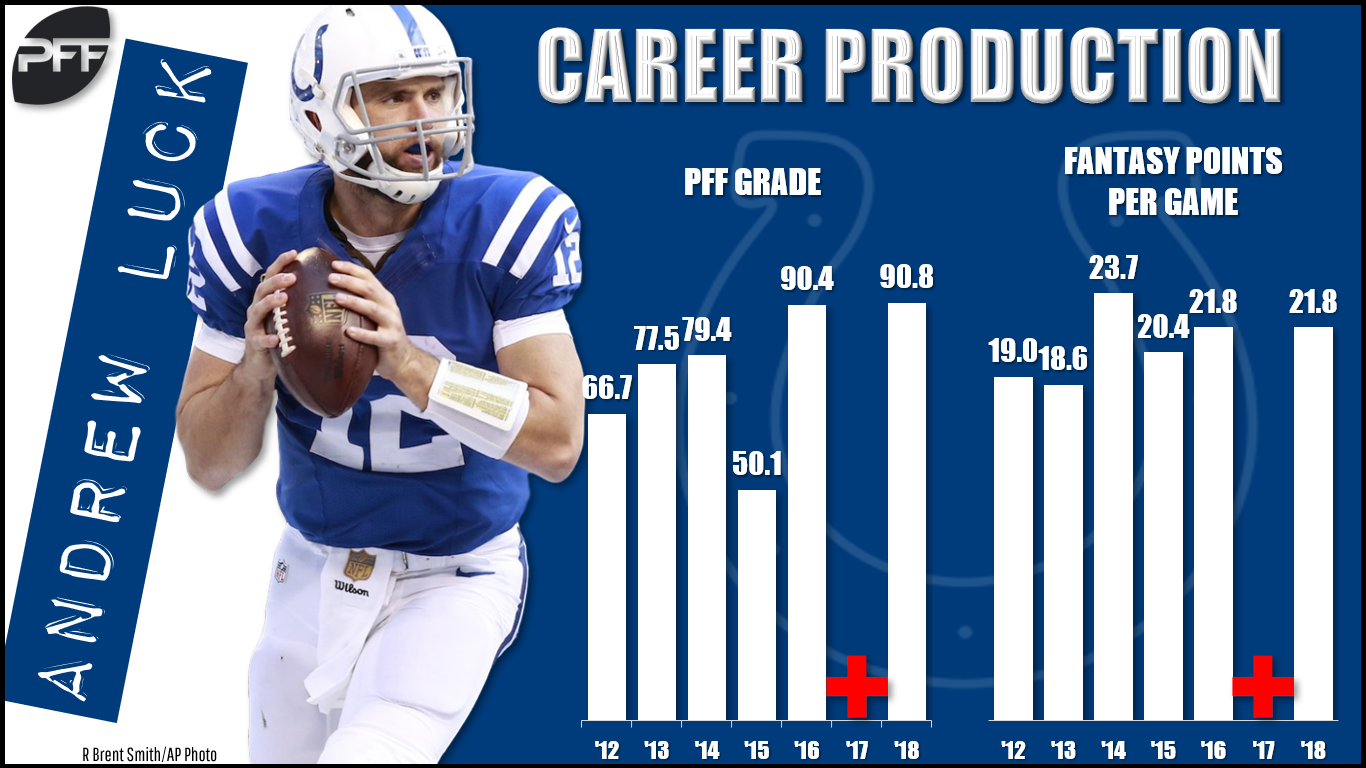 But with nearly a full season under his belt, I'm ready to declare Luck officially back and back as one of dynasty's top quarterbacks. He's fifth in passing yards and second in passing touchdowns behind Patrick Mahomes. He has thrown for 300 yards six times this season, already tied for second-most in his career with three games to go. On the season, he's the fifth-highest-scoring quarterback. All of this with nothing consistent from the running back position and a hobbling T.Y. Hilton who has shown flashes of his old self but will also be on the wrong side of 30 next year. The point is Luck is producing despite an average (at best) supporting cast.
Verdict: Buy. I don't usually advocate trading for quarterbacks in one-quarterback dynasty leagues, but I would make an exception for Luck. Not yet 30, it appears he's put his shoulder issues behind him and will consistently give you top-five fantasy seasons.
(PFF dynasty rank: 25)
We all saw, or at least heard about, the game last Thursday. Henry, with 474 rushing yards through Week 13, got half of that in a single game, rushing for 238 yards. He also nearly matched his season-long touchdown total by scoring four times. Both season-long stats are now on pace to blow past his previous career-highs.
Of course, his breakout game has now led to more questions. Most prominent is "Why isn't Derrick Henry carrying the ball more?" Before last week, Henry was 18th in PFF's elusive rating but was only 24th in rush attempts. And despite running for over 200 yards, Henry did it on just 17 carries, which sadly is the second-most he's had in a game all season. Which brings us to the downside of having Henry on your dynasty team — he just doesn't see the volume you'd like to see from a starter. He reached 176 rushes last year and is on pace for just 178 this year. If he saw 50 more carries in a season, you're talking about a few hundred more yards on the ground and who knows how many more touchdowns. And it's not like his efficiency is a fluke either; he finished 32nd in elusive rating his rookie season but jumped up to 14th last year. He now sits second in the category after Week 14.
Verdict: Hold. Until the Titans make a commitment to using Henry more, I don't know that you can trust him to be anything more than a RB2/3 on your dynasty team. He's proven to be productive when he has the ball, he just needs to get it more.
(PFF dynasty rank: 39)
White has carved out a nice career as the primary receiving back in New England. In his four years in that role, he's averaged a little over 500 yards receiving to go along with 58 receptions per season, including 76 for 674 this season — not bad for the running back spot in your starting lineup, especially for PPR leagues. He never really made an impact in the run game before this season but has totaled 342 through Week 14, nearly double what his previous high had been. Put all this together and he's been a top-10 running back in PPR leagues.
White's been able to produce at this level through a combination of staying healthy and efficiency. He's been a top-10 running back in yards per route run in three of the last four seasons but has also played in nearly every game in that span, missing an average of just one per season. Compare that to current Patriots back Rex Burkhead, who missed six games last season and has appeared in only five this season. In the two seasons before Burkhead's arrival, Dion Lewis, another Patriots running back that competed for touches, missed 18 games combined and creating a huge opportunity for White during those seasons.
Verdict: Sell. The Patriots notoriously pass the ball around and rarely rely on any one player consistently. For example, no Patriots rusher or receiver has led the team in their respective category three years in a row since Wes Welker did in 2012 for the fifth time, not even Rob Gronkowski himself. I would be cashing in on White's career-year before the Patriots move on.
(PFF dynasty rank: 15)
Even the most optimistic projections couldn't have predicted the effect Cooper has had on the Cowboys and vice versa since his trade. He's scored six times in his six games as a Cowboy while averaging over 100 yards-per-game and is fantasy's top receiver in that span. Meanwhile, the Cowboys have won five of those six games and look like the NFC East champions.
For long-suffering Cooper dynasty owners, it's a culmination of the potential that Cooper flashed in his time at Oakland. His career started with 1,000 yards in each of his first two seasons but then followed that up with just 48 receptions for 680 yards in his third year. All the while, he's been considered a top-10 dynasty receiver, but should he have been? Besides his draft pedigree (he was drafted third overall) and age, Cooper's never been an efficient receiver in his own right. He's never finished higher than 18th in PFF's grades and never in the top 20 in yards per route run. It's mainly been opportunity that's been afforded to him based on how high he was drafted.
Verdict: Hold. The story has been a good one and Cooper has absolutely helped both the Cowboys and dynasty teams to wins this year. But we need a bigger sample size of Cooper's role in Dallas before we can make a determination of his long-term value.
(PFF dynasty rank: 81)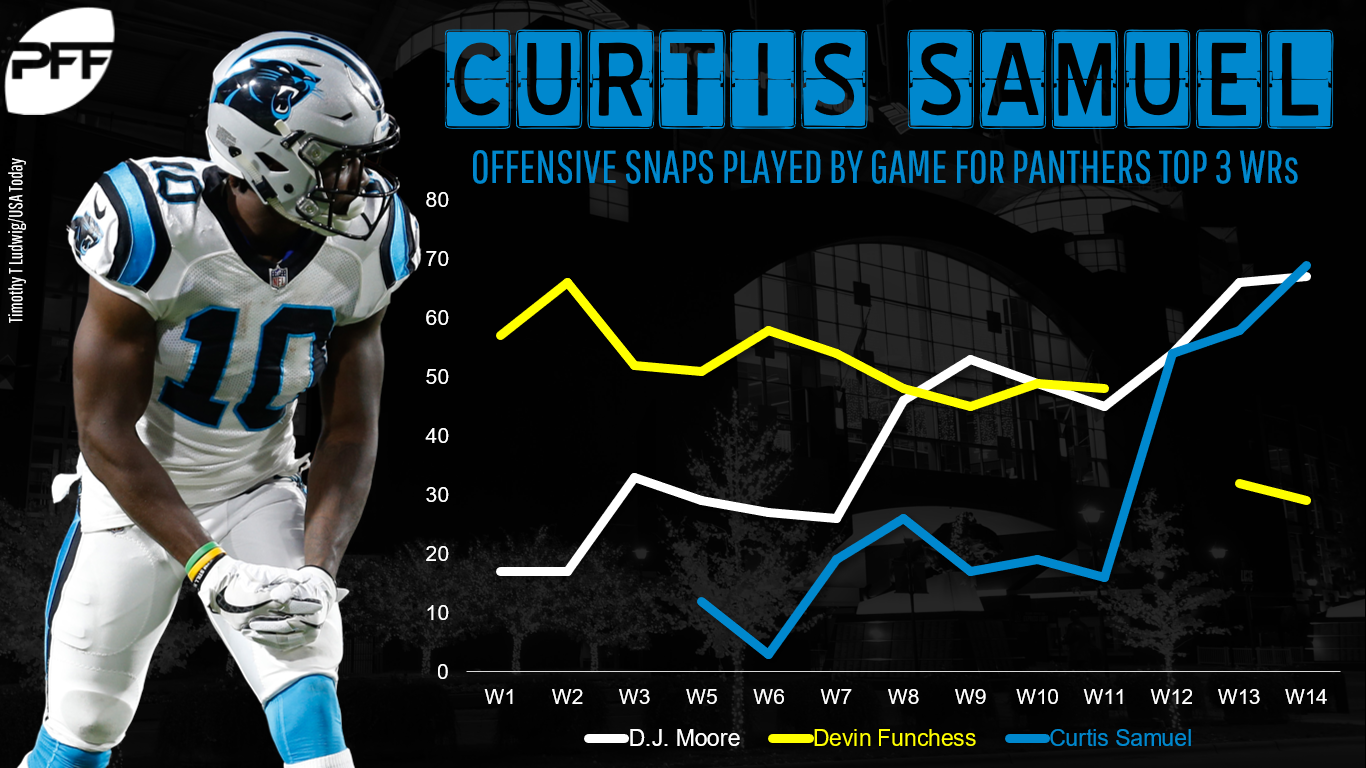 The 2018 season looked to be following in the footsteps of a lost 2017 after Samuel underwent a procedure for an irregular heartbeat and missed the first month of the season. But thanks to some injuries on offense, snaps and targets became available with Samuel being the prime beneficiary. Case in point: In the last three weeks Samuel has seen more than 50 snaps in each game. And in that same timeframe, he's recorded either a touchdown or at least 80 yards receiving each time. He's now seeing more snaps that veteran Devin Funchess even after Funchess returned from the injury that opened the door for Samuel. But is Samuel producing because of skill or opportunity? In those last three weeks of more snaps and solid fantasy production, he grades as only PFF's 58 out of 96 receivers and his yards per route run of 1.62 is only 38th out of 97th.
Verdict: Sell. For as productive as Samuel has been, this will still be D.J. Moore's team (he was their first-round pick) and there simply aren't enough targets to go around. The Panthers, as they are currently constructed and coached, are only 19th in pass attempts with 34.3 per game, with most of those going to Moore and Christian McCaffrey. That's not to say that Samuel couldn't be a decent flex play going forward, but that's all he'll be, and I'd rather cash in on this hot streak to close the season.
(PFF dynasty rank: 6)
Despite the lofty dynasty ranking, Henry has yet to turn in a top-10 fantasy season. Of course, being blocked by a future Hall of Famer in the form of Antonio Gates will do that. But even seeing a combined 30 fewer targets than Gates over his first two seasons, Henry was still productive. He led all tight ends with eight scores his rookie season and surpassed Gates statistically his sophomore year, finishing third on the team in both receptions (45) and yards (579). This past year was supposed to be his breakout season, but he tore his ACL in the offseason and hasn't played a snap.
Why the hype you ask? Henry was always efficient, finishing ninth in PFF's yards per route run his rookie season and third in the same category in 2017. But he was finally expected to see the snaps of an every-down tight end. In his last healthy season, he averaged just 43 snaps a game, far fewer than the top three fantasy tight ends this year — Travis Kelce, Zach Ertz, and George Kittle — who have all averaged at least 53 snaps per game. That's 10 more per game than Henry recorded in 2017 and 160 over the entire season.
Verdict. Buy/Hold. Tight end has been a wasteland for the Chargers this season, so they will be chomping at the bit to get Henry back. Yes, he's coming off an ACL injury, but he's just 24 and can easily overtake the snaps/targets of current Chargers tight ends Gates and Virgil Green. Quarterback Philip Rivers isn't showing any signs of slowing down either, which means Henry should finally break out in 2019.