When filling out fantasy football lineups for DFS, one of the handiest approaches is knowing who to build around, which players to lock into your lineup and go from there.
Each week in this space, I'll be highlighting the players I'm building most of my lineups around on that week's main slate. Lock these guys into lineups and go from there. Check out below for Week 1.
Quarterback
Week 1 was the perfect storm for the Steelers passing offense to struggle. It was a road game, where we know Roethlisberger has historical struggles. New England came in on a high, celebrating their Super Bowl championship and adding maybe the best receiver in the NFL. They have one of the league's top secondaries. Anybody surprised they had a rough Week 1 was not paying enough attention. In Week 2, Pittsburgh's back home, against a Seattle defense that just let Andy Dalton put up a career-high in passing yards, and has something to prove. Roethlisberger's projected DFS ownership is below 2%. I'm buying.
One thing the Chiefs basically always promise opposing teams is a negative gamescript, which means passing. The other thing the Chiefs promise is a struggling pass defense. Carr was excellent in Week 1 (tying for the top QB grade), and he carries the benefit of very obvious stacking candidates — you're pairing him with Tyrell Williams, Darren Waller, or maybe Josh Jacobs if you want to be a little contrarian about it, and there really isn't anybody else.
Running back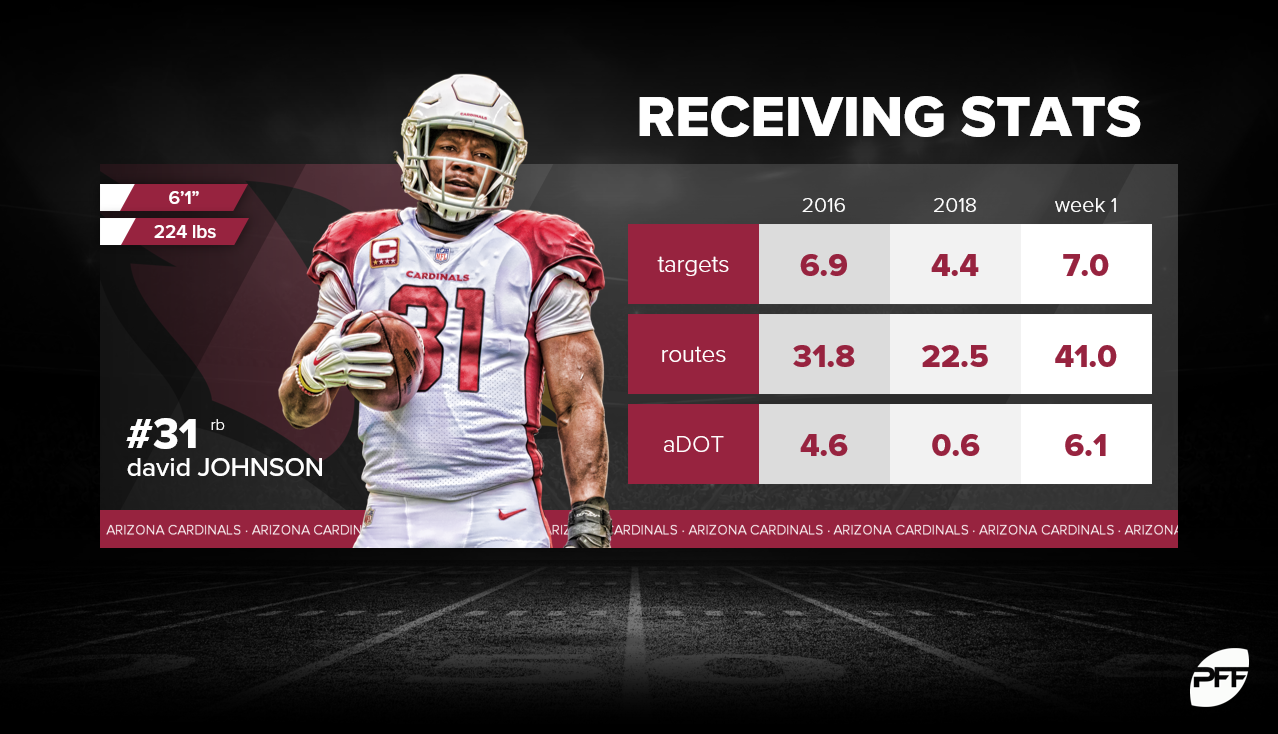 Johnson's usage as a receiver basically evaporated in 2018. He averaged 6.7 targets per game at a 4.6-yard average depth of target in his massive 2016 — a running back who played wide receiver — then saw those numbers drop to 4.4 and 0.6, respectively, last year — a running back who is just a running back but catches some passes. In Week 1, those numbers were right back up, even above his big 2016 numbers; he was targeted 7 times in Week 1 with a 6.14-yard aDOT. Even in a bad gamescript, he's going to see massive use.
Alvin Kamara, New Orleans Saints (@ LA Rams)
I'm out on the Saints passing game in Week 2, but the team still should generate plenty of offense, and that means a healthy dose of Kamara (and Latavius Murray). In Week 1, we saw Christian McCaffrey put up record-level performance against the Rams, and while that might not be what we can expect out of Kamara, it's definitely in his range of outcomes.
As our Scott Barrett noted in this week's start/sit column, Michel averaged nearly three times as many PPR points in Patriots win last year as losses. That didn't replicate in Week 1, but that was up against a Pittsburgh team that has a good run defense and couldn't stop the pass at all. In Week 2, the Patriots should destroy a Dolphins team that has the opposite defensive situation — a decent pass defense (theoretically, at least, for those who watched Week 1) and an amenable run defense. Expect Michel to see a big improvement from Week 1 in a game the Patriots have the best Vegas-implied total of the week by more than three points over the next best team.
This one comes down to whether Joe Mixon is ready to go in Week 2. But assuming Mixon is out, you can get a running back who is more or less guaranteed 80% or more of the team's offensive snaps at only about three-fifths the salary of the other bell cow backs.
Josh Jacobs, Oakland Raiders (vs. Kansas City)
One of the benefits of players who plays on Monday night is that their salaries are set before the game, so a player who warrants a more expensive salary doesn't get one. In other words, this is your last chance to get Jacobs at something less than a ridiculously high price.
Wide receiver
One note on wide receivers: This is an excellent week to pay down a bit at the position. Julio Jones, Mike Evans, and Odell Beckham Jr. are off the main slate. DeAndre Hopkins draws the Jaguars. Davante Adams draws the Vikings. Michael Thomas draws the Rams. Antonio Brown is in his first game with a new offense. One or more of them will almost certainly have a typically big game, but in general these guys all make dicey plays.
Allen's usage was low-key amazing for fantasy in Week 1, with two deep targets, five red-zone targets, and two end-zone targets. Even if everything about the Chargers offense stayed the same as Week 1, Allen would be appealing. The fact that Hunter Henry is out for who-knows-how-long and Mike Williams is a question, while bad news for the Chargers, is phenomenal news for Allen's fantasy stock.
Tyrell Williams, Oakland Raiders (vs. Kansas City)
D.J. Chark picked the Chiefs defense apart on deep balls to the tune of 139 yards in Week 1. Success on deep passes has been Williams' bread and butter in his career. And there isn't any other receiver in the Raiders offense you want much part of. It's an easy call.
Hardman's receiving role in Week 1 was frustrating, with a single uncaught target to show for his NFL debut. But his playing time was plenty reassuring — among the team's skill players, only Sammy Watkins (65 snaps) played more than Hardman's 53. And now with Tyreek Hill shelved, Hardman — who was originally drafted as the de facto Hill replacement when it looked like the star might be suspended — should see those snaps turn into targets in short order.
As long as the Cardinals offer the sort of offense that we expect and that we saw in Week 1, every wide receiver on the team (even Damiere Byrd, who I honestly didn't even realize was on a roster until last Sunday, and this is my job) is worth at least a look. Fitzgerald and Kirk both played more than 80 snaps in Week 1, Byrd played 77, and Johnson played 67 in his first career game. All four had at least seven targets. And Fitzgerald is the most expensive of the group … at $4,600. Enjoy.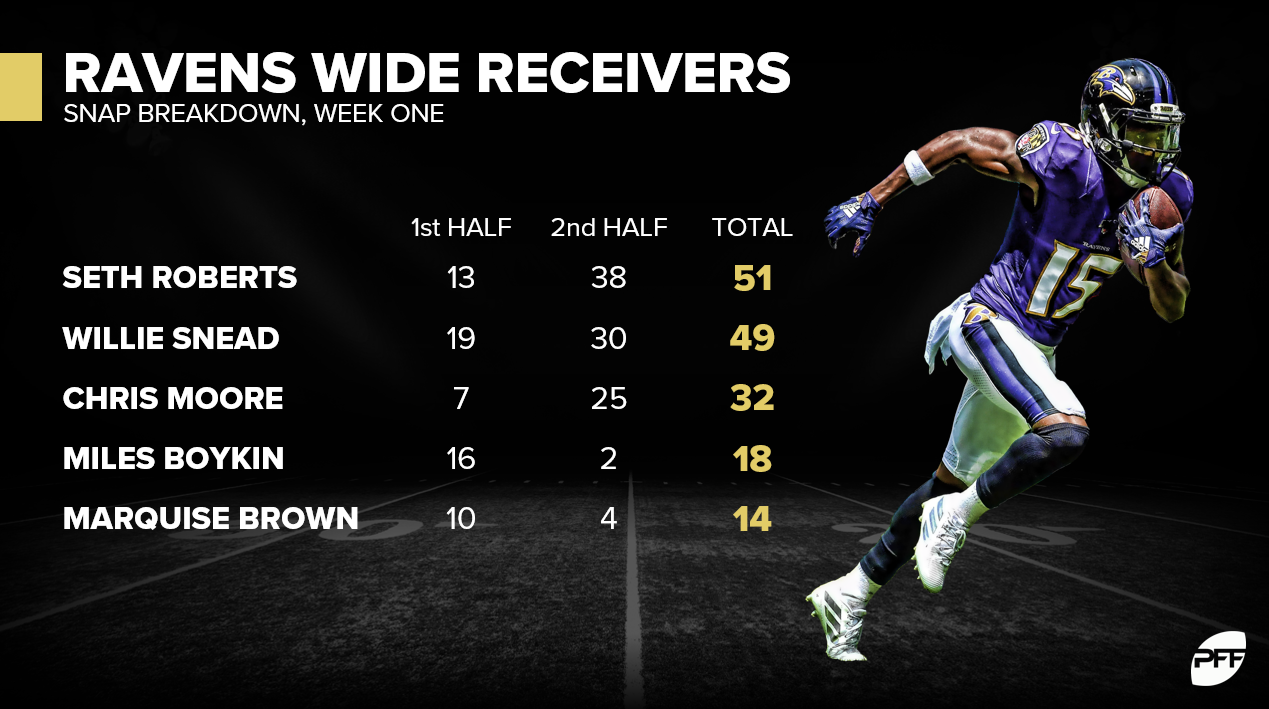 Marquise Brown's ownership should skyrocket in Week 2 (we project to him have top-10 ownership) after his massive Week 1 production. But it's worth acknowledging that Brown's snap count in the game was only 14. He's electric, but unless and until that jumps, he's not going to be trustworthy for fantasy. Meanwhile, Snead played 49 snaps in Week 1, and while Boykin played only 18, 16 of those came in the first half when the Ravens were still going hard. Going with either the rookie Boykin or the lone holdover Snead against a struggling Arizona pass defense makes for a strong pivot.
Tight end
Engram got 14 targets in Week 1 with Sterling Shepard on the field. Now Shepard is in the concussion protocol for Week 2 heading into a matchup against a Bills secondary that includes Tre'Davious White (75.6 passer rating into his coverage in 2018) and Levi Wallace (84.1), meaning the already-bad Giants receiving game will run into a brick wall. Could Engram get to 20 targets?
Darren Waller, Oakland Raiders (vs. Kansas City)
Remember when I said this was your last chance to get Josh Jacobs cheaply because he played Monday and his salary didn't rise like it should? That's true here too.
I'm not sold on Hockenson as the next huge thing at tight end this year, only because there's not much reason to believe the Lions are going to pass the ball as much, or be as successful doing it, as in Week 1. On the other hand, he was $3,100 on DraftKings in Week 1, had maybe the best first game any tight end has ever had, and now he's … $3,000? That doesn't make sense. He's cheaper than Adam Shaheen. He doesn't have to be "Gronkenson" to be worth that salary.