Today, we're breaking down the best DFS plays of the Thursday Thanksgiving slate on DraftKings and FanDuel for fantasy football players.
Before digging too deep into the specific players on this slate, I did want to mention two important notes this week:
On a typical full-game slate, you'll want to feel comfortable with every player you're rostering. Ideally, even your punt-plays are strong values with good upside. On a shorter slate like this (three games, six teams) it's okay to roster a relatively "gross" name if you feel they give you a stronger lineup overall – allowing you to pay up elsewhere.
Late-swap on these smaller slates. If you have any tournament lineups that, after a bad game or two, seem unlikely to cash, you have nothing to lose and everything to gain by adding exposure to some "riskier" lower-owned players.
[Editor's note: Save 40% off a PFF annual subscription for Cyber Monday!]
Notes: All numbers in parentheses refer to a player's salary rank on each site.
Quarterback
(DK: QB1, FD: QB1)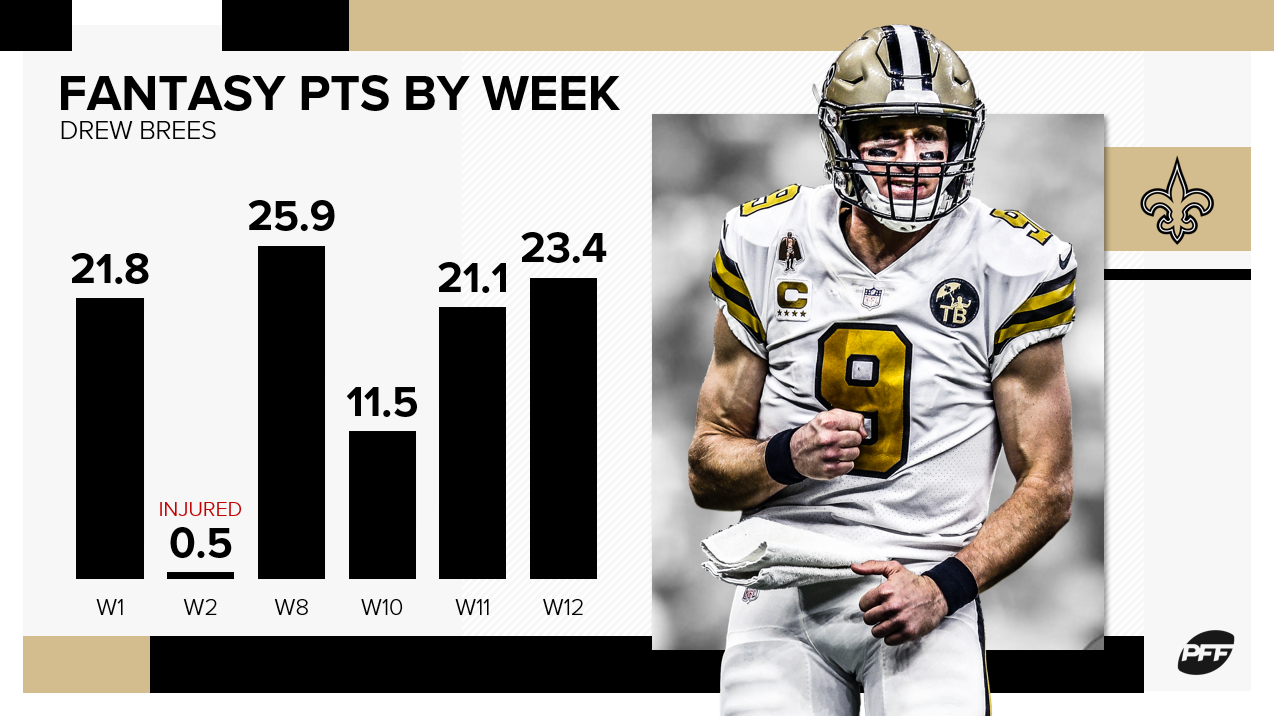 The last time these two teams faced off, Brees was sacked a career-high six times, while scoring just 11.5 fantasy points. Outside of that game (and Week 2, where he left in the second quarter), Brees is averaging a whopping 25.3 DK fantasy points per game, which would rank behind only Lamar Jackson. Atlanta, meanwhile, is giving up the fifth-most fantasy points per game to opposing quarterbacks (25.1). Or, if excluding that Week 10 game against Brees, 28.7 over their last six games.
In games Brees and Alvin Kamara both played in full, New Orleans has scored 80% of their offensive touchdowns via the pass. Given Vegas' projections then, he should easily have the highest expectation on the slate. New Orleans sports a 28.25 implied point total, which is 2.25 more than Dallas and 7.0 more than Atlanta as the next two closest teams.
(DK: QB5, FD: QB2)
Prescott flopped last week, but let's cut him some slack – it was against New England, the league's best defense. Outside of that game, he's averaging 24.1 fantasy points per game, with eight of 10 games over 21.0. Of course, Buffalo is another tough matchup (11th-toughest by schedule-adjusted fantasy points allowed per game), but still not tough enough to make him anything less than a laughably awesome value on DraftKings.
Other: Prescott and Brees will probably end up being the chalk, but, on such a small slate, every quarterback is in play. With Matt Ryan, you're betting he bounces back to form in a big home game. Among all quarterbacks over the past two seasons he ranks behind only Patrick Mahomes in DraftKings fantasy points per game. New Orleans is a different defense now, but last year he averaged 34.5 DK fantasy points per game against New Orleans. … Josh Allen and Jeff Driskel are in play thanks to the Konami Code. You really only want to play Allen in cushy matchups and when heavily favored, so I'm not a huge fan this week. Driskel, meanwhile, is very quietly averaging 7.3 carries and 50.3 rushing yards per game. He's a solid option for lineups where added salary is needed, and with a larger floor than you might think. … Mitchell Trubisky is in play because, well, no one else is going to want to play him, and if he goes off that gives you a big edge.
Running back
Alvin Kamara (DK: RB1, FD: RB2) vs. Ezekiel Elliott (DK: RB2, FD: RB1)
One of the biggest decisions of the slate comes down to playing Elliott or Kamara. Since returning from injury, Kamara averages 19.0 XFP per game and 18.9 fantasy points per game, compared to Latavius Murray's 6.3 and 7.1. Since Week 9, Elliott is averaging just 14.4 and 15.0, compared to Tony Pollard's 5.7 and 6.3. So, Kamara has the edge in volume and recent production, and Vegas expectation (28.25 implied total).
However, Elliott wins on perceived matchup. Buffalo is one of the league's top-three pass defenses, but one of the league's three-worst run defenses. Buffalo ranks just 18th in fantasy points per game allowed to opposing running backs, but if schedule-adjusted that number jumps to sixth-most – well above Atlanta (20th).
Montgomery and Cohen are seeing comparable levels of volume. Since Week 7, Montgomery averages 13.3 XFP per game to Cohen's 12.3 – both numbers would rank third among all running backs on this slate. Over this span, they both average 11.3 fantasy points per game. However, over their last three games, Cohen averages 14.8 fantasy points per game to Montgomery's 5.7. Both are top values against a Lions defense that is giving up the second-most fantasy points per game to opposing running backs – the sixth-most on the ground (16.3) and the most through the air (15.7). I'd lean Cohen on DraftKings and Montgomery on FanDuel.
(DK: RB3, FD: RB3)
Since Week 9, Singletary has averaged 69% of the team's snaps and 65% of the team's red-zone snaps. Over this span he's averaging an impressive 16.1 carries, 3.3 targets, and 13.1 fantasy points per game. However, with Frank Gore also averaging 11.0 touches per game, there is even more room for growth.
Singletary has outgained Frank Gore 613 to 611, but on 45 fewer touches. Now that Gore has finally surpassed Barry Sanders in all-time rushing yards, and with Walter Payton more than 1,400 yards away, hope for Singletary to receive the bell cow workload he's certainly earned.
Other/notes:
Over the last two weeks, Bo Scarbrough totals 32 carries, 153 yards, one touchdown, and zero targets. Chicago's defense ranks fifth-best in yards allowed per carry (3.62) but (due to gamescript) 11th-worst in rushing fantasy points per game allowed to opposing running backs (14.6). With Detroit as underdogs (+1.0), Scarbrough is a boom-or-bust play, where he probably only hits in a victory. While I won't have a lot of exposure, for that reason, I like the idea of stacking him with Cohen (who does better with negative gamescript) on some lineups.
Absolutely no one is going to play Brian Hill in this brutal matchup, but he is a volume-related value. Since the team lost Devonta Freeman to injury, Hill is averaging 19.6 touches per four-quarters, drawing 49 of the team's 67 touches (73%) out of the backfield over this span. The team opted for more of a committee last week, but he did play on 50 snaps. If Freeman returns to action (and isn't limited), he'd rank much higher but still behind Singletary in terms of value.
Wide receiver
(DK: WR1, FD: WR1)
Thomas is just an absolute freak of nature, averaging 7.7 DraftKings fantasy points more than the next-closest slate-eligible wide receiver. He's scored over 25.0 points in each of his last five games and has reached double-digit targets in each of his last seven games. Atlanta ranks fifth-worst in schedule-adjusted fantasy points per game allowed to opposing WR1s, and Thomas caught 13 passes for 152 yards against them in Week 10. In situations where I can only afford one, Thomas is the player I want to pay up for.
(DK: WR4, FD: WR8)
With Julio Jones and Austin Hooper banged up, Ridley looks like one of the top plays on the slate, and especially if Marshon Lattimore returns to action. Lattimore barely played in Week 10 before going down with an injury, but, in his two other career games shadowing Jones, Ridley averages 10.5 targets and 31.9 fantasy points per game. He's also averaging 11.0 targets and 25.5 fantasy points per game since Hooper's injury. He's a borderline must-play for me on both sites, but with that being dependent on both Jones and Lattimore playing.
(DK: WR8, FD: WR6)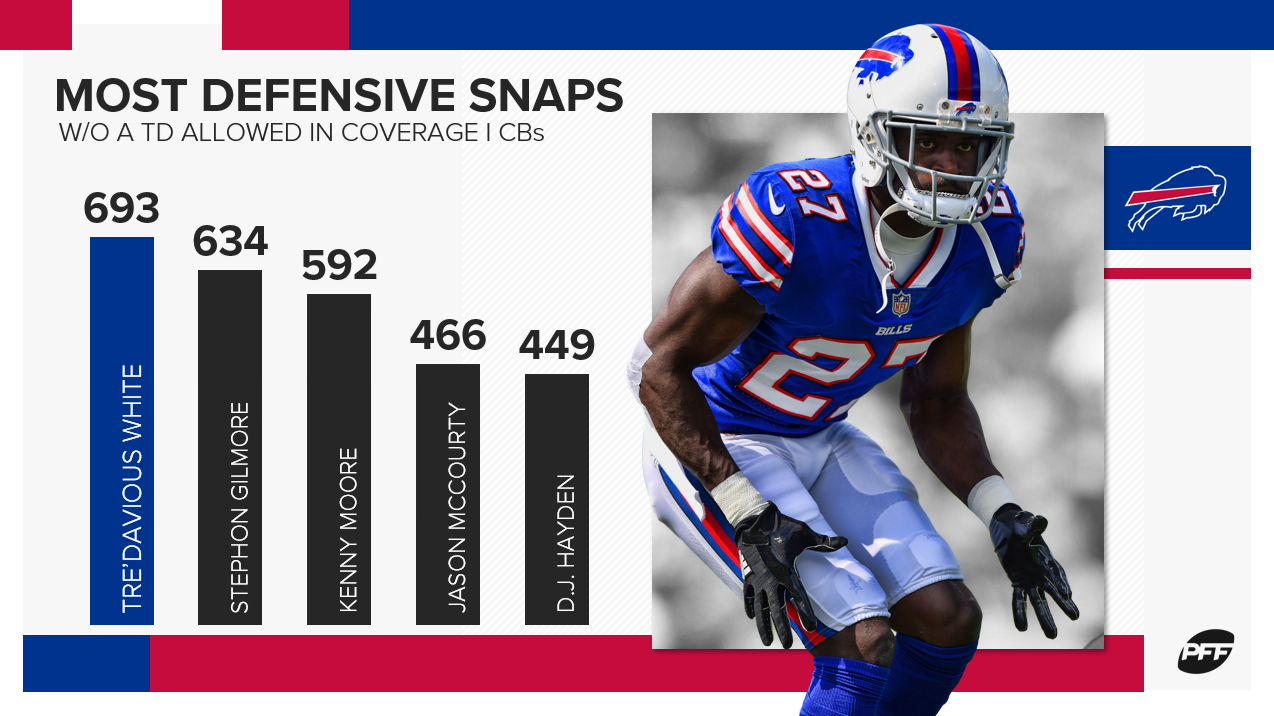 Tre'Davious White has long been one of the league's top shadow cornerbacks, while Amari Cooper has long been one of the league's most shadow-sensitive wide receivers. Through four shadow games, Terry McLaurin, Odell Beckham Jr., DeVante Parker, and Courtland Sutton have averaged just 7.0 fantasy points per game against White's coverage. Meanwhile, in shadow coverage against Marshon Lattimore, Darius Slay, and Stephon Gilmore this year, Cooper has averaged just 5.5 fantasy points per game.
Buffalo is good against deep threats (best), tight ends (best), slot wide receivers (fifth-best), WR1s (sixth-best), and WR3s (12th-best). However, they're weakest against WR2s, giving up the ninth-most schedule-adjusted fantasy points per game to opposing WR2s. This makes Gallup, who is averaging 9.7 targets and 17.0 fantasy points per game over his last three games, one of the best plays on the slate.
Other/notes:
Tight end
At the tight end position, you're really only left with two options:
Austin Hooper, Atlanta Falcons
If he plays, Hooper is your top option on both sites. New Orleans ranks top-12 against tight ends for the fourth season in a row, but Hooper is still egregiously mispriced on both sites — at least relative to all the other lowlier options available on the slate. Hooper leads all tight ends in fantasy points per game (17.0), which is +7.0 more than the next-closest tight end (Jared Cook) and 8.7 more than the tight end just behind him (Jason Witten). With Jones banged up and possibly drawing shadow coverage from Marshon Lattimore, look for Ryan to lean heavy on Hooper and Ridley.
Jared Cook, New Orleans Saints
Cook isn't quite as attractive as Hooper, but if Hooper sits out, he's still easily your best option. He's reached double-digit fantasy points in each of his last five games, averaging 14.7 over this stretch. Since Drew Brees' return from injury, he's also averaging 6.7 targets per game.
I totally understand the appeal of saying "screw it" and punting the position with a Dawson Knox-caliber player to free up salary cap elsewhere… but, personally, I wouldn't go that route this week.