When building DFS lineups for fantasy football, knowing who to play is crucial. But perhaps just as crucial is knowing who not to play, which players you should cross off your list for that slate. Paring down the player pool makes the rest of the lineup decisions that much easier.
Each week in this space, using the information and data available to PFF subscribers, I'll highlight the players in that week's main slate that I think should be crossed off for that week, or at least used very sparingly. These are the Week 9 fades.
Quarterback
The Bears are a bottom-seven defense in terms of fantasy points per game allowed to quarterbacks. Wentz has:
Under 200 passing yards in four of his last five games;
Under 30 pass attempts in four of his last five games;
Only 1 touchdown pass in three of his last four games;
Under 20 completions in four of his last five games;
His lowest yards per attempt and passer rating since his rookie year, partially a product of his receivers dropping 17 of his passes so far.
This is a quarterback, right now, with more name value that fantasy value.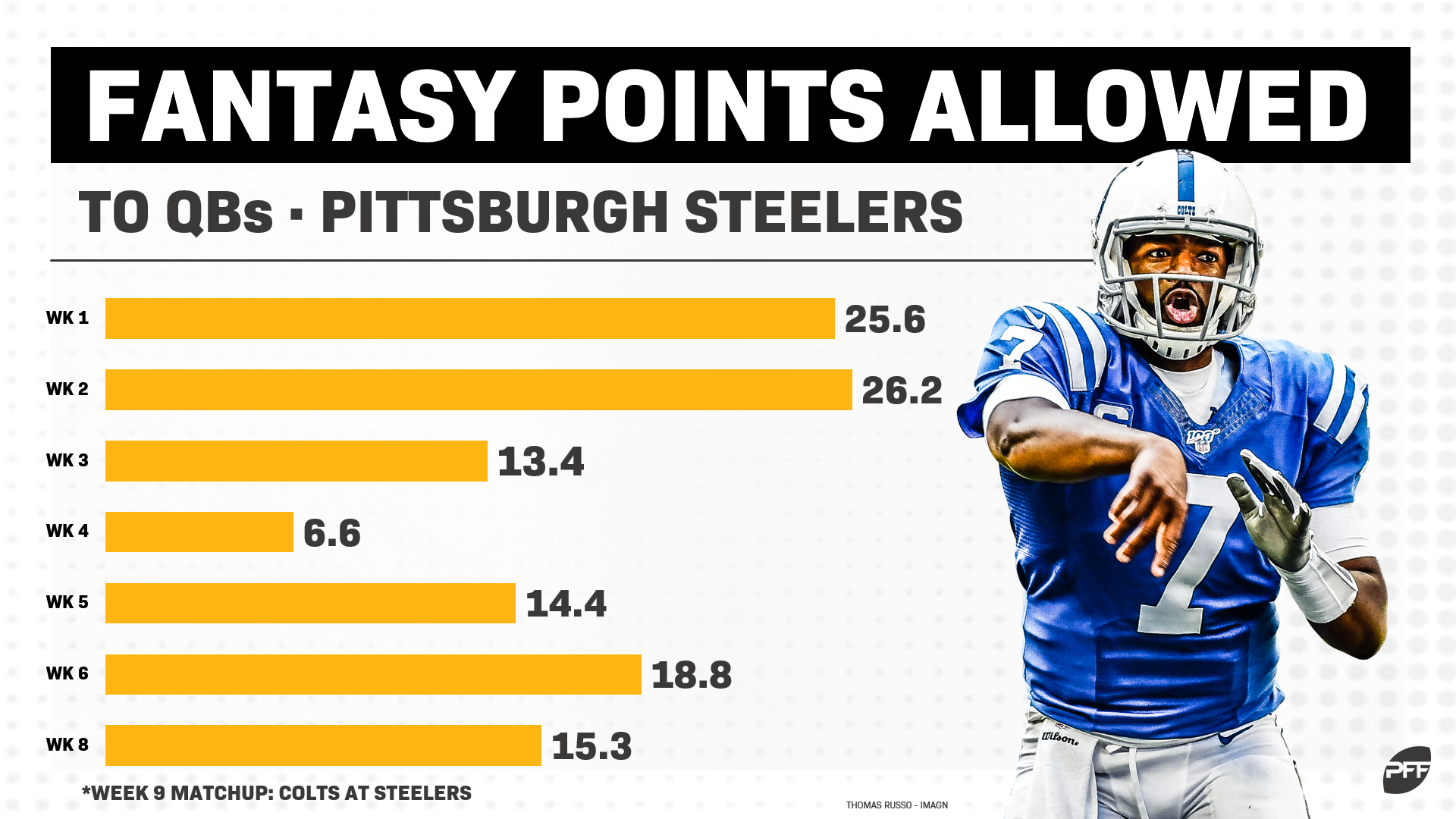 In Weeks 1-2, the Steelers allowed 25.9 fantasy points per game to quarterbacks, sixth-worst in the league. Then they added Minkah Fitzpatrick. Since then, the team has allowed only 13.7 points per game to the position, sixth-best. Yes, the opponents have gotten friendlier, and the team is not exactly crushing the season overall, but it's no longer a matchup you want to target for your DFS quarterback.
Running back
The Buccaneers have allowed the lowest yards per carry, at 3.0. The Seahawks lost their center, Justin Britt, to a season-ending injury. Carson had marginal involvement in the passing game (3.5 receptions, 25.0 yards in Weeks 1-4) that has all but vanished lately (2.0 receptions, 12.3 yards since). The way to beat Tampa Bay is to throw the ball. Stop me when I convince you this isn't a Carson week.
Our DFS ownership projections have Bell as one of the most-used players of the week, considering the matchup against Miami and his role as the Jets' workhorse. Bell's workload has seriously dried up in recent weeks (he's averaging only 13.3 touches per game the last three weeks), and his efficiency has flagged at the same time (a career-low 3.2 yards per carry). Reports are that Bell will be "more involved" this week, but it's hard to picture what that means — these two teams are in the bottom five in the league in offensive plays per game (Miami 28th at 59.3, New York 31st at 55.3), so even if Bell gets a fair share of the Jets' offensive plays, the raw totals still aren't likely to be impressive.
Wide receiver
In my weekly look at the best and worst matchups of the week, I pointed out how the Broncos have allowed only 8.9 PPR points per game to opposing No. 1 receivers since Week 1, using Chris Harris as a shadow on the big names more often. In my look at this week's sleepers and busts, I pointed out how Beckham is having by almost any measure his worst season independent of opponent. If you can critique a guy on both sides, he's a pretty fair stay-away.
T.Y. Hilton being ruled out of this game will likely shift some ownership intrigue to his lighter-salaried teammates, and as a punt play, they aren't the worst plays in the world. But the aforementioned tightening of the Steelers defense works against the Colts here as well, as does the fact that, with big-time injuries to both offenses in this game, we shouldn't be surprised if this game has a much slower pace than normal.
Tight end
As I noted in Friday's piece on Week 9 DFS locks, this week is insane at tight end. With four big-to-very-big names on bye, and 4-5 more names we care about off the main slate, there isn't much in the way of stay-aways for the week — really, you just want to spend on who you can afford. But, this is the piece, so … I'll nitpick.
McDonald has plenty of name value, but very little actual value so far this year. He hasn't topped 40 yards all year. He hasn't scored outside of Week 2. Over his last four games, he's averaging 2 receptions 2.5 targets, and 17 yards. And he's $4,100 on DraftKings this week, $100 more than making-his-debut Chris Herndon, $300 more actually-productive-lately Jonnu Smith, and $600 more than great-matchup T.J. Hockenson. It's not so much that McDonald is a bad play as there are better ones.