Opponents matter in fantasy football. Exactly how much they matter is fair to debate, but you know you'd rather an offensive player facing Team X than Team Y. You'd rather a defense facing Miami than Kansas City. We know this.
Each week in this space, I'll be taking a look at some of the key matchups to exploit in a given week, good or bad, at each position. And we'll start things off with my mismatch of the week.
Mismatch of the week
Derek Carr, QB, Oakland Raiders (vs. Detroit): The Lions have allowed at least 18 fantasy points to the quarterback position every week except Week 2, including 29.2 and 30.2 the last two weeks. Quandre Diggs is gone now, just making the pass defense worse. For Carr, he's put up his best fantasy point totals (18.7 and 23.4) the last two weeks, with his 77.1 PFF grade in Week 8 his best since Week 1. With Tyrell Williams back healthy, Carr and the Raiders pass attack should fare well against Detroit.
Good situations
Mitchell Trubisky, QB, Chicago Bears (@ Philadelphia): The Eagles held Josh Allen somewhat in check in Week 8 — but then the weather did a lot of that work for them. Outside of that and a game against not-an-NFL-quarterback Luke Falk, the Eagles have been a sieve against opposing quarterbacks most of the year, averaging 24.4 points allowed to QBs in their last four games that weren't against Falk. Trubisky's been miserable this year, but he has at least had success targeting Allen Robinson, who has 526 yards and 3 touchdowns. Maybe Trubisky doesn't offer a top-tier QB fantasy ceiling like he did on occasion last year, but this is a good week for him to beat what he's done this year so far.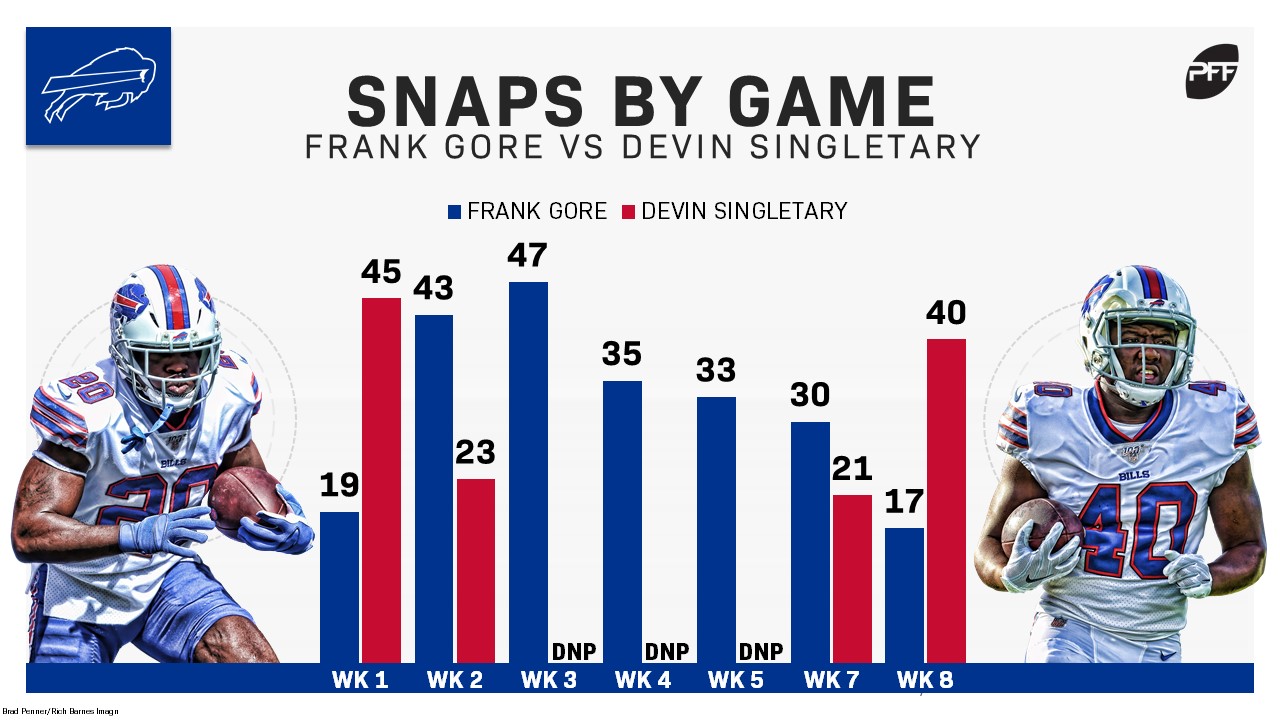 Devin Singletary, RB, Buffalo Bills (vs. Washington): With the obvious caveat that the Bills trailed for the entire second half last Sunday, it's worth noting that Singletary blew past Frank Gore in snaps in that game, his second back from injury. Gore has now seen his snap total fall each week since Week 3. As 9.5-point favorites over Washington this week, it's possible Gore gets more work than Singletary, but it's just as possible we're seeing a changing of the guard atop the depth chart, and that would make Singletary a nice play this week.
D.J. Chark, WR, Jacksonville Jaguars (vs. Houston in London): There's a chance the Texans get Johanthan Joseph and/or Bradley Roby back for this week's game in London against the Jaguars, but with the team heading into a Week 10 bye, any lingering question about their health might make it smarter to just hold off. And regardless, it's not like the Texans have been good against opposing receivers no matter who is on the field. They've allowed 50-plus points to opposing receivers three times this year and 40-plus in two more games en route to averaging a league-worst 43.1 points per game to the position. And with Dede Westbrook also a question mark to return before the Jaguars' bye, there's not much question who Jacksonville's No. 1 will be.
Evan Engram, TE, New York Giants (vs. Dallas): The Cowboys have allowed the fifth-most PPR points per game to opposing tight ends this season, including being, per ESPN's Mike Clay, the only team in the league to allow every opposing TE unit to exceed its season average in scoring (not even Arizona has done that). Engram has played 33 career games. Against Dallas (five games), he's averaged 72.4 yards and 17.4 PPR points. In all over games (28), those averages are 48.4 and 11.1, respectively.
Bad situations
Tom Brady, QB, New England Patriots (@ Baltimore): We know the Patriots' mission is to take away what their opponent does the best. And the question of what the Ravens do best is an easy one — it's putting the ball in Lamar Jackson's hands. How do you keep the ball out of the opposing quarterback's hands? You run the ball and hold possession. Expect the Patriots to spend much of this game keeping the ball with Sony Michel and Rex Burkhead, and that would lead to a poor Brady fantasy day.
Chris Carson, RB, Seattle Seahawks (vs. Tampa Bay): It's not enough that the Buccaneers are one of the league's biggest pass funnels in the league, though they are, and have allowed the third-fewest PPR points per game to running backs, though they have. It's also that they've allowed the fewest rushing yards to opposing backfields, and that Carson has the second-fewest receiving yards among the top-10 running backs, and that a Seattle offensive line that was already middle of the pack as a run-blocking unit (with a 58.8 PFF grade) just lost its best run-blocker in C Justin Britt for the season. Expect the Seahawks to turn to the pass more this week than they have in a while.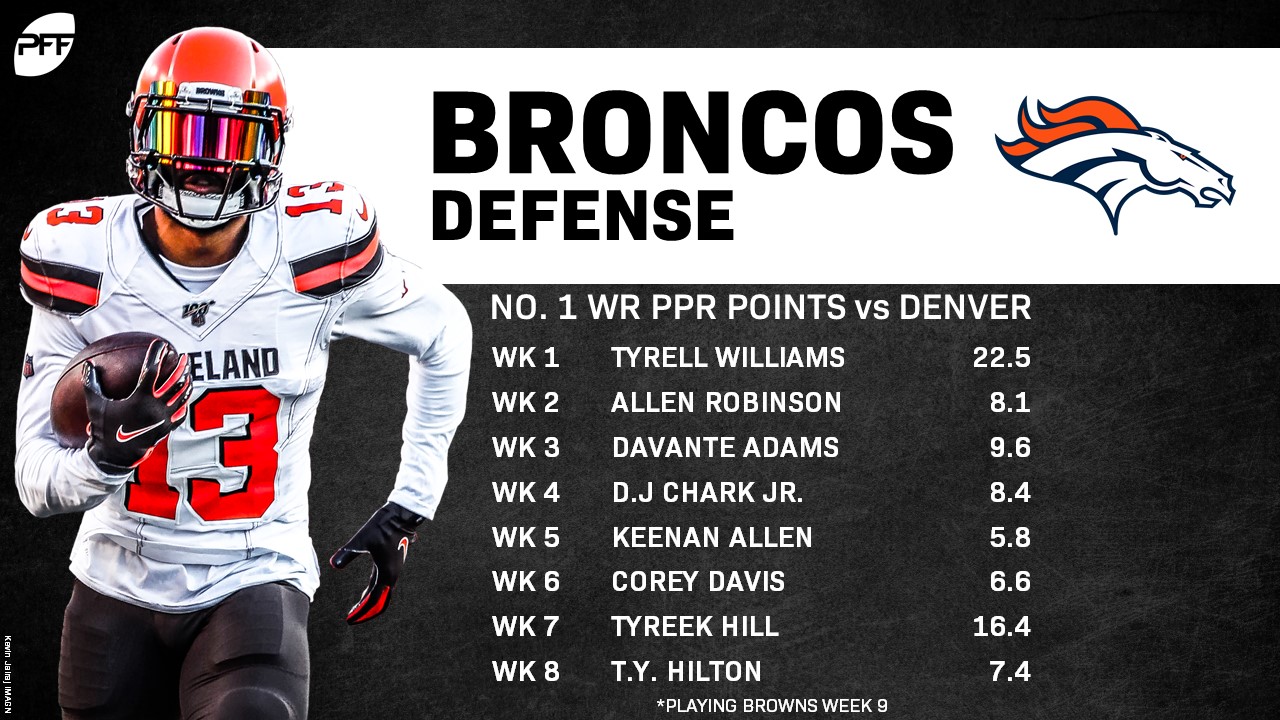 Odell Beckham Jr., WR, Cleveland Browns (@ Denver): With the Browns' struggles this year, you wouldn't expect them to be in that many run-friendly gamescripts … unless they were facing a quarterback with literally no NFL snaps, like they are in Week 9 against Brandon Allen. You'd expect the team to be able to jump out to an early lead and let Nick Chubb do the work for most of the game. And if they do that, it's unlikely that lead will come from Beckham, as he's likely to see plenty of Chris Harris Jr. in coverage (perhaps even shadow coverage), and since Week 1, opposing No. 1 receivers have averaged 46.1 yards and 8.9 PPR points against the Broncos.
Mark Andrews, TE, Baltimore Ravens (vs. New England): The tight end situation is such a mess right now that sometimes we just have to focus on the obvious, and the obvious tells us that, while you might not have a choice but to use Andrews, a matchup against the Patriots, who just allowed their first touchdown to a tight end all year against Demetrius Harris Sunday and has allowed the fewest points to the position, is daunting enough that you should look away from Andrews if you have an alternative.