The exact definition of a fantasy football sleeper or bust is difficult to pin down. For my purposes, I keep it simple: Sleepers are players who I expect to outperform their norm or their expectation, even by a little, and busts are players I expect to fall short. Sometimes, this means a guy is in store for a monster week; sometimes it means a little-used player needs to crack lineups.
Either way, each week in this space I'll use PFF advanced stats to try to identify a handful of the week's key sleepers and busts for fantasy.
Week 9 fantasy football sleepers
Matthew Stafford, QB, Detroit Lions: The Raiders have allowed more than 70 fantasy points to quarterbacks over the last two weeks; no other team has even allowed 60. The team's 40.8 PFF coverage grade is third-worst in the league and we can only expect it to get lower with Gareon Conley now gone. This game has a massive 50.5-point over/under, the second-highest of the week, and Detroit has no running game.
Derek Carr, QB, Oakland Raiders: If Stafford puts up big points, it stands to reason the opposing quarterback should as well. Carr just had his best fantasy performance of the season, a week after putting up what was then his best fantasy performance of the season, and Tyrell Williams is back and scoring touchdowns again.
Mitchell Trubisky, QB, Chicago Bears: How lucky do you feel? We know the Eagles have maybe the league's most burnable secondary. Allen Robinson has been playing like a man possessed this year. If he performs (and the Bears have another sleeper we'll get to later, it stands to reason the quarterback could have his best game of the season as well.
Matt Moore, QB, Kansas City Chiefs: Obviously, this is predicated on Patrick Mahomes missing Sunday's game. But assuming that happens, we just saw Moore have a perfectly strong fantasy game against the Packers. Between his coach and his offensive weapons, we can expect Moore to have reasonable fantasy value whenever he's out there.
Derrick Henry, RB, Tennessee Titans: Yes, Henry's value is largely tied to touchdowns, especially given his lack of work in the receiving game. But that lack of receiving work hasn't hurt Henry's floor, as he's rushed for at least 75 yards in six of eight games and at least 9.3 PPR points in every week but one. And as for that touchdown-dependency … he faces a Carolina team that has allowed a league-leading 10 rushing scores to running backs so far.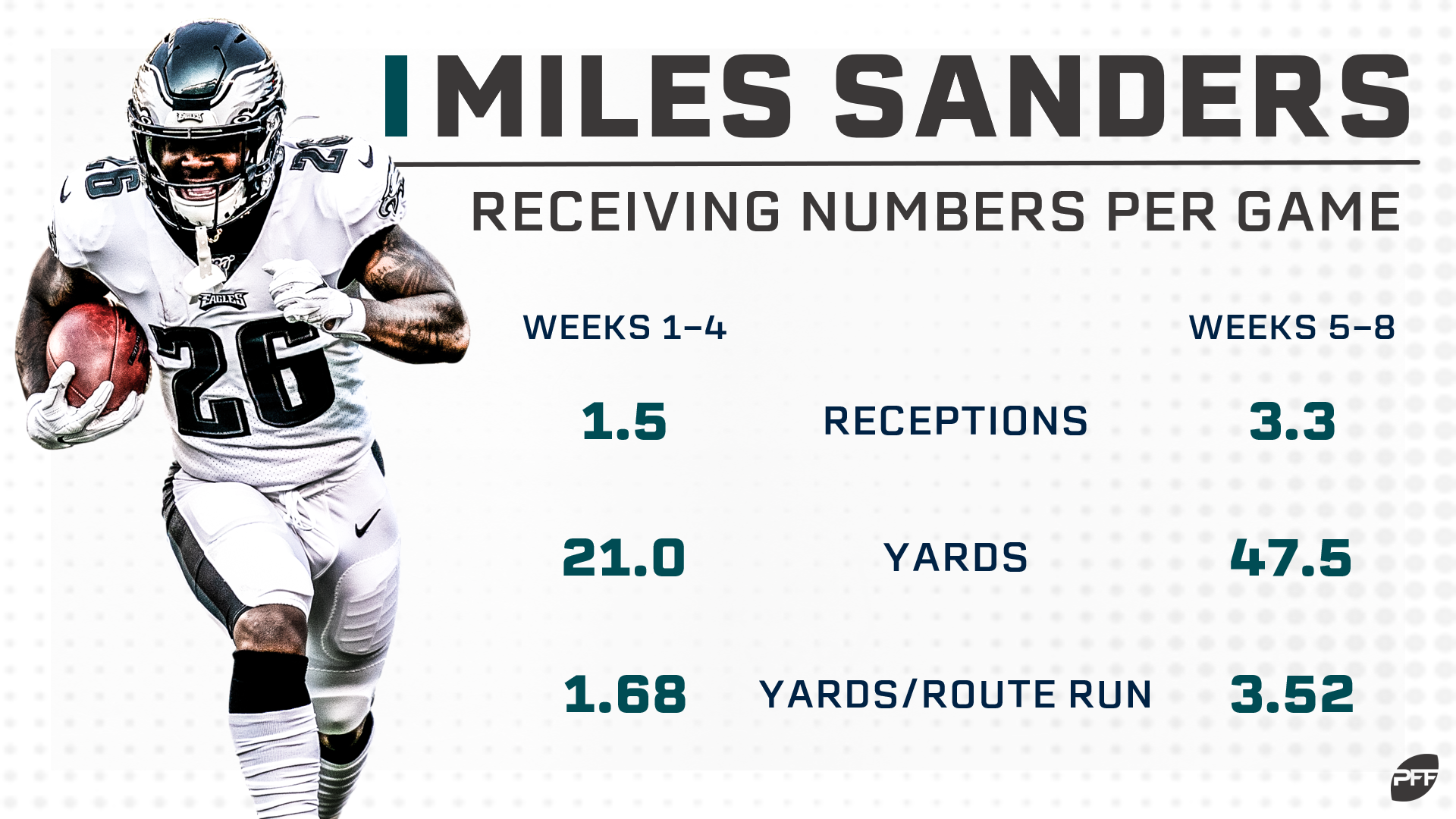 Miles Sanders, RB, Philadelphia Eagles: Divide the season in half. Weeks 1-4, Sanders averaged 1.5 receptions and 21 receiving yards a game at 1.68 yards per route run. Weeks 1-8, those numbers jumped to 3.3 receptions and 47.5 yards with 3.52 YPRR. Sanders doesn't have a monster touch load, but his work in the receiving game will keep him in the conversation.
Adrian Peterson, RB, Washington: The general ineptitude of the overall Washington offense has made Peterson somewhat gamescript-proof. He has averaged more than 20 touches a game in the last three weeks — a win, a 9-point loss, and a 10-point loss. He has a low ceiling, with minimal receiving work and only one touchdown all year, but more than 80 yards from scrimmage each week. He's not going to be a week-maker, but in a rough bye week, he can help.
Devin Singletary, RB, Buffalo Bills: We'll see how things go in a game with a different gamescript than the one the Bills lost to Philadelphia last week — they play Washington Sunday as comfortable 9.5-point favorites — but Singletary jumped well over Frank Gore in offensive snaps in Week 8, 40-17. If that continues, Singletary could find himself as a weekly RB2.
Jaylen Samuels, RB, Pittsburgh Steelers: It's too early in the week to know for sure how the Pittsburgh backfield will sort out in Week 9, but so far, it certainly looks like James Conner and Benny Snell could be out and Samuels could return. That alone is enough to make him interesting, and with the wildcast-esque usage he drew before his injury, he carries good upside as well.
Allen Robinson/Anthony Miller, WR, Chicago Bears: Working in Robinson's favor: Per our WR/CB matchup chart, he has one of the top individual matchups of the week. Working in Miller's favor: His workload and production has taken a huge leap since the Bears' bye (16.0 yards and 0.78 yards per route run before the bye, 65.5 and 1.90 since). Working in both of their favors: The Eagles have allowed the second-most PPR points per game to opposing receivers.
Corey Davis, WR, Tennessee Titans: A week after everyone was on the Davis bandwagon, everyone is probably back off of it for this game, a product of him having a measly 2 catches for 9 yards. Against a Carolina defense that allowed 50-plus PPR points to opposing receivers in back-to-back weeks before their Week 7 bye. The 49ers didn't have much problem with Carolina's defense last week, but the actual touchdowns all came from Tevin Coleman.
DeAndre Carter, WR, Houston Texans: Will Fuller's injury was supposed to open the door for more production for Kenny Stills and Keke Coutee. Stills had 5 targets last week, a modest workload, but Coutee was benched altogether in favor of Carter, who played 44 snaps, more than the 30 he had played all season before that. If he's the slot receiver in the offense, it carries upside.
Fred Brown, WR, Denver Broncos: Realistically, it's very hard to trust any part of the Denver offense with Brandon Allen at the helm. But in the Broncos' first game without Emmanuel Sanders, it was Brown who saw his workload spike, playing 46 snaps in Week 8. If that sort of work continues, targets will follow.
Chris Herndon, TE, New York Jets: Why not, right? The Jets have an appealing matchup against Miami, and as much as the offense has struggled all season, assuming Herndon is active this week, why not lean on the tight end who was a top-10 fantasy option over the last 10 weeks of last season?
Jonnu Smith, TE, Tennessee Titans: Smith makes consecutive appearances in this space after last week's call paid off to the tune of 6-of-7 receiving for a career-best 78 yards and a score. Assuming Delanie Walker is still out, there's no reason not to believe that can happen again.
Busts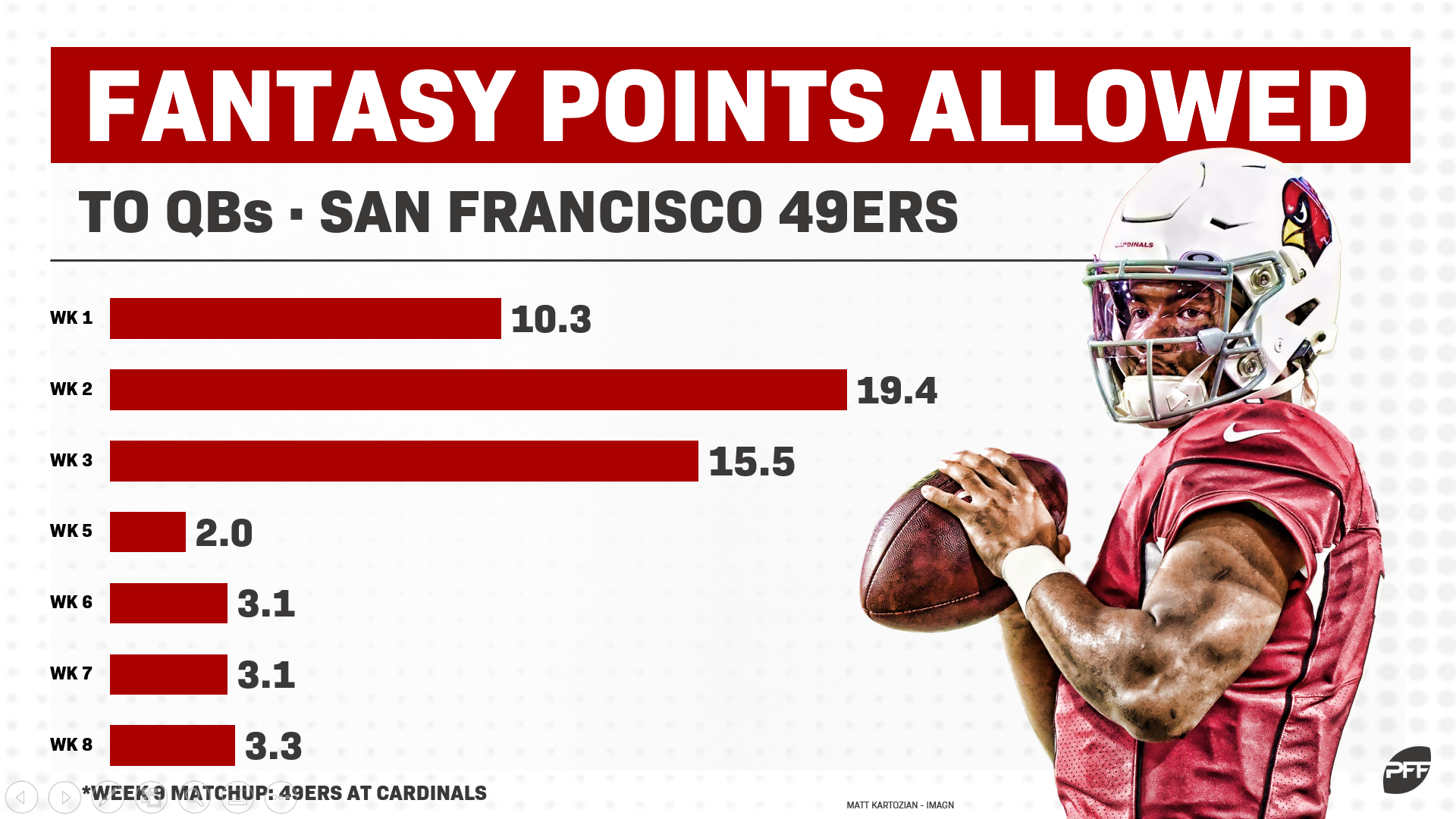 Kyler Murray, QB, Arizona Cardinals: Go over to Twitter and like this tweet of mine, where I note that the 49ers have allowed 10.5 fantasy points to opposing quarterbacks in four weeks since their bye, and that's not a per-game number. It's almost to 1,000 likes, and I want to hit the number, and that's a much better use of your time than playing Murray in this matchup.
Tom Brady, QB, New England Patriots: In Weeks 1-6, Brady passes for 260-plus yards in five of six games and accounted for multiple touchdowns in five of six games. Since then, he's had under 260 passing yards in both games and accounted for 3 touchdowns in the two games. Off a cliff? Not by any means, but Brady has a history of lower fantasy performances as the season goes on, and in a game where the Patriots are likely to try to dominate time of possession, this week might not be a good one.
Carson Wentz, QB, Philadelphia Eagles: Wentz is the No. 12 fantasy quarterback on the season, a totally fair number. But over the last five weeks, he's thrown for under 200 yards four times and only 1 touchdown three times, and he's attempted under 30 passes four times. Against a Bears team allowing only 13.5 points per game to opposing quarterbacks (seventh-fewest), the struggles could continue.
Chris Carson, RB, Seattle Seahawks: The Seahawks are facing a Tampa Bay defense that has allowed a league-best 3.0 yards per carry this year. A running back that contributes in the passing game could still have some upside … but that isn't Carson, who went from 3.5 receptions and 25.0 receiving yards per game in Week 1-4 to 2.0 and 12.3, respectively, since. Add in the injury costing Seahawks C Justin Britt the rest of the season and Carson's stock is even lower.
Le'Veon Bell, RB, New York Jets: Obviously, Bell has a fantastic matchup as 4.5-point favorites against Miami. But for a guy who was averaging 24.5 touches per game through Week 5, Bell's touches have fallen to 13.3 the last three weeks and he's averaging a career-low 3.2 yards per carry. So the workload is down and the efficiency is down. Not great.
Odell Beckham Jr., WR, Cleveland Browns: I addressed the problems with Beckham's matchup Wednesday. But for Beckham himself, he's putting up his worst career yards per route run (1.94) and passer rating when targeted (71.4) — Beckham's WR rating has fallen literally every year of his career.
T.Y. Hilton, WR, Indianapolis Colts: Hilton has been more productive out of the slot this year, to the tune of 2.29 yards per route run compared to 1.82 when lined up outside. The Steelers, meanwhile, have turned things around defending against the slot since adding Minkah Fitzpatrick — the team allowed a passer rating of 157.2 on slot targets before adding Fitzpatrick, but that number has plummeted to 64.6 since Week 4. Hilton's still a starting receiver, but expect a lower ceiling.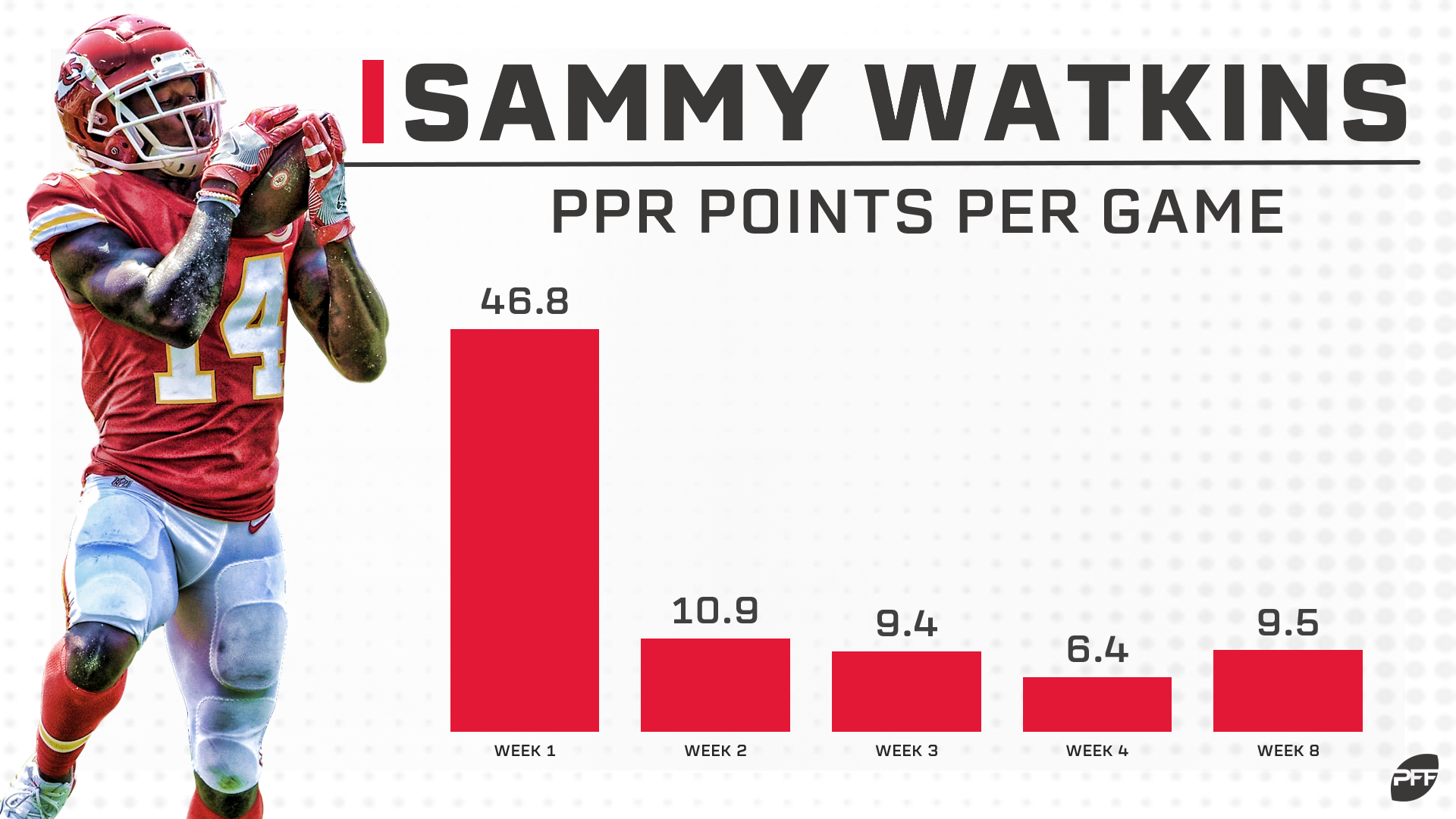 Sammy Watkins, WR, Kansas City Chiefs: A week ago in this space, I made the argument that T.J. Hockenson's fantasy stock was still high almost entirely on the back of one big Week 1 game. That's just as true for Watkins, who has missed three games to injury and totaled 212 scoreless yards since his 198-yard, 3-touchdown Week 1. He's barely a fantasy option at this point.
Zach Ertz, TE, Philadelphia Eagles: You are probably starting Ertz. And if you have him, you are probably also aware of his struggles lately. But with the Eagles offense overall struggling, this isn't the week to expect Ertz to get back to the good.
Mark Andrews, TE, Baltimore Ravens: As mentioned above, the Patriots are likely to try to run the ball and dominate time of possession this week to keep the ball out of Lamar Jackson's hands. And with Andrews sitting only 27th among tight ends in offensive snaps so far this year, his workload can't afford any reduction.