When building DFS lineups for fantasy football, knowing who to play is crucial. But perhaps just as crucial is knowing who not to play, which players you should cross off your list for that slate. Paring down the player pool makes the rest of the lineup decisions that much easier.
Each week in this space, using the information and data available to PFF subscribers, I'll highlight the players in that week's main slate that I think should be crossed off for that week, or at least used very sparingly. These are the Week 3 fades.
Quarterback
Through two games, Rodgers has 412 passing and 8 rushing yards. He's averaging a career-low 6.4 yards per attempt and his 96.6 passer rating is his lowest since 2015. In the long run, Rodgers is still going to be fine, but his ceiling has dropped, and this week he draws a tough Denver defense.
This is absolutely no shade on Watson, who I think could have a big week. But for $100 extra (on DraftKings; FanDuel is similar) over Watson, you could have Dak Prescott. For $200 more, you could have Tom Brady. If you want to splurge, you can go up to Lamar Jackson or Patrick Mahomes. If I'm paying up at quarterback this week, it's one of those four in their amazing matchups. If I'm going down to Watson in salary, I'm going to go even lower and find a bargain. Watson's excellent, but his price is just in the black hole this week where I won't be spending.
Running back
There are three running backs priced over $8,000 on DraftKings, and they are all well over it. Christian McCaffrey is $8,700, Ezekiel Elliott is $8,900, and Barkley is $9,100. Of those three, Barkley's team has the lowest implied total for Week 3 (20.5, compared to 24.75 for McCaffrey and 34.25 for Elliott). He is the only underdog. And as I've noted multiple times this week, he actually has a sneaky-bad matchup, given that the Buccaneers run defense has shut down McCaffrey and the San Francisco backfield in two weeks so far. He's obviously firmly in all season lineups, but I have no interest in Barkley in DFS this week.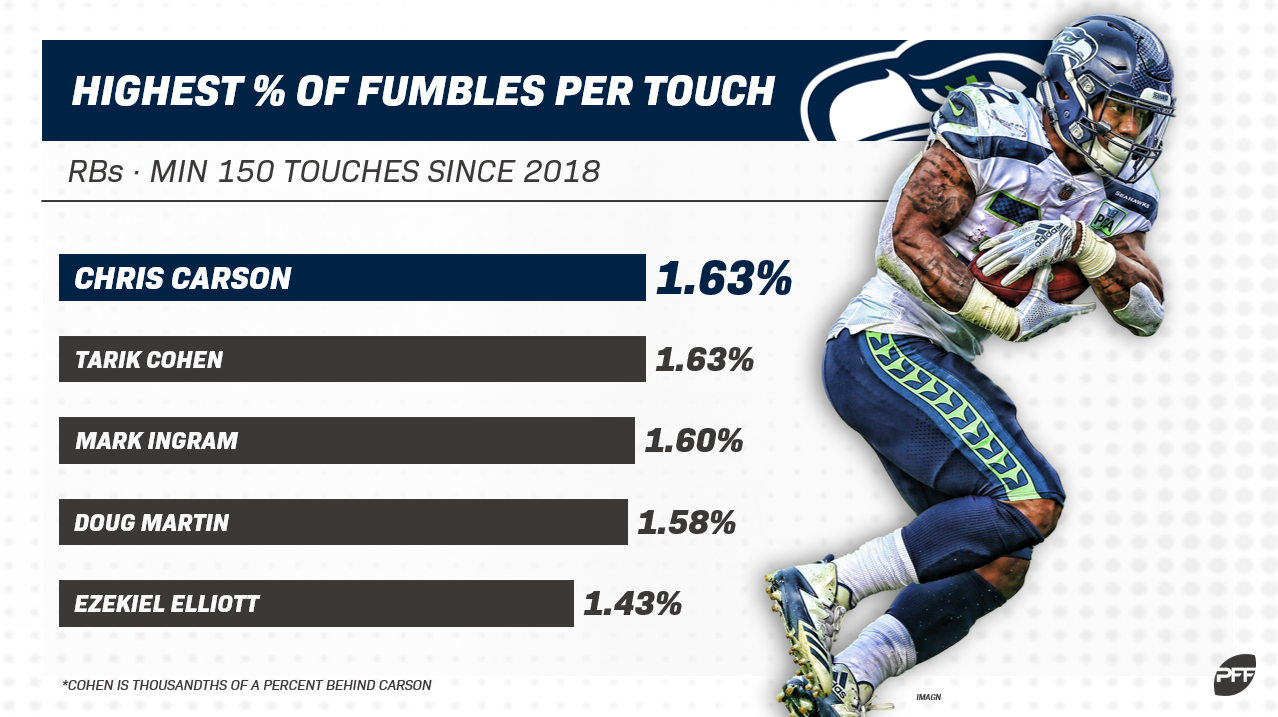 The aforementioned Elliott has the most RB fumbles since the start of last year. That's on 340 carries. Carson is second, but he's only at 277 carries in that time. He's already got two fumbles this year, which led to him losing time to Rashaad Penny in the second half last week. If Carson can't improve his ball control, this could become a full-fledged committee. (Note: I wrote this before news came of Penny's late-week hamstring pull, which could easily flip this advice. Keep an eye on reports heading into Sunday.)
Granting that Freeman missed most of 2018 to injury, he has 109 rushing yards total across his last two seasons, 168 across his last six games if you include his last two of 2017. The last time Freeman rushed for more than 100 yards in a game (actually, the last time he even rushed for 40) was Week 15 of that 2017 season. Coincidentally, that was also the last time the Colts allowed a 100-yard rusher, when C.J. Anderson did it. So Freeman can't run and the Colts don't allow big rushing. Yeah, that's a fade.
Wide receiver
Xavien Howard is the best player left on the Dolphins, and it probably isn't very close. As our Scott Barrett has noted, Howard has been the most impactful shadow corner in the league in recent seasons. In that same piece, you can see that the receiver most sensitive to being shadowed is Cooper. Per our WR/CB matchup chart, we expect Howard to shadow Cooper this week, and while the Cowboys offense overall should have a huge game, Cooper might be the one to fade.
The Vikings are comfortable eight-point favorites this week at home against the Raiders. In Week 1, when the Vikings beat up on the Falcons and the game was never in question, Minnesota attempted all of 10 passes. The matchup against Oakland is appealing enough for Thielen and Diggs, but this has all the makings of a Dalvin Cook-heavy game.
The big bounceback appeal of Jones entering 2019 was the fact that, when he and Kenny Golladay were both active in 2018, Jones was clearly the red-zone favorite, garnering 12 of those valuable targets compared to Golladay's four. Well, two weeks into 2019, those numbers aren't holding. Out of 13 Lions targets in the red zone so far, Jones has only two. T.J. Hockenson has three, and Golladay is lapping the field with six. Jones has barely half Golladay's overall targets (10 compared to 19) and had yet to reach 100 total yards or score a touchdown. His upside is nil.
With the likelihood of Alshon Jeffery and DeSean Jackson both missing Week 3, the appeal of Agholor is obvious: He's likely the No. 1 receiver in a good offense. The problem, of course, is that his appeal is too obvious; per our DFS ownership projections, Agholor is likely to be one of the eight or 10 most-owned receivers in Week 3. For the biggest names — guys around him in the ownership projections include Chris Godwin, Sammy Watkins, and Davante Adams — big ownership doesn't have to be a turnoff. But Agholor promises massive ownership but an uncertain upside, especially considering his backbreaking drop near the end of Sunday's game. Give me J.J. Arcega-Whiteside in this game, who has (to me) similar upside at about one-third (or less) the ownership potential.
Ross has been maybe the season's biggest breakout at receiver so far, but keep in mind that his three touchdowns have come (1) on a flea-flicker, (2) on a blown interception, and (3) in garbage time inside the last minute of a blowout. Everything counts, but if you're looking for plays likely to repeat, those might not be the best places to look. On top of that, Ross is the Bengals' deep threat, and since the start of last year, the Bills have allowed the fewest receptions (77), fewest yards (1,397, 338 lower than second-lowest), and third-lowest passer rating (70.7) on passes targeted 10-plus yards downfield. This is Ross' cooling-off week.
Tight end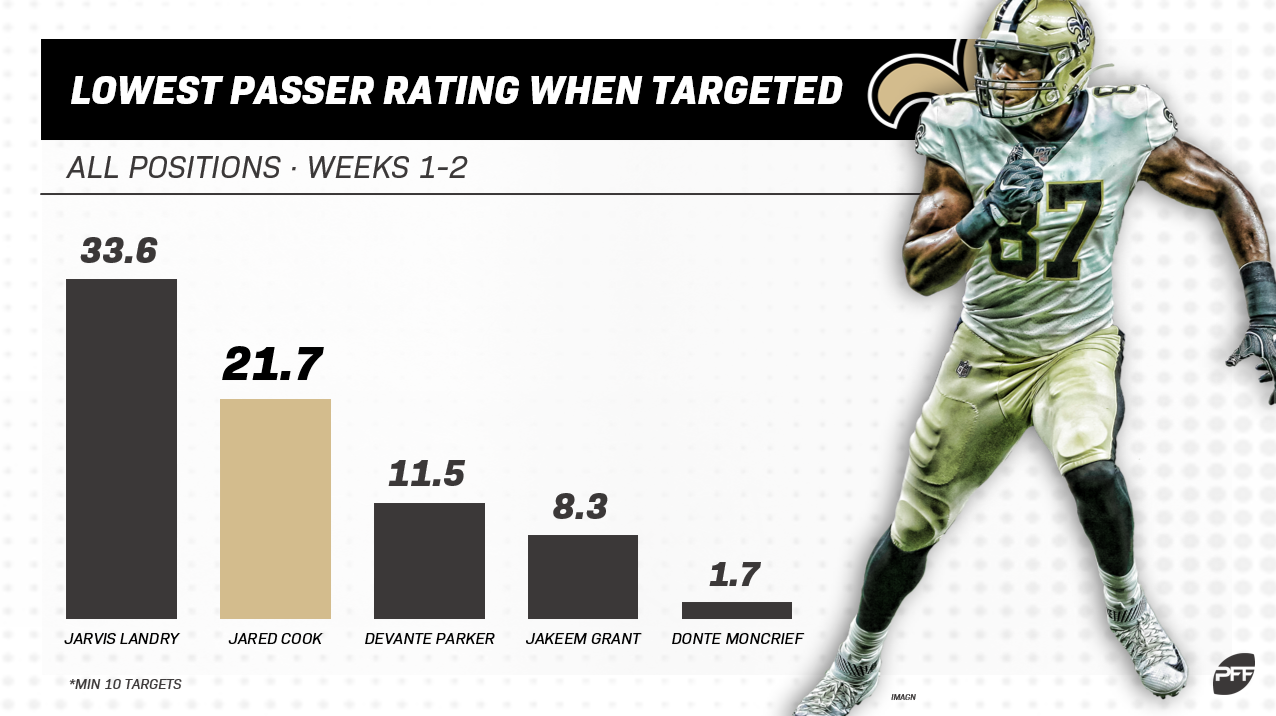 Cook has only caught 4 of his 10 targets through two weeks — he and Dawson Knox (2-of-5, also 40%) are the only tight ends at under a 50% catch rate so far. And he did that with Drew Brees for more than half of that time. He, Knox, and the now-injured David Njoku are the only tight ends with multiple drops. If you set the minimum to 10 targets across all positions, the only players with a lower passer rating when targeted than Cook's 21.7 are two Dolphins (DeVante Parker at 11.5 and Jakeem Grant at 8.3) and Donte Moncrief (1.7). And now Cook is going to be catching passes from some combination of Teddy Bridgewater and Taysom Hill? Steer very clear.