When building DFS lineups for fantasy football, knowing who to play is crucial. But perhaps just as crucial is knowing who not to play, which players you should cross off your list for that slate. Paring down the player pool makes the rest of the lineup decisions that much easier.
Each week in this space, using the information and data available to PFF subscribers, I'll highlight the players in that week's main slate that I think should be crossed off for that week, or at least used very sparingly. These are the Week 2 fades.
Quarterback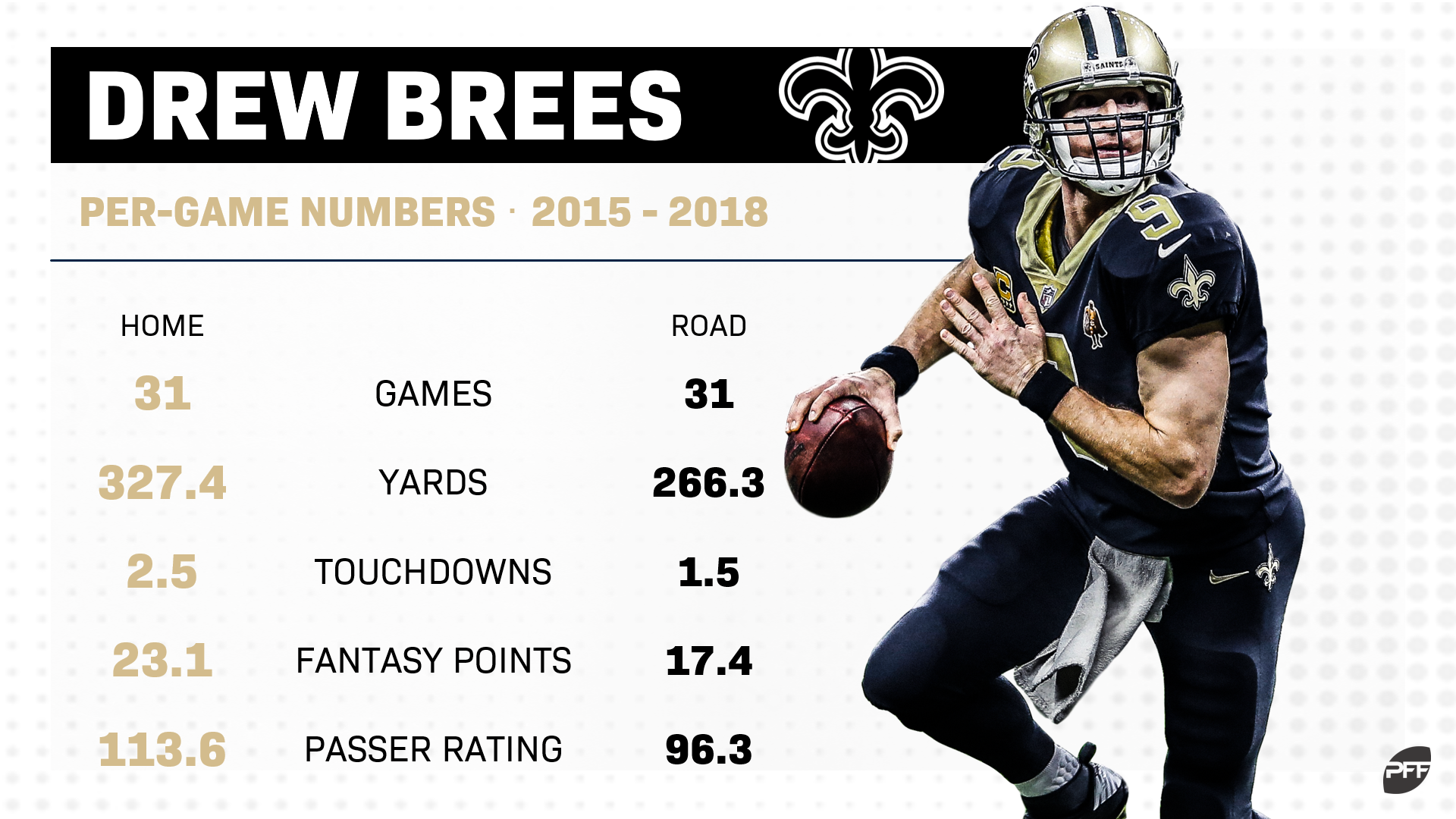 I covered the Rams' excellence against opposing quarterbacks with Aqib Talib on the field elsewhere this week, so here I'll remind you of Brees' home/road splits in recent years. In 2015-2018, Brees averaged 23.1 fantasy points per game with a 113.6 passer rating at home, compared to 17.4 and 96.3 on the road. Hard to think turned 40 in January could have helped that.
Maybe Green Bay's defense isn't as good as it looked in Week 1, and the credit for that performance goes more to Mitchell Trubisky's deficiencies. That's a perfectly plausible hypothesis, maybe a true one. But even if we shouldn't be scared of Cousins' opponent, we should be scared of his usage, after he attempted all of 10 passes in Week 1 (including a throwaway). He has no fantasy upside at all at this point.
Running back
In Weeks 10-14 last year — the stretch when Jones was used as a virtual bell cow — he played 207 snaps over five games, compared to 93 for Jamaal Williams. That included 39-plus snaps in every game for Jones, and three times when Williams didn't even reach 15. That was a big driver to Jones being considered a potential RB1 in 2019. Well, in Week 1, Jones played 37 snaps compared to Williams' 24. He still has the advantage, but if the split is going to be like that, we might need to rethink Jones' upside.
Speaking of running backs with frustrating usage in Week 1, Johnson was supposed to be a bell cow after LeGarrette Blount, Zach Zenner, and (especially) Theo Riddick left in the offseason. Instead, Johnson only got 16 of the 28 backfield carries for the Lions in Week 1, and 2 of the 5 targets. That's fine usage for a middle-of-the-road back, but not a back to build an offense around.
Speaking of running backs with frustrating … you know what, you get it. Lindsay saw Royce Freeman take a lot of his work in Week 1. Add to that a Week 2 opponent of a Bears team that has only allowed Frank Gore, Saquon Barkley, and (somehow) Blount to top 50 yards on the ground over the last two years, and this is a definite stay-away.
Wide receiver
Davante Adams, Green Bay Packers (vs. Minnesota)
Adams is likely to draw Xavier Rhodes in a shadow situation in Week 2. Adams did well against Rhodes in that situation in Week 2 of 2018, notching 21.7 PPR points, but still, Rhodes is a tough matchup. Better to wait on a DFS investment until Adams has a better matchup.
Since the start of 2017, the Chargers have PFF's top-graded cornerback in Desmond King. They also have the No. 2 corner, in Casey Hayward. Hayward is likely to shadow Golladay in Week 2, while King works out of the slot 97% of the time, and Amendola spends the vast majority of his time there as well. Add to that T.J. Hockenson's development and the Lions' reported desire to be run-heavy, and it's hard to imagine Golladay or Amendola having big Week 2 performances.
Brown's huge Week 1 all but guarantees massive point-chasing in Week 2, which means massive ownership. And the fact that he did all his work on only 14 snaps makes him a huge regression candidate. Let hundreds of other Week 2 DFS players to chase Brown, and don't make that mistake yourself.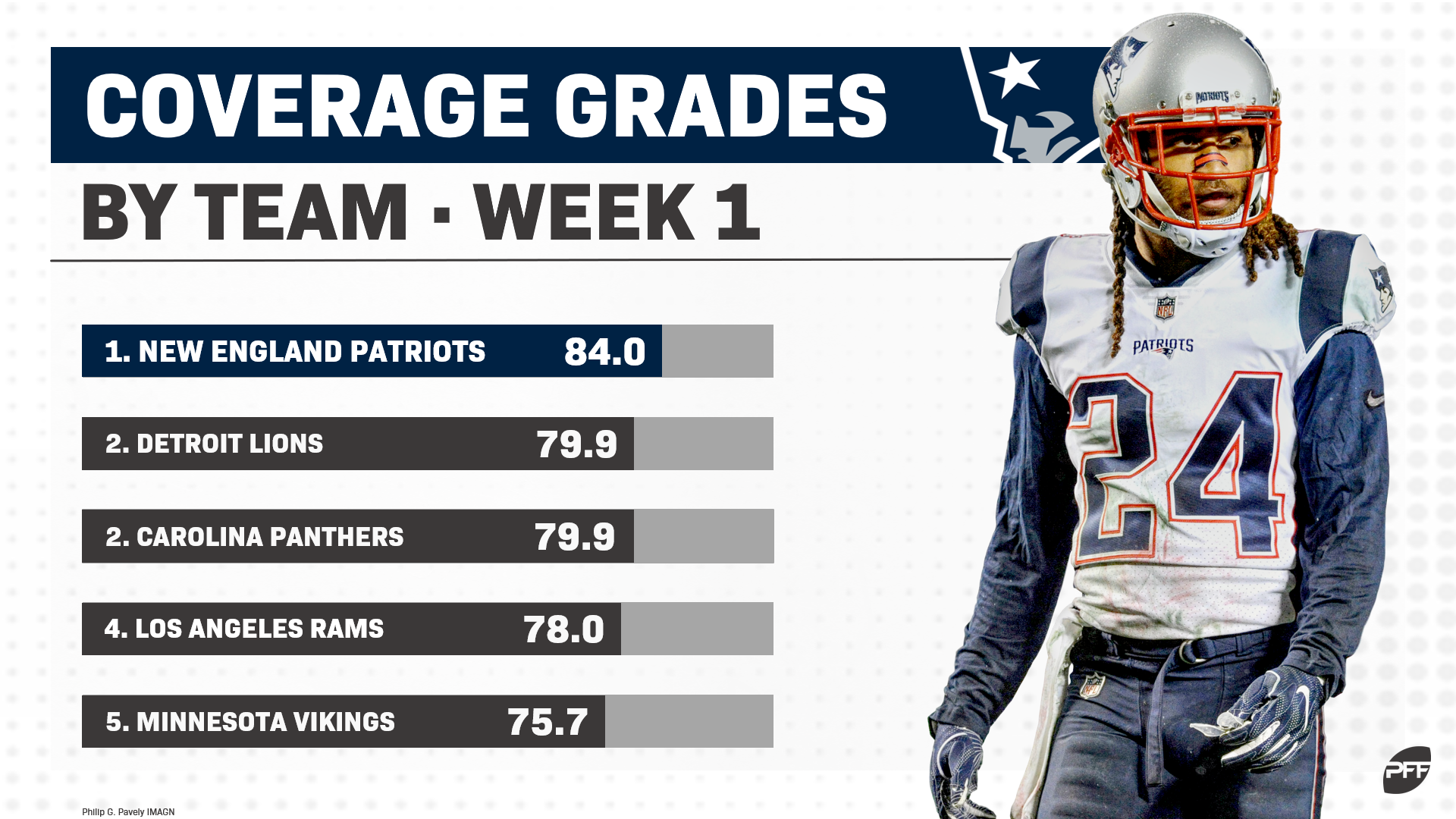 It's hard to imagine willingly using a Dolphins option anyway, but lest you get a wild hair about it because of a likely pass-happy gamescript and a contrarian bent, push that out of your brain. The Patriots might have the league's best secondary, and it didn't let up on the Steelers at all in Week 1. Don't expect the Patriots to go soft on the Dolphins this week either.
Tight end
Jared Cook, New Orleans Saints (@ LA Rams)
Cook's Saints debut wasn't any great shakes in his first year as an upper-echelon tight end. He had only three targets in Week 1, well behind Michael Thomas and Alvin Kamara (two givens) and also Ted Ginn. At least so far, instead of the New Orleans passing attack becoming a three-headed monster with the non-Thomas receivers fighting over the leftovers, it's still a two-man attack. Cook is the fourth-highest-priced tight end on Week 2's main slate, but for now that doesn't look like his upside.
Kyle Rudolph, Minnesota Vikings (@ Green Bay)
I noted above how run-heavy the Vikings are likely to be, and Rudolph could be the biggest casualty of that, since we wouldn't expect Adam Thielen or Stefon Diggs to disappear. On top of that, we have to pay attention to Rudolph's trends in recent years. In 2016, he was a big-time fantasy tight end on the back of a massive 120 targets, despite a 5.8% touchdown percentage. In 2017, he was a big-time fantasy tight end on the back of a massive 10.5% touchdown percentage, despite a 76-target total. In 2018? He combined 2017's underwhelming target total with 2016's low success rate. If everything regresses at once, Rudolph's value evaporates.