(Playing AAF DFS this week? Win a one-year subscription to PFF Elite by playing this DFS contest on Fanball!)
Are you an absolute fantasy football fanatic, a DFS junkie, or just someone intrigued by the new Alliance of American Football League? Well, if so, I've got good news for you. FanBall has a DFS platform for the AAF and we've got content for it.
See below for how I'll be attacking the Week 3 AAF slate over on FanBall.
Make sure you're also checking out our rankings and projections and Jeff Ratcliffe's WR/CB matchup chart for Week 3 of the AAF inaugural season.
Quarterbacks
Garrett Gilbert, QB, Orlando Apollos ($7,300) (vs. Memphis)
John Wolford, QB, Arizona Hotshots ($6,800) (@ Salt Lake)
At the quarterback position, this week, I'm fully prepared to eat the chalk. Unlike with the other positions, where it's easier to spot values based on discrepancies between volume and production, the quarterback position is always far more reliant on efficiency than volume for fantasy points.
For this reason, I'm keyed in on the two most efficient and productive (or, rather, the only efficient and productive) quarterbacks in the AAF. Wolford has scored 45.2 fantasy points thus far, with Gilbert right behind him (42.3), and then the next-closest quarterback is a sizeable distance away (Logan Woodside, 22.8). Wolford leads all quarterbacks in PFF grade (83.9), followed by Gilbert (81.3), and then, again, there's a large gap between them and the next-closest quarterback (Josh Woodrum, 68.8). The same thing is true when looking at each quarterback's passer rating – Gilbert ranks first (129.4), then Wolford (115.5), and then Luis Perez (78.1).
Gilbert has been the (slightly) more efficient passer, but totals only 15 rushing yards, while Wolford leads the position with 48. Gilbert is the highest-priced quarterback on the slate ($7,300), while Wolford ranks second at $6,800. Wolford is likely to be lower-owned (following Gilbert's big Week 2) but will be dealing with tougher weather conditions this weekend.
Wolford is on the road against Salt Lake as three-point favorites in the game with the highest over/under of the slate. Salt Lake has surrendered the second-most points of any team this year (50), while Wolford's Hotshots have scored the second-most points (58). Wolford also dominated Salt Lake when he faced them in Week 1 (29.4 fantasy points). Gilbert is at home, as 13.5-point favorites, with the highest implied point total of the slate, up against Memphis. Memphis has surrendered the third-most points of any team this year (46), while Gilbert's Apollos have scored the most points of any team this year (77). Both Salt Late and Memphis rank middle of the pack in pass coverage grade, but Salt Lake easily ranks as our highest-graded run defense, implying Arizona might be forced to lean heavy on the pass this weekend.
I like both quarterbacks about equally and will likely have a near-even split in ownership. The obvious stacking candidates for Gilbert are (in order) Charles Johnson and Jalin Marshall. The obvious stacking candidates for Wolford are (in order) Rashad Ross, Richard Mullaney, and Josh Huff.
Running backs
Trent Richardson, RB, Birmingham Iron ($7,200) (@ Atlanta)
Just like last week, Richardson is rightfully the chalk again this week. Richardson leads all running backs in fantasy points per game (21.3), significantly more than the No. 2 running back (Ja'Quan Gardner, 17.1). He leads all running backs in carries (44) by 13 and also leads the position in targets (9) and receptions (8). He leads the position in snap share (69.7%), while the next-closest running back is a good distance behind him (Jhurrell Pressley, 54.7%). He leads in weighted opportunity points (39.8), while the next-closest running back sits at nearly half that (Branden Oliver, 23.4).
Richardson, of course, hasn't played well, averaging 2.4 yards per carry, but I'm not sure how much that matters. His level of usage is unrivaled in this small league, and he's a big-name draw and should continue to get good volume to help draw interest to a fledgling league. He also has the matchup on his side, as six-point favorites against an Atlanta team that has surrendered a league-high 64 points this year.
Ja'Quan Gardner, RB, San Diego Fleet ($7,000) (vs. San Antonio)
Gardner is, easily, the next-best high-priced running back play after Richardson, though not as strong of a value. He ranks second to Richardson in fantasy points per game (17.1), third in weighted opportunity points (21.8), and second in weighted opportunity percentage (60.6%). He's also our highest-graded running back this year (min. 15 touches). He's at home this week as three-point favorites against the San Antonio Commanders – our worst-graded run defense.
Branden Oliver, RB, Salt Lake Stallions ($4,500) (vs. Arizona)
Although production hasn't been great for Oliver (18.2 fantasy points, eighth-most), volume has been strong. His 24 carries and six targets give him the second-best (total) weighted opportunity score at the position. As the 10th-highest-priced running back on the slate, that makes him a strong value. He's seen four fewer carries and five more targets than fellow Stallions running back Joel Bouagnon ($5,500). Projected gamescript (three-point underdogs against an Arizona team that beat them 38-22 in Week 1) skews more towards his favor this week, though his upside will be capped, as he won't be the team's preferred option near the goal line.
Jhurell Pressley, RB, Arizona Hotshots ($5,400) (@ Salt Lake)
Pressley also represents a strong value at the running back position, though slightly less than Oliver. He's the next-closest thing to a bell cow after Richardson, ranking second in snap share (54.7%) and third (behind Kenneth Farrow and just ahead of Oliver) in weighted opportunity percentage (47.4%). Pressley posted an 18-64-0 line on the ground with 2-1-30-1 through the air against Salt Lake in Week 1.
Akrum Wadley, RB, Atlanta Legends ($4,300) (vs. Birmingham)
Wadley is the single best value play on the slate. Wadley sat out Week 1, and then saw five carries and eight targets while playing on 60.0% of his team's snaps in Week 2. This was good for 15.6 weighted opportunity points, putting him right behind Richardson in weighted opportunity points per game. His 16.2 fantasy points puts him third among running backs in fantasy points per game. Despite being one game shy of almost all other running backs, he still leads the position in receptions (eight) and receiving yards (70). As, obviously, a highly capable receiver out of the backfield, projected gamescript should serve him well – the Legends are six-point underdogs against Birmingham.
Receivers
Earlier this week I tweeted out a list of the top AAF receivers by target market share. That was something of a false flag, because I think this list is far more important:
AAF leaders in air yardage market share
1. Quinton Patton, WR, Birmingham (38.8%)
2. Charles Johnson, WR, Orlando (28.3%)
3. Mekale McKay, WR, San Antonio (27.5%)
4. Rashad Ross, WR, Arizona (27.2%)
5. Brian Brown, WR, San Diego (21.0%)
6. Kayaune Ross, WR, Memphis (19.0%)
7. Seantavius Jones, WR, Atlanta (18.5%)
8. Francis Owusu, WR, San Diego (16.6%)
9. Anthony Denham, TE, Salt Lake (16.5%)
10. Malachi Jones, WR, Atlanta (16.4%)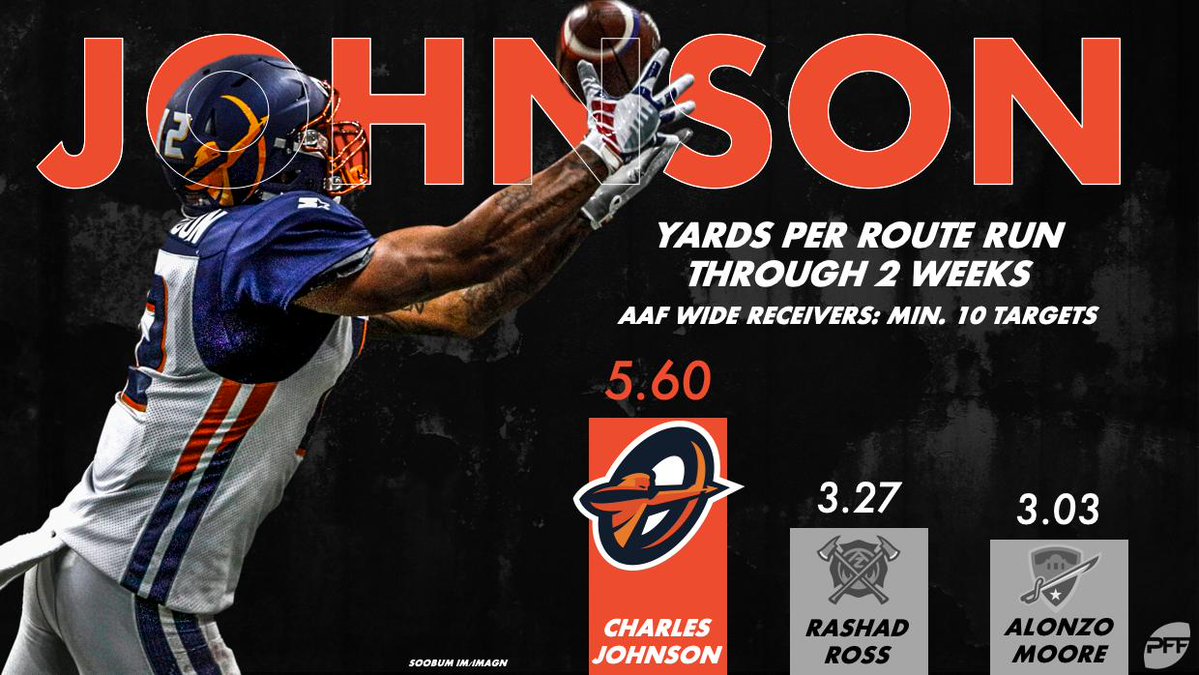 Expensive receivers
Rashad Ross ($6,900), Charles Johnson ($7,400), Quinton Patton ($6,300), and Mekale McKay ($6,200) all rank top-five in fantasy points per game, top-four in air yards per game, and top-four in air yardage market share. These are your premium receiver options. Johnson is far-and-away our highest-graded wide receiver, followed by Ross, while McKay and Patton are more middle of the pack. McKay leads all receivers in targets (22, five more than next-closest) and air yards (331, one of only three with more than 235), but hasn't been very efficient. Still, he's easily the best value at the position on a dollar-per-target or dollar-per-air-yardage standpoint. Ross has seen the worst volume of the four but leads in fantasy points (44.0), followed closely behind by Johnson (42.2). Patton and McKay have only scored between 21.0 and 22.5 fantasy points, in comparison.
Jalin Marshall ($6,500) ranks third in fantasy points (31.5) and is our fourth-highest-graded receiver (min. eight targets). I'd rather pay up for his Orlando teammate (Charles Johnson) when I can, but he's a strong value in his own right.
Brian Brown ($5,700) is nowhere near the value he was last week, but he's still firmly in play. He ranks second in targets (17), fifth in air yards (202), eighth in fantasy points (17.3), and 10th in salary ($5,700).
Receiver values/punt plays
Richard Mullaney ($4,400) stands out as probably the best value at the position. He ranks third in target market share (25.0%), though he hasn't been efficient, hasn't graded well, and isn't really seeing valuable targets (5.9-yard aDOT).
Anthony Denham ($4,500) is another decent volume-related value, though he isn't running a high number of routes (he's a tight end) and hasn't been very productive. Still, he has graded well, and does rank top-10 in both target and air yardage market share.
Kayaune Ross ($3,300) stands out for similar reasons. Ross ranks sixth in air yardage market share (19.0%) but has caught only two passes this year. He's also graded poorly and saw only two targets last week.
If Kenny Bell ($3,800) suits up after sitting out in Week 2, he's a fine bet on talent (as a star player in college), but without anything else really working in his favor. Still, if he plays, he'd be in competition with Mullaney for earning the designation of being the best receiver value on the slate.