Continuing our series looking at fantasy football consistency, today we are looking at tight end.
Tight end has been a real position of haves and have-nots in recent seasons. (For the full methodology, check out the intro in the quarterbacks piece from Wednesday. We've also hit running backs and wide receivers.) Four quadrants exist at any given position: high-risk/high-reward, high-risk/low-reward, low-risk/low-reward, and low-risk, low-reward. This visualization and sorting of RBs into the four quadrants allows for an easy understanding of players' scoring and consistency. Once we're able to observe the most consistent or volatile players given their average fantasy production, you can more effectively maximize your team's upside without carrying too much weekly risk, which is crucial for constructing a premier fantasy football team.
(An important note: Raw fantasy point totals are enormously susceptible to the effect of touchdowns, which are themselves very dependent on luck. So tracking by fantasy point totals is not the be-all, end-all approach. The information here is one data point.)

The data
The visualization below illustrates Fantasy Football Calculator's 18 highest-ranked TEs by ADP in 12-team, one-QB leagues, as of Aug. 25 (after removing Hunter Henry and Delanie Walker — who didn't have sample sizes in 2018 because of injury — and T.J. Hockenson, who is a rookie). On average, these 18 TEs produced just 10.2 PPG – with each game defined as accumulating at least three opportunities (i.e., targets plus rushes) – with a standard deviation of 6.8 points, leading to a 66.5% coefficient of variation. This suggests that, assuming a normal distribution, the average top-18 TE will usually score between 3.4 (yuck) and 17.0 fantasy points in each week. We can clearly see why players like Travis Kelce, Zach Ertz, and George Kittle — not to mention Rob Gronkowski of years past — have generated so much debate regarding how early is appropriate to draft a TE. There are almost always a few exceptions each year for TEs that retain relatively massive scoring upside with limited risks. If you miss out on one of these elite options, many believe they're relegated to the wait-and-see approach or simply streaming throughout the year. Based on the observed data, however, this may not be terribly true. Additionally, even among those options that are perceived as "less than ideal" or "last resorts" may present certain advantages over others.
To visualize the average draftable TE — let's just assume that half of the 12-team league selects just one TE, while the remaining half drafts two — the intersection of the horizontal and vertical lines in the graph below represent "the average top-18 TE" in terms of weekly scoring and volatility. Players below the horizontal line maintain lower CVs, meaning they're less risky, and those to the right of the vertical line score more PPG, on average. If we disregard draft costs of players, we should exclusively target players below the horizontal line and to the right of the vertical line; the green-shaded, LRHR quadrant.
Players to target
There are six players who fall within the LRHR quadrant, listed in terms of ADP: Kelce, Kittle, Ertz, O.J. Howard, Evan Engram, and Eric Ebron. These six clearly outperformed their peers on a per-game basis last season; however, last year's data doesn't necessarily reflect this season's projections. The following are a few TEs throughout the 18-player sample size that I'd target considering their scoring and volatility from last year, in addition to the current draft costs.
(14.4 PPG, 9.0 SD, 62.6% CV)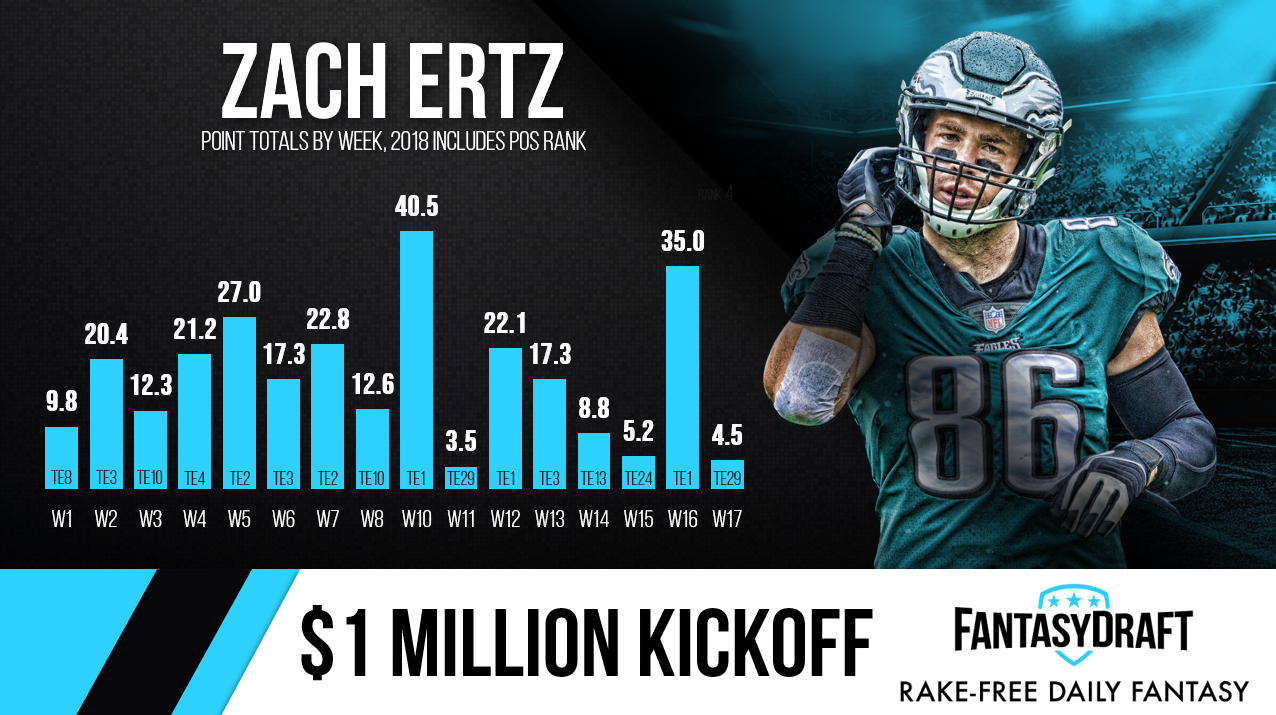 I had to discuss one of the elite options, right? Nonetheless, limiting our analysis to just the data presented in the above visualization, in addition to Ertz's falling ADP — now at just 3.12 (35.9 overall) in 12-team PPR leagues — sets him apart in the top cluster. He was the second-highest scoring TE last year, just 1.2 PPG — or 8.2% — less than Kelce, who's being drafted nearly 20 picks higher (2.05, or 16.5 overall). Additionally, although Ertz's production was moderately more volatile than Kelce's or Kittle's last season, he still remains a LRHR option with elite upside. Considering his weekly data and his current costs, Ertz presents tremendous value and opportunities for drafters to target elite RBs or WRs in the first two-or-three rounds, while gaining an advantage at TE as well.
(12.1 PPG, 6.2 SD, 51.2% CV)
The former first-rounder has been hampered by injuries in each of his first two season, but the talent is undeniable. Howard is a massive player with crazy speed — he ranked in the 85th percentage or better (for TEs) in several combine exercises, including acceleration and agility drills, per MockDraftable — highlighted by his 96th percentile 40-yard dash time of 4.51 seconds. Simply put, Howard is an athletic freak with proven results when healthy. In fact, among all the LRHR players last year, Howard maintained the lowest CV, suggesting that he was the most consistent, on average. The only knocks against him for fantasy football this season are injuries and his ADP, which currently sits at 5.07. However, by this point in the draft, you would have been able to accumulate several RBs or WRs, filling out your roster with top talent while gaining an advantage at a scarce position.
(9.4 PPG, 5.1 SD, 54.6% CV)
I've found myself selecting Hooper in many of my drafts as his ADP of just 10.05 (113.1 overall) is virtually free and he was extremely underrated last year. Even though he fell within the LRLR quadrant of our above visualization, he presents solid upside on a Falcons offense that boasts an MVP-caliber QB, Matt Ryan, and a superior WR corps, headlined by Julio Jones. Simply put, Hooper scored the eighth-most PPG last season among the top 18 TEs but is being selected as the 11th one currently in drafts. There's clear value here and even if you're not a huge Hooper fan, pairing him with another cheap option (e.g., Mark Andrews or Trey Burton) can be a winning draft strategy this season.
(5.7 PPG, 2.5 SD, 44.5% CV)
Everyone's been hyping Andrews as their darling TE sleeper this season, so I needed to get into the action. Luckily for me, he had a solid rookie season; even though he produced the lowest PPG of this sample, he retains the lowest CV — a full 33.0% lower than the average — and a super cheap ADP of just 13.05 (149.1 overall). His athleticism and past production present him as a wonderful high-upside TE stash this season, and you should have a generally good idea of what to expect of him — assuming no improvement this season — as you target other positions in your draft. Be prepared to reach for him, however, if you genuinely want him, as preseason hype continues boosting his ADP.
Players to avoid
Based on last year's performance, there are several TEs that you should probably avoid drafting as starters. Depending on your risk tolerance and team make-up, however, some of the following options maintain low enough ADPs that it may be warranted to draft them as back-up, high-upside picks in the last rounds of your draft.
(11.5 PPG, 8.2 SD, 71.6% CV)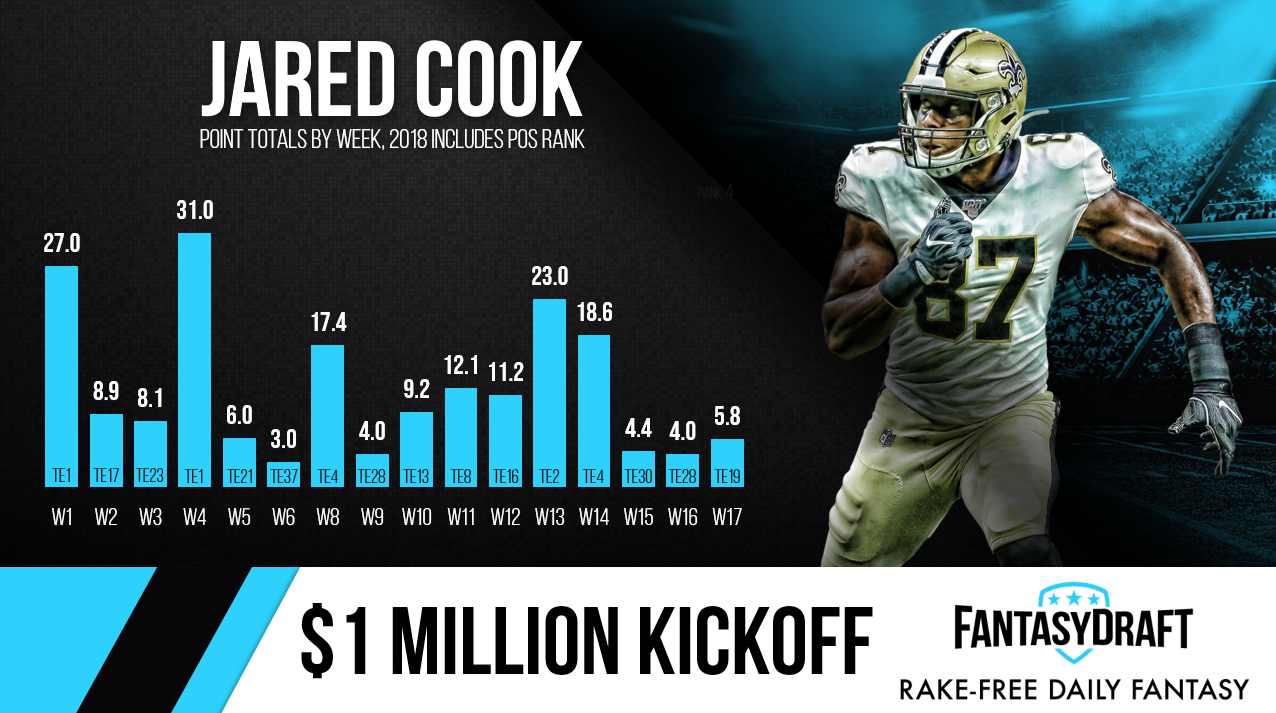 Cook finally broke out year, finishing as the fifth TE overall in scoring last season; however, it wasn't necessarily a fun ride. Within our dataset, Cook ranked as the sixth-highest scoring TE each week, on average, but retained greater risk than those above him, as shown by the graph. With an ADP of 6.12, Cook isn't awfully expensive, but I'd prefer spending that pick on a high-upside RB or WR, like Tarik Cohen, Latavius Murray, or even Duke Johnson following Lamar Miller's unfortunate ACL tear this past week. If Cook's ADP were to fall this week to the late seventh or early eighth, I'd certainly change my stance after presumably fulfilling my RB and WR starter requirements.
(13.0 PPG, 7.4 SD, 57.1% CV)
Andrew Luck. Jack Doyle. Devin Funchess. Three names that will completely plummet Ebron's projections and value this year. Luck, one of the best QBs in the league, suddenly retired. Doyle should (hopefully) return after missing several games last year due to injuries. And Funchess — a one-year signing after spending the prior few seasons in Carolina — is a big WR who may soak up some of the red zone targets on which Ebron feasted last year. Before Luck's abrupt retirement, I was quite bullish on Ebron, and the visualization above shows that he was on par with the best of the best TEs last year in terms of consistency and production. Everything seemed to work right for him, however, and with the immense risk attached to him currently, I'm avoiding him unless he falls to the last few rounds of my draft.
(7.4 PPG, 4.5 SD, 60.3% CV)
Who remembers the constant debates over the best TE in the league in the early 2010s between Gronk and Graham. Graham was a matchup terror for defenses with the uber-accurate Drew Brees targeting him upwards of 120 times each season. However, injuries and age have caught up to the tight end, relegating him to almost exclusively relying on touchdowns for his fantasy production. Among the highest 18 TEs projected to be drafted this season, Graham scored the third-fewest PPG while maintaining the seventh-highest CV. He no longer produces the massive, game-changing upside on a consistent basis to be relied upon as a starter. I've targeted him a few times at his depressed ADP in best balls and mocks, but only as a backup option in case of a career renaissance in his second year with Aaron Rodgers.
(7.1 PPG, 6.0 SD, 85.2% CV)
Goedert, Ertz's backup in Philadelphia and a second-round pick in last year's NFL draft, is immensely talented, with acceleration and agility scores among the best TEs in the league, per MockDraftable. In Doug Pederson's TE- and pass-focused offense, Goedert would presumably perform amazingly if Ertz were to get injured. Although he was a rookie last year, who produced extreme weekly volatility with minimal scoring, he remains the second TE option on his team – and presumably the fourth or fifth option at best throughout the entire offense (assuming Ertz, Alshon Jeffery, DeSean Jackson, and one of Darren Sproles or Miles Sanders garner more targets). Drafting Goedert is basically selecting a handcuff at an already scarce which you generally only need one of which to start each week. It's a low-probability play, albeit with massive upside if Ertz were to get injured. I won't draft Goedert as a starter for my 10- or 12-team leagues this season.