A pass-catcher doesn't have to be a monster deep threat to be a fantasy football asset. For example, slot weapon Adam Humphries finished 2018 as the No. 24 PPR WR despite not a single yard coming on a target 20-plus yards downfield. Slot weapons, receiving backs, some tight ends just don't often go deep for their receptions, and they can still give you numbers.
But the deep yards are so much faster.
A deep reception is automatically worth at least 3.0 PPR points (yes, there are occasional ones where the receptions ends up less than 20 total yards, but you get the point), and that's before considering deep receptions that go even further than 20 yards or the increased chances of a touchdown that far. You can't build an entire offense out of the deep ball (despite the best effort of vintage Joe Flacco/Torrey Smith), but for fantasy, if you load up on deep ball specialists, you'll at least have a fascinating best ball roster.
Below are the pass-catchers with at least 1,000 yards across the last two seasons who have gotten the highest percentage of their yardage on deep receptions, and what that means for fantasy.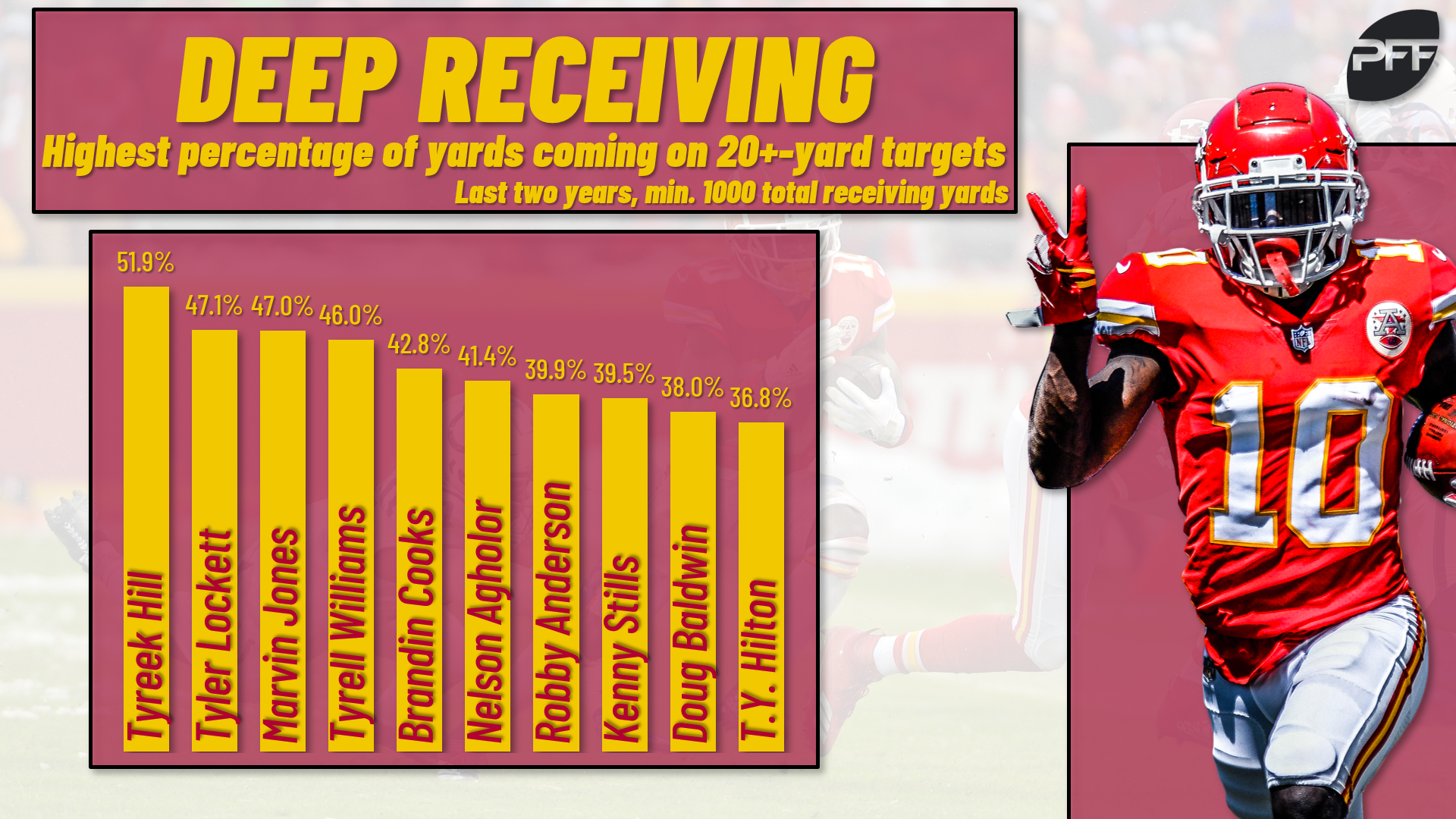 1,382 deep yards
2,662 total receiving yards
51.9%
Hill is the ultimate deep weapon in the league right now. He's at almost 1,400 deep receiving yards over the last two seasons; no one else is even at 1,000. He led the league in deep yards in 2017 (628, 20 more than Brandin Cooks), then did it again in 2018 (754, 21 more than Mike Evans. Hill has some boom-or-bust in his game — he topped 30 PPR points in a game five times in 2018 but had under 10 three times — which is par for with deep weapons. Still, Hill is so good as a deep weapon that just calling him a best ball asset does him a disservice. So long as nothing off the field keeps Hill from playing in 2018, he's more than earned the benefit of the doubt.
716 deep yards
1,520 total receiving yards
47.1%
The Seahawks attempted the fewest passes in the league in 2018 and were middle of the road in 2017. Combine that fact with the fact that Lockett and Doug Baldwin (ninth on this list) have both been fantasy relevant over the last two years basically means they had to be big contributors as deep receivers, because they just don't get the opportunity other receivers get. Among receivers with at least 10 deep targets across the last two years, Lockett's 21.7 deep yards per deep target leads the league, just ahead of Hill's 21.3 and Zach Ertz' 20.2. He was historically efficient in 2018, so be on the lookout for regression in that department, but Lockett is a deep powerhouse.
756 deep yards
1,609 total receiving yards
47.0%
Jones had 599 deep yards in 2017, 157 in 2018. Kenny Golladay had 256 in 2017, 302 in 2018. When both are healthy, Golladay is a better deep option than Jones (2017 was his rookie year), but I'd wager it's closer than their respective reputations would indicate. And while Golladay is the Lions receiver you'd want if you want any of them in 2019, Jones' return is one of the many reasons why I consider Golladay one of my potential receiver busts this season.
635 deep yards
1,381 total receiving yards
46.0%
Keenan Allen and Mike Williams (who, yes, was injured for a big chunk of his rookie 2017) combined for 464 deep yards over the last two seasons. In other words, Tyrell Williams alone is about 50% better than his ex-Chargers teammates combined. Now he heads to Oakland, where he'll pair with Antonio Brown (third in the league with 936 total deep yards across the last two years) and J.J. Nelson (who is good for a handful of crazy-deep plays a year), Tyrell Williams' unique-in-Los-Angeles skill set is more redundant, and paired with a quarterback in Derek Carr who is 15th in the league in deep passing yards the last two years, he isn't very appealing as a sleeper.
Meanwhile, in Los Angeles, the biggest beneficiary of Tyrell Williams' departure might actually be Travis Benjamin, who got an extension with the Chargers this offseason and who has seen 37 of his 85 targets (43.5%) over the last two years going deep. You aren't investing much in Benjamin, but as a super-late pick in best ball leagues, he has a little interest.
978 deep yards
2,286 total receiving yards
42.8%
Cooks is the only player in the top-10 of this list who changed teams between seasons, playing for the Patriots in 2017 and the Rams last year. The move actually hurt his deep production, as Cooks had a second-in-the-league 608 deep yards in 2017 but an 11th-best total of 370 in 2018. That's a product of division of labor — Patriots receivers on the whole had 856 deep yards in 2017; Rams receiver had 867 last year. That's essentially the same, and yet Cooks' numbers fell off. Still with the Rams, still with Robert Woods and Cooper Kupp around, don't expect Cooks to load up on deep yards in 2019.