If you're playing best ball fantasy football leagues, avoiding missteps is crucial. If you mess up a draft pick in redraft leagues, you can be a savvy trader or a waiver-wire wizard and salvage a year. In best ball, there is no salvation. If you screw up the draft, you screwed up the year.
With that in mind, this week we're taking a look at some potential bust candidates in best ball leagues in 2019. Some of these players might be better redraft options than best ball, some might just fail to meet ADP, and some might fall apart altogether. Either way, think twice before drafting these players in your 2019 best ball drafts.
Today, wide receivers. (Check out the best ball WR sleepers.)
(Current PFF best ball rank: WR8)
Never mind the distractions, the new quarterback, the Raiders. Never mind all that. How good is Brown now? The answer is obviously still very good, but it's more than fair to wonder whether he is still among the elite of the elite. His 2018 season featured: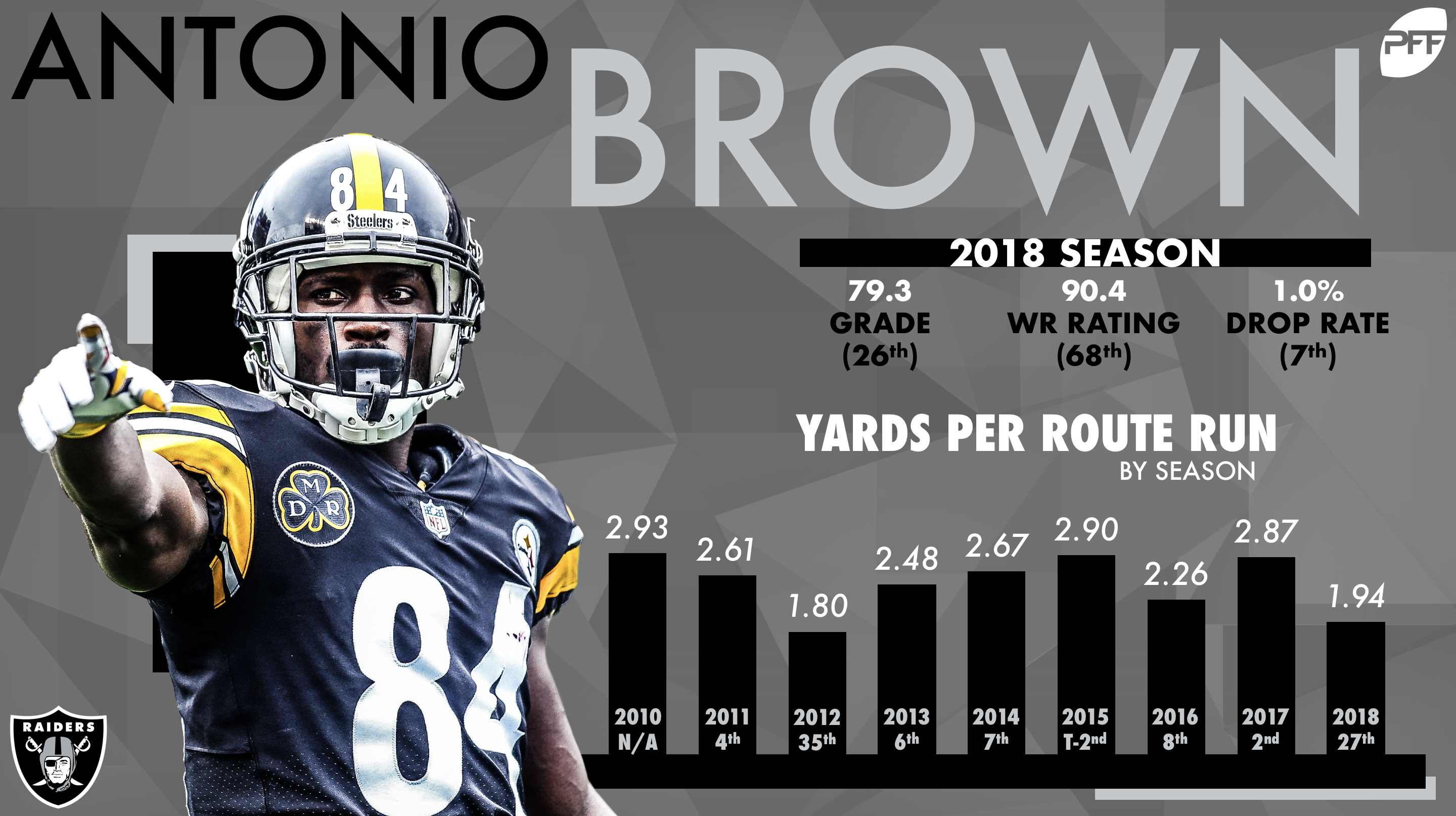 His lowest PFF grade (79.3) ever;
His lowest yards per route run (1.94) since 2012, second-lowest ever;
His lowest passer rating when targeted (90.4) since 2011, third-lowest ever
A lot of wide receivers would kill for a "down" year like that, but with Brown set to be 31 and coming off his worst year since becoming "Antonio Brown," there was reason for concern for 2019 no matter what. Add in a bad team, a worse quarterback than Ben Roethlisberger in Derek Carr, and any other questions you might have, and yes, Brown is still one of the best wide receivers, but he's riskier than he's ever been.
(Current PFF best ball rank: WR20)
Golladay had a bona fide breakout in 2018. He started the year No. 3 on the Detroit depth chart (or maybe a glorified 2a) but became the solo No. 1 by the end of the year and finished as the PPR WR21 with 1,063 yards. His overall numbers are about the same before and after the Golden Tate trade (13.7 PPR points per game, WR29 with Tate; 13.9 and WR20 without), but that was built on touchdown success — once Tate was off the team, Golladay saw his targets per game go from 6.1 to 9.0. With Marvin Jones Jr. expected healthy for 2019, Danny Amendola on the roster, Jesse James at tight end, and the team apparently committing to the run (with the hiring of Darrell Bevell as offensive coordinator), Golladay's target total could shrink back.
(Current PFF best ball rank: WR21)
There are 43 players with as many touchdowns as Landry's 28 since he entered the league. Of those 43, he ranks 42nd in percentage of games with multiple touchdowns, with four such games out of 80 (5.0%). Only Alshon Jeffery's 4.5% is lower. Landry is also the guy who managed an overall WR4 PPR finish in 2017 without so much as a single 100-yard game. He's going to offer plenty of value, especially with Odell Beckham Jr. in the fold, but he has very little weekly upside.
(Current PFF best ball rank: WR27)
This one's on the obligatory side of things, but still. Lockett was incredible in 2018, but in a way that is more or less guaranteed to slip. He had the second-highest scoring rate in the league, turning 15.4% of his targets into touchdowns. He had a record 158.3 (perfect) passer rating when targeted, the first time we've ever tracked that. No matter how you slice it, Lockett was historically efficient, and while there is certainly a measure of breaking through to that, he's just not going to be quite that good again. Add in the chances Doug Baldwin returned to health and the Seahawks leaning even more on the run, and Lockett could eb on track to disappoint.
(Current PFF best ball rank: WR40)
There was a way this offseason could have played out that would have landed Humphries firmly on the breakout/sleeper side of things. If he had landed with the Colts, or the Packers, or the Patriots, or any number of teams, he'd have been very intriguing. Tennessee? Even with a shallow depth chart, this landing spot just doesn't do a lot for anyone in fantasy. In Humphries' rookie year, the Buccaneers and Titans (it was also the rookie years for QBs Marcus Mariota and Jameis Winston) attempted basically the same number of passes — 551 for Tennessee, 540 for Tampa Bay. Since then, Tennessee has attempted fewer passes every year, while Tampa Bay's total has only climbed, and the Buccaneers attempted almost 200 more passes last year (625 to 437). Humphries has hovered in the mid-teens in target share each of the last three years (13.3% to 13.6% to 16.5%), but if he's getting that share on a team throwing that rarely, his target total is going to just plummet, which is bad for a guy who makes his bones as a PPR weapon.
(Current PFF best ball rank: Tate WR37, Shepard WR46)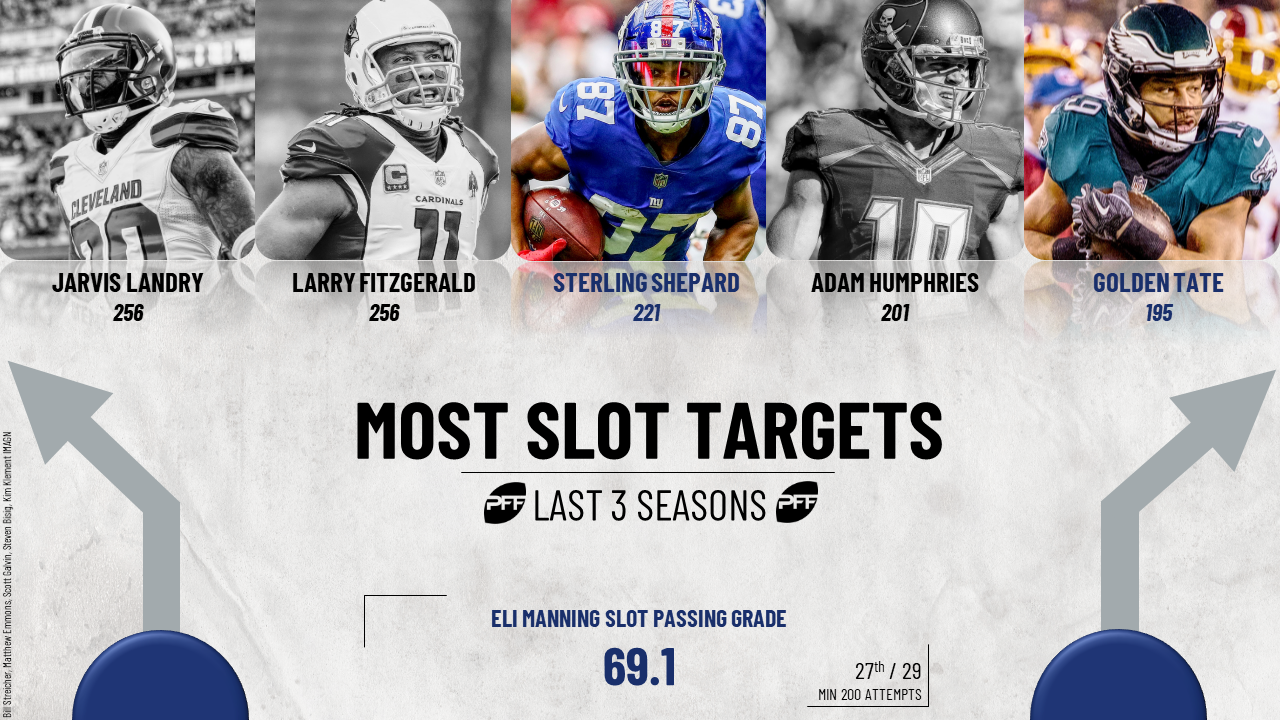 Pair either Tate or Shepard with a good outside wide receiver and/or a generational quarterback, and you'd have a bona fide fantasy sleeper on your hands. Instead, they are Giants teammates who play basically the same position (Shepard ranks third in total slot targets over the last three years, Tate fifth) with a tight end in Evan Engram who ran nearly 50% of his own routes from the slot in 2018, and they have a quarterback in Eli Manning whose 69.1 PFF grade on targets toward the slot ranks 27th out of 29 quarterbacks with at least 200 slot attempts over the last three years (ahead of only Case Keenum's 68.6 and Brock Osweiler's 47.9 [!]). Tate and Shepard stand to cannibalize each other from what successful target they do get, hurting both players' values.