A thousand-yard rusher is a boon in fantasy football. So is a thousand-yard receiver. If you can get both in one player? That's the best. In the history of the NFL, there have only been two instances of a player ever recording 1,000 rushing and 1,000 receiving yards in a single season — Roger Craig in 1985 and Marshall Faulk in 1999.
There are only eight players who have ever recorded 800 rushing and 800 receiving yards in a single season. One of these instances came in 2018 (Christian McCaffrey), while two others came from players still active — Le'Veon Bell in 2014 and David Johnson in 2016.
It seems absurd to write, but in 2019, there are legitimately five running backs with 1,000/1,000 potential.
Why this is important for fantasy football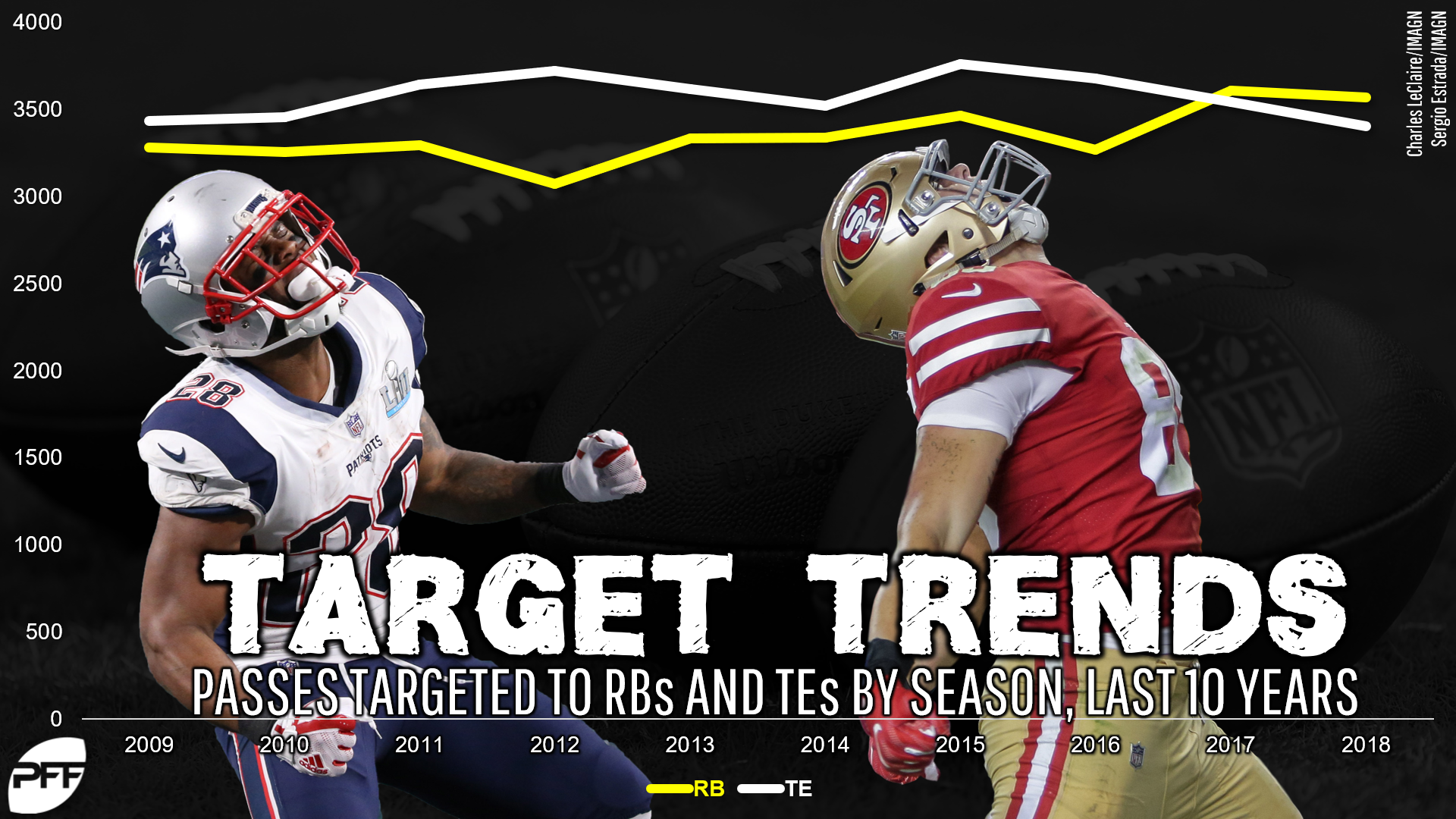 Though we've seen a decline in rushing volume in recent years, running backs are being used more as receivers today than in almost any other season in recent memory. Over the past two seasons, running backs have combined to draw 7,179 targets, or 303 more than in any other two-year stretch this past decade. This was also the first year over that span that running backs saw more targets than tight ends.
In 2018, McCaffrey set the new single-season running back record for receptions with 107. Saquon Barkley wasn't too far behind with 91 (seventh-most), nor was James White with 87 (14th). Perhaps not coincidentally, McCaffrey ranked first among all flex-eligible players in fantasy points scored during the fantasy season (Weeks 1-16), while Barkley would have ranked first if we included Week 17, and both seasons rank top-20 all-time.
This is massively important for fantasy football because, remember, for targets are worth 2.74 times as much as a carry for running backs in PPR leagues. As I explained elsewhere, running backs who are heavily utilized as both runners and receivers (bell cow running backs) have a higher-ceiling, higher-floor, and (especially) less week-to-week variance than their non-bell-cow peers.
Potential 1,000/1,000 candidates in 2019
(133 receiving yards shy in 2018)
McCaffrey fell just 133 receiving yards shy of 1,000/1,000 honors in 2018. This was despite playing on just 14% of his team's snaps in a meaningless Week 17 game. If he gained his typical 56.3 receiving yards, he would have fallen just 99 yards shy of a 1,000/1,000 season, the third-closest season in NFL history.
McCaffrey was a revelation in 2018, breaking the single-season record for receptions, averaging 5.01 yards per carry, and leading the position in snaps (by 76). Remarkably, there's a good chance he could be even better in 2019. McCaffrey suffered a shoulder injury in Week 12 (which ultimately required surgery) and played through it. Volume should be just as good this year, as head coach Ron Rivera is projecting a similar touch-count for McCaffrey. He's well worth a top-three pick in 2019 drafts, and with just a little more passing-down volume or efficiency, could post a 1,000/1,000 season.
Bonus stat: In 2018, McCaffrey totaled more rushing fantasy points than Melvin Gordon, Nick Chubb, and Marlon Mack. In terms of receiving fantasy points, he outscored Odell Beckham Jr., Amari Cooper, and Tyler Lockett.
(279 receiving yards shy in 2018)
In his rookie season, Barkley led all non-quarterbacks in fantasy points, while also ranking second among running backs in both carries and targets. Barkley's total of 121 targets also ranks eighth-most by any running back in any season since targets became a stat (1992) and would have ranked 15th among all wide receivers last year. That receiving volume is important, because, though New York's offense seems likely to decline (without Beckham on the field), that shouldn't negatively impact Barkley's fantasy potential.
Indeed, last season, Barkley was more productive for fantasy when trailing. Remember, targets are more valuable than carries and teams are more pass-heavy when trailing. Last season, Barkley averaged 4.6 more targets per game (9.0 to 4.4) and 28.9 more receiving yards per game (54.1 to 25.2) in losses rather than victories. After totaling 1,307 rushing yards last season, he seems like a safe bet to again eclipse the 1,000-yard mark on the ground. As far as receiving volume is concerned, perhaps an increase in negative gamescript can push him over the edge and into 1,000/1,000 territory.
(121 receiving yards shy in 2016)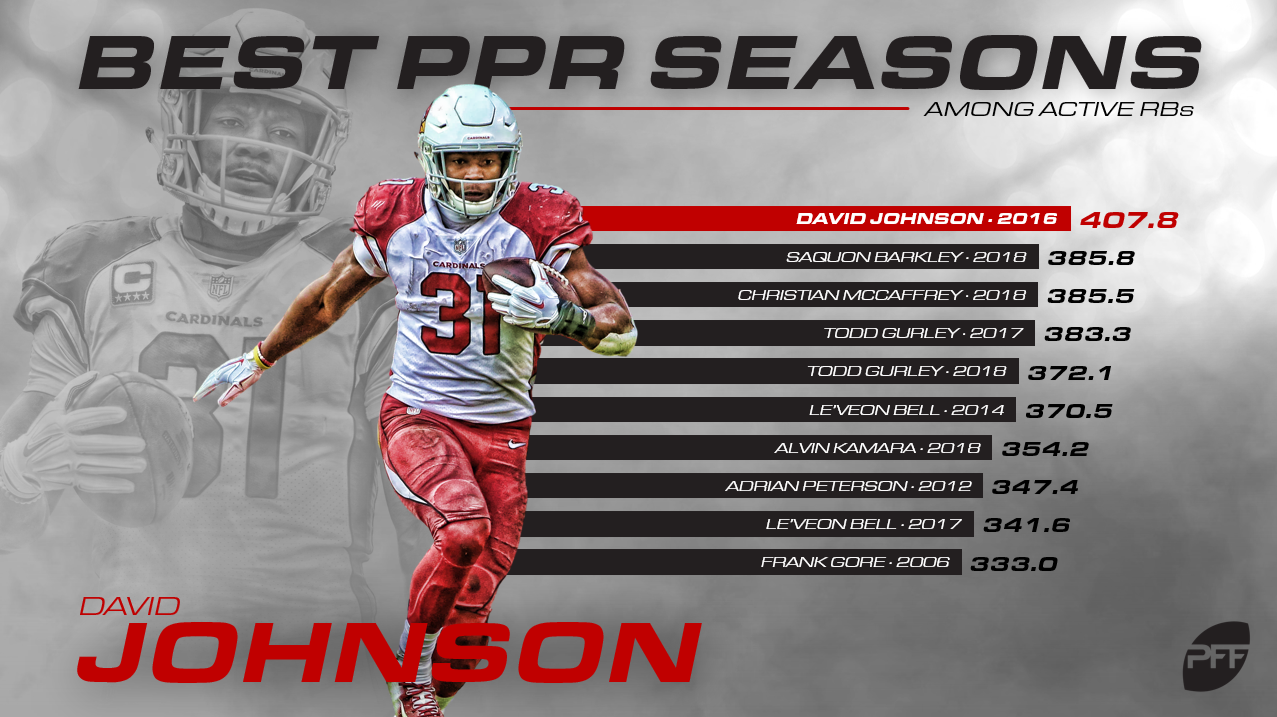 In 2016, Johnson totaled 407.8 fantasy points, the ninth-most by any running back all-time — a number no other active running back has ever eclipsed. In 2017, Johnson got hurt, and played in only one game. In 2018, everything went wrong, and Johnson barely finished as a fantasy RB1.
The good news is, literally all of the issues Johnson struggled with in 2018 should no longer be a concern for Johnson in 2019. In 2018, Kliff Kingsbury's Red Raiders offense ranked top-10 in targets to running backs, top-three in pace of play, and top-three in pass percentage. Kingsbury has also implied Johnson will frequently be running routes lined up as a wide receiver, like he was in 2016.
Perhaps all of this will be enough for Johnson to post a 1,000/1,000 season. At least, he certainly thinks it's possible. In spite of last season's underwhelming numbers, I have Johnson as a top-five pick in 2019 PPR drafts.
(117 rushing yards, 291 receiving yards shy in 2018)
Prior to Mark Ingram's Week 5 return from suspension, Kamara was on pace for a season of 1,100/1,344. That's drastically different from his 16-game pace over rest of the season (884/543). I suppose this perfectly highlights Kamara's potential. If ever used as a true bell cow running back, Kamara has the best odds in the league of leading the position in fantasy points and of posting a 1,000/1,000 season. (Last season, Kamara became only the third player in NFL history with consecutive seasons of 700-plus rushing yards and 700-plus receiving yards.)
Earlier this offseason, the Saints replaced Ingram with Latavius Murray. Murray averages just 4.1 yards per carry and 11.5 receiving yards per game for his career, while Ingram averages 4.9 yards per carry and 23.4 receiving yards per game over the past four seasons. As the numbers imply they should, perhaps the Saints will give Murray a lesser workload than they gave Ingram, and to Kamara's benefit. Perhaps that will be enough for Kamara to post a 1,000/1,000 season. Looking at Kamara's career yards per carry and yards per target, all it might take is an increase is one additional carry and 29 more targets than what he saw last season (in 15 games).
(146 receiving yards shy in 2014)
In 2014, Bell came dangerously close to a 1,000/1,000 season, and, again in 2016, he was on pace to fall just 179 receiving yards shy. Based on player talent and pedigree, Bell's odds are about as good as anyone's. However, given the change in scenery, from Pittsburgh to New York, or rather, from Mike Tomlin to Adam Gase, I'm skeptical.
Over the past four seasons, Adam Gase's offense has ranked 31st, 29th, 31st, and 27th in pace of play in game-neutral situations. Looking back at his running back history, it's hard to get too excited. In 2013, on perhaps the greatest offense in NFL history, Knowshon Moreno fell 452 receiving yards shy of a 1,000/1,000 season. The following season, C.J. Anderson was on pace for a 1,534/580 season across his final eight games. Outside of that, it's not too pretty. Specifically, in 2015, Matt Forte fell from 50.5 to 29.9 receiving yards per game when Gase took over as the team's offensive coordinator. Add in the fact that Gase didn't even want to sign Bell, and he feels like a longshot to reach this historic milestone.