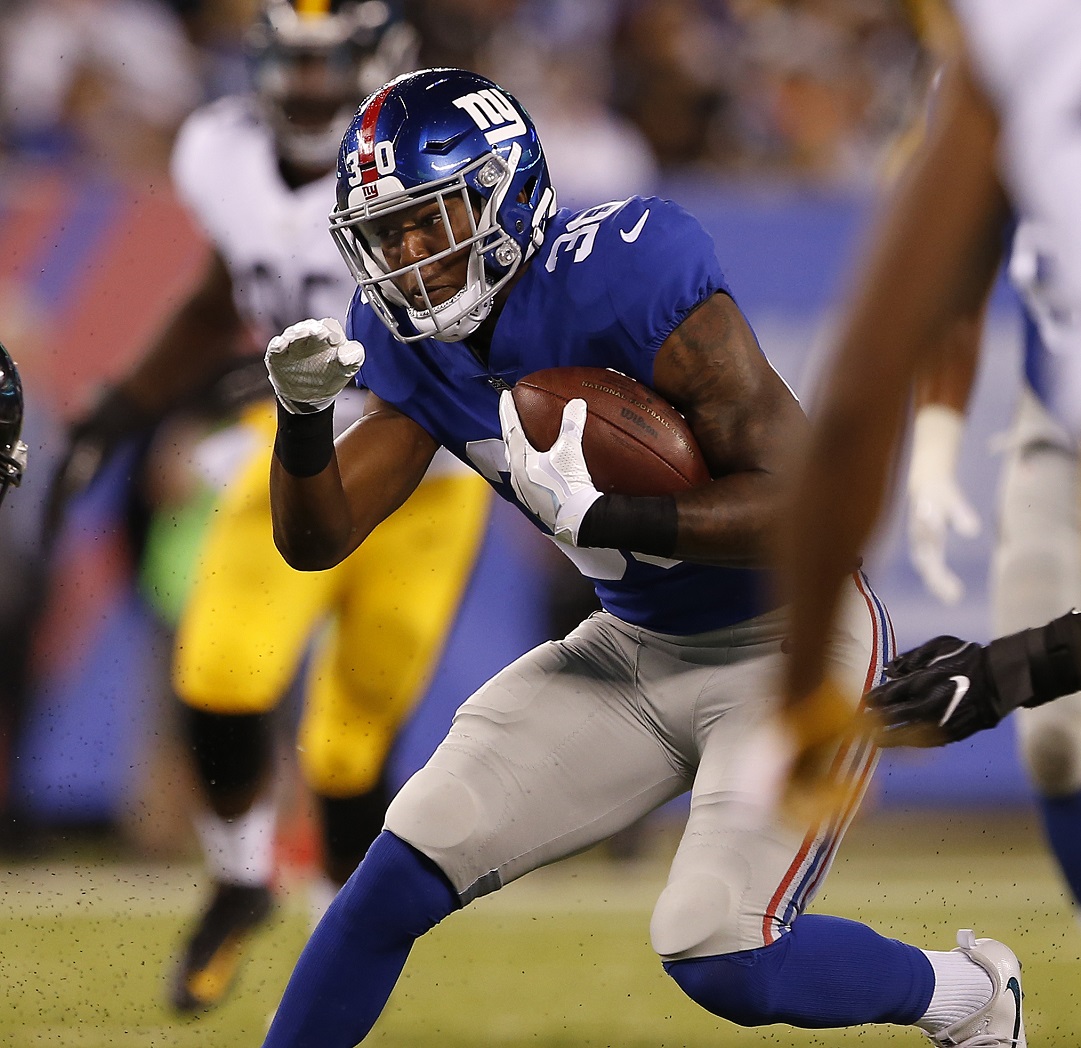 EAST RUTHERFORD, NJ - AUGUST 11: Wayne Gallman #30 of the New York Giants in action during an NFL preseason game against the Pittsburgh Steelers at MetLife Stadium on August 11, 2017 in East Rutherford, New Jersey. (Photo by Rich Schultz/Getty Images)
The fantasy football trade market is the fastest way to upgrade your team and the most efficient one. You can take advantage of poor tendencies and logic from other owners in your league who tend to overreact to past performance.
Every week we'll take a look at the top players to buy or sell in fantasy football. An elite fantasy owner is active in the trade market and always looking for value (plus ways to take advantage of his competition). We want you to become that elite manager and our goal is provide you with the players who you should be looking to trade for or away each week.
Buy
Christian McCaffrey, RB, Carolina Panthers
The rookie running back's usage reached a career high in Week 4 when McCaffrey saw the eighth-most snaps of any RB. His usage coincided with the return of Cam Newton and the Panthers offense. McCaffrey feels like more of a floor player right now, but his lack of up-end production makes him the perfect buy low just before this Panthers offense rounds back into full form.
Brandon Marshall, WR, New York Giants
Although the narrative that has followed Marshall is of a washed-up veteran, he certainly didn't look that way when making a drive-saving one-handed catch on third down in Week 4. Marshall has now seen more targets over the past two games than all but two receivers in the league. The Giants have made him a bigger part of their game plan between the 20s, and if the offense continues to struggle in the red zone, they'll have no choice but to feature him there too. Since 2010, Marshall has racked up 42 touchdowns on 62 receptions from inside the red zone.
Ameer Abdullah, RB, Detroit Lions
Abdullah saw a clear usage uptick in Week 4 as the Lions made a shift in their RB snaps. He racked up 94 rushing yards on 20 carries and another 15 receiving yards on three receptions. He was even used at the goal line for a one-yard score. The Lions have been hinting at this usage for a while, and savvy fantasy owners bought low on him in August drafts, but there's still a chance to buy low on him in before he emerges as a borderline every-week RB1 with a weak upcoming schedule.
Alvin Kamara, RB, New Orleans Saints
Kamara answered the most important question for his season-long fantasy value going forward in Week 4 — will he get snaps when the Saints are winning big? The answer was a resounding yes. Kamara racked up 26 snaps in the Saints blowout win and Adrian Peterson's role was nearly nonexistent. Kamara finished with 10 targets and five carries — he wasn't utilized on just 11-of-26 snaps. Get your trade offers out there now.
Wayne Gallman, RB, New York Giants
It didn't take long for the Giants to realize that Gallman belonged as more than just a change-of-pace option. He made his rookie debut in Week 4 and finished with the most snaps (31) of any Giants running back. Giants play-caller Ben McAdoo didn't commit to the run at any point, but Gallman still managed 50 total yards on 14 touches and a touchdown. Most importantly, the Giants used him in the red zone, where he caught his touchdown.
Andre Ellington, RB, Arizona Cardinals
We advised to buy in on Ellington last week and the advice remains the same (for those who missed him in free agency). Ellington was inches away from getting both feet in for a touchdown in Week 4, but he still managed to rack up the ninth-most snaps (46), finishing in the top 10 for the second week in a row. More importantly, he saw the most targets of any running back (15) in Week 4. Over the past two games, no running back has seen more targets (29) than Ellington.
Tyler Lockett, WR, Seattle Seahawks
Lockett is going to be a main beneficiary of the revived Seahawks passing attack. Lockett earned the fourth-best grade of any wide receiver in Week 5 for his excellent work at getting separation. The volume is not there just yet for Lockett, but he racked up 67 yards receiving on just four receptions in Week 4 and could soon make his back to the WR2 radar.
Sell
Leonard Fournette, RB, Jacksonville Jaguars
Fournette's heavy touchdown rate will make his appearance here a very unpopular opinion, but it's important to keep in mind that touchdown regression comes for everybody. Fournette has scored, but he's losing snaps. In Week 4, Chris Ivory racked up 34 snaps compared to 39 for Fournette. At this time, you can get a true RB1 or WR1 in return for a package that includes Fournette. Make the call and swoop in.
Isaiah Crowell, RB, Cleveland Browns
We advised to buy Duke Johnson in this spot and now we're advising to dump Crowell. With each passing week, Crowell's role continues to diminish behind a Browns offensive line that hasn't been nearly as effective run-blocking as we expected them to be. In Week 4, Crowell played just 22 snaps compared to 36 for Johnson. Look for this to become a regularity going forward and don't get stuck owning a bit player on a bad offense.
Michael Crabtree, WR, Oakland Raiders
Crabtree will still hold WR2 value based on his overall performance in 2017 even though it is bloated by his three-touchdown game. With Derek Carr set to miss 2-6 weeks, the entire Raiders offense should be on your trade block for owners looking to cash in when he returns (and not factoring in the impact of EJ Manuel's insertion into the lineup).
Jeremy Maclin, WR, Baltimore Ravens
At this point, Maclin is more name than game. Like Crabtree, his production has been buoyed by touchdowns and he is struggling to get on the same page as new quarterback Joe Flacco in a new offensive scheme. In Week 4, Maclin saw just six targets compared to 10 for Mike Wallace. Maclin managed just three receptions for 27 yards on those targets. The upside is not here for Maclin in this offense, but you can capitalize on someone willing to buy into his touchdown production thus far.
Lamar Miller, RB, Houston Texans
Now that Miller got on the fantasy radar with a Week 4 touchdown you can safely move him to the highest bidder. Despite scoring, the same issues continue to plague Miller — his inconsistency as a runner and the continuous emergence of talented rookie D'onta Foreman. In Week 4, Foreman was on the field for 24 snaps. Miller doesn't have the talent and he's not in the right offense to be an every-week contributor unless he has the same kind of volume he saw in 2016.