Fantasy football breakouts happen every year, especially at wide receiver. Last year, players like Robert Woods and Tyler Lockett dramatically outplayed their average draft positions and offered massive returns on investment. We also saw players like Adam Thielen and Tyreek Hill emerge as fantasy stars despite not being drafted among the top five receivers in ADP.
Who's the next star fantasy WR?
Looking forward to this year, there are some interesting breakout candidates who stand out at wide receiver. We're going to divide this group in two, with the first group being the players who have the chance to make that leap into fantasy stardom. Keep in mind that these players have already been strong producers, but none of them have cracked elite fantasy territory yet in their careers. Each one of these players has a very really chance to finish as an elite fantasy wide receiver if things break the right way this year.
After a surprising breakout rookie season, Smith-Schuster took a big step forward last year. He proved to be a solid value as the 14th wide receiver selected in 2018 drafts, finishing as fantasy's No. 8 wideout. The Steelers receiver had an impressive four top-10 fantasy weeks despite playing in Antonio Brown's hulking shadow. On the season, Smith-Schuster racked up 111 catches and posted his second-straight seven-touchdown season.
With Brown now in Oakland, Smith-Schuster enters the season as the de facto No. 1 wideout in Pittsburgh. But that doesn't necessarily mean he's in store for a massive uptick in work. Smith-Schuster was already one of the league's most heavily targeted receivers with a 24.7% target share. That said, he's going to see more work than last year and is poised to be knocking on the door of elite fantasy territory.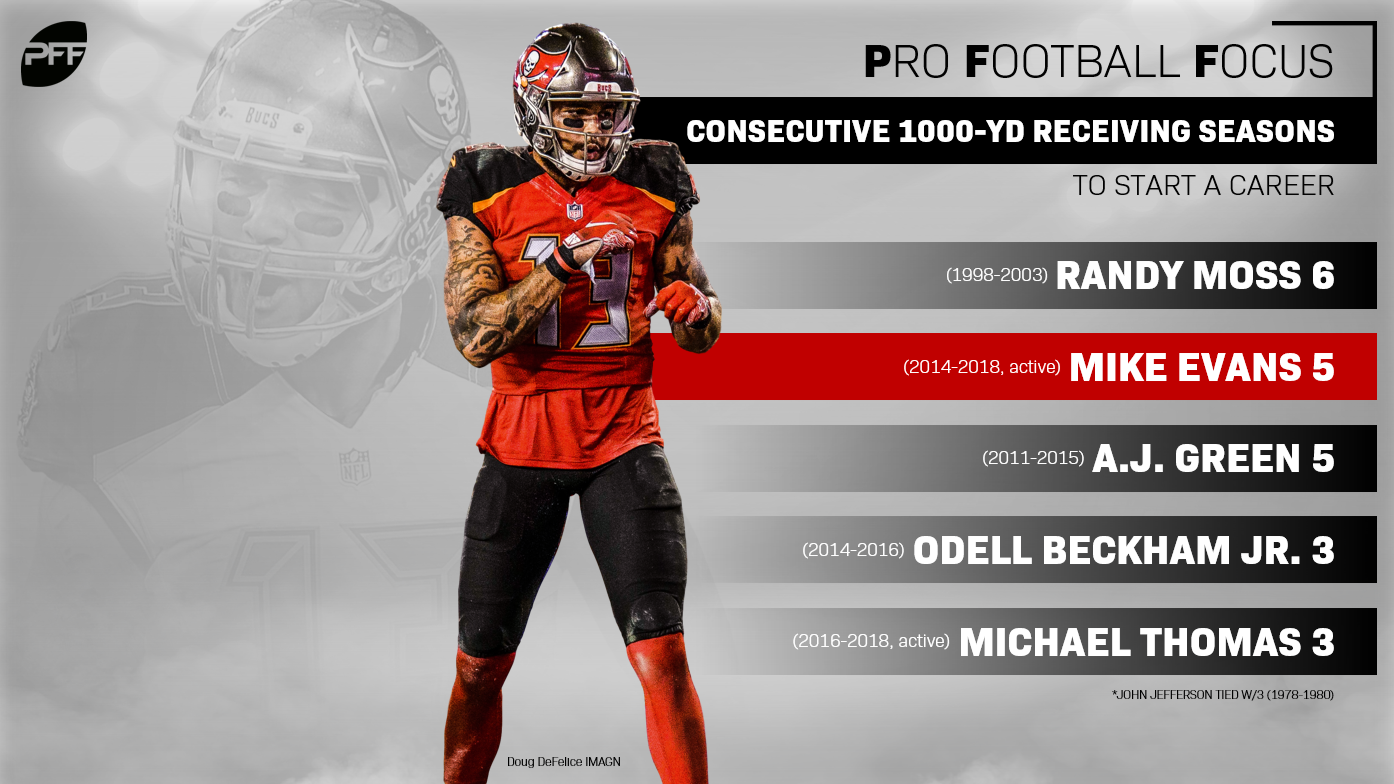 Some players get a bad fantasy rap for a good reason. Evans is not one of them. Despite the hate from some fantasy players, he's been nothing short of excellent over the course of his career. Evans has topped 1,000 yards in each of his first five seasons. That's something Antonio Brown can't even say he did.
Better yet, Evans is coming off a massive 1,524 receiving yards last season. Sure, he "only" scored eight touchdowns, but touchdowns are a fickle stat from year to year. Fluctuations are tough to predict and can lead to major misconceptions for fantasy purposes. Stick to volume and you'll get a better picture of true value. Evans is set up for another heavy workload and should thrive in Bruce Arians' vertical offense.
Sometimes a change of scenery can do a wide receiver good. Cooper was a massive fantasy disappointment in 2017 and was trending the same way for the first six games of last season. From Week 1 to Week 6, Cooper ranked a lowly 55th among receivers in fantasy scoring with two finishes outside of the top 100.
But then something magical happened. The Raiders traded Cooper to Dallas, and the butterfly emerged from its 14-month cocoon. Cooper instantly became one of the hottest receivers in fantasy, posting two No. 1 finishes over the final nine weeks of the season and ranking ninth at the position in fantasy scoring. He's a good bet to pick right up where he left off, but keep in mind that his upside is somewhat capped in the Cowboys' run-heavy offense. Of these three players, Cooper is the longest shot to emerge as an elite fantasy receiver.
WR breakouts at a value
The second group of breakouts all have the potential to be top-15 options at the position but won't cost you that much on draft day. Pinpointing one of these breakouts gives you a huge advantage on your league. While there are no guarantees in fantasy football, this group of six receivers stand out as the players with the best chance of moving into the top 15 or even higher.
The arrow continues to point up for Golladay as he enters his third professional season. The Lions wideout got off to a hot start last year, ranking as a top-20 fantasy receiver over the first five games of the season. While he cooled somewhat from there, Golladay still managed to crack the WR2s for the year finishing a respectable 22nd in PPR scoring.
Moving into 2019, he's now in a clear 1 and 1A situation with Marvin Jones, and there are more targets to go around with Golden Tate out of the mix. Golladay has the profile to be a star fantasy option, but it's important to be grounded in reality for fantasy evaluation purposes. Consider him a WR2 with the potential to take another big step forward.
Despite being relegated to the No. 4 spot on the Bucs' wide receiver depth chart last season, Godwin still managed to finish in the top 30 among wide receivers in PPR scoring. That's an impressive feat, and it's one that gives him mouthwatering fantasy potential heading into 2019.
DeSean Jackson and Adam Humphries are now out of the way, and Godwin is locked in as the No. 2 option in Tampa. Add to that the fact that the Bucs project to be one of the most explosive passing offenses in the league, and you have the makings of a fantasy breakout. That said, Evans is the clear top target, so it's best to consider Godwin and upside WR2 option with top-15 potential at the high end of his fantasy range.
With the injuries finally well in the rearview mirror, Lockett broke out in a big way last season and notched an impressive 10 receiving touchdowns. The Seattle receiver was hyper-efficient with 57 catches on just 65 targets at a clip of 16.9 yards per catch. Despite the minimal volume, Lockett was darn close to top-15 production last year, as he finished 17th among wideouts in PPR scoring.
With Doug Baldwin no longer on the roster, Lockett enters 2019 as the clear-cut No. 1 receiver in the Seahawks' offense. To be fair, Seattle is one of the league's lowest-volume passing offenses, but Lockett is still in a position to take yet another step forward for fantasy purposes. However, the cap on his overall volume makes Locket more of a boom-or-bust option heading into this season.
While he may not check all the boxes when you think about a conventional No. 1 receiver, Anderson is positioned to be the lead wideout yet again for the Jets this season after the team did little to change their wide receiver corps in the offseason.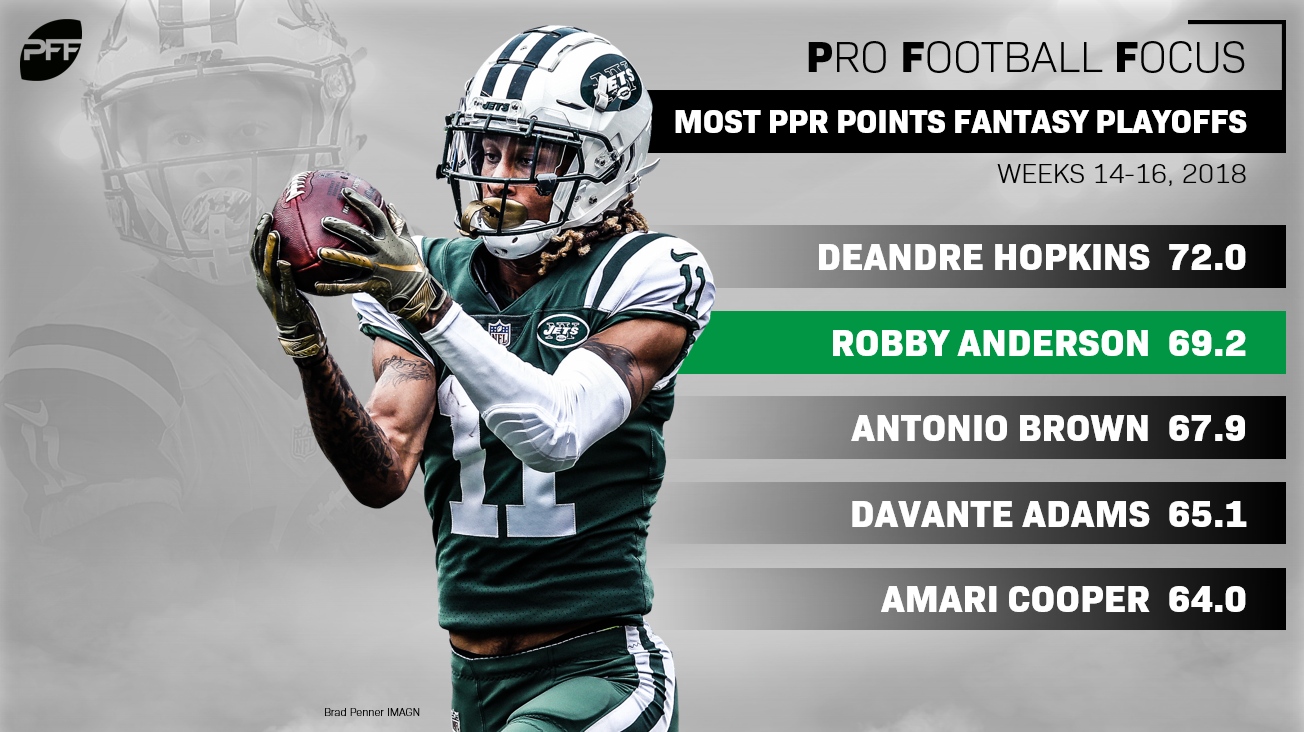 Anderson showed in 2017 that he's capable of producing WR2 numbers, and last year, he was one of the league's best options during the fantasy playoffs. Over that three-week stretch, only DeAndre Hopkins has more fantasy points among wide receivers. Of course, expecting that level of production over the course of a full season is a stretch, but Anderson is more than capable of producing borderline WR2 numbers with the potential for more in the ascending Jets offense.
Unlike fellow rookie Calvin Ridley, Moore got off to a slow start in 2018 with two fantasy finishes outside of the top 100. But he was able to pick up steam as the season went on and ranked 24th among wide receivers in fantasy scoring from Week 5 on.
With Devin Funchess now in Indy, Moore enters the 2019 season as the clear No. 1 receiver in Carolina. While Cam Newton is coming off a shoulder injury, he should be good to go for the start of the year. Newton's big arm coupled with Moore's big play ability has the makings for major fantasy upside. He's poised to be one of the bigger breakouts of 2019.
Though he's been somewhat slow to develop in the pro level, Williams started to show signs of fantasy life last season with two top-10 weekly fantasy finishes and an impressive 10 touchdowns. A big part of his success in the touchdown department came from Philip Rivers' willingness to look his way in the red zone. Nine of Williams' 10 scores came on end-zone targets, and his 11 end-zone targets was three more than Keenan Allen. That may not seem like a big difference, but keep in mind that Allen had more than twice as many targets overall.
Entering 2019, Williams is all but locked in as the No. 2 receiver with Tyrell Williams now out of the way. That means we can expect Mike Williams is poised to take a big step forward in 2019. To be fair, Hunter Henry will also be in the mix. But the good news is there's plenty of targets to go around in LA. Williams is an intriguing breakout candidate who will very likely outperform his draft day ADP.