Throw away the rankings, tiers and projections for this one, and let's have some fun with some bold IDP takes for the 2021 fantasy football season. It's still July, after all: the perfect time to make bold predictions and plant some flags while we still wait for training camp to kick off.
This list will offer some potential individual 2021 performances that can be considered bold, as well as predictions for surprise finishes as the overall top scorer at each major IDP position.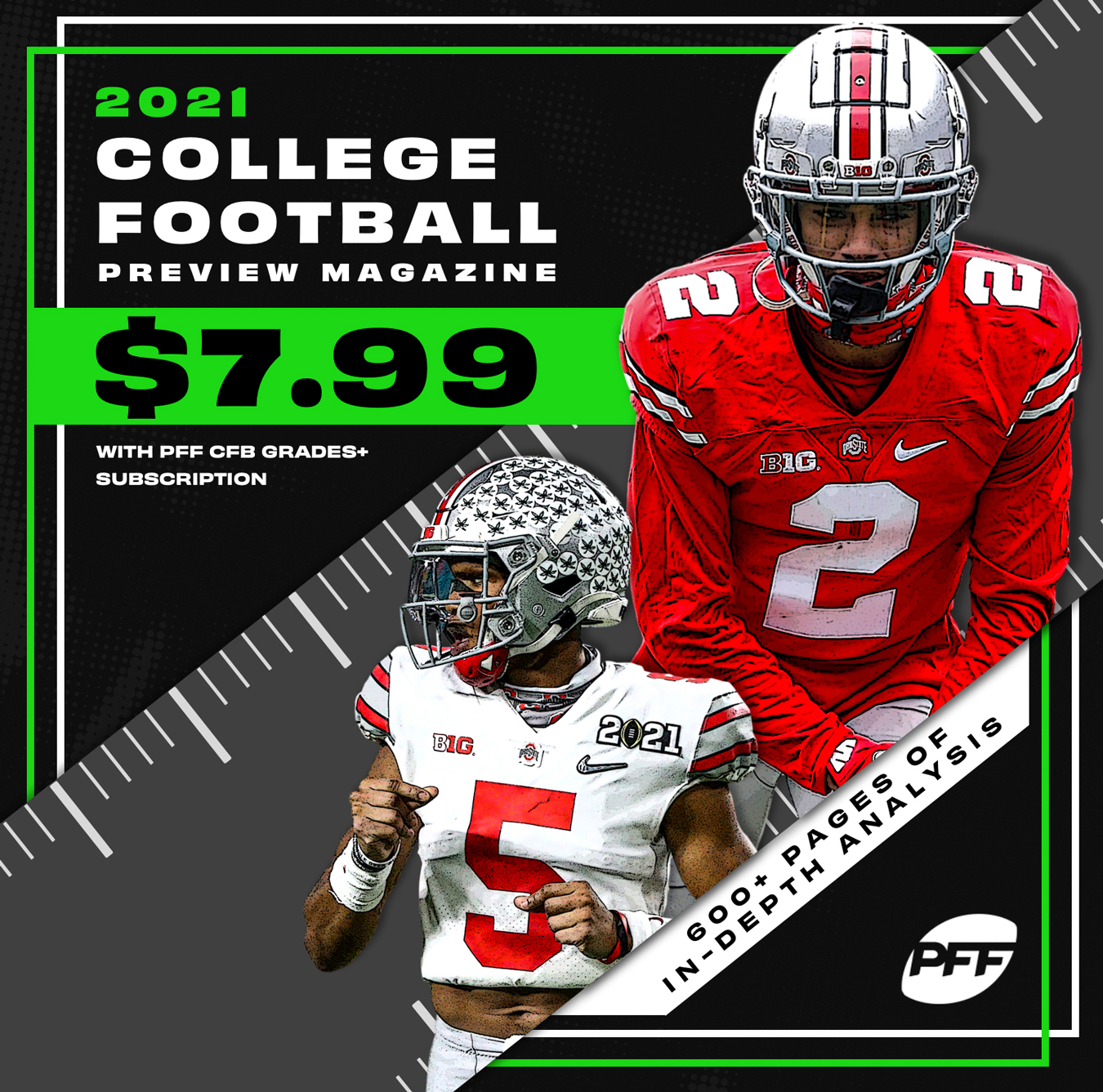 Burns led his team with nine sacks during his sophomore season after managing 7.5 as a rookie and finishing third on the team in that regard. Burns' nine sacks in 2020 tied for 14th in the league, and one player ahead of him was new Carolina teammate Haason Reddick. While Burns has yet to hit double-digit sacks, there's reason to believe this will be the year he takes his game to the next level.
Burns added 21 quarterback hits (11th in the NFL), which are essentially plays that come within a split second of being a sack. Considering the majority of players who finished with more QB hits than Burns last season also amassed with double-digit sacks, converting a split second faster is Step 1 for Burns to rack up higher sack totals.
Step 2 in the process is development. Burns finished with just a 68.7 pass-rush grade during his rookie season despite managing 30 pressures and 7.5 sacks on fewer than 300 attempts. That was a decent performance as a rookie, but Burns continued to improve this past season with an 86.9 pass-rush grade, managing 57 pressures to go along with those nine sacks. Burns has shown that he can progress over time, as he graded better across the board in 2020 — something he has become known for throughout his football career. Progression may not be linear for most players, but Burns has consistently trended upward at every level of football.
Brian Burns' career progression
| | | | |
| --- | --- | --- | --- |
| | Overall PFF grade | Run-defense grade | Pass-rush grade  |
| Florida State Year 1 | 67.5 | 61.9 | 68.0 |
| Florida State Year 2 | 70.9 | 66.5 | 73.7 |
| Florida State Year 3 | 88.9 | 78.3 | 90.5 |
| Carolina Panthers Year 1 | 63.7 | 55.2 | 68.7 |
| Carolina Panthers Year 2 | 76.8 | 61.5 | 86.9 |
There are still areas where Burns can improve. He finished last season with a 14.2% pass-rush win rate, which was good for 25th among edge defenders who saw at least 50% of snaps. However, when looking at true pass sets (no screens, RPOs, roll-outs or play action), Burns improved to 25.0%, which put him among the top 12 edge defenders in the league for the year (min. 50% of snaps).
Burns will be playing on what should be an improved defensive line with Derrick Brown as a potential breakout candidate and Yetur Gross-Matos finding his groove late last season, along with the addition of Reddick. By capitalizing on the help of others along the Panthers' defensive front while continuing to improve, Burns could find himself inside the top five at his position in many pass-rush categories with a real chance to lead the NFL in sacks in 2021.
#IDP – Panthers EDGE, Brian Burns had 9 sacks in 2020.

This was T-14th in the NFL.

He did come within a split second from MANY more sacks on a bunch of plays though.

Here's a handful of them (THREAD): #FFIDP pic.twitter.com/3e8dX119v1

— Jon Macri (@PFF_Macri) April 9, 2021
Browns linebackers were among the most unreliable units in the NFL last season for IDP purposes, and that was largely due to the rotation at the position. B.J. Goodson led the way for Cleveland, playing 76% of snaps on the year, but there was no real reliable IDP linebacker after him week to week, with everyone else playing 50% or less at the position for the year. Goodson may be gone, but the Browns brought in former Colts starter Anthony Walker and another young linebacker, Jacob Phillips, who should be in line for more work this season. The fear is that there just might not be that many opportunities for Owusu-Koramoah to make a major impact in Year 1 outside of injuries.
The other concern for Owusu-Koramoah is that there is little evidence he can play as a traditional inside linebacker, with just 37 of his 1,330 career defensive snaps coming from between the tackles. He has a slighter frame, measuring in the second percentile among linebackers for weight and below average (47%) in height — that could make it tougher for him to withstand the punishing nature of playing in the box. For these reasons, he should see more time as a sub-package and rotational player in the Browns' defense as a rookie, which is sure to cause some frustration for fantasy managers who take him as a top-three linebacker in rookie drafts. 
Be patient with Owusu-Koramoah, as he has legitimate NFL talent. It just might take some time for that to translate into a legitimate NFL role we can utilize in IDP. If the Cardinals' rookie version of Isaiah Simmons has taught us anything, it's that we can't assume a highly touted rookie is going to be an automatic starter in his first year.
Subscribe to PFF Edge to continue reading
Already have a subscription? Sign In