One of the things sports and sports fans, and this includes fantasy football and the best ball game, struggle with is regression. All too often, we see teams believe that the good things from the previous year will stay good, so as long as they fix the bad parts, everything is gravy. Just sneak into the playoffs? Fix the secondary and it's great, because everything else was fine! That sort of thing.
The problem, of course, is that regression works both ways. If something got way worse in one year, it's likely to get better the next (assuming there isn't something else at work). That's true. But it's just as true that if something got way better one year, it's likely to slide back the next.
As evidence, there's this: Since 2006, 13 teams have improved their PPR production (QB/RB/WR/TE only) by at least 30% from one season to the next. Of those, only three have improved the next season, and only two (the 2011-2013 Broncos and 2016-2018 Rams) did so to any real extent. Peyton Manning and Jeff Fisher are, in very different ways, influential.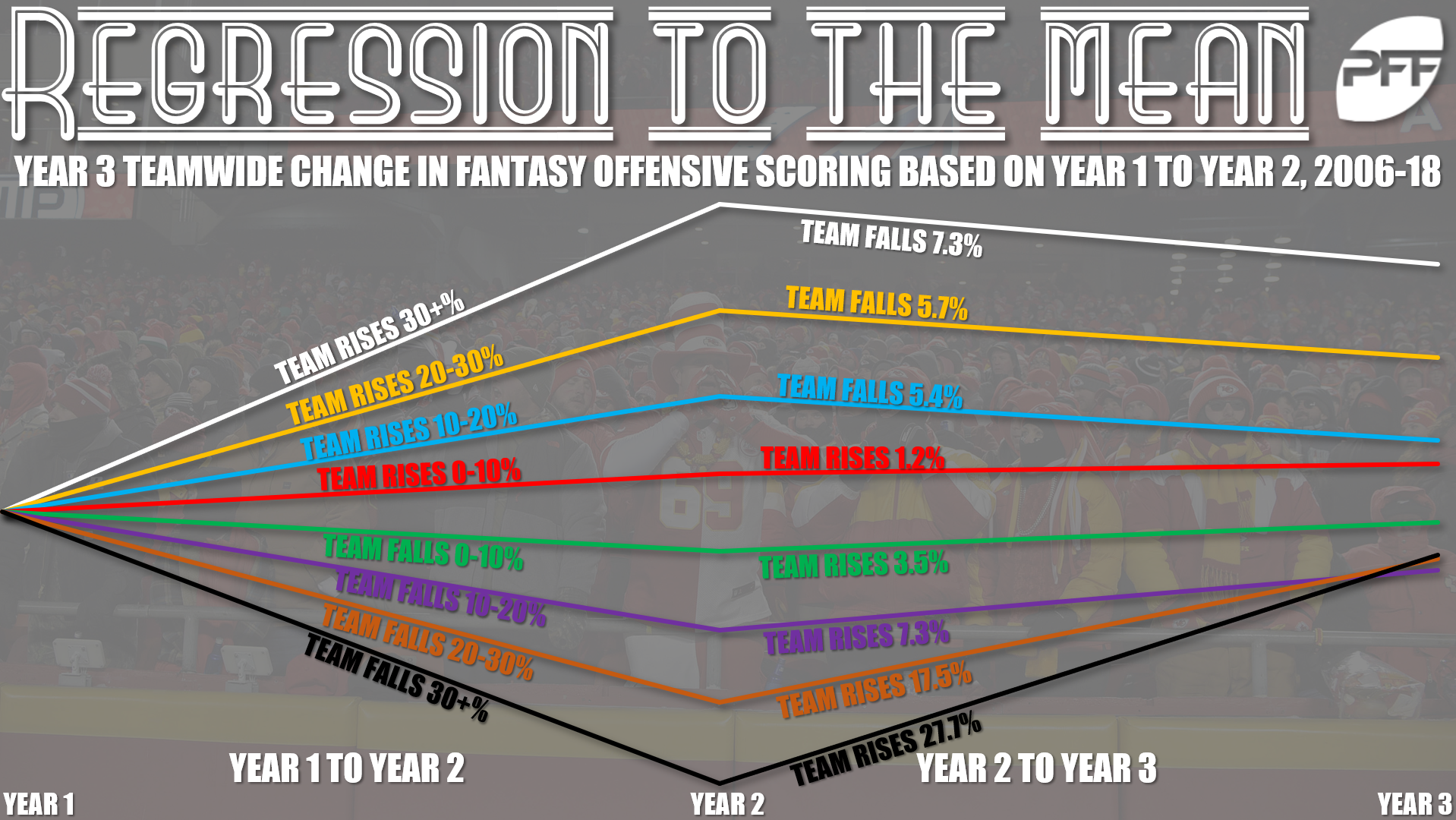 As best ball players, we need to keep that in mind. A player has a cap on his likely fantasy performance based on the likely fantasy performance of the team around him (Travis Kelce couldn't put up the numbers he did in 2018 if he had been on the Cardinals, for example), so if a team is going to get worse overall, even superstars are affected.
Another reason to look at this on a team level: Strategies change. For example, in 2010 the Ravens got 413.0 PPR points from running backs, 482.9 from wide receivers. In 2011, those numbers, respectively, were 480.7 and 365.3. In the aggregate, the Ravens went 1298.4 points as an offense to 1297.6. The running backs got better, but at the expense of the receivers, and the net was essentially nil. Either a team gets better overall, or you have to subtract somewhere to add somewhere else.
We're doing this now, ahead of the bulk of free agency, for two reasons: First, it will be a boon to best ball drafts, which are taking place right now and will be all offseason. And second, it will allow us to look at the teams independent of what moves they make this offseason. Those matter, yes, but math says they don't matter as much as you might expect.
Monday, we looked at teams that fell off by a lot in 2018 and should be expected to bounce back in 2019. Today, it's the other way: These teams improved by a lot in 2018 and might be in line to disappoint in 2019.
(PPR points accumulated by quarterbacks, running backs, wide receivers, and tight ends only.)
(+57.2% from 2017 to 2018)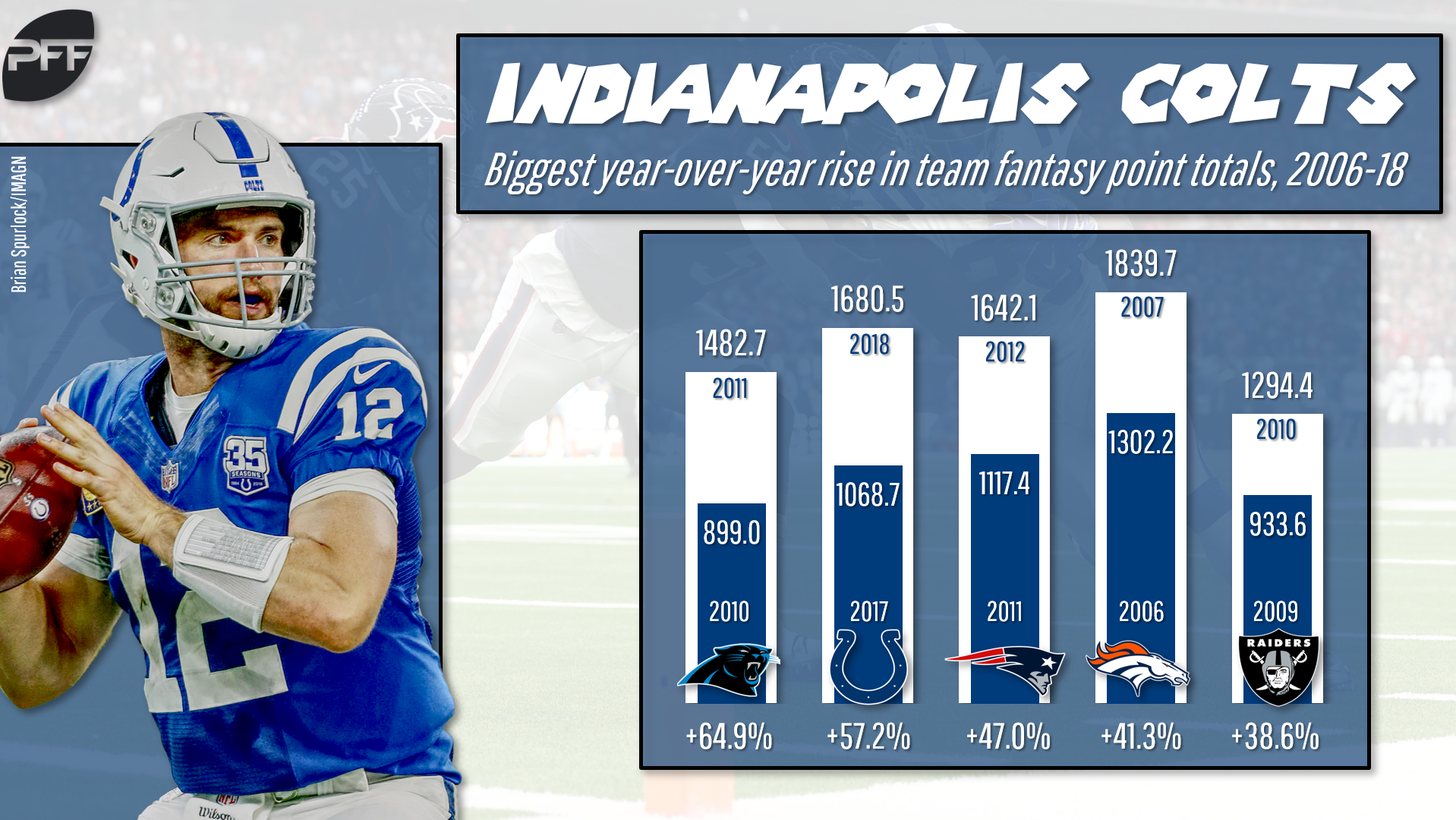 Welcome back, Andrew Luck. The 2017-2018 Colts saw the second-biggest year-over-year scoring increase since 2006, behind only the "good riddance Jimmy Clausen, welcome Cam Newton" Panthers of 2010-2011. Luck's return from injury was a major driver of that change, as was the Indianapolis offensive line climbing from one of the weakest units in the league (25th in the PFF end-of-season rankings after 2017) to one of the best (third after 2018). You have a good offensive line and one of the league's best quarterbacks, you don't need a lot more.
How could it regress? As mentioned above, when things get far better from Year 1 to Year 2, they go the opposite way in Year 3. This line is one of the prime potential examples of that. Yes, Quenton Nelson brought a first-round pedigree as a rookie, and that accounts for a big portion of the improvement. Anthony Castonzo has been good and was in 2018 and should continue to be in 2019. But Mark Glowinski had a career year. Ryan Kelly has been injury-plagued. There is no guarantee the line slides back in 2019, but it's the obvious point of concern.
(+33.0% from 2017 to 2018)
It's easier to identify what didn't change for the Browns from 2017 to 2018 — David Njoku, Duke Johnson, and briefly the head coach. Otherwise, it was a complete overhaul. Tyrod Taylor and, notably, Baker Mayfield took over at quarterback. Carlos Hyde and, notably, Nick Chubb took over at running back. Antonio Callaway and, notably, Jarvis Landry took over at wide receiver. (Notice a trend?) Now, the Browns have the formation of a good offense, lots of cap space, not-Hue-Jackson at head coach, and a lot of promise.
How could it regress? Honestly, this one is difficult. There's little reason to think Mayfield or Chubb will get worse. Landry and Njoku, too, should be at about the same levels if not better. The Browns have the third-most available cap space and you'd have to assume they'll bring in at least one more receiver, if not multiple ones. Kareem Hunt will be there assuming his eventual suspension allows it. About the only thing you could identify is the potential for injury, but then that's true of every team every year. Math says the Browns should regress in 2019. I'm not at all sure math is right this time.
(+30.3% from 2017 to 2018)
The Bears did a mini-Browns thing last offseason. The entire offense didn't need overhauling, but the pass-catchers did. They signed Allen Robinson, Taylor Gabriel, and Trey Burton and drafted Anthony Miller, and voila. Combine that with a breakout from Tarik Cohen and surprising fantasy production from Mitchell Trubisky, and the Bears went from the fewest fantasy points in the league in 2017 to a respectable 18th in 2018.
How could it regress? Despite the new receivers in town, the Bears didn't actually get that much receiver production (22nd-most receiver points). Cohen (28th) and Jordan Howard (52nd) were the team's only players to finish among the top 75 flex scorers. So you probably want to expect those numbers to improve … except that Trubisky will still be the quarterback. The second-year Trubisky was a strong fantasy performer for much of the year, but he was much less impressive as a real-life quarterback (QB12 in fantasy points per game, QB31 in PFF grade). If his fantasy numbers reflect his grading a little more in 2019, this team could see some struggles.
(+25.8% from 2017 to 2018)
Patrick Mahomes, baby! Travis Kelce, Tyreek Hill, Kareem Hunt, Damien Williams were all great, but it started and ended with Mahomes replacing Alex Smith. Smith was an excellent fantasy quarterback in 2017, finishing the year as QB4, but even with that lofty finish he was still 130 points shy of what Mahomes put up in 2018. In a rising-tide situation, that helped elevate the performances of all those aforementioned weapons and gave the Chiefs the most teamwide fantasy points in the league by more than 100 points.
How could it regress? Patrick Mahomes, baby. Mahomes was truly an MVP-level player in 2018, and he might be that again for the rest of his career … and he might do that without ever equaling this past season. "Best of all time"-level seasons don't often get repeated for a reason. The Chiefs will likely have one of the best offenses in the league in 2019, but betting on fewer points from the offense as a whole feels like a super safe bet nonetheless.
(+23.9% from 2017 to 2018)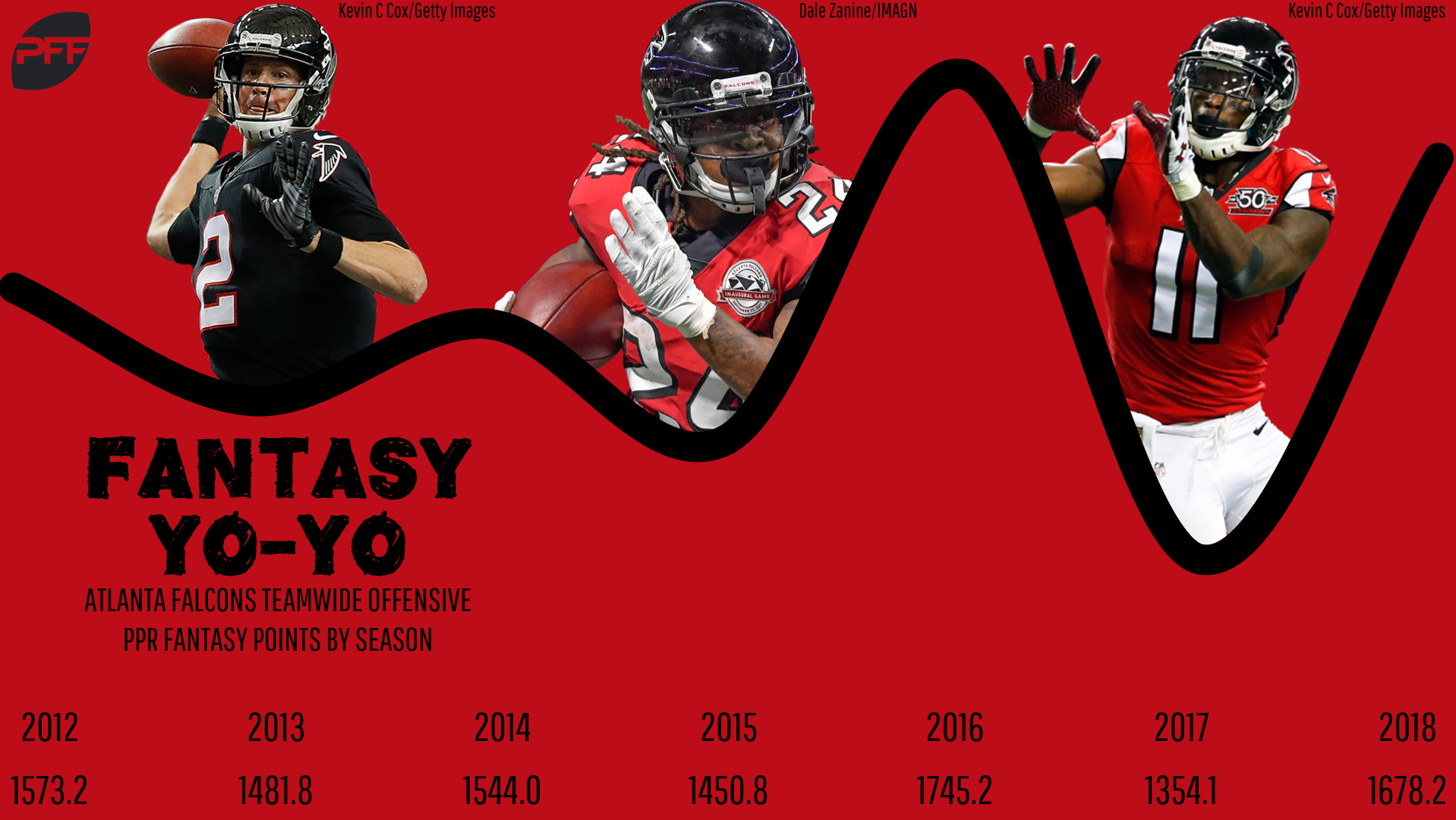 The Falcons have been a true team yo-yo in recent years. They climbed 20% from 2015 to 2016, fell by 22% from 2016 to 2017, then climbed by 24% last year. And they did that despite Devonta Freeman essentially (not literally, but close enough) missing the whole season. Julio Jones scored eight touchdowns despite going scoreless for the first half, Calvin Ridley was a productive rookie, Austin Hooper had a breakout tight end season, and Matt Ryan (and this still surprises me) put up the 14th-most QB fantasy points ever. Things went pretty well on the offensive side.
How could it regress? First off, the defense. The Falcons struggled big-time on defense in 2018, largely because of injuries, and if the team gets even marginally better production out of the unit in 2019, the offense won't be called on to go as crazy as it had to in 2018. Freeman's return could help balance that out, but then that will be offset by the likely departure of Tevin Coleman. It really comes down to the offense not needing to do as much in the coming season.