Hello, and welcome to the Week 4 Actual Opportunity report. This is our weekly look at fantasy football players who are getting the most fantasy potential from their usage, and what they are doing with it. If you're unfamiliar with Actual Opportunity, you can read the in-depth explanation here.
Essentially, we're using an 11-season sample of play-by-play data to calculate expected fantasy points from a player's seasonal or weekly usage. We look at each target (by distance from the end zone and depth of target) and each carry (by distance from the end zone and down and distance) and add this up to determine how valuable a player's role was for fantasy purposes. We can contrast this with fantasy production to measure efficiency.
In layman's terms, Actual Opportunity is "how many points a player should have scored" given his workload, based on what the average player would have scored. "Expected fantasy points" will be used interchangeably with "Actual Opportunity" throughout this article.
After three weeks of action, here are the top-25 players in expected fantasy points per game: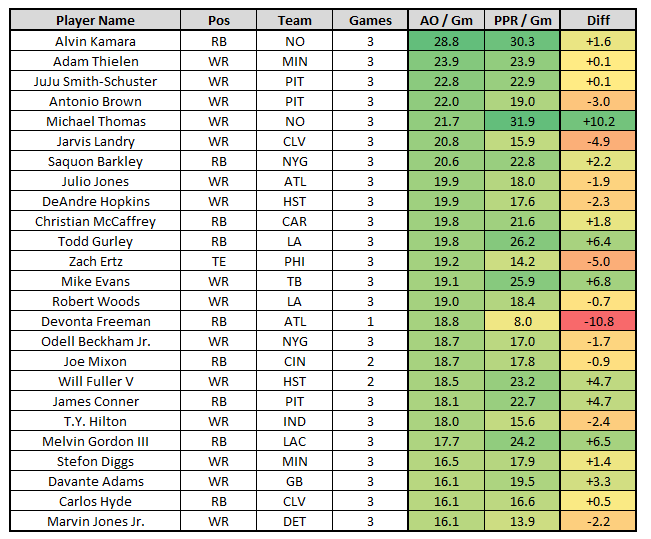 (AO: 28.8, PPR: 30.3)
Kamara's volume has not only been tremendous with Mark Ingram out of the lineup, it's been the best at the position by 8.2 expected fantasy points. Through three weeks, among all players, Kamara ranks fourth in targets, sixth in receiving expected fantasy points, and ninth in rushing expected fantasy points. Essentially, you're getting a mid-range WR1 and a low-end RB1 in one player.
Production has been phenomenal as well, seeing as how Kamara ranks behind only teammate Michael Thomas in actual fantasy points per game (30.3). Kamara also leads all players in expected fantasy point market share (33.7 percent) and has been dominating usage near the end zone. He currently leads the league in expected touchdowns with 4.7 which is not far off his full-season total of 5.4 in 2017. His 13 opportunities inside the 10-yard line are also three more than the next-closest player (Todd Gurley).
Subscribe to PFF Edge to continue reading
Already have a subscription? Sign In