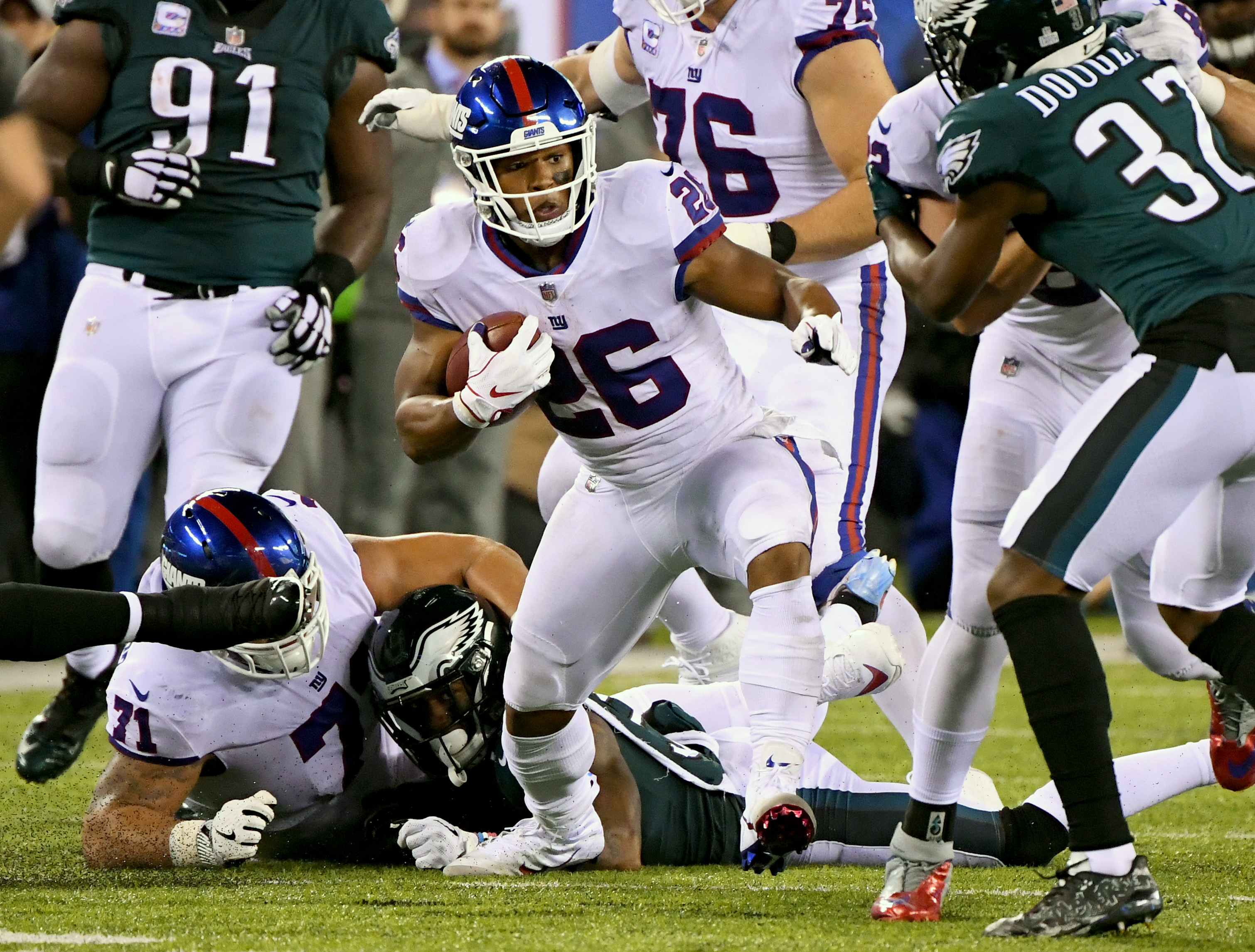 Oct 11, 2018; East Rutherford, NJ, USA; New York Giants running back Saquon Barkley (26) runs the ball against the Eagles in the second quarter at MetLife Stadium. Mandatory Credit: Robert Deutsch-USA TODAY Sports
Hello, and welcome to the Week 12 Actual Opportunity report. This is our weekly look at the players with the most fantasy potential based on volume, and how effective they've been with it. If you're unfamiliar with Actual Opportunity, you can read the in-depth explanation here.
Essentially, we're using an 11-season sample of play-by-play data to calculate expected fantasy points from a player's seasonal or weekly usage. We look at each target (by distance from the end zone and depth of target) and each carry (by distance from the end zone and down and distance) and add this up to determine how valuable a player's role was for fantasy purposes. We can contrast this with fantasy production to measure efficiency.
In layman's terms, Actual Opportunity is "how many points a player should have scored" given his workload, based on what the average player would have scored. "Expected fantasy points" will be used interchangeably with "Actual Opportunity" throughout this article.
After 11 weeks of action, here are the top 30 players in expected fantasy points per game: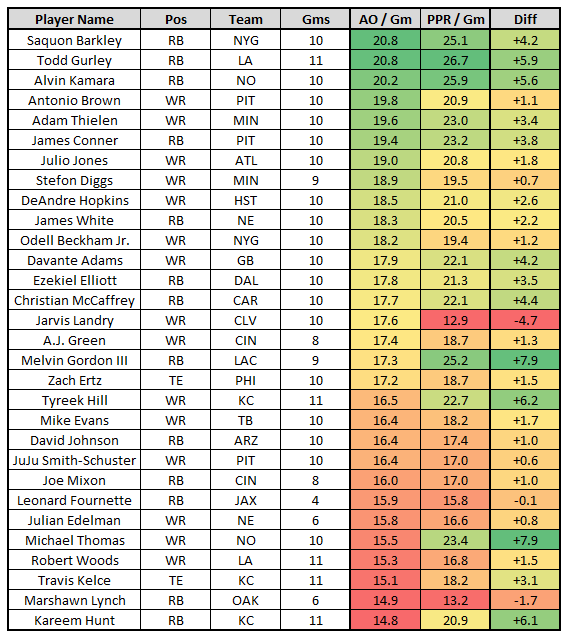 (AO: 20.8, PPR: 25.1)
After a league-leading 24.1 expected fantasy points in Week 11, Barkley now leads all players in expected fantasy points per game. Barkley ranks sixth among all players in rushing expected fantasy points and would rank 26th among all wide receivers in receiving expected fantasy points. He ranks behind only Todd Gurley in expected fantasy point market share (35%) and third among all players in actual fantasy points per game. There's probably not another player I'd rather own, outside of Gurley.
(AO: 18.9, PPR: 19.5)
Diggs led all players in expected fantasy points in Week 11 (30.7) and actually leads all players over the last five weeks (25.1). Over this span, Adam Thielen averages just 16.2 expected fantasy points. Diggs has now out-totaled Thielen in expected fantasy points in five of his last six games. Though Thielen has been far more efficient than Diggs, perhaps the recent usage indicates a changing of the guard. Based on recent usage, Diggs is a top DFS value on both sites this week.
Subscribe to PFF Edge or Elite to continue reading
Already have a subscription? Sign In