The 2021 fantasy football season is in the books, but that doesn't mean the grind comes to end. There are valuable lessons to be learned in order to better project 2022 fantasy football rankings.
Click here for more PFF tools:
Rankings & Projections | WR/CB Matchup Chart | NFL & NCAA Betting Dashboards | NFL Player Props Tool | NFL & NCAA Power Rankings | Best Bets Tool
---
I have some hits and misses to reflect on heading into 2022 fantasy football, especially at the tight end position.
Last year, Mark Andrews was the early-round tight end who drove rosters to fantasy championships. The Baltimore Ravens fourth-year TE led the position with a 25% target share, 28% air yards share and 17.0 expected fantasy points per game. He ran a route on 84% of offensive dropbacks, which also ranked first.
Still, missing out on Andrews didn't necessarily nuke your chances at fantasy glory, as Dalton Schultz and Dawson Knox posted top-5 seasons after going undrafted in many leagues.
Let's take a look at my 2022 fantasy football tight end rankings and dig a little deeper into what went right and wrong in 2021. Reflecting on the hits and misses at the tight end position will hopefully uncover the right metrics and trends to leverage going forward.
2022 TIGHT END RANKINGS
| | | | |
| --- | --- | --- | --- |
| Rank | Name | Team | Tier |
| 1 | Mark Andrews | BAL | 1 |
| 2 | Travis Kelce | KC | 1 |
| 3 | Darren Waller | LV | 1 |
| 4 | George Kittle | SF | 1 |
| 5 | Kyle Pitts | ATL | 1 |
| 6 | Rob Gronkowski | TB | 1 |
| 7 | Dallas Goedert | PHI | 2 |
| 8 | T.J. Hockenson | DET | 2 |
| 9 | Dalton Schultz | DAL | 2 |
| 10 | Dawson Knox | BUF | 2 |
| 11 | Pat Freiermuth | PIT | 2 |
| 12 | Zach Ertz | ARI | 2 |
| 13 | Logan Thomas | WAS | 2 |
| 14 | Noah Fant | DEN | 3 |
| 15 | Cole Kmet | CHI | 3 |
| 16 | Hunter Henry | NE | 3 |
| 17 | Mike Gesicki | MIA | 3 |
| 18 | Adam Trautman | NO | 3 |
| 19 | Tyler Conklin | MIN | 3 |
| 20 | Tyler Higbee | LAR | 3 |
| 21 | Gerald Everett | SEA | 3 |
| 22 | C.J. Uzomah | CIN | 3 |
| 23 | Evan Engram | NYG | 4 |
| 24 | Robert Tonyan | GB | 4 |
| 25 | Jonnu Smith | NE | 4 |
| 26 | Josiah Deguara | GB | 4 |
| 27 | Brevin Jordan | HOU | 4 |
| 28 | Austin Hooper | CLE | 4 |
| 29 | Jared Cook | LAC | 4 |
| 30 | Mo Alie-Cox | IND | 4 |
| 31 | Dan Arnold | JAC | 4 |
| 32 | John Bates | WAS | 4 |
| 33 | Tommy Tremble | CAR | 4 |
| 34 | Albert Okwuegbunam | DEN | 4 |
| 35 | O.J. Howard | TB | 5 |
| 36 | Irv Smith Jr. | MIN | 5 |
| 37 | David Njoku | CLE | 5 |
| 38 | Foster Moreau | LV | 5 |
| 39 | Anthony Firkser | TEN | 5 |
| 40 | Kylen Granson | IND | 5 |
| 41 | Eric Ebron | PIT | 5 |
| 42 | Hayden Hurst | ATL | 5 |
| 43 | Blake Jarwin | DAL | 5 |
| 44 | Chris Herndon IV | MIN | 5 |
| 45 | Jack Doyle | IND | 5 |
| 46 | Jimmy Graham | CHI | 5 |
| 47 | Kyle Rudolph | NYG | 5 |
2021 TIGHT END DRAFT STRATEGY AND 2022 APPLICATION
My preferred strategy for tight ends during the 2021 season was to get in on a tight end early or wait until extremely late to take my shot on multiple late-round options.
In 2020, the TE7 (Mike Gesicki) outscored the TE16 (Jonnu Smith) by just 19 total fantasy points. That convinced me to stay out of the middle tier of tight ends. In 2021, the TE6 (Zach Ertz) outscored the TE16 (Darren Waller) by 36 points.
The best "hits" from TE6 to TE13 ADP were Dallas Goedert (TE10), Mike Gesicki (TE8) and Noah Fant (TE9), but all they did was basically meet expectations of their ADP. They provided zero to little advantage over the tight ends drafted after them.
So although there was a larger gap between tight ends in the middle to late tier in 2021 compared to the year prior, the difference between the two ends of the spectrum was negligible at best.
The strategy in 2022 should be attacking elite tight ends early or waiting long past the top-12.

There's bound to be some hesitancy about going early at the position after guys like George Kittle, Darren Waller, Kyle Pitts, T.J. Hockenson and Logan Thomas failed to live up to their lofty projections (due to injury or not).
But the process was still sound behind adding some of those players in the early rounds if you look at their per-game production. Kittle finished as the TE3 in both overall points and points per game (14.3) despite playing 13 games. Waller came in third in expected fantasy points per game (14.6), which ranked top-20 among all tight ends and wide receivers. Hockenson ranked sixth in points per game (12.1) and Thomas was 11th (10.7).
I understand the argument against the early-round tight end strategy when you look back at the super-late ADPs like Rob Gronkowski, Zach Ertz, Pat Freiermuth, Dalton Schultz and Dawson Knox. Schultz and Knox were totally off-the-grid, going outside the top-30 tight ends.
All in all, if you can draft an elite tight end early at market price or a potential discount, I'd pull the trigger. Landing the next Andrews is a huge advantage. But rest assured that you can pivot if you can't land an elite tight end by taking shots on late-round players that fit the breakout mold.
Related content for you:
2022 Fantasy Football Running Back Rankings via Andrew Erickson
2022 TIGHT END MISSES
The breakout mold for a late-round tight end that fantasy drafters should be gravitating toward are players who see above-average route participation in high-powered offenses. Tight ends that possess superb athleticism should also be prioritized.
That's the hindsight analysis I am using to understand why someone might have pinpointed Knox and Schultz as breakout candidates. I missed drafting both guys despite the obvious facts at hand.
Knox finished the 2020 season from Week 13 on 10th in routes run and was attached to an offense with Josh Allen under center. That opportunity, combined with Knox's athletic profile — 87th percentile 40-yard dash, 86th percentile broad jump — should have made him the poster boy for the late-round tight end. Yet, drafters and rankers like myself opted for Eric Ebron, Anthony Firkser and Austin Hooper instead. Blasphemy.
I was less bummed out about Schultz because I believed a Dallas Cowboys tight end would be fantasy-relevant. The only problem was that I chose Blake Jarwin coming off a torn ACL over Schultz, who finished 2020 as the TE12 after running the third-most routes (553) at the position.
I'm reminded of a point I made while reviewing running backs and wide receivers that had breakout seasons in 2021: Finishing top-12 or even top-five at each respective position should be held higher when it comes to ranking players going forward. They've done it before.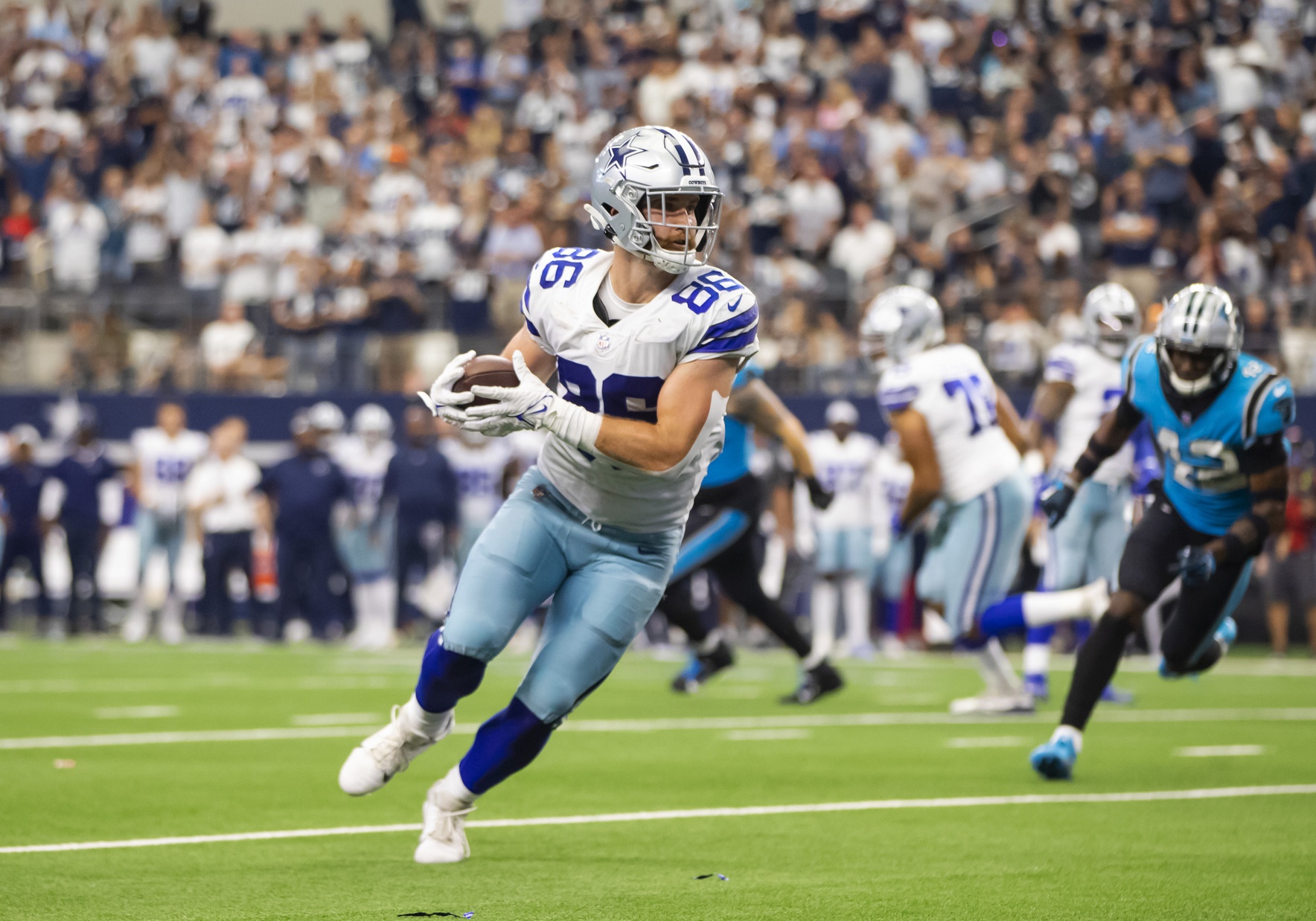 It sounds simplistic, but players are often written off after one bad season despite career numbers that show upside. As for early candidates who fit the mold of the next Knox or Schultz, Tyler Conklin and Cole Kmet come to mind.
Conklin's situation is eerily similar to Schultz's with the eventual return of Irv Smith Jr. making him easy to forget. But if he signs a new contract with Minnesota as an impending free agent, he should be targeted over ISJ. Conklin posted highs across all receiving categories while also serving as the TE15 in fantasy in 2021.
No tight end should make a bigger third-year leap in 2022 than Kmet, whose upside has been capped by a lack of touchdown equity because of Jimmy Graham. But the veteran is a free agent in 2022.
Kmet's eighth-ranked route participation hardly aligns with his fantasy production — no tight end finished with more fantasy points under expectation (-36.6) than the Notre Dame product in 2021.
That designation is a sign that Kmet is due for a fantasy breakout. It signaled as much for guys like Ertz and Knox, who scored fewer points than expected in 2020 before contributing in fantasy this year. Both Ertz and Knox finished 2021 as top-10 tight ends in fantasy points per game.
If the Chicago Bears bring in an offensive-minded head coach to pair with second-year quarterback Justin Fields, Kmet should be 2022's breakout tight end. He has the requisite size and athleticism, sporting an 87th-percentile height, 88th-percentile vertical jump and 89th-percentile broad jump.
Ignoring the potential of a strong offense to aid a tight end led to my ranking of Hockenson over Andrews. As I wrote in my 2022 wide receiver rankings article, valuing the better offense needs to be at the forefront of draft strategy when considering two closely ranked pass-catchers. Ranking Hockenson — even with a higher target projection — on a bad Detroit Lions offense was malpractice.
I was also too bullish on Adam Trautman. The New Orleans Saints tight end was regulated to blocking duties in the Saints' anemic offense and could never get going. Highlighting Trautman's athletic profile was the correct process — 97th percentile 3-cone — but I again made the mistake of valuing his projected target share over the offense he was going to play in.
I made a similar error with Rob Gronkowski, who I figured was just too old to produce. But the fact that he played in a Tom Brady-led offense should have been more than enough reason to back him as the TE14 in ADP instead of drafting Jonnu Smith at TE13.
Kenny Golladay – $72 million contract

Jonnu Smith – $50 million contract

37 touches each in 2021.

Less than Kyle Juszczyk, Corey Clement and Le'Veon Bell

bruh.

— Andrew Erickson™ (@AndrewErickson_) January 20, 2022
Tight ends who might become values in 2022 due to target ambiguity — and who play in above-average offenses — include Josiah Deguara, Zach Ertz and Gerald Everett.
Deguara is an extremely interesting case because he is likely to be completely overlooked with Robert Tonyan coming back from his torn ACL. But Tonyan is a free agent in 2022, so Deguara could be looking at starting tight end duties in an Aaron Rodgers-led offense as early as next season.
The former Cincinnati Bearcat has some impressive measurables — 55th percentile 40-yard dash, 77th percentile vertical jump — so a 2022 breakout is well within his range of outcomes. After all, he has led the Packers' tight end room in routes run.
2022 TIGHT END HITS
I won't take victory laps on fading Tonyan after he was lost due to a knee injury, but I will take the W based on his production — or lack thereof — before his season ended. Tonyan posted only two games with over 10 fantasy points and ranked as the TE23 overall and TE29 in fantasy points per game. His ADP was TE9.
The fact he was being drafted in the middle-tier of tight ends was a red flag in its own right, but Tonyan's unsustainable touchdown rate made him an easy tight end to avoid.
No tight end scored more fantasy points over expected (+52.2) than Big Bob last season, a glaring sign of negative regression. His TDs were likely to come down and he was only targeted on 14.7% of routes — Tonyan busting at ADP was inevitable.
The 2021 tight ends who draw similarities to Tonyan from a potential unsustainable production rate include Knox, Pat Freiermuth and Hunter Henry.
From a target rate per route run perspective, tight ends like Knox (14%), C.J. Uzomah (13%) and Tyler Higbee (16%) could have trouble commanding a consistent target share in 2022.
I viewed Kyle Pitts as an overvalued Round 4 selection, pointing out that Andrews and Hockenson were much better selections a round later. I ended up being correct with the two veterans out-producing the Florida product in fantasy points per game.
Again, the reasoning what that those two guys already had top-five fantasy finishes on their resumes. Fantasy gamers are too quick to try and call the next breakout, overlooking the proven commodities in the process.
But… now that the 21-year-old Pitts has established himself after finishing third among tight ends in receiving yards (1,018) through 17 weeks of the season and third in route participation (80%) through 18 weeks, I am all-in on him for 2022.
Per PFF's expected fantasy points model, Pitts should have scored 5.6 touchdowns according to his usage but only came down with a single score on the season. With positive regression expected in Year 2 and Calvin Ridley potentially on the way out, draft Pitts aggressively in 2022.