Finding fantasy football options that disappointed IDP managers in 2021 is easy; however, finding the ones that are going to bounce back and regain the trust of the fantasy community is a different task altogether.
Utilizing last week's IDP production vs. expected (PvE) results, we'll scour through the data in order to find the players who ended up on the low end of the "actual production" metric in 2021 and bet on them getting much closer to "expected" in 2022. This process will rely heavily on that PvE data, rewarding fantasy managers' faith in underlying metrics to create some nice value for those that emerge from their poor 2021 seasons.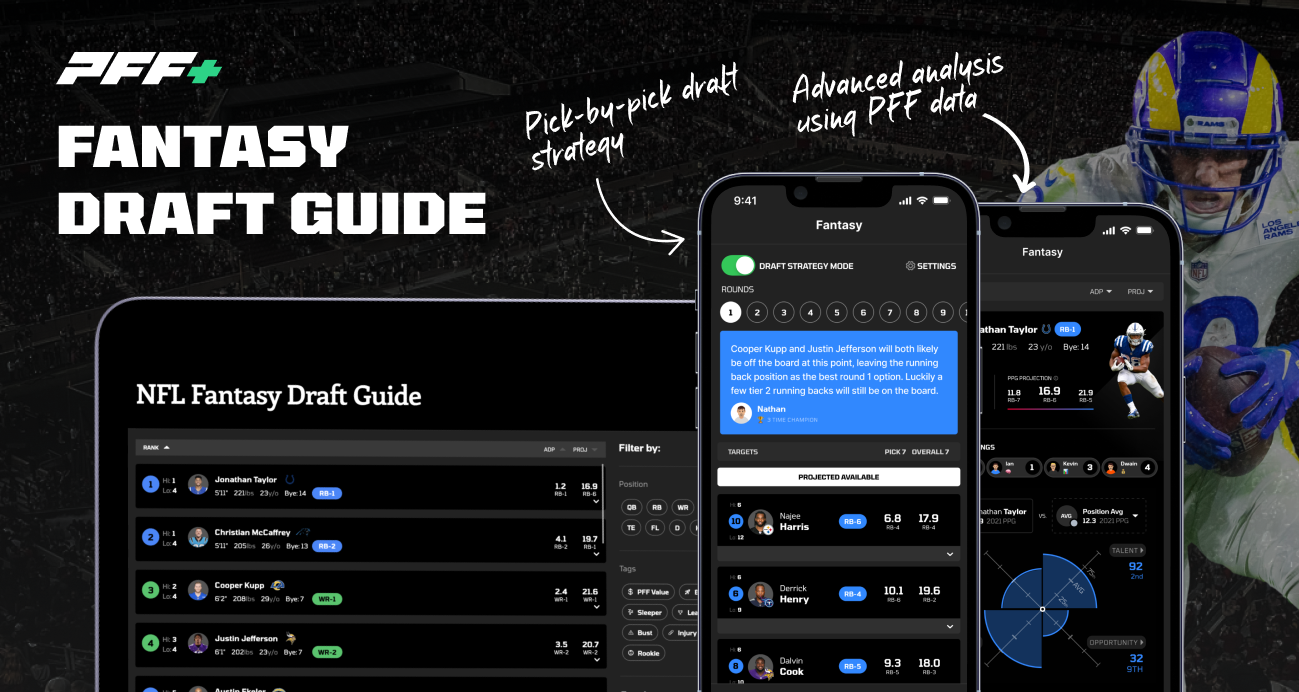 ---
For the second straight season, Milano disappointed fantasy managers from a production standpoint after playing 16 games in 2021. Milano's 86 tackles came in well under expected — by about 33 total tackles — using the new IDP production vs. expected formula. His overall tackle efficiency was also underwhelming, coming in well below average for his position at 9.61% when the average for a linebacker hovers between 12-13%.
Milano could have been dealing with lingering injuries throughout the season, as he typically is a much more productive player than what he put into his 2021 box score. Assuming he's fully healthy in 2022, Milano should secure closer to triple-digit tackles, and he could even hit a new career-high (over 101 tackles). The Bills' defense and overall scheme are unlikely to change much this coming season, so he has a clear opportunity to improve his diminished stat line from a year ago.
Matt Milano's 2021 production vs. expected profile: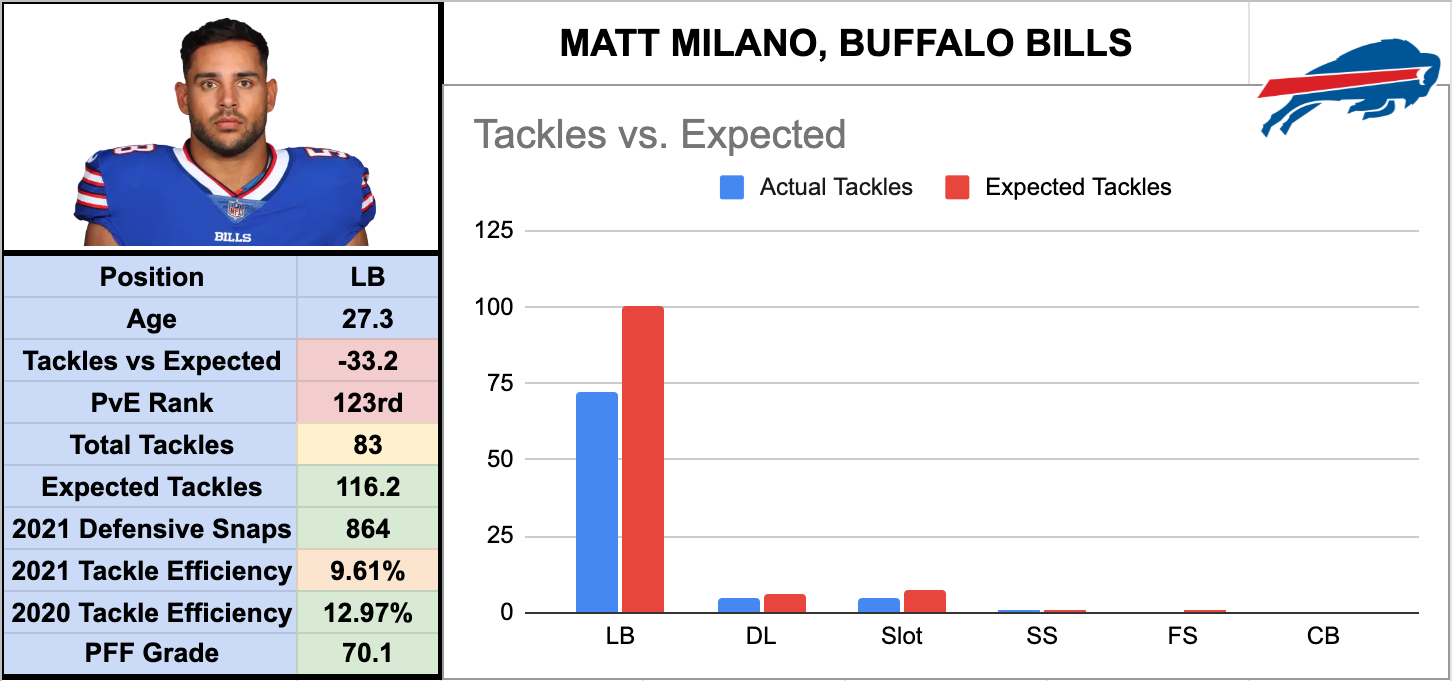 ---
Davis was my pick to be 2021's LB1, which he rewarded with a down year overall. Some of that has to do with the New Orleans' scheme, and some of it comes from the natural regression of an aging player. Having said that, Davis has been a reliable IDP asset at the linebacker position over the past few years, and he has a great opportunity to become one again this season.
Even considering Davis' blitz-heavy role and the Saints' man-heavy coverage scheme — both of which hurt linebacker tackle efficiency — he's expected to accumulate 130 tackles in 2022, which is as ideal as it gets at the linebacker position. So while Davis did secure over 100 tackles last year, there's still room for improvement heading into this season. 
Davis has also managed at least three sacks from well over 100 pass-rush snaps in every season since 2017; therefore, he will have ample opportunities to put a ton of points on the board for IDP managers this season. 
Demario Davis' 2021 production vs. expected profile: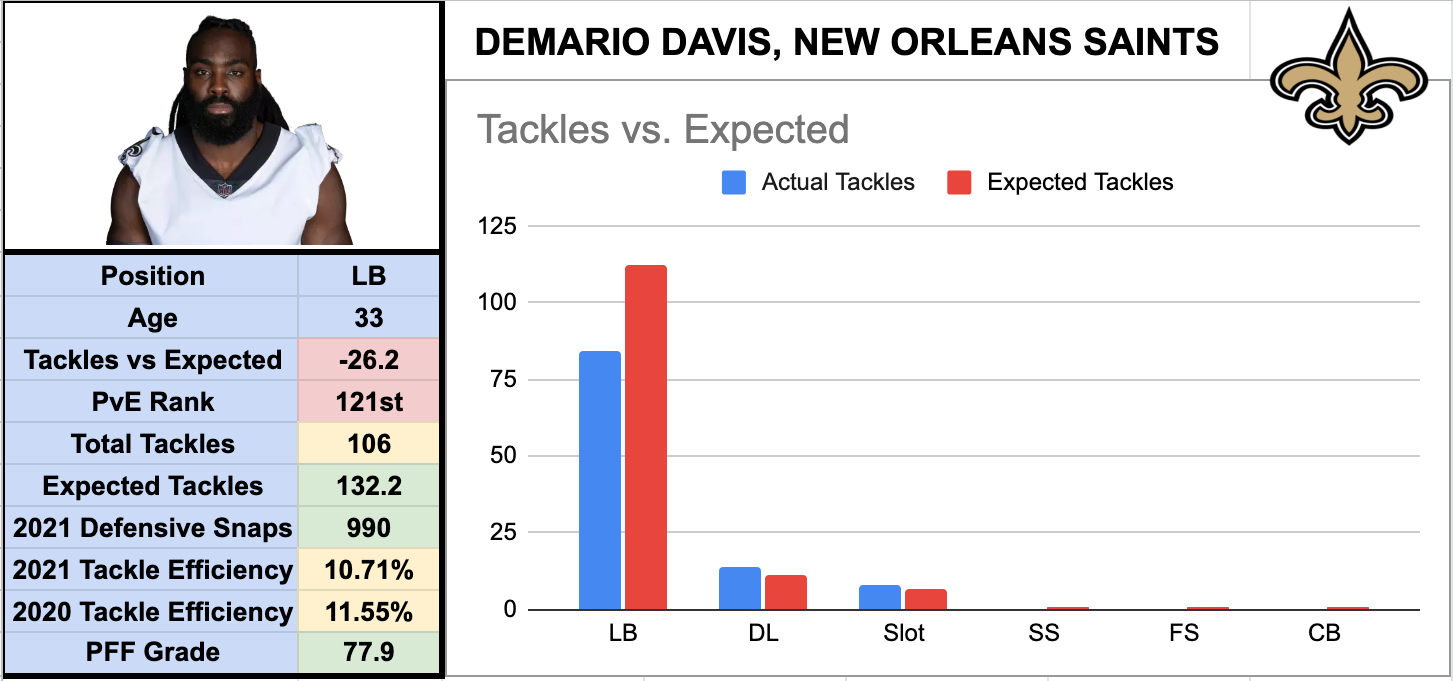 ---
Martinez falls into the injury-related category for bounce-back candidates after playing just over two games in 2021 before tearing his ACL. Prior to that ACL tear, Martinez was among IDP's most reliable and efficient linebackers for four straight seasons, as he never posted below 140 total tackles and didn't miss a game. 
It may be difficult to expect another 140-plus tackle season from Martinez in 2022 with Don "Wink" Martindale taking over as the Giants' defensive coordinator, as he is likely to implement more man-heavy coverages than the Giants deployed last season. Man coverages typically sap linebacker tackle production by a few percentage points, which is a barrier that Martinez will have to overcome in 2022. Considering his ability to seek and destory ball carriers throughout his career, he should be up to the task, which is why I'm confident he will bounce back for IDP managers this season.
Blake Martinez's tackle numbers by season:
Season
Total Tackles

(LB rank)

Tackle Efficiency

2017

142 (2nd)

14.54%

2018

144 (2nd)

13.33%

2019

155 (2nd)

15.99%

2020

151 (3rd)

14.02%

2021

23 (injury)

14.39%
---
EDGE CHASE YOUNG, WASHINGTON COMMANDERS
There's no way around it, Young's 2021 season was disappointing for IDP managers, as he totaled just 24 pressures and 1.5 sacks in just over eight games before tearing his ACL in Week 10.
Having said that, when diving into some of his underlying metrics, there's reason to believe that 2021 might not have been nearly as disappointing as many thought. Young still earned a strong 71.2 pass-rush grade and a 13.36% pass-rush win rate — which, when combined with his snap totals, should have enabled him to accumulate a couple more sacks on the year, per PvE. 
Patience is often difficult for fantasy managers, especially when it comes to a former second overall pick, but for defensive linemen, it's necessary. Assuming Young can avoid the physically unable to perform (PUP) list, IDP managers shouldn't consider his 2021 season to be indicative of what's to come. Young has youth and an otherworldly skill set on his side, which should translate as soon as this season, so now is not the time to abandon ship on the former Buckeye.
Chase Young's 2021 production vs. expected profile: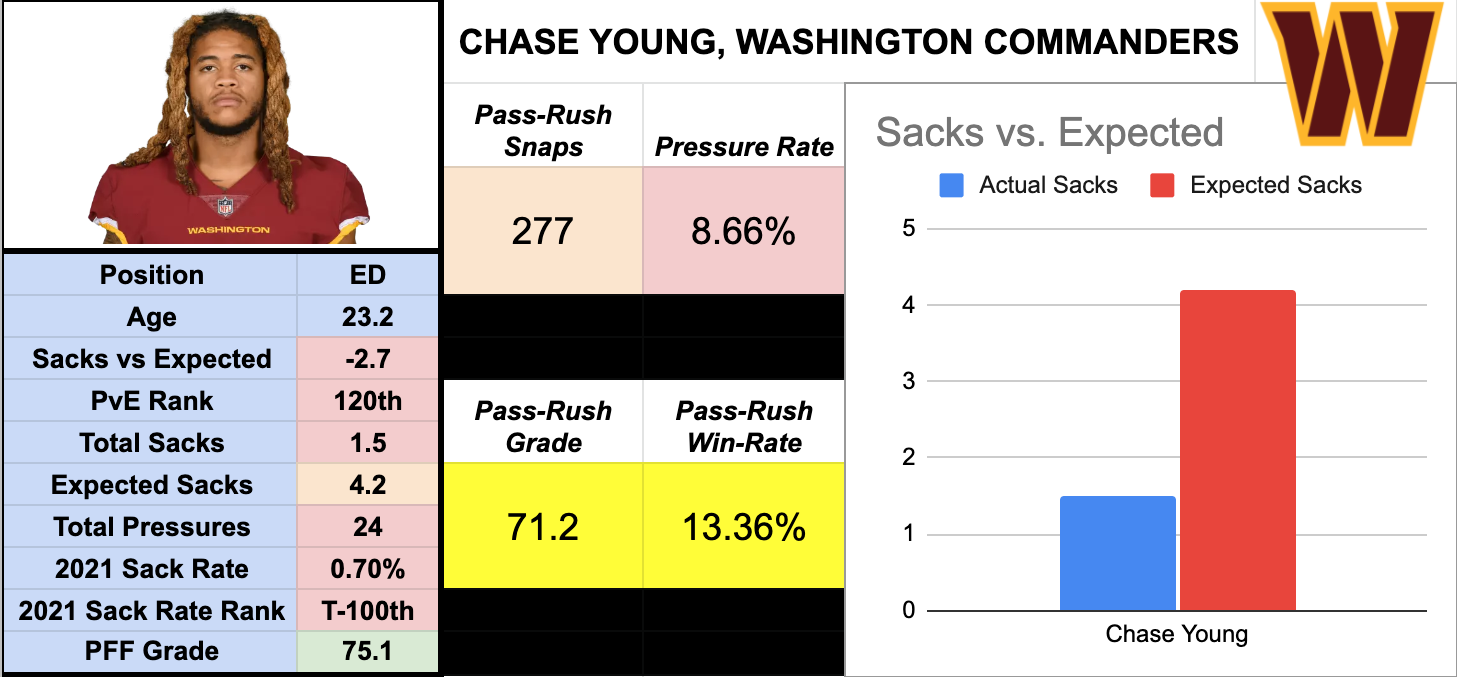 ---