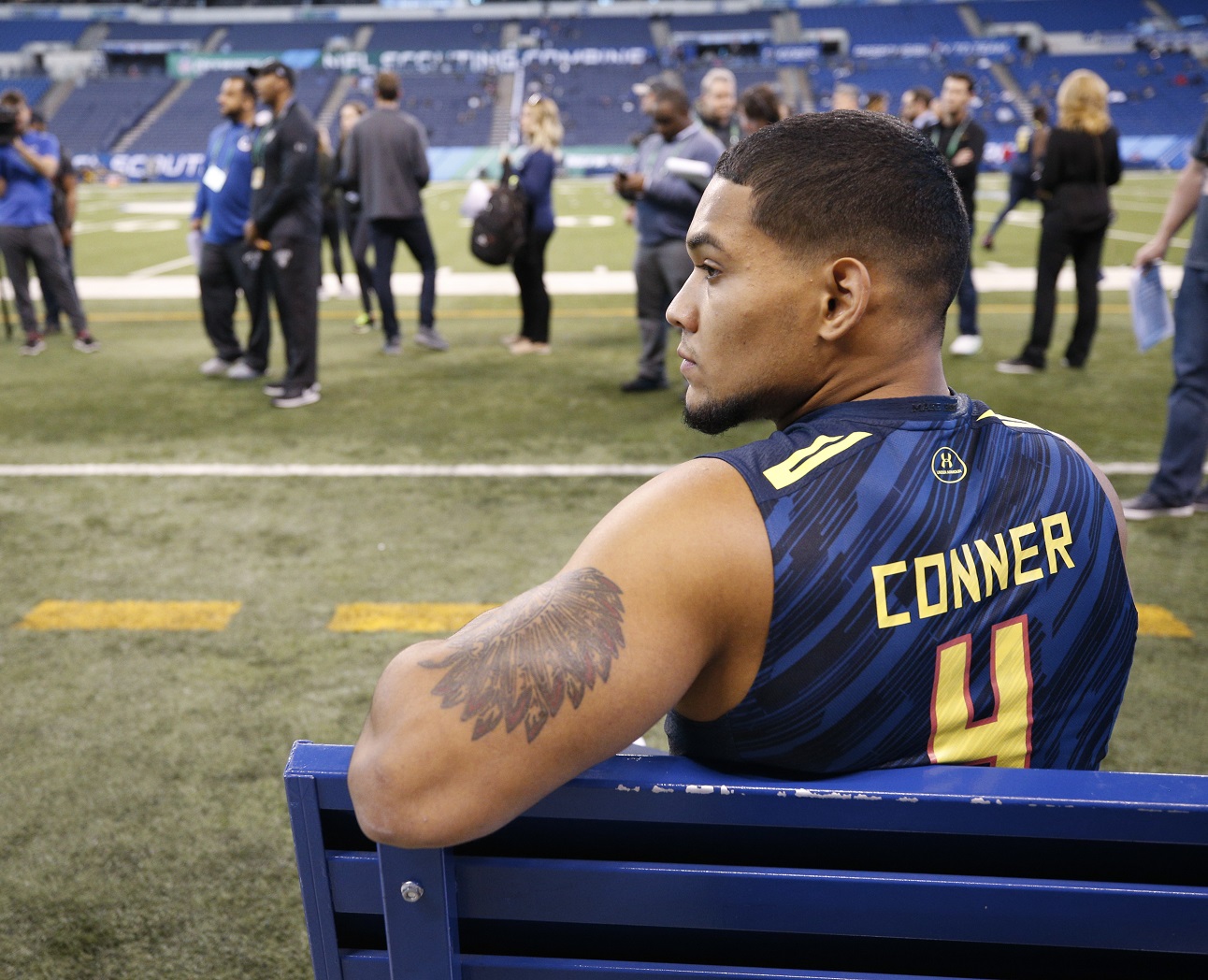 INDIANAPOLIS, IN - MARCH 03: Running back James Conner of Pittsburgh looks on during day three of the NFL Combine at Lucas Oil Stadium on March 3, 2017 in Indianapolis, Indiana. (Photo by Joe Robbins/Getty Images)
When it comes to assessing rookies in the fantasy community, we tend to think we have a pretty good grasp on which players will make the biggest fantasy impact. However, each year we invariably get it wrong with some of the bigger names, while missing on one or two less-heralded types who seemingly come out of nowhere.
Consider that in 2015, David Johnson was going off draft boards in the 11th round, after the likes of Knile Davis and David Cobb. In fact, Cobb was presumed to have a relatively open path to success in Tennessee's backfield, only to wind up flaming out of the league about as quickly as former teammate Bishop Sankey, the first running back selection of the 2014 NFL Draft. Just last year, we saw Jordan Howard go from undrafted in fantasy to rookie Pro Bowler after rushing for 1,313 yards (752 after contact) and a 5.2 YPC average. Similarly, Michael Thomas was the 50th receiver off the board in fantasy drafts last summer, whereas Laquon Treadwell was going earlier on the strength of being a first-round pick in the 2016 NFL Draft; Treadwell went on to catch just one pass, or, 91 fewer than Thomas who rose right to WR1 status.
We'll undoubtedly get it wrong again this year with the latest rookie crop. But months from now when your friends complain that "Breakout Rookie X was on nobody's radar," perhaps you'll recall this article as you hoist your league trophy. Here are a few deeper names to circle as late-round fliers.
Running back
James Conner, Pittsburgh Steelers
(RB68; 14th round)
Path to success: As DeAngelo Williams has proven, a Le'Veon Bell injury (or suspension) can open the door for a massive fantasy payoff for those who handcuff the Steelers backfield. In the 12 games Williams started and finished since 2015, he was basically given the same bell-cow workload (pardon the pun) and averaged 23 PPR points. I figured this would be too obvious a name to be considered a "sleeper," but 16 other rookie running backs are being drafted before hometown hero Conner, and Steelers' offensive coordinator Todd Haley has shown that he's not afraid to lean on a backup. As a Bell owner, it pains me to even mention Conner's name around my dynasty leaguemates.
An all-around threat, Conner graded fifth-best in this year's RB draft class in yards per route run and was sixth in breakaway percentage – he averaged 5.6 YPC over his three-year career at Pitt and scored 26 TDs in 2014, when he was PFF's third-highest-graded runner, behind only Ezekiel Elliott and Melvin Gordon. Working his way back from a torn MCL in 2015 and then a Hodgkin's lymphoma diagnosis, it took Conner some time to regain his form. But one more year removed, if he's anywhere near his prior level, then the Steelers got themselves quite the steal.
I'm drafting him before: Dion Lewis (13th round), James White (12th), Jeremy Hill (10th)
Aaron Jones, Green Bay Packers
(Undrafted)
Path to success: Depending on how you (and the Packers) view Ty Montgomery, there is a pretty significant opportunity for the taking in Green Bay's backfield. A converted receiver and return specialist, Montgomery hardly saw the field last season until injuries to Eddie Lacy and James Starks thrust him into the backfield in Week 6. Still, he eclipsed 10 carries only once.
Fellow rookie Jamaal Williams (BYU), a fourth-round pick in April's daft, carries a 10th-round fantasy ADP at the moment, but don't sleep on former UTEP star and fifth-round selection Jones, who is going undrafted in fantasy. Jones ranked inside the top-20 in this year's RB draft class in virtually every category, including third in breakaway percentage and fourth in yards after contact. Whereas Williams relies on vision and power to make up for what he lacks in athleticism, Jones is a home-run hitter (7.7 YPC) who will make it hard for Mike McCarthy to keep off the field if he can prove his worth in pass protection.
I'm drafting him before: Robert Turbin (14th), Rex Burkhead (13th)
Matt Breida, San Francisco 49ers
(UND)
Path to success: Matt Who? Whereas Joe Williams carries a 12th-round ADP, there is another rookie RB in San Francisco who is currently going undrafted. It's also worth noting that our analysts had Williams outside the top-60 RBs of the 2017 draft class in terms of overall grade (65th), run grade (60th) and receiving grade (71st). Meanwhile, Breida put up video game-like numbers at Georgia Southern and then posted the highest SPARQ score among this year's draft-eligible RBs (he also ran a 4.39 40).
Matt Barrows of The Sacramento Bee observed that Breida had more highlights than Williams (and Carlos Hyde) at spring practices, with Barrows noting Breida's pass-catching ability in particular, an area that Williams was not asked master at Utah. Kyle Shanahan has been known to feature multiple running backs, but he's also not shy about leaning heavily on a late-round rookie (see Alfred Morris' 1,613 rushing yards as a sixth-round rookie in 2012).
I'm drafting him: With my last pick before defense and kicker  
Digging deeper
Jeremy McNichols, Tampa Bay Buccaneers
Doug Martin still has three games of his suspension to serve, and Charles Sims failed to capitalize on his opportunity last season. Enter another Boise State alum, McNichols, who has a solid all-around skillset with 88 combined catches over the last two seasons upon taking over for Jay Ajayi. He also averaged 3.6 yards after contact last year, grading out as PFF's No. 3 runner.
Wayne Gallman, New York Giants
It's Paul Perkins' job to lose, but Clemson's Gallman could carve out a short-yardage role given his size (6-0, 215) if he can work on lowering his pad level (only 2.98 yards after contact). Our draft analysts believe that Gallman's jump cut and ability to quickly plant and get vertical would translate well to the Giants' zone-blocking scheme, although he doesn't offer much in the passing game.
Donnel Pumphrey, Philadelphia Eagles
Standing at 5-8, Pumphrey may resemble new teammate Darren Sproles, but Pumphrey also ran a pro-style offense at San Diego State en route to become the all-time FBS rushing leader. The No. 6-graded rusher in this year's draft class, Pumphrey proved his mettle in between the tackles, forcing 74 missed tackles (third-most) and averaging 3.4 yards after contact. Pumphrey has consistently stood out during practices, and it's not like the Eagles have a settled backfield situation.
Wide receiver
Curtis Samuel, Carolina Panthers
(WR67; 14th round)
Path to success: The Percy Harvin comps are real, and the Panthers will find ways to get the ball into the hands of new slot playmaker =Samuel (another Urban Meyer disciple). Utilized mostly as a running back at Ohio State, Samuel ranked fourth in the draft class in breakaway percentage (53.8 percent) and third in yards per route run (2.76). A nightmare in the open field, he was productive running various routes when split as a receiver, and he's still got plenty of room to grow. Just check out how he uses this jab step to turn a quick slant into an 80-yard score.
He's more of a scratch-off in DFS or MFL10s than a reliable starter in redraft, but the potential for the occasional week-winning performance is certainly there. Whether used as a receiver or a runner, Samuel's 4.31 speed and quick cutting ability will show up on Sundays.
I'm drafting him before: Mohamed Sanu (14th), Allen Hurns (14th), Sterling Shepard (13th)
ArDarius Stewart, New York Jets
(UND)
Path to success: In addition to parting ways with Eric Decker, the Jets also have Brandon Marshall and his 128 targets to replace from last season. The quarterback situation is less than ideal, but few rookie receivers have as good a shot to get on the field as Stewart, who still produced 54 catches for 864 yards and eight TDs catching passes from freshman Jalen Hurts at Alabama this past season. Stewart averaged a ridiculous 10.7 yards after catch, as he consistently used his quick feet and acceleration to turn short completions into big gains.
While Stewart sometimes tried to do too much, running east-west instead of north-south, the Jets simply don't have another playmaker of his ilk. Our draft analysts like his chances to contribute right away and develop into a solid No. 2 receiver at the pro level if he can handle man-press coverage. A heady receiver, Stewart showed good zone recognition and how to settle into open windows. New coordinator John Morton will introduce some West Coast passing concepts, which Stewart learned under Lane Kiffin in Tuscaloosa.
I'm drafting him before: Tavon Austin (14th), Rishard Matthews (12th)
Chris Godwin, Tampa Bay Buccaneers
(UND)
Path to success: Former Nittany Lion Godwin ranked 10th in this year's draft class with 14 "deep" catches (20-plus yards downfield), regularly using his size (6-1, 209) and leaping ability (36 inches) to win at the catch point on contested throws. In fact, seven of his 11 TDs this past season came on deep passes. Godwin also graded well as a blocker (10th-best), which should further help him get on the field as a rookie.
He'll have to compete for targets alongside Mike Evans, DeSean Jackson, O.J. Howard and others, but Godwin profiles as an X receiver with just enough speed (4.42) and wiggle to get open against NFL defenders. He averaged 1,042 receiving yards and eight TDs over his final two college seasons, with one-third of his 2016 receiving yardage coming via the post route.
I'm drafting him before: Ted Ginn (14th), Taylor Gabriel (11th), Marvin Jones (10th)
Digging deeper
Carlos Henderson, Denver Broncos
With a limited route tree at LA Tech and two established starters in Denver, he'd likely need an injury to become fantasy-relevant in redraft, but Henderson forced twice as many missed tackles (48) as the next-closest receiver in the nation last year.
Malachi Dupre, Green Bay Packers
Armed with an intriguing combination of size (6-2) and deep speed out of LSU (43 percent of his yards the past two seasons were on deep catches), Dupre is already challenging for the No. 3 WR role in Green Bay.
Dede Westbrook, Jacksonville Jaguars
The Biletnikoff Award winner out of Oklahoma averaged the second-most yards per route run (4.08) in the nation last year and was considered by our analysts the top downfield threat in the 2017 draft class.
Another big (6-4, 218) and fast (4.5 40) type, NIU's Golladay has quickly worked his way into the starting conversation by impressing throughout offseason workouts.