(With training camps starting soon around the league, we're looking ahead at the 2019 fantasy football season and attempting to answer the burning questions around the league. For each team, we'll ask, and hopefully answer, 3-4 questions about their season to come in fantasy. This is 100 Questions.)
The Pittsburgh Steelers haven't been the best offense for fantasy in recent years, but they've been one of them. Just last year, the offense put up the No. 3 fantasy quarterback and three of the top-17 flex options. This year, three of those four players return, but the super-duperiest of the superstars is gone now, the quarterback is 37, and while the offense should be all rights still be excellent, we have more questions than we've had in a while.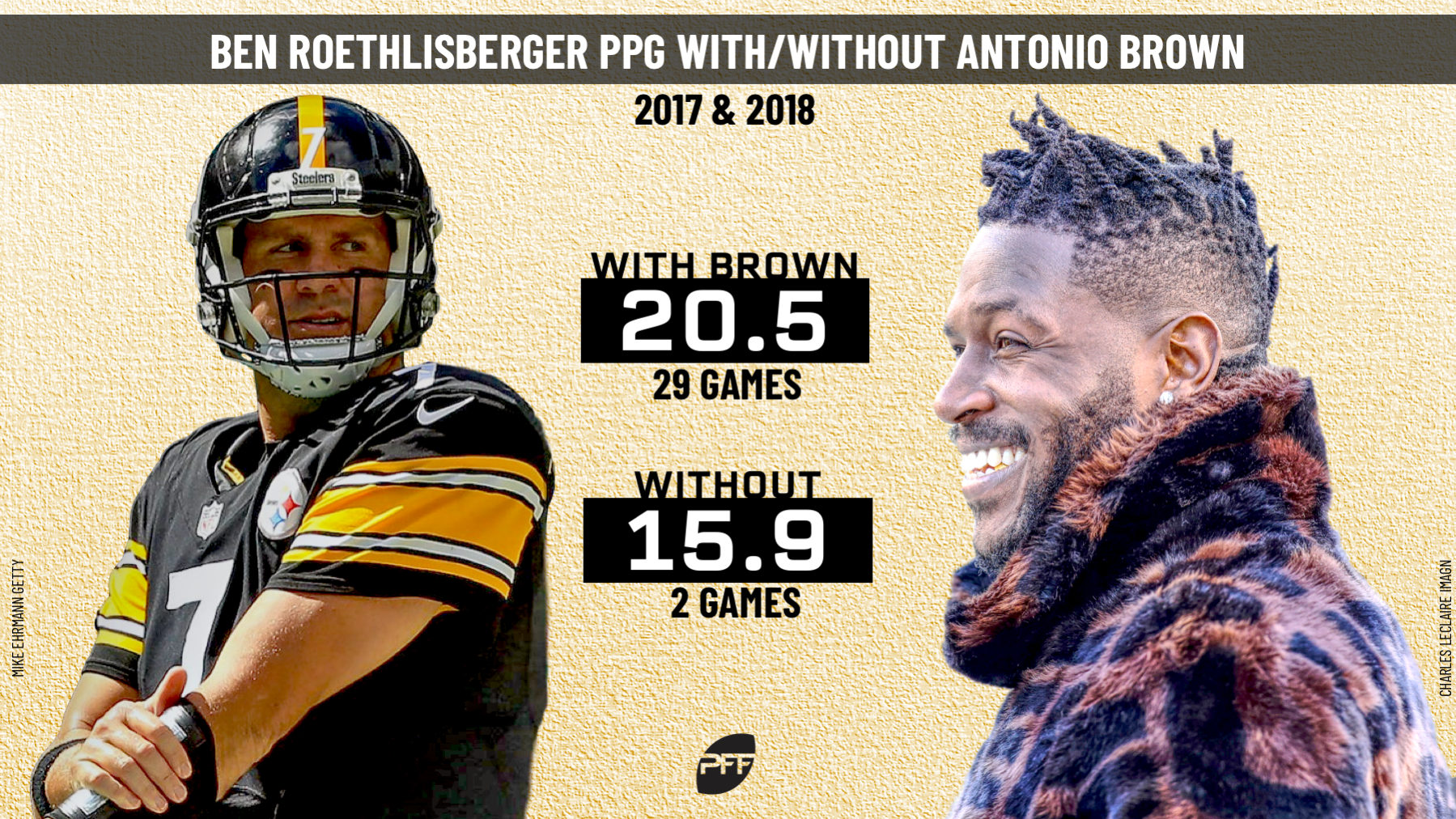 Nobody has more passing yards than Roethlisberger across the last two years (and not by a little; Matt Ryan is 361 yards behind in second place). Only Julio Jones and DeAndre Hopkins have more receiving yards than Brown over that span. Only Russell Wilson has more passing TDs than Roethlisberger; nobody has more receiving touchdowns than Brown. Translation: Roethlisberger's been a great fantasy option, with a lot of that coming from Brown. Brown's now in Oakland. Are you scared?
Best guess: Obviously, you have to ding him. Roethlisberger actually fared better when throwing to JuJu Smith-Schuster last year (passer rating: 100.6) than Brown (90.4), but this is still Antonio Brown he's having to replace. Add to that the fact that Roethlisberger is 37, has only played 16 games once since 2014, and has only had one other season in his career within 70 points of his 2018, and it's clear why he's only the No. 14 quarterback in our PFF Fantasy staff rankings.
(More: Read our Scott Barrett on what Antonio Brown's departure means for JuJu Smith-Schuster.)
#36: Is James Conner the new Le'Veon Bell, or was his 2018 a matter of a Bell gameplan executed with a new face?
Our Scott Barrett wrote in April that, for all intents and purposes, Conner was the new Bell for fantasy. It stood to reason; Conner's PPR points per game would have been just shy of Bell's last three years, and his yards after contact per rush average was an improvement on Bell's 2017. Maybe he didn't carry Bell's upside, but he wasn't far off. And then the Steelers drafted Benny Snell, and then we heard rumors about a possible committee among those two and Jaylen Samuels, and things got complicated.
Best guess: Okay, so maybe not Conner doesn't quite have the upside of vintage Bell, but the committee talk is overblown. Conner wasn't exactly a superstar receiver — he did have 497 receiving yards (ninth-most in the league), but did so with a 60.9 PFF receiving grade that was 38th out of 53 qualifying running backs. Samuels was a better receiver, but lacked as a rusher. And Snell isn't much of a pass-catcher himself. Bet on Conner to still be the bell cow or close, with Samuels as a receiving option and Snell the backup. Conner's still an RB1 (he's eighth in our staff rankings), but without a Bell-esque ceiling.
#37: Do you want the No. 2 receiver in Pittsburgh, whoever it ends up being?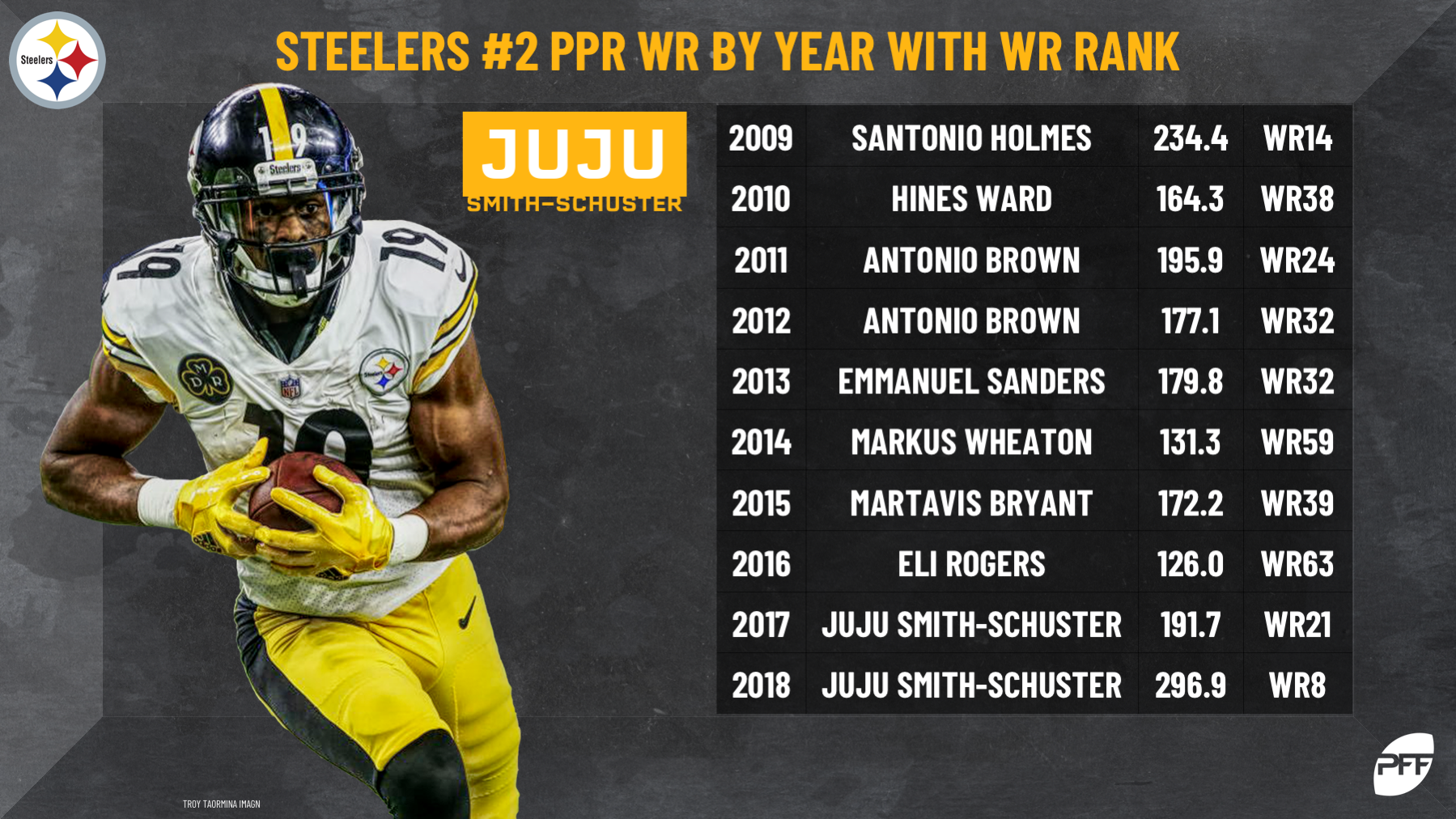 The days of highly productive second Steelers receivers didn't start with Smith-Schuster; the team has had its No. 2 receiver finish in the top 40 in PPR scoring in eight of the last 10 years, including No. 8 (last year), No. 21 (2017), No. 24 (2011), and No. 14 (2009). Yes, it helps to have talents like Brown, Smith-Schuster, Mike Wallace, Santonio Holmes, and Hines Ward, but this is an offense (and a quarterback) that makes for multiple productive receivers.
Best guess: First off, we need to decide if there is a clear-cut No. 2 receiver. If it becomes some amalgam of Donte Moncrief, Diontae Johnson, and James Washington, then a lot of productivity spread over several a bunch of second-tier guys helps nobody. But so far, all reports out of Pittsburgh are that Moncrief has already made himself into the clear-cut frontrunner for the job behind Smith-Schuster. Assuming that's correct Moncrief — currently drafted in the 50s among wide receivers — could be a huge draft-day bargain.