(With training camps starting soon around the league, we're looking ahead at the 2019 fantasy football season and attempting to answer the burning questions around the league. For each team, we'll ask, and hopefully answer, 3-4 questions about their season to come in fantasy. This is 100 Questions.)
Year 1 of the Jon Gruden experience for the Oakland Raiders wasn't exactly an overwhelming success, with a 4-12 record and only one win before Week 11. With injury to Marshawn Lynch, the trade of Amari Cooper, and Jordy Nelson hitting the career wall, the team's list of fantasy contributors was underwhelming as well, with only tight end Jared Cook offering much for fantasy managers to hang their hats on.
The Raiders might continue to be a below-average team overall, but the team has taken great strides to overhaul that floundering offense. The team drafted a new running back in the first round, and between free agency and the draft, there are five new names in the receiver corps who could offer fantasy value if things break their way. Year 2 under Gruden might not be great, but it will definitely be more interesting.
#48: Antonio Brown is entering his first Ben Roethlisberger-less season; should that worry us?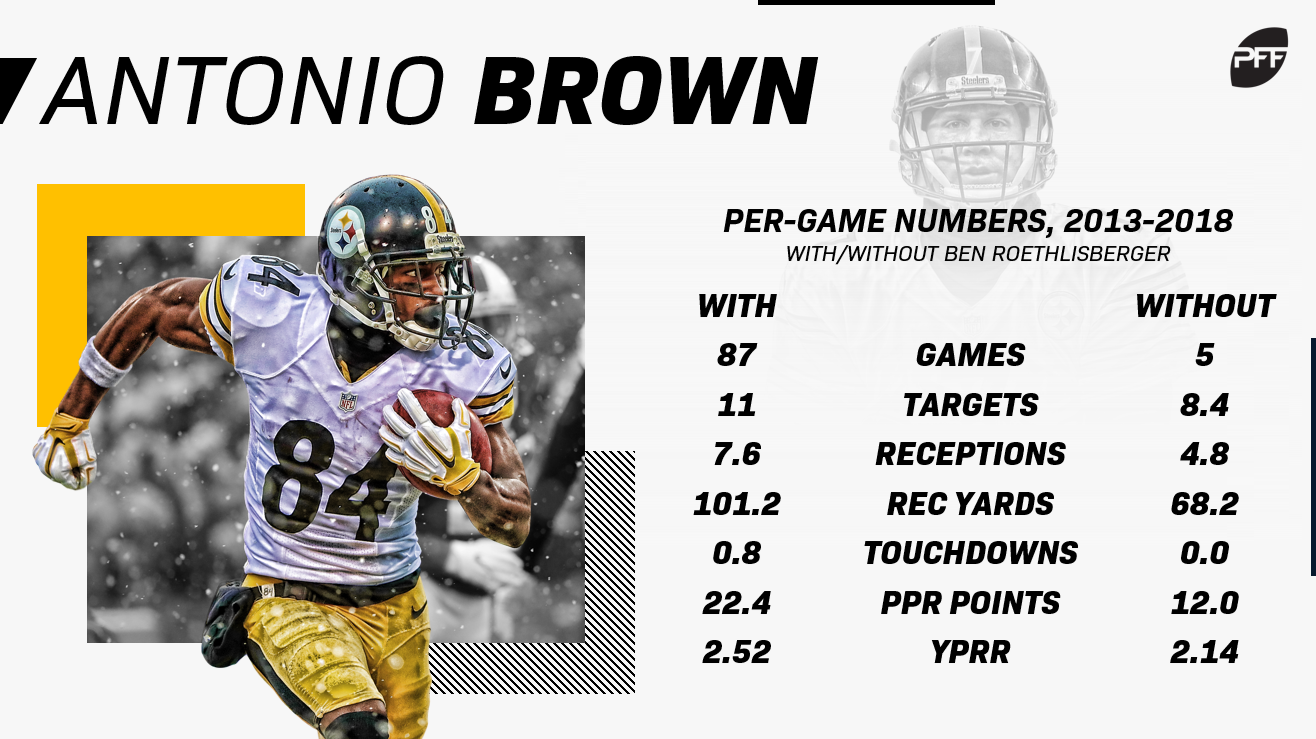 We covered the Steelers without Brown earlier in this series, but Brown is without his ex-team as well, and more notably, without the only No. 1 quarterback he's ever had. Derek Carr has had his moments in the league (notably his MVP consideration season in 2016), but the last two years have been far less exciting. Over those two seasons, Carr sits at 19th in QB fantasy scoring, notably with fewer points than Patrick Mahomes in that span. Carr has made reasonable use of high-end receivers like Cooper and Michael Crabtree in the past, but he's never had someone like vintage Brown.
Best guess: Going from Roethlisberger to Carr is definitely a concern for Brown, as is the general inferiority of the Raiders, as is his increasing age, as is the argument that his 2018 was his worst season since he became his MVP self. That said, Brown is still in the upper echelon of fantasy receivers, if at the back end of it. He's currently the seventh receiver going in drafts (per Fantasy Football Calculator ADP) and also seventh in our PFF Fantasy staff rankings, and the only receiver who could really be argued to move ahead of him is Mike Evans. The day of Brown at No. 1 are probably done, but he's still near the top.
#49: How high can Josh Jacobs climb for fantasy as a rookie?
If you combine what Marshawn Lynch did last year before injury and what Doug Martin did after Lynch got hurt, you'd have 190 PPR points, good for RB20. And considering that was the unearthed husk of Lynch and the desiccating remains of Martin (and neither did much of anything as a receiver), you'd have to figure any running back with actual human parts would have a much higher ceiling. Enter Jacobs, the team's first-rounder this year out of Alabama. And with offseason signing Isaiah Crowell already lost for the year to a torn Achilles, his competition includes the returning Martin and re-signed Jalen Richard.
Best guess: Jacobs totaled 252 carries across his three college seasons and was only 143rd in carries last year. So his carry load could be a concern in 2019. But that's just about the only concern for a running back who is in line to fight for RB1 status this year. And yes, that's what I meant. Jacobs is going off the board 19th among running backs and comes in 17th in our staff rankings, but he's 15th in my personal rankings and (I believe) more likely to climb than fall. It's a better offense around him, an awful defense, and uninspiring backfield mates. Jacobs has ended up on a lot of my teams this offseason. Get him on yours.
#50: With Jared Cook gone, who is the Raiders tight end?
Cook was a bona fide star at tight end in 2018, something the Raiders haven't had a lot of in their recent history of productivity at the tight end position, and enters the coming season with as light a depth chart at the position as any team outside of possibly Buffalo and Jacksonville. Tight ends currently on the roster had a total of 46 receptions for 316 yards in the NFL in 2018, without a single individual player topping 100 yards.
Best guess: Every single report out of Oakland has Darren Waller as the favorite to be the No. 1 in 2019 ahead of names like Erik Swoope, Luke Willson, and Derek Carrier. Waller has a very light career (18 receptions for 178 yards and 2 touchdowns across four years) and is currently going undrafted in ADP and is only the No. 23 tight end in our staff rankings, but it is worth noting that he's carrying heavy buzz, and our Scott Barrett at the least is buying in, ranking him 17th. Odds are heavily in favor of the Raiders having no tight end drafted, but if Waller has any kind of production in Week 1, he'll be a heavy waiver pickup heading into Week 2, and for good reason.