(With training camps starting soon around the league, we're looking ahead at the 2019 fantasy football season and attempting to answer the burning questions around the league. For each team, we'll ask, and hopefully answer, 3-4 questions about their season to come in fantasy. This is 100 Questions.)
For better or worse, the New York Giants have an argument as the most interesting team in the NFL. And that holds true for fantasy as well, as even as the team's NFL fortunes have turned south in recent seasons, the team has at times had very noteworthy fantasy names at running back, wide receiver, and tight end … and yes, even quarterback at times (Eli Manning was a top-seven fantasy quarterback as recently as 2015).
So even as the Giants enter the 2019 season with a Vegas over/under win total of 5.5 (third-worst in the league), the team carries massive fantasy potential at multiple positions. Giants fans might get frustrated, but fantasy managers can have fun.
#54: Is there fantasy potential left in Eli Manning? Or will it be Daniel Jones time in 2019?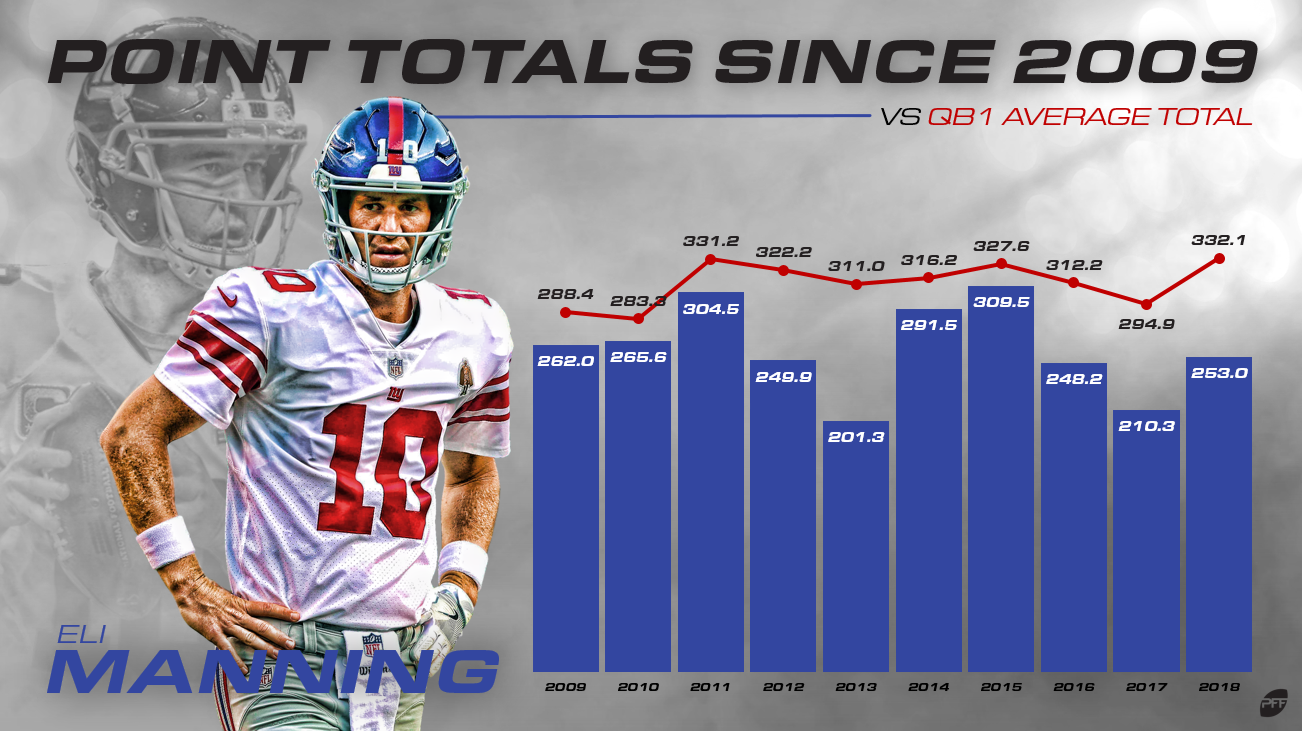 As mentioned above, Manning isn't very far removed from an excellent fantasy season, putting up 309.5 fantasy points in 2015 and ranking seventh. He plummeted to 210.3 points in 2017 before rebounding to 253.0 last year, but since the QB1 average went up almost 40 points at the same time, his climb isn't as impressive as the surface numbers might indicate. There have been rumors of the Giants eventually putting Manning out to pasture for years now, and those are only going to get louder since they took Duke QB Jones with the No. 6 pick in this year's draft.
Best guess: Having maybe the league's No. 1 running back, a top-six tight end, and two strong wide receivers is always a blessing. Then again, Manning arguably had an even stronger supporting class last year and only finished 17th. If I'm casting my best, I think Manning actually starts all 16 games in 2019 before moving to the bench or another team in 2020. That said, he's currently going undrafted (per Fantasy Football Calculator ADP) and is the No. 29 quarterback in our PFF Fantasy staff rankings, so he's essentially free no matter how you handle it. If you want to take a shot on a dead-cat bounce, be my guest, but definitely don't get yourself into a position where you are relying on Eli Manning.
On one hand, pairing the new signee Tate with holdover Giant Shepard feels redundant; both rank among the top five in slot targets across the last three seasons, and having two slot receivers in the same offense (to say nothing of tight end Evan Engram and big-time receiver RB Saquon Barkley) feels like overkill. On the other hand, despite running a lot of their routes from the same place, Tate and Shepard had very different average depths of target in recent seasons. In 2018, Shepard's aDOT was 10.74 yards, compared to 6.75 for Tate. That's the biggest gap between the two since Shepard enter3d the league, but he's had at least a one-yard aDOT lead over Tate every year.
Best guess: When Odell Beckham Jr. got hurt in 2018, Shepard got a chance to play out wide, and it went well enough; his yards per reception climbed from 12.3 to 16.7, while his after-catch average jumped from 4.6 to 5.6. It was only four games, but with Tate in town now, it seems like Shepard will have to go out wide more. The end result is a coin-flip between the two; not because they are robbing one another, but because they are in different roles. ADP has Shepard going nine spots ahead of Tate in current ADP, while Tate is six spots higher in our PFF Fantasy staff rankings. Pick your poison.
#56: Does Beckham's departure matter for Engram's fantasy stock?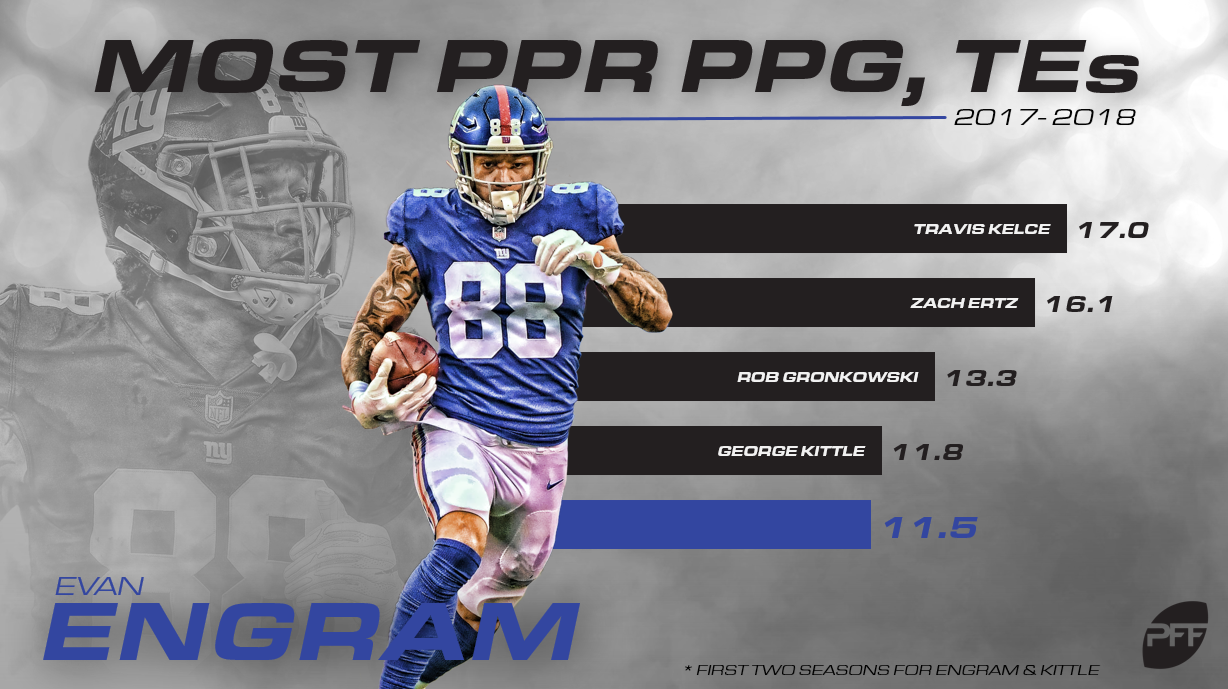 Over his two-year career, Engram has fared far better without Beckham in the lineup (13.3 PPR points, 7.6 targets per game) than with (8.9, 5.2). That has helped Engram to the fifth-best PPR-point-per-game average at the tight end position over those two years, behind (unsurprisingly) Travis Kelce, Zach Ertz, Rob Gronkowski, and George Kittle. So in theory, Beckham's departure should have Engram sitting pretty — that 13.3-point average would tie Gronkowski for third-best.
Best guess: Regardless of whether Beckham's departure helps, hurts, or has no impact on Engram, his draftable range is a small one in 2019. He's not likely to crack the top three of Kelce, Ertz, and Kittle. He's not likely to fall out of the next tier. In other words, Engram could be drafted as high as fourth among tight ends or as low as sixth. Personally, he's at the bottom of my rankings among that group, in sixth place behind O.J. Howard and Hunter Henry. That's also where he fares in ADP and our staff rankings. Beckham is gone, but Barkley and Shepard are still around, and Tate will get his share. I don't trust Engram to outperform the other members of his tier.