(With training camps starting soon around the league, we're looking ahead at the 2019 fantasy football season and attempting to answer the burning questions around the league. For each team, we'll ask, and hopefully answer, 3-4 questions about their season to come in fantasy. This is 100 Questions.)
After a 13-3 2017 season that saw the team come a game short of a Super Bowl appearance, hopes were high for the Minnesota Vikings in 2018. Instead, they finished 8-7-1, missed the playoffs, and ended up as one of the season's disappointments.
But that was for real football. For fantasy, things stayed interesting. The Vikings had two WR1 finishers, a TE1, a QB1, and while the best finishers out of the backfield was RB30, that can largely be blamed on injury; the top two finishers combined would have been a top-six finisher, if you accept some flawed math in the process. So the Vikings were a real-world disappointment, but fantasy managers were okay with the team.
#85: Can Dalvin Cook put it together in 2019?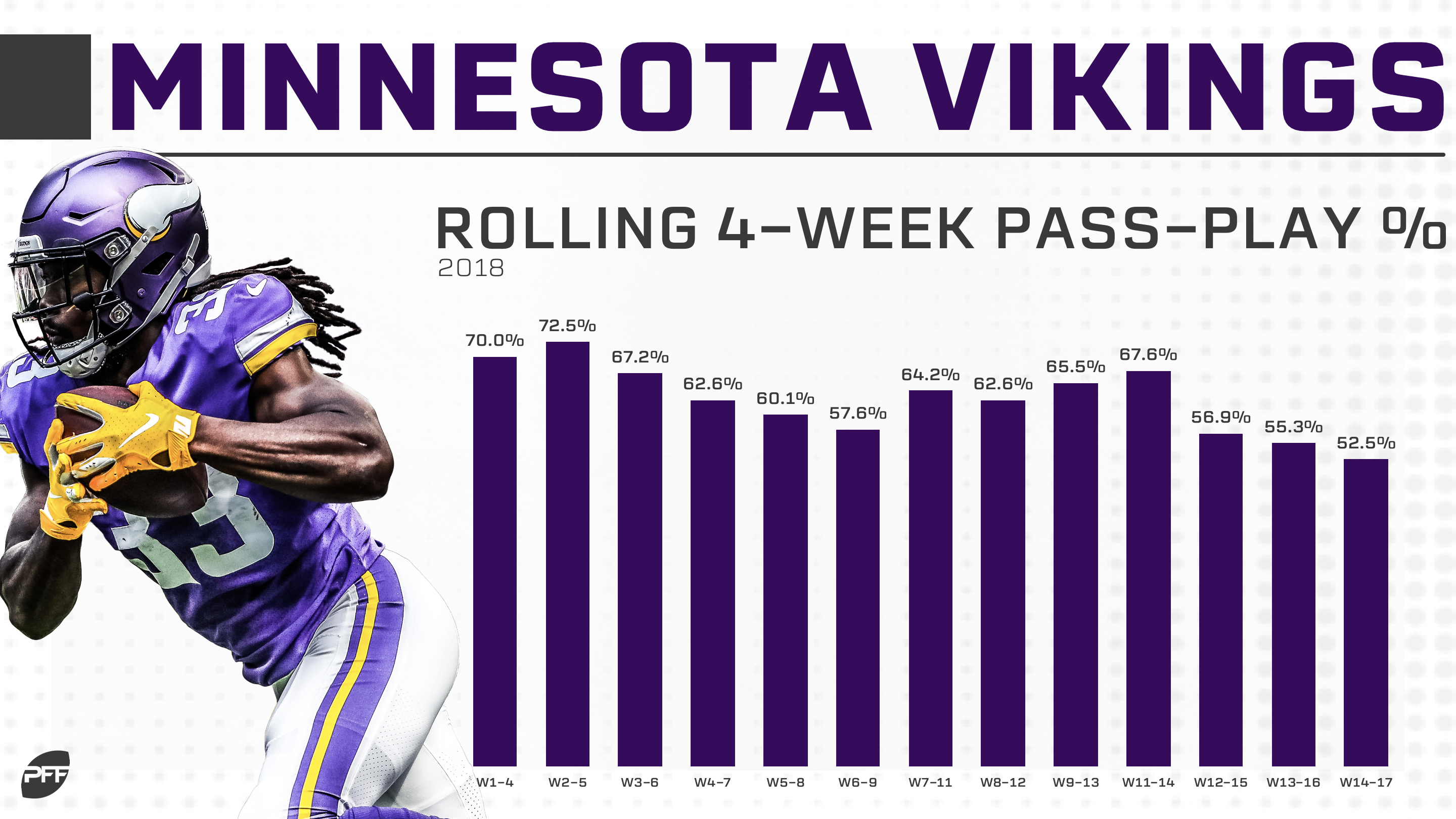 The Vikings got gradually run-heavier as the season went on last year. They pass it more than two-thirds of the time over the season's first month, then were at barely over half the time down the stretch. Due in part to injury, Cook topped 10 carries in a game exactly once on the season before December, but did so in each of the season's last four games. He was fantasy's RB6 from Week 12 on, with 596 scrimmage yards and four touchdowns. That almost exactly coincided with Cook's return to health. Entering 2019, Latavius Murray is gone to New Orleans, replaced by third-rounder Alexander Mattison.
Best guess: Obviously, a lot of Cook's immediate future is going to come down to how healthy he is. He's only played a total of 15 games over his first two seasons, disappointing for a guy who entered the 2017 draft with lots of hype. He's been good when on the field, and even better when fully healthy. There don't appear to be any lingering worries about his health heading into 2019, so we can judge him on his own merits. And as our own Scott Barrett noted when comparing Cook to fellow 2017 draftee Leonard Fournette, the merits are good, including the fact that Cook leads all running backs in forced missed tackles per touch across the last two seasons. He's going 10th among running backs in current ADP (per Fantasy Football Calculator) and is 11th in our PFF Fantasy staff rankings, and he can be that and offer a big ceiling to go with it. Late in the first round, Cook has plenty of appeal.
#86: So if the team is leaning on the run, are we downgrading Kirk Cousins?
After finishing as a top-10 fantasy quarterback each of his last three years in Washington (and the No. 5 each of his last two), Cousins joined Minnesota before 2018 and fell … all the way to 11th. Cousins actually put up the most fantasy points strictly as a passer (barely, but still) of his career last year, but it was accompanied by a drop in rushing success, with at least four rushing scores each of his last three years in Washington but only one in Minnesota. QB rushing touchdowns — especially when they don't come from real runners like Cam Newton — come with a healthy dose of good fortune, so you could argue it would only take slightly improved luck in 2019 for Cousins to rise right back to the upper echelons.
Best guess: If you realized there was a big implied "but…" at the end of that paragraph, you are very smart. Cousins might see more rushing luck in 2019, that much is true. But after tying his career-high in pass attempts a year ago, there's plenty of reason to fear that's going to drop. Over the season's first half, Cousins averaged 42.6 pass attempts per game, topping 45 three times and 40 five times. Over the last half, he averaged 33.1, topping 45 once and 40 twice. (And the Vikings won exactly four games in both halves, lest you blame it on gamescript.) All that explains why Cousins has dropped down in ADP, though his fall (down to QB20), though the scale of the drop might be too far — he's No. 14 in my personal rankings.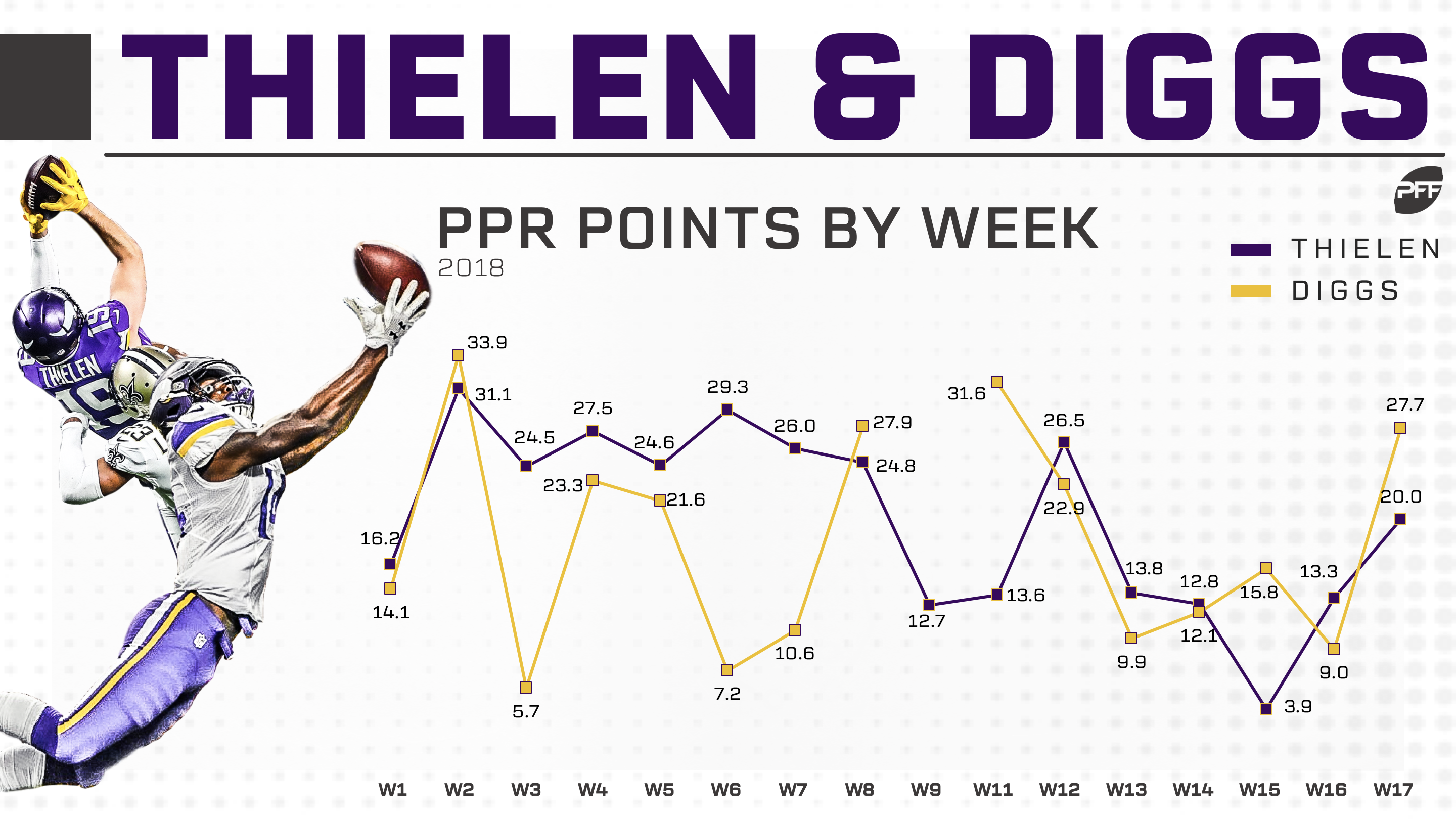 If you told a fantasy manager before the 2018 season that Thielen would finish the year as the No. 7 PPR receiver and Diggs would be WR11, nobody would have complained; on the contrary, they'd have been thrilled. If instead you had told the fantasy manager that after Week 8 — when Thielen was the runaway No. 1 receiver while Diggs was 13th and coming off injury — the reaction might have been different. Diggs was consistent, averaging 18.0 PPR points per game in Weeks 1-8 then 18.4 in Weeks 9-17. Thielen, though, saw his average go from 25.5 to 14.6. All told, it was a massive year for Thielen, a guy who entered the league undrafted, but people who traded for him during his hot stretch are allowed to be a little disappointed with how things went down the stretch.
Best guess: We had this exact debate last season, when the final decision of drafters was (barely) in Diggs' favor — he went 11th among wide receiver in drafts, compared to 14th for Thielen. They've almost flip-flopped this year, with Thielen currently going 10th and Diggs taking his turn at 14th. In our staff rankings, though, it's Diggs going higher, but by an even narrower margin — 11th to 12th. Ultimately, the answer to which one you should opt for in drafts is that it's basically a toss-up, and if the team passes enough, they're both good enough to support the draft pick.