(With training camps starting soon around the league, we're looking ahead at the 2019 fantasy football season and attempting to answer the burning questions around the league. For each team, we'll ask, and hopefully answer, 3-4 questions about their season to come in fantasy. This is 100 Questions.)
It's easy to forget that the Los Angeles Chargers tied for the best record in the AFC last year — better than the Patriots, same as the Chiefs. Only the Saints and Rams leaguewide had a better record than the Chargers' 12-4. But because they started 1-2, and because they were overshadowed from a publicity standpoint by their divisional rival, and because … well, no one goes to Chargers games, they aren't remembered as quite as dominant a team as they were.
Also working against the Chargers — publicity. For fantasy, the team had a top-10 running back, a top-25 running back, a top-12 receiver, and a top-14 quarterback. But I would wager that if you polled the general fantasy population, almost all of those players who have the general perception of having finished lower. This is an excellent team, performing almost anonymously.
#45: Mike Williams' quality almost has to fall off in 2019, but can his quantity make up for the difference?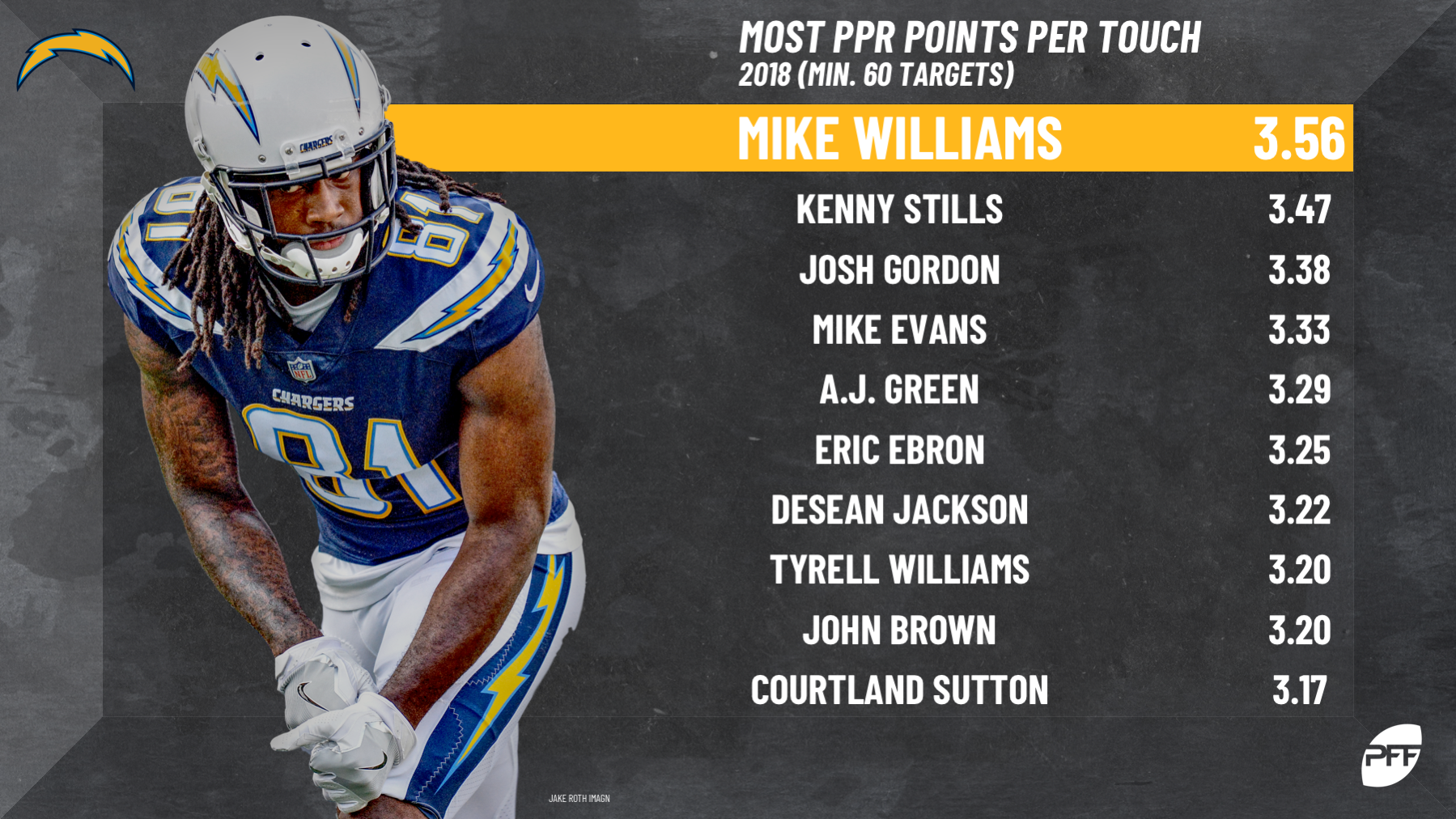 Williams scored 10 touchdowns on 64 targets in 2018. That was a 15.6% scoring rate that was best in the league (only Tyler Lockett joined Williams above 13%, min. 50 targets) and as sure a sign of impending regression as you're likely to find. On the other hand … it was only 64 targets. That was No. 2 on the Chargers — only the Bills and 49ers had fewer targets to their No. 2. Tyrell Williams is gone to Oakland now, opening up 63 targets that could go to Mike Williams — if Hunter Henry doesn't soak them up. There are a surprising number of moving parts in this equation.
Best guess: The fantasy drafting community is all in on Mike Williams at the moment — he's going off the board as the No. 25 (Keenan Allen is WR10) in Fantasy Football Calculator ADP, but he's 36th in our PFF Fantasy staff rankings. Because yes, he's likely to see an increase in targets in 2019, but considering the Chargers' slow pace (more on that shortly) and Henry's return (more on that shortly as well), it might not climb by as much as the drafting community might expect. Williams is an intriguing option (especially in best ball), but at present he's being drafted at or close to his ceiling.
#46: So Hunter Henry is returning — how high is his ceiling?
Rob Gronkowski (92.6) had a higher receiving grade than Henry's 90.7 in 2016-2017 combined. And that's the list. Travis Kelce was also at 90.7, and no one else with at least 100 targets topped 86.0. Now, the difference is that Kelce led the position in targets over those two years and Gronkowski carried a massive target load per game, while Henry didn't even crack the top 20 in TE targets over the two years, working with/behind Antonio Gates in the Chargers offense. Henry missed the entire 2018 regular season with a torn ACL, but is expected to be healthy for 2019, and Gates is (almost certainly) out of the picture now.
Best guess: Because of the aforementioned Tyrell Williams departure and the tight end position opening up thanks to Gates' departure, Henry's ceiling is easily the highest of his career (not to mention he's entering his de facto third year after the lost 2018). After the top tier of tight ends (Kelce, George Kittle, Zach Ertz, in whatever order you prefer), Henry is firmly in the next group that includes (again, in some order) him, O.J. Howard, and Evan Engram. By current ADP, Henry is going fifth, just after Henry; in our staff rankings, he's fourth. Per my own rankings, he's fifth — my main concern (if you can call it that) is the Chargers' pace — see the next question.
#47: The Chargers were positively slothlike in 2018. What up with that?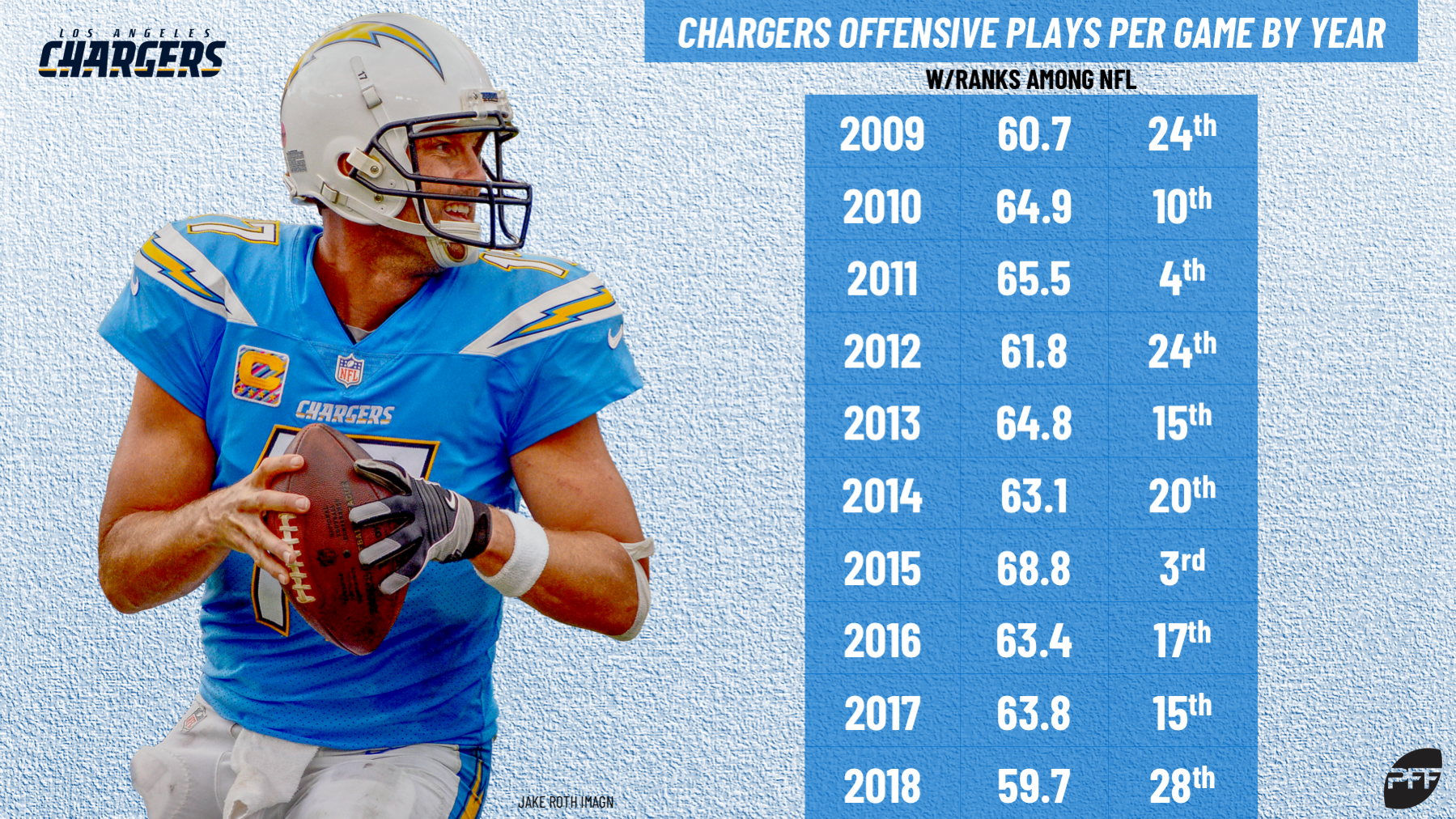 The Charger averaged 59.7 offensive plays per game last year. That was 28th in the league. The four teams that averaged fewer (Tennessee, Cincinnati, Arizona, Miami) went a combined 25-39. It was also about four snaps per game lower than their average any year since 2012. The end result of that is the Chargers ranked 19th in rush attempts last year (399) and 24th in pass attempts (512). Clearly, it worked for the Chargers, as the team's record indicated, but it goes a long way to explaining why the team had so few pass attempts for the receivers behind Allen.
Best guess: Changes in the Chargers offense this offseason: Tyrell Williams left, Antonio Gates (probably) retired, Hunter Henry returned. That's basically it. There's no obvious reason why the team would jump back up in offensive snaps; if anything, the defense got better, which could limit the snaps further. You'd expect the overall number to climb a bit, just because teams at the extremes generally drift back to the pack, but the fact that we aren't looking at a team likely to finish anywhere near the top half of the league in pace has to be of mild concern to fantasy managers.