(With training camps starting soon around the league, we're looking ahead at the 2019 fantasy football season and attempting to answer the burning questions around the league. For each team, we'll ask, and hopefully answer, 3-4 questions about their season to come in fantasy. This is 100 Questions.)
Sometimes, you can look at a team's numbers from the previous year and get a reasonable idea of what to expect from that team in the next. Just to pick a team, the Bengals, for example, are going to feature largely the same group of weapons in 2019 as they did in 2018, and as such you can get at least a rough idea of their 2019 outlook just by looking at their 2018 statlines.
For the Buffalo Bills in 2019, looking at the team's 2018 stats is only slightly more illuminating than reading the latest Goosebumps book. The team overhauled its offense this offseason, with three new running backs, two new wide receivers, and two new tight ends on the roster to factor into our discussions, not to mention several new offensive linemen. On top of that, the most solid holdover piece — quarterback Josh Allen — just had an out-of-nowhere rookie season that included being fantasy's No. 1 overall fantasy quarterback in Weeks 12-17 on the back of monster rushing numbers that no one saw coming.
So what can we expect from the Bills in 2019, and what should fantasy owners focus in on?
#1: What is Josh Allen?
You probably wouldn't have gotten too many weird looks if you had predicted before the 2018 season that Allen would finish as the No. 21 fantasy quarterback. Even accounting for the fact that Nathan Peterman was the Bills' starter in Week 1, that was a plausible outcome. But the path Allen took to get there was outlandish. It included missing four games, being the second-lowest-graded qualifying quarterback through Week 11, and then somehow evoking vintage Cam Newton as a rusher over the season's final month-plus.
Multiple totally rational minds can look at Allen's season and draw completely disparate conclusions. If what he did as a rusher (and to a lesser extent a deep passer) down the stretch is what we can expect from Allen for his career, he's a fantasy superstar in the making, and the Bills will go down as geniuses for trading up for him. If his rushing was more of a fluke and his passing flaws (only Mitchell Trubisky, Josh Rosen, and Ryan Tannehill had lower passing grades over the full season) continue to show, he could wind up a flash in the pan who is benched sometime this year.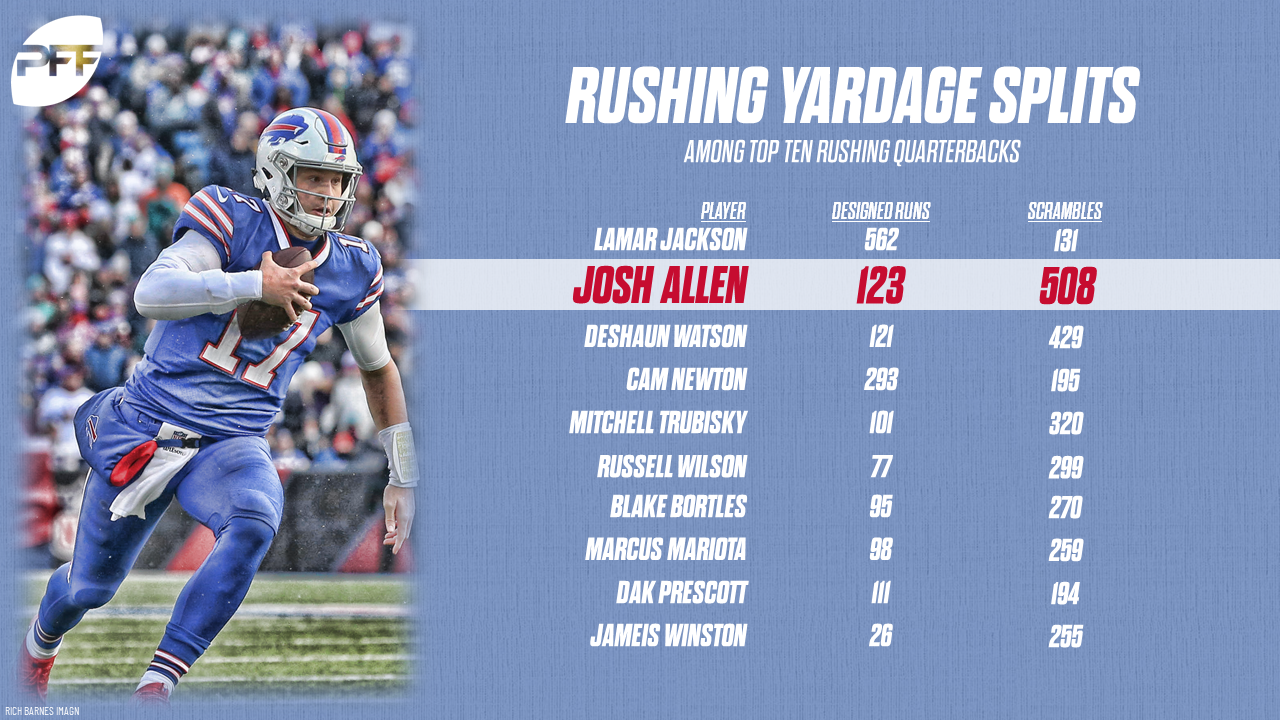 Best guess: Don't put too much stock into Allen's rushing. If a player exhibits a trait, he has that trait, but a huge portion of Allen's rushing yards came on scrambles (80.5%, most among the top rushing quarterbacks). One way or another, that's likely to come down, especially with the Bills likely having a better line in 2019. Cut Allen's rushing down by even a small chunk and his fantasy value drops. If you want to prioritize a mid-range rushing quarterback in 2019, go Lamar Jackson, not Allen.
#2: How should you prioritize the Buffalo receivers?
The pedigrees of the Bills' wide receivers could scarcely be more disparate. There's Cole Beasley, the old reliable, with exactly two career 100-yard games. There's John Brown, he of the big play but inconsistent results. There's Zay Jones, who had about the most miserable rookie year in 2017 you could imagine before a respectable 2018. And there's Robert Foster, who went undrafted and barely used through much of 2018 before topping 90 receiving yards four times in five games in Weeks 10-15.
So deciding how to approach that foursome heading into 2019 is a tough ask. Foster is the only one with a current draftable ADP (per Fantasy Football Calculator), going 65th among 67 drafted receivers, so fantasy managers have largely thrown their hands up and not even bothered.
Best guess: Perhaps the question here is whether to draft any of these guys at all, especially considering the aforementioned questions about Allen's status. If you're drafting for best ball, Foster or Brown is the pick, just because of their big play ability. In redraft? I'm probably avoiding the Buffalo receiving corps altogether, but if I have to land on one, it's Beasley in PPR, Brown in standard.
#3: Does LeSean McCoy have anything left?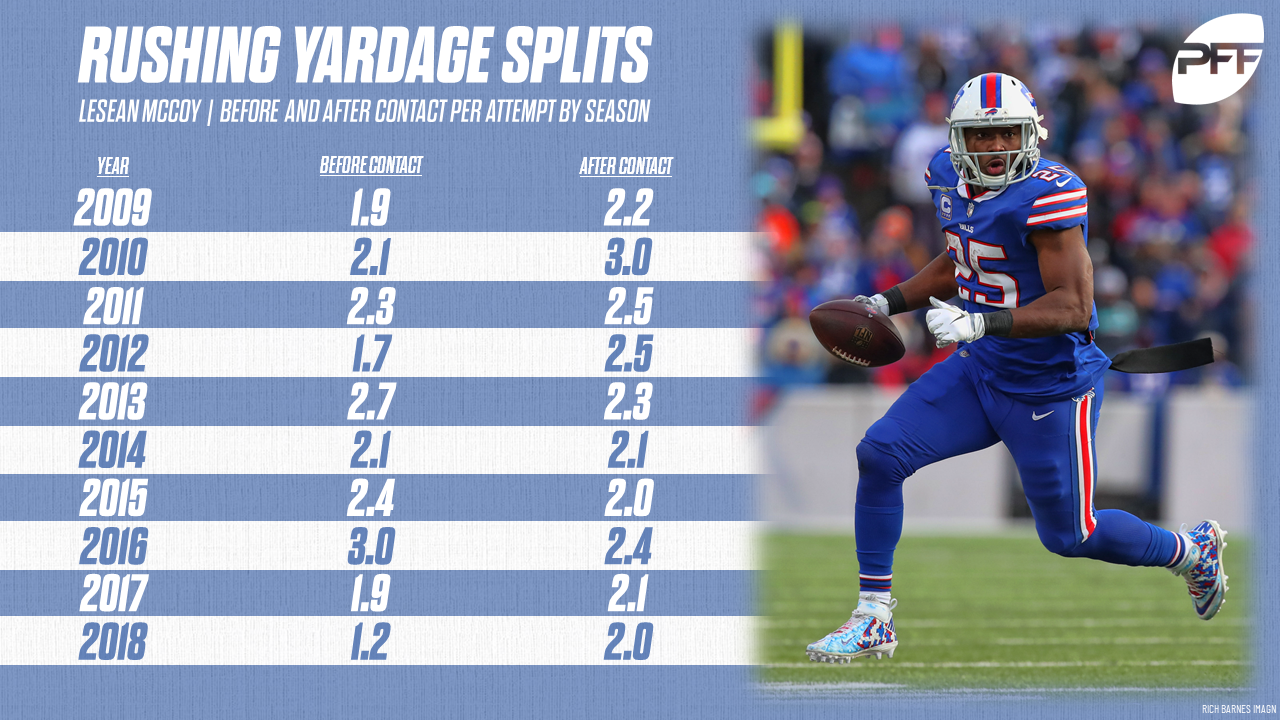 By most any measure, the best way you can describe McCoy's 2018 is "one of" his worst seasons. You could easily go a step further and call it genuinely his worst, especially if you look at his yards per carry — he averaged 3.2 after never dipping below 4.0 in a season before that. The subpar Bills line deserves a heavy dose of the blame there, but even McCoy's after-contact average hit a career low of 2.01 (albeit by much less than his previous low).
The Bills appear aware of all this (how could they not be?), as they signed Frank Gore and T.J. Yeldon and drafted Devin Singletary this offseason. The 2019 version of any of those players probably isn't as good as vintage McCoy, but then neither is the 2019 version of McCoy. Singletary is the likely future of the Buffalo backfield while Yeldon is the receiving option. McCoy? He's going to start the year as the primary ball-carrier, but with Gore and the others there to steal touches, his stock is lower than it's ever been.
Best guess: McCoy's current ADP is appealing enough. He's going in the eighth round, the 39th running back off the board, behind Ronald Jones and Jordan Howard and just ahead of Royce Freeman. At that price … sure, he's probably worth a flyer. But there's no ceiling to McCoy, not with his declining skills and crowded backfield. Definitely don't take him as your starter, but if you've loaded up elsewhere already and want to take a shot on McCoy as a fill-in, nobody's going to fault you. But don't count on any sort of bounceback out of the soon-to-be 31-year-old.