All offseason long, I've been making graphics for the PFF Fantasy Twitter account. As an amateur-at-best graphics maker, when I find a template I like, I run that thing into the ground. And one template I have liked is what I call the "spotlight" graphic, where I focus on one player and chart his fantasy points per game against some key PFF Signature Stat, usually his yards per route run.
I've done this because it's amazing how well yards per route run track with PPR points per game (check out DeSean Jackson, or Doug Baldwin, or DeAndre Hopkins, or T.Y. Hilton, or Dez Bryant, or any one of a bunch of those graphics). Generally speaking, I track guys who have historically done well, because … well, because it's more fun to be complimentary than to put out a graphic that is critical of a player. But for every exceptional YPRR number, there is a guy whose results leave something to be desired.
Twelve different qualified wide receivers averaged under 1.00 YPRR in 2017, making the list of guys who have done so 2006-present 85. Today, I wanted to look at the 12 from 2017 and investigate whether there's reason for optimism going forward.
Fantasy points per game
Since 2006, there hasn't been a single qualified wide receiver average under 1.00 YPRR and still top 10.00 PPR fantasy points per game. You'd think some inefficient receiver would have stumbled into enough touchdown luck in that span, but there isn't a single one. In fact, in 2017, we saw the single best fantasy points per game in a season of any receiver with under 1.00 YPRR: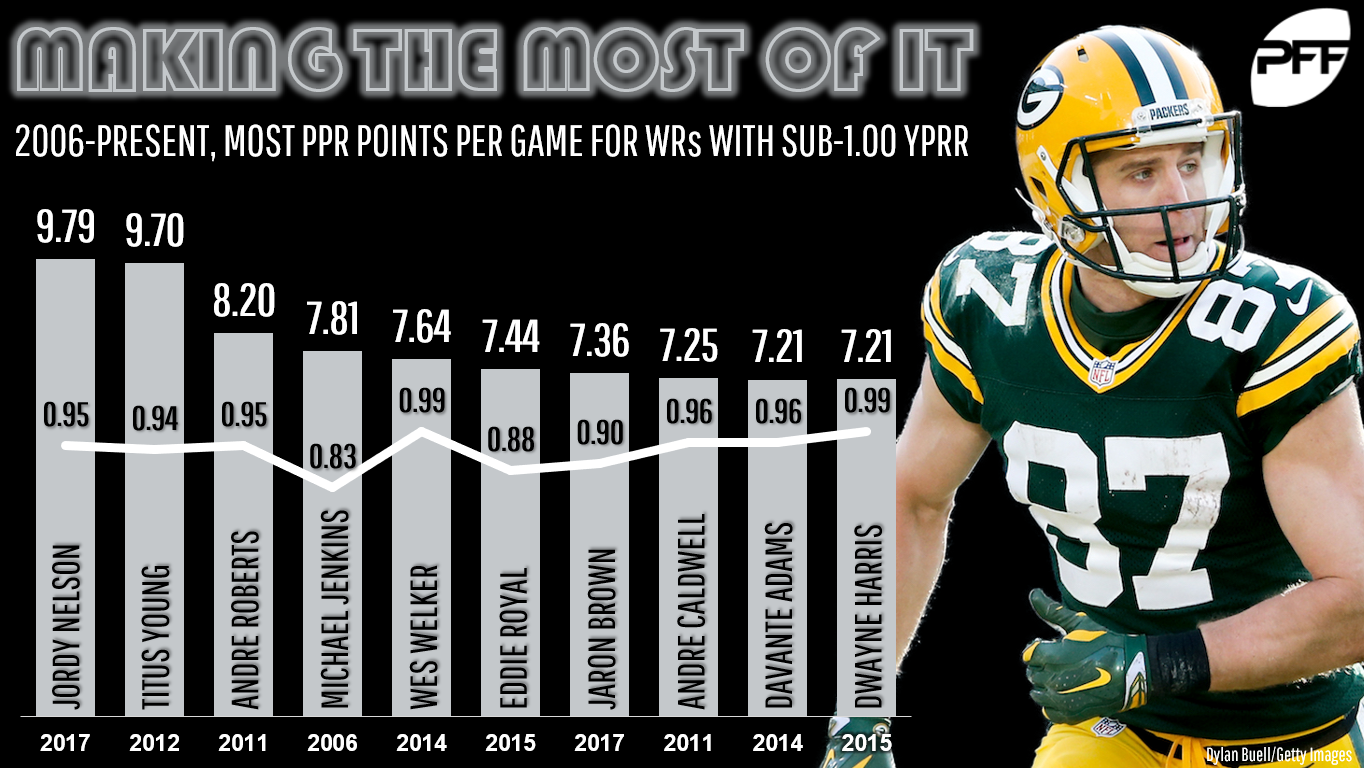 When "2017 Jordy Nelson" tops a list … that list isn't very impressive.
Following years
Before 2017, 73 receivers had a seasonal YPRR that started with "0." Only 29 of those receivers have ever had a qualifying season again in their careers after that. That includes Darrius Heyward-Bey — who had two seasons on the list that were followed by qualified seasons — Eddie Royal (3), Harry Douglas (2), and Mohamed Sanu (2). That leaves 24 unique names on the list, who had 55 combined seasons as qualified receivers after their sub-1.00 years.
Some notes:
Only five players on the list ever managed a season over 2.00 YPRR after their poor years:

Deion Branch in 2010, who had 2.14 YPRR after 0.97 in 2009
Heyward-Bey in 2011 (2.26 YPRR), after 0.38 in 2009 and 0.94 in 2010. He's never had higher than 1.19 YPRR in any other qualified season in his career.
Laurent Robinson in 2011 (2.15 YPRR), after 0.80 in 2010.
Lance Moore in 2012 (2.16 YPRR), after 0.99 in 2007.
Taylor Gabriel in 2016 (2.45 YPRR), after 0.88 in 2015.

That Gabriel season in 2016 came as a member of the NFC Champion Falcons after spending 2015 on the Browns with Josh McCown and Johnny Manziel at quarterback.

Veterans who drop below 1.00 YPRR don't often bounce back well — Torrey Smith dipped to 0.73 in 2016, the first season in his career below 1.00, then followed it up with 0.97 in 2017. Others:

Troy Brown had 0.86 YPRR in 2006, his final year
Joe Horn, 0.73, 2007, his final year
Dennis Northcutt, 0.91, 2009, his final year
Hakeem Nicks, 0.96, 2014 — he played six uninspired games in 2015 with a total of seven receptions
Wes Welker, 0.99, 2014 — he played eight games in 2015 and had 13 total receptions
Roddy White, 0.86, 2015, his final year

Only four players reached double-digit PPR points per game in 2017 after having previously had a sub-1.00 YPRR:
The 2017 names
Scott Barrett did a piece on the best and worst YPRR performances of 2017 last week, but here are the players from last season who put up under 1.00:
Aldrick Robinson, San Francisco, 0.98
Bennie Fowler, Denver, 0.98
Torrey Smith, Philadelphia, 0.97
Ricardo Louis, Cleveland, 0.96
John Brown, Arizona, 0.96
Seth Roberts, Oakland, 0.95
Jordy Nelson, Green Bay, 0.95
Roger Lewis, NY Giants, 0.94
Jaron Brown, Arizona, 0.90
Cole Beasley, Dallas, 0.85
Zay Jones, Buffalo, 0.69
Rashard Higgins, Cleveland, 0.66
Barrett's piece did the majority of the necessary work here, but Jones warrants special mention, as the second-lowest YPRR from a qualified rookie receiver since 2006. Maybe there's room for growth from Jones as he goes forward, but it's a fairly dubious beginning, and it's going to have to be his presence on a Buffalo offense that doesn't have many weapons that carries him at least for starters in 2018.