• Rookie running backs lead: Rachaad White received his first NFL start for the Bucs, while Isiah Pacheco took on an even larger role for the Chiefs.
• Veteran receivers return: Kenny Golladay and Brandin Cooks returned to action but didn't play as much as expected.
• Trey McBride will get a chance: The consensus top tight end of the 2022 draft class will now get an opportunity to lead the Cardinals, as Zach Ertz is expected to miss multiple weeks through injury.
Estimated Reading Time: 7 mins
---
PFF's fantasy football recap focuses on player usage and stats, breaking down all the vital information you need to achieve fantasy success in 2022. Here, we only touch on players who are relevant in fantasy football leagues.
These are my 10 biggest reactions to the games from the Sunday slate. To get a more in-depth breakdown, check out my full Sunday recap.

White received his first NFL start, taking over from Leonard Fournette as the lead back in Tampa Bay.
White took every snap on the first drive.

Fournette started the second drive. After that, the two mainly rotated by drive, although the drives were typically long enough for both players to play on most drives.

White got to end the first half and start the second half, which doesn't typically happen when a backfield has this kind of rotation.

White set a career-high in rushing attempts before halftime. 

He ended the game with 105 yards on 22 attempts.

Fournette suffered a hip injury in the third quarter.

White played 20 of a possible 25 snaps after the Fournette injury, with

Ke'Shawn Vaughn

giving White a break at times.

White could be the top waiver priority this week, regardless of the Fournette injury.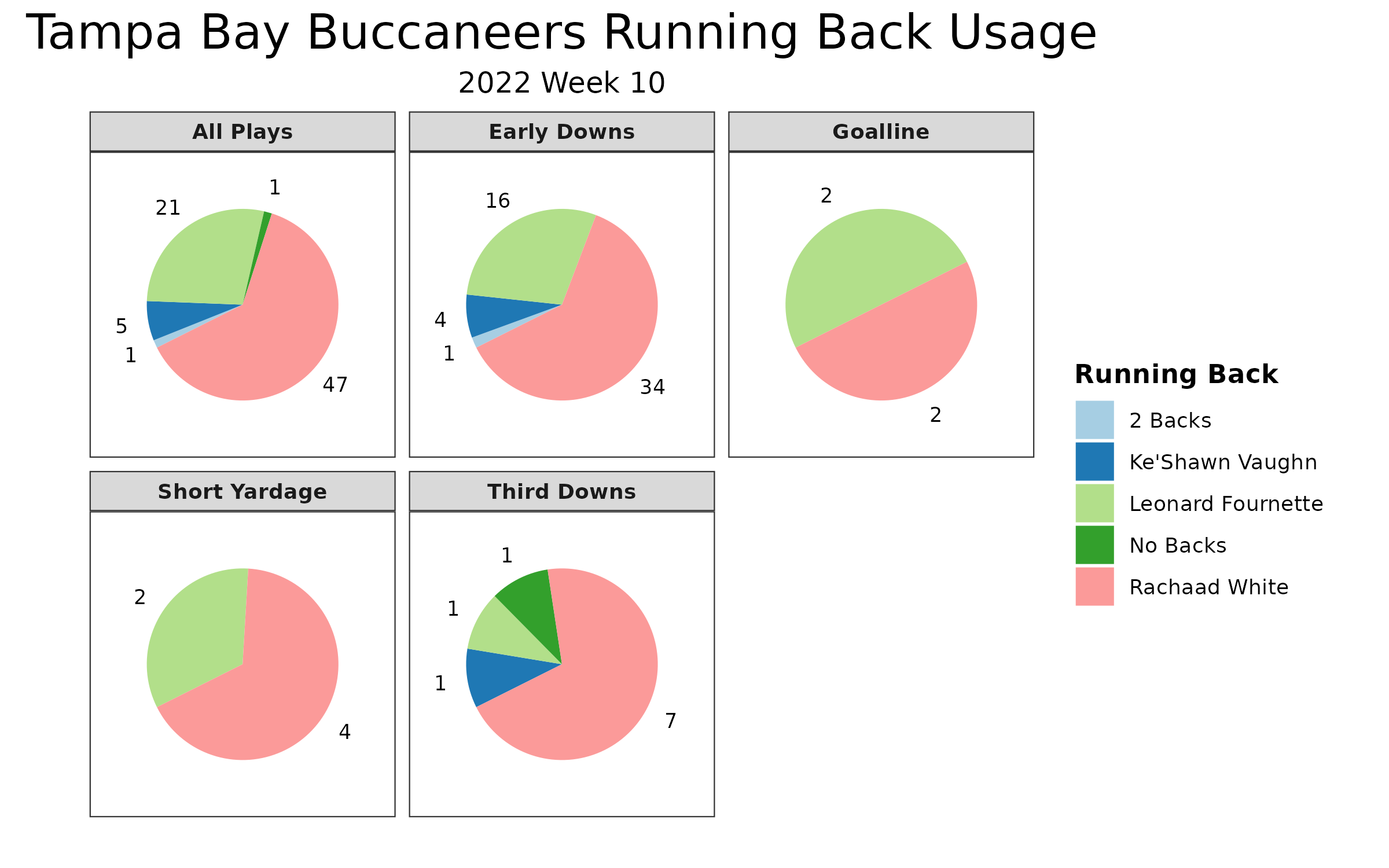 ---
Chiefs Three-Man Committee Down to Two
Isiah Pacheco started his third straight game for Kansas City, but this time he turned the Chiefs' three-man backfield into a two-person unit.
Pacheco took a clear majority of snaps on early downs, gaining 82 yards on 16 carries. 

Jerick McKinnon

remained the receiving back and the short-yardage back.

Clyde Edwards-Helaire

's 

playing time has generally declined over the past two seasons, but this is a new low. He didn't receive a single carry in Week 10.

The Chiefs have the

fifth-easiest schedule

over the rest of the season. They should have several more games with scripts that will allow them to go run-heavy late in the game.

Pacheco can not only be added, but he can also be put in starting lineups when the Chiefs are expected to dominate their opponents.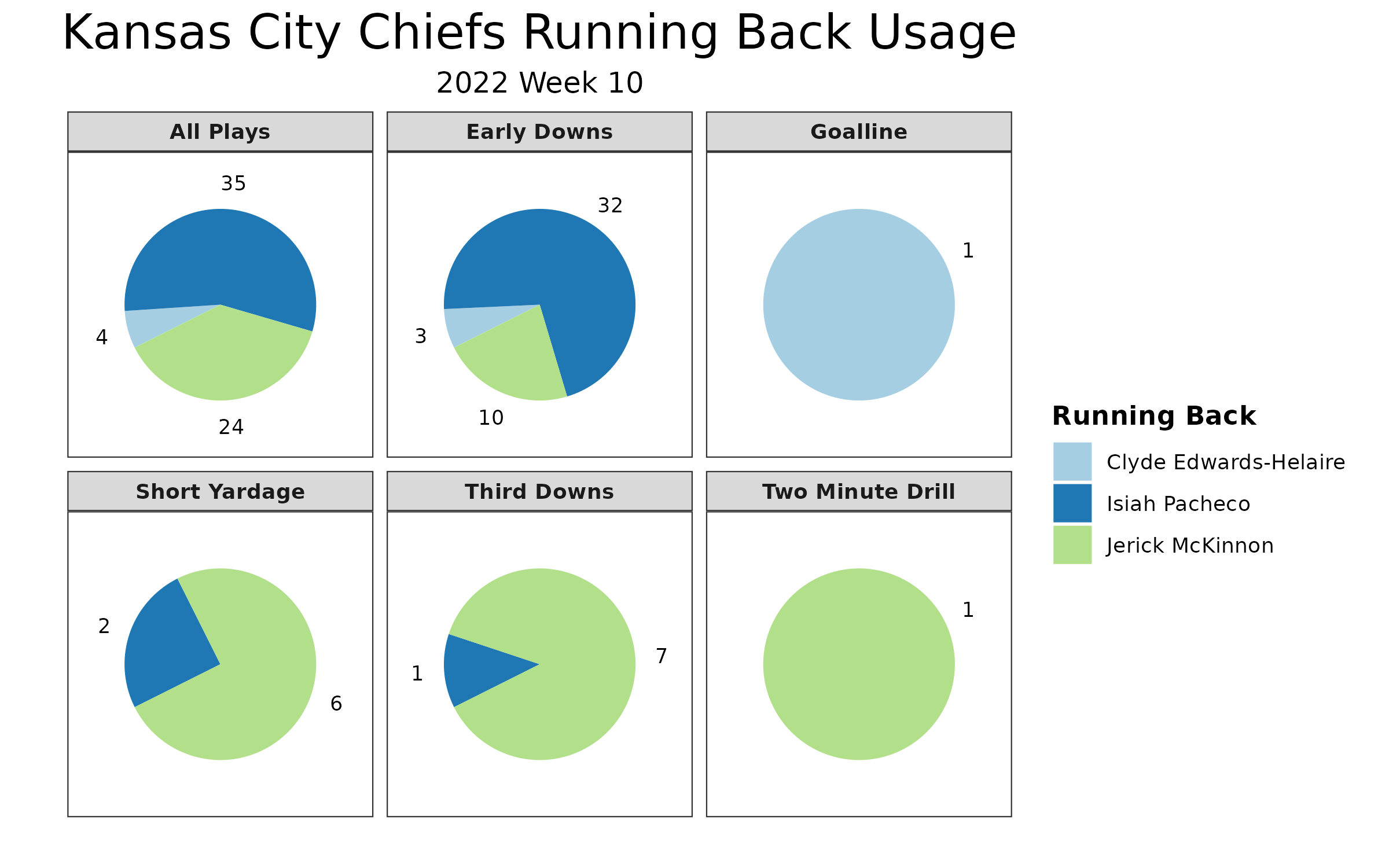 ---
The Dolphins running back took a clear majority of snaps and touches in most situations against the Browns in Week 10. 
Raheem Mostert

still started, but Wilson was sent in later on the first drive.

Wilson out-snapped Mostert only 17-15 in the first half.

Mostert played four snaps in the second half, compared to 25 for Wilson.

Salvon Ahmed

only played late in the fourth quarter while Miami brought in several backups.

Both running backs were very effective running the ball.

It's worth holding onto Mostert in case the Dolphins were just resting their veteran. Based on the first half, there is at least a chance we see more of a 50-50 split going forward.

The Dolphins have a bye next week, but then they face the Texans — a matchup where it might even be safe to start both players.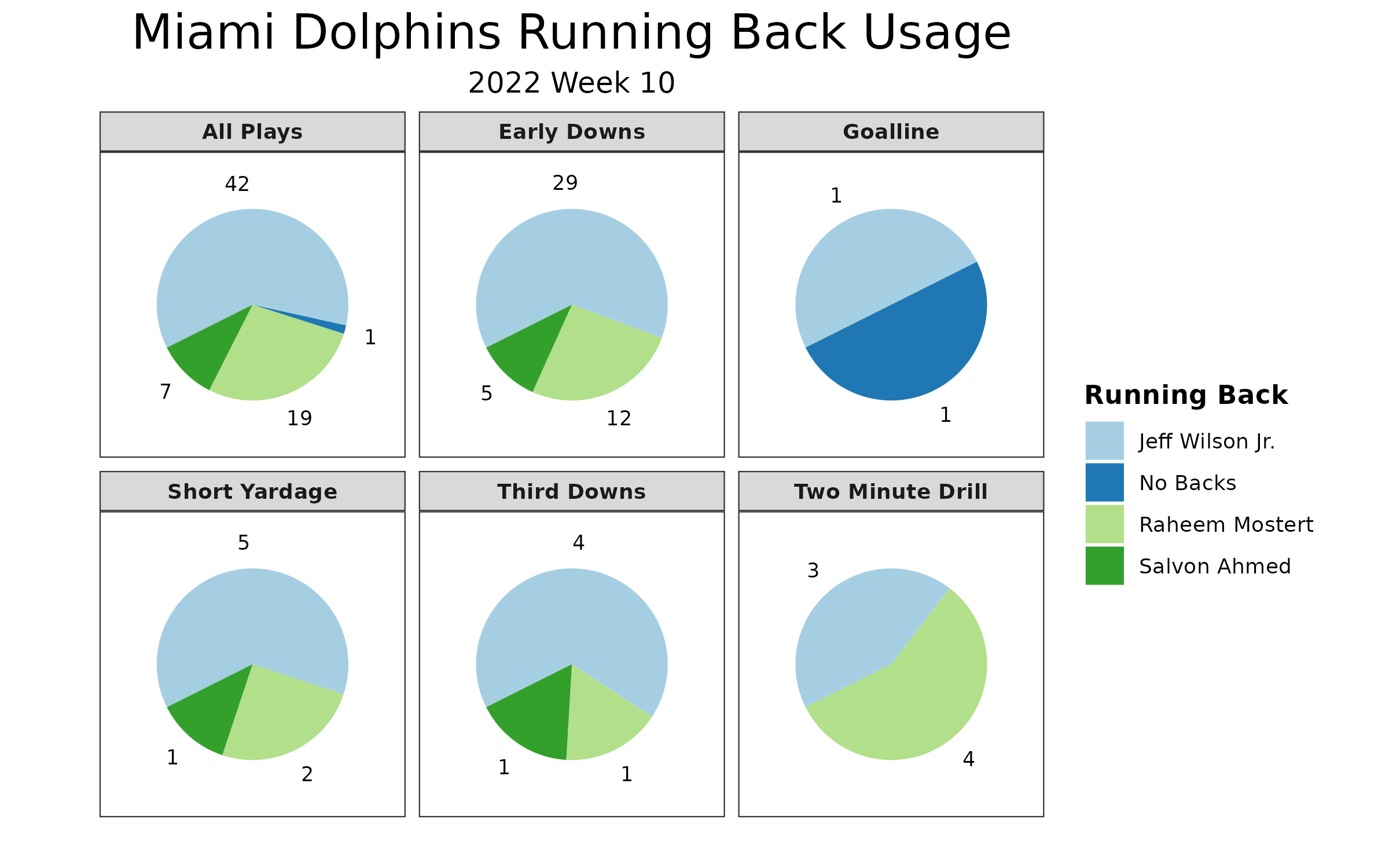 ---