Welcome to the Week 12 edition of the fantasy football facts and stats to know for DFS. In this column, we leverage PFF's extensive football data to uncover player and team matchup-specific situations with important fantasy football and DFS implications.
Week 11 was another smashing success, with the biggest coup nailing John Brown's explosion at 5% ownership. We also hit on: Lamar Jackson, Mark Andrews, Courtland Sutton, D.J. Moore, Christian McCaffrey, and Michael Thomas. The key fades were the Patriots and Rams passing attacks.
The lemons were: Eric Ebron, Terry McLaurin, and Melvin Gordon. Not too shabby. And yet, we forge on.
Here are the facts and stats for Week 12:
The Texans continue to be one of the league's premier pass funnels, particularly against opposing tight ends. Mark Andrews crushed this matchup last week, and let's go right back to the well with the Colts Eric Ebron/Jack Doyle duo – they have this week's No. 2 tight end matchup in the forlorn coverage of Tashaun Gipson (ranked 81st among 93 qualifying safeties). I am not deterred by Ebron's bust last week – he nevertheless was the Colts leading receiver with four grabs and ran a route on 59% of Brissett's 29 dropbacks. The problem was that the Colts trucked the Jaguars on the ground, which they will be unlikely to do in this matchup sans Marlon Mack, and against a defense that has allowed only three rushing touchdowns all season (second-fewest). Monitor Ebron's injury status tonight – Doyle becomes a must-play should Ebron miss this game.
John Brown has hereafter been inducted into the facts and stats hall of fame, but he faces an extremely difficult matchup this week in the shadow coverage of Chris Harris Jr. On the other side of the field, Courtland Sutton will be shadowed by lockdown corner Tre'Davious White. Both of these pass-catchers are talented enough to win in any matchup, but the focus of this game should shift to the ground, particularly for the Broncos. The Bills are a run funnel – 3.1 rushing yards after contact per attempt (seventh-most), explosive runs of 10-plus yards on 15% of attempts (second), and 11 rushing touchdowns (sixth). Phillip Lindsay is the preferred option after nearly doubling up Royce Freeman on snaps last week (51 to 26). Monitor Lindsay's injury status – Freeman would become a plug-and-play bell cow at $4,500 should Lindsay miss this game.
After Todd Gurley lumbered his way to a 25-97-1 line against these Bears last week, perhaps this is the perfect opportunity for the Giants to get Saquon Barkley going. Chicago's run defense has proven to be their weakest link since placing Akiem Hicks on injured reserve prior to Week 7, as they have allowed six rushing touchdowns (third-most), 370 rushing yards after contact (eighth), and 31 first downs (sixth). Opposing offenses are certainly aware of this issue, hammering the ground game against the Bears by running the ball on 42% of plays (seventh-most). Barkley is priced down at $7,900 and should come in as a low-owned tournament option with most fantasy folks down on the generational back.
I would be remiss not to mention that Allen Robinson II has this week's top WR/CB matchup against PPR-peddler DeAndre Baker. This is a "close your eyes and hold your nose" type of tournament play because of Mitchell Trubisky's incompetence, but Robinson is an animal and has high touchdown equity in this spot – PFF's projections have him with the fifth-highest touchdown odds this week.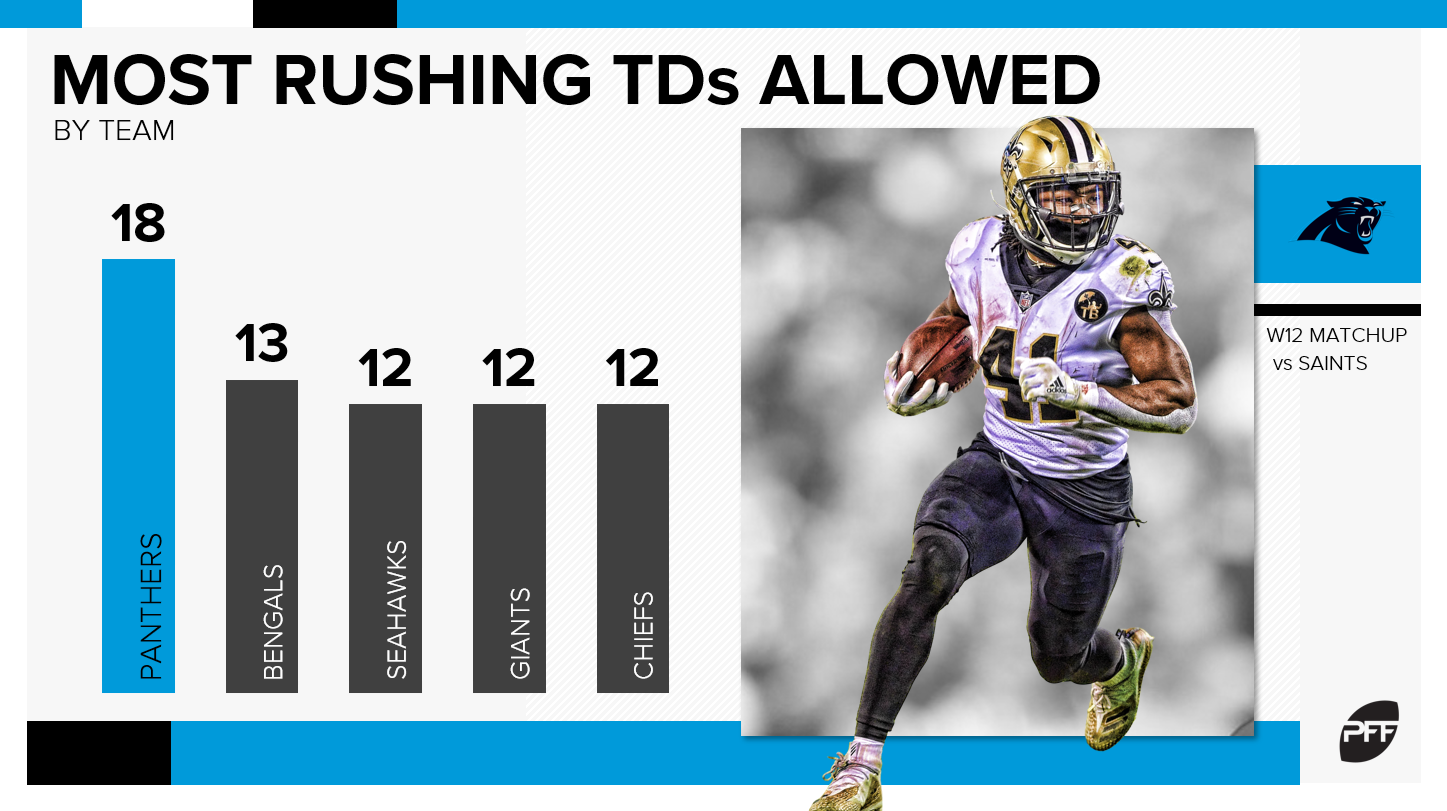 This game exemplifies the "play the best players" mantra. For the Saints, we have Alvin Kamara against a Panthers defense allowing an explosive yard run on 16% of rush attempts (most) and a league-high 18 rushing touchdowns (a ludicrous five more than anyone else). Six NFL teams have allowed five or fewer rushing touchdowns on the entire season! Adding to Kamara's floor/ceiling is the fact that he has racked up 10 targets in back to back weeks. He is PFF Fantasy's second-ranked running back play on the week, behind a certain someone named Christian McCaffrey. McCaffrey is arguably the best fantasy play of all-time. You should play him. The Saints run defense is middling – 1.2 yards before contact per attempt (12th), 2.7 yards after contact per attempt (14th), 12% rate of 10-plus-yard runs allowed (19th), and seven rushing touchdowns (10th).
Squeak! Squeak! The squeaky wheel narrative is back in full force as Tyler Boyd has been complaining all week regarding his limited role in the offense. When Boyd runs a route, the Bengals throw him the football – his 22% target rate is 19th among wide receivers. Pittsburgh's defense has shown cracks to slot receivers – 122 targets (sixth-most), 89 catches (third), 1,089 yards (third), and 10 touchdowns (third). Monitor Boyd's ownership projections because there are limited palatable receiver options priced in his $5,000 range.
Revenge narrative! Jarvis Landry faces off with his old team and happens to have an extremely juicy matchup against Miami's slot cornerback Jomal Wiltz (No. 4 on PFF's WR/CB matchup chart). Compare Landry's $6,300 price tag to Odell Beckham Jr.'s $7,000 – ownership projections suspect people to gravitate toward Beckham. However, it has been Landry racking up the production for the Browns of late with double-digit targets in four straight games and touchdowns in three straight. Landry's touchdown streak has a good shot to continue thanks to strong red-zone usage, where his 23 targets are ninth-most in the league. Beckham is also extremely viable here (perhaps pairing with Landry to capture the entire Browns passing attack – the duo has a 48% target share). One of these days Beckham will find the box as the regression fairies are due to sprinkle him some touchdown luck – he has failed to score on any of his six end-zone targets.
What the heck has gotten into the Atlanta Falcons over the last two games? Dan Quinn gives up defensive playcalling duties and all of the sudden the Falcons defense transforms into Mike Ditka's '85 Bears? Deciding how to attack this game is undoubtedly the most crucial decision on the entire slate. While the Falcons run defense has been legitimately stout the entire season (0.8 yards before contact per attempt, fifth-best), it is their improved play on the back end leading the transformation. Small sample size caveat, but PFF's grading system has the Falcons with the No. 6 coverage unit over the last two games. Weeks 1-9? Dead last at 32nd. Fantasy owners have been jamming the Bucs passing attack into lineups all season, but perhaps this matchup should give us pause. Is it smart to play the chalky and expensive Jameis Winston, Mike Evans, and Chris Godwin in this spot? The leverage may lie in a fade.
I have a hunch we are going to see some fireworks in this game. On the Eagles side, look to the tight end duo of Zach Ertz and Dallas Goedert. Here is the production Seattle has allowed to tight ends – 73 targets (11th-most), 615 yards (seventh), four touchdowns (10th), and a 108.0 passer rating (13th). Nelson Agholor just popped up on the injury report, further thinning an already-barren Philadelphia wide receiver corp. Over Philadelphia's last three games, Ertz and Goedert have accounted for a whopping 39% target share. Carson Wentz is also viable here to capture the entire passing attack – the Eagles have this week's second-best O-Line/D-Line matchup.
For the Seahawks, let's attack Philadelphia's porous outside wide receiver coverage – 158 targets (second-most), 1,414 yards (second), and 11 touchdowns (most). D.K. Metcalf (88% wide snap rate) and Josh Gordon (89% wide snap rate in Week 10) are the likely beneficiaries, particularly with a banged-up Tyler Lockett. Metcalf has the league's best usage close to the goal line with a leading 13 end-zone targets.
Jeff Driskel vs. Dwayne Haskins was a real brain-buster to write up. Instead, let's fade the pass games and hone in on the Redskins rushing attack. Both Derrius Guice ($4,700) and Adrian Peterson ($4,300) are really cheap and should come in as contrarian tournament options against a rush defense allowing a hefty 4.5 yards per attempt (11th-most) and 10 touchdowns (ninth). Washington has this week's fourth-ranked run-game O-Line/D-Line matchup.
This game has sneaky shootout potential because both defenses are a pass funnel. Slammin' Sam Darnold must be licking his chops at the production allowed by Oakland's secondary – 8.8 yards per attempt (fourth-most), 24 touchdowns (third), and a 110.0 passer rating (eighth).
Oakland's pass protection should give Derek Carr plenty of time to throw – they have the No. 4 O-Line/D-Line matchup. On throws with a snap to pass greater than 2.5 seconds, Carr has a 109.6 passer rating (fifth), trailing only Russell Wilson, Kirk Cousins, Patrick Mahomes, and Lamar Jackson. All of Carr's pass-catchers are viable, but keep in mind that Jamal Adams is a tight end eraser – which makes Darren Waller a tough sell.
The Jaguars have given up the following box scores to running backs over the last two weeks:
Marlon Mack: 14-109-1
Jonathan Williams: 13-116
Carlos Hyde: 19-160
Check out their putrid rush defense metrics for the season – 1.9 yards before contact per attempt (most), 3.5 yards after contact per attempt (fifth-most), 14% rate of 10-plus-yard runs (fifth), and 11 rushing touchdowns (sixth). Enter Derrick Henry, who is tied with Alvin Kamara for this week's highest rushing touchdown projection. Among the 41 running backs with 70-plus rushing attempts, Henry leads them all with 3.8 rushing yards after contact per attempt. PFF Fantasy's Daniel Kelley ranks Henry as this week's No. 5 running back.
Miles Sanders busting against the Patriots last week was extremely frustrating given his strong usage, but let's trust the process and go right back to the attack the Pats well. Ezekiel Elliott is a stunningly affordable $7,500 despite coming off a double-dong performance against the Lions. I will keep banging the drum on the Patriots shoddy run defense every damn week – 3.2 rushing yards after contact per attempt (fourth-most). Conveniently, the Cowboys have this week's sixth-best O-Line/D-Line matchup. There was also the faintest hint of a squeak coming from Elliott's camp, claiming that Zeke "just wants to win" and he is "not frustrated with his numbers." Okay, buddy. Expect the Cowboys to feed Elliott the rock plenty on Sunday. Thanksgiving is nearly upon us, and the man needs to eat.
The 49ers are riddled with injury question marks as of this writing, so we're going to focus on the Packers here. The best way to attack the 49ers is via the ground – 1.9 rushing yards before contact per attempt (third-most) and a 12% rate of 10-plus-yard runs (12th-most). The Packers should come out of the bye well rested and ready to feed Aaron Jones the football. Jones is PFF's third-highest graded running back on the season and absolutely electric toting the rock, forcing a missed tackle every 4.2 rush attempts. Among the 41 running backs with 70-plus rush attempts this season, Jones trails only Alvin Kamara, Josh Jacobs, and Chris Carson in rushing missed tackle rate. Jones also has a strong goal-line role with 12 rushing attempts from inside the 5-yard line (fourth-most), converting eight for touchdowns (most).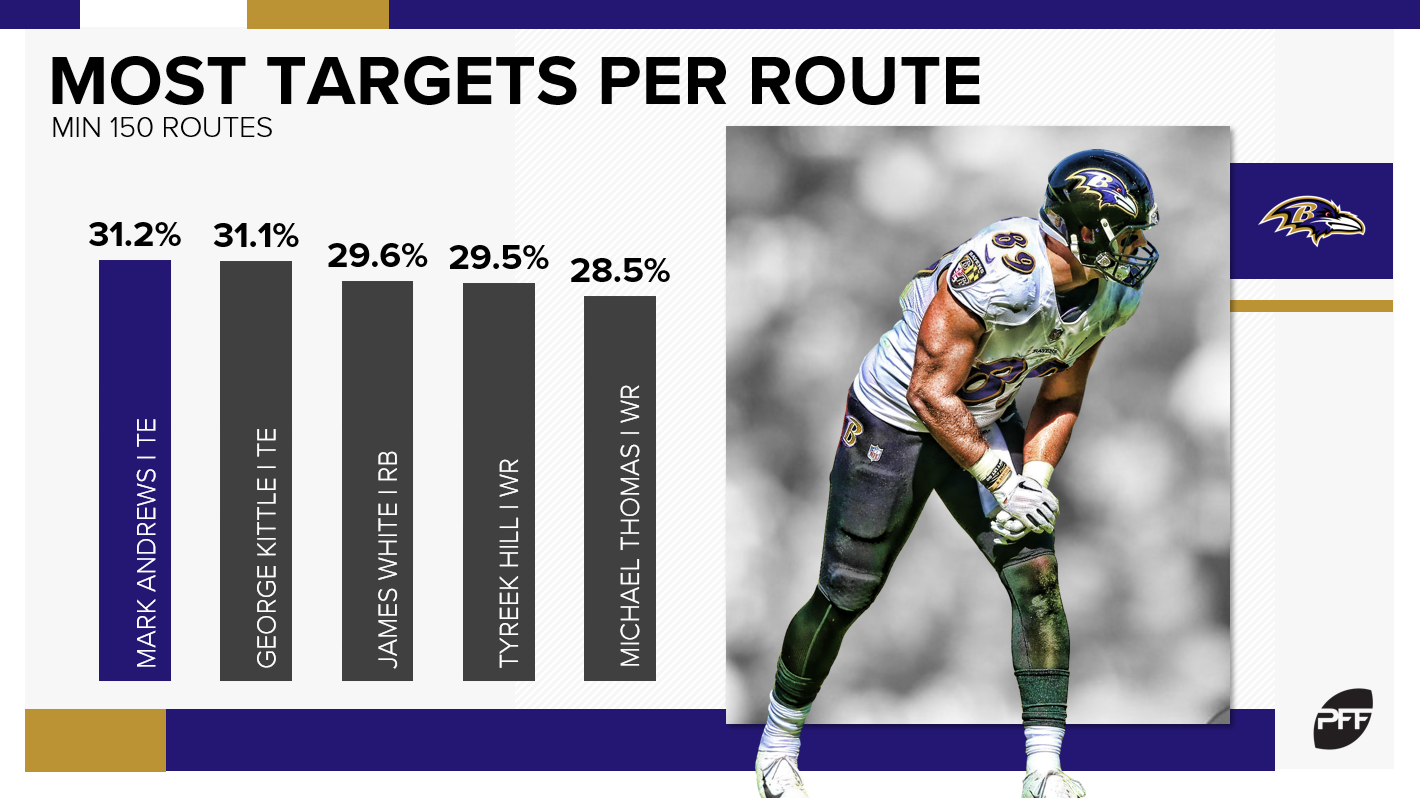 For the third week in a row, Mark Andrews has the week's premier tight end matchup. When Andrews is on the field, the Ravens throw him the football at a higher rate than anyone else in the entire league (wide receivers included) – his 31% target rate (221 routes, 69 targets) is tops in the NFL. As such, it doesn't matter that Andrews only played 24 snaps last week. He is the number one option in the Ravens passing game and has been wildly productive on a per-route basis with 2.71 yards per route run (second to only George Kittle). The Rams should keep this game competitive and force Lamar Jackson to throw the football. When Lamar does throw it, there is little doubt where the football is headed.