Welcome to the Week 11 edition of the fantasy football facts and stats to know for DFS. In this column, we leverage PFF's extensive football data to uncover player and team matchup-specific situations with important fantasy football and DFS implications.
Week 10 ran absolutely fire flames scorching hot as we smashed with Lamar Jackson, Mark Andrews, Christian Kirk, Michael Thomas, Aaron Jones, Christian McCaffrey, Nick Chubb, Amari Cooper, Michael Gallup, and the dual combination of Steelers defense plus a Jared Goff/Rams fade.
But we must stay humble and strive for perfection — there were whiffs on Marlon Mack, David Montgomery, Devin Singletary, and my kryptonite, Robby Anderson. Why don't I listen to my own advice? Stop. Playing. New York Jets. Robby Anderson is hereafter banned from this column.
And now, presenting the facts and stats for Week 11:
As we highlighted last week, the Steelers defense with a fully operational Minkah Fitzpatrick is an absolute unit. Pittsburgh's ferocious pass rush is a nightmare for opposing quarterbacks – a 40% pressure rate (third) and 35% blitz rate (seventh). Baker Mayfield will not be able to hide behind his mustache in this matchup. Check out Mayfield's stats when under pressure vs. a clean pocket.
Under pressure: 43% completion percentage, 2:5 TD:INT rate, and 42.3 passer rating
Kept clean: 66% completion percentage, 7:7 TD:INT rate, and 86.7 passer rating
Mayfield, Odell Beckham Jr., and Jarvis Landry are a tough sell here. And the Steelers defense is viable.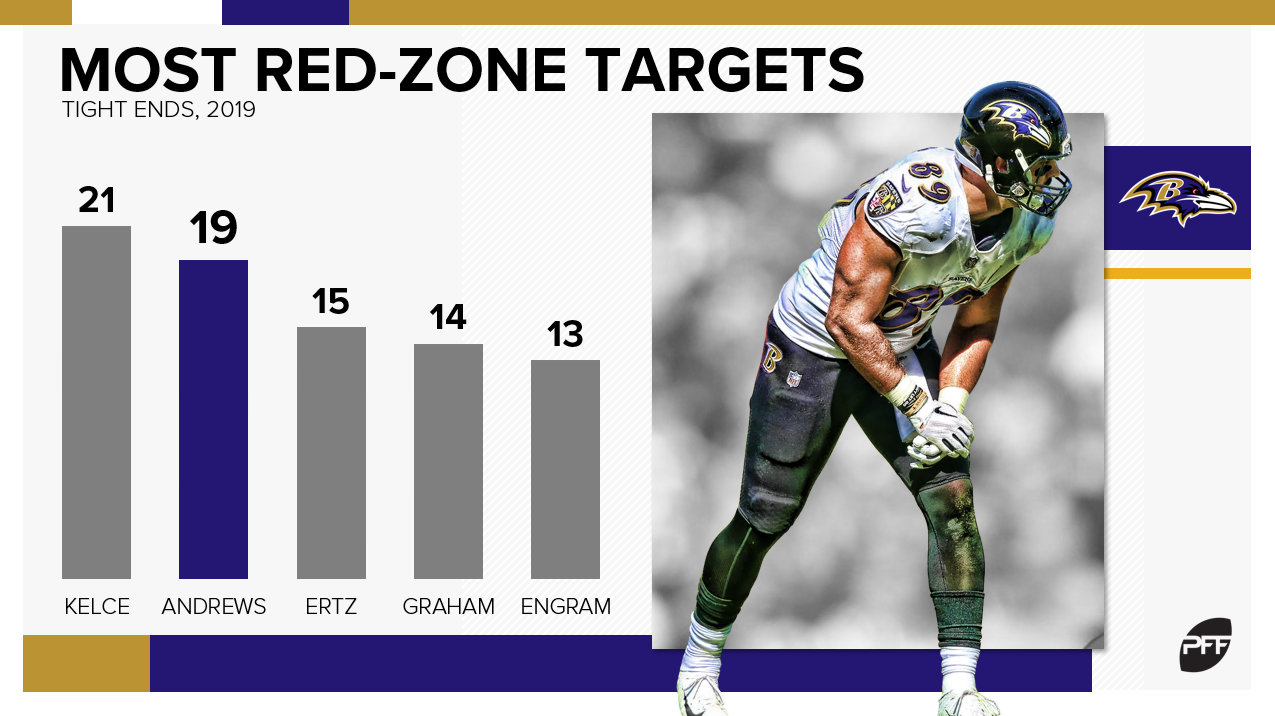 The Texans are another pass funnel where we want to play the opposing quarterback and pass-catchers. Here is their pass game production allowed – 326 targets (sixth-most), 232 catches (sixth), 18 touchdowns (seventh), and a 107.3 passer rating (10th). Oh, hello there, Lamar Jackson! You can pair him with Marquise Brown, who has 10th-best WR/CB matchup or Mark Andrews and his second-best tight end matchup. If picking one, I lean Andrews – he is expensive at $6,100 (which should suppress ownership) and tight end stinks this week. Andrews also has a strong red-zone role with 19 targets (trailing only Travis Kelce among tight ends), including six end zone targets.
Coming off back-to-back 100-yard performances, D.J. Moore is in position for another standout game against the Falcons – he has the third-ranked WR/CB matchup against Isaiah Oliver, who has allowed 1.74 yards per cover snap (11th-most among all cornerbacks), three touchdowns, and a 121.0 passer rating. For some strange reason, DraftKings refuses to raise Moore's price into the mid-6K range where it belongs — he is still affordable at $5,900 (check our DFS ownership projections). The Falcons pass defense is highly suspect – 8.2 yards per attempt (fourth-most), 19 touchdowns (fifth), and a 19% rate of 15-plus-yard plays (seventh).
Oh, and lest I forget, play Christian McCaffrey. You can even pair him with Moore to gain leverage on the field. Over the last five games they have combined for the following DraftKings points: 53.1, 60.7, 39.3, 37.3, 65.8.
Against these same Lions, David Montgomery imploded as uber chalk. Will that scare off fantasy owners from playing Ezekiel Elliott? It should not scare us, as Detroit's run defense warts remain – 4.6 rushing yards per attempt (10th-most), 1.6 yards before contact per attempt (ninth), 80 missed tackles (sixth), and nine touchdowns (eighth). The Cowboys have the second-best run game O-Line/D-Line matchup, giving Zeke a high touchdown expectation in this spot.
The squeaky wheel narrative was back in full force last week after the media caught wind of Eric Ebron complaining about his role in the offense. Sure enough, Ebron had a season-high 42 snaps (61% snap rate) and 33 routes run, while leading the Colts with a whopping 12 targets. Do I smell a possible role change here? Conveniently, the Jaguars are an extremely fantasy-friendly matchup for opposing tight ends – five touchdowns (fourth-most) and a 128.2 passer rating (third). Ebron is also due for positive touchdown regression with five end-zone targets, but only one touchdown. Monitor the injury status of Jack Doyle; if he misses this game, Ebron becomes an even stronger option.
John Brown quietly has one of the highest floors among all wide receivers, averaging 7.9 targets and 5.2 receptions per game. Yet, we still have not seen his ceiling as he has just two touchdowns and one 100-yard game. Perhaps Josh Allen and Brown connect on a deep ball beyond 20 yards, an area where the Dolphins are vulnerable – 50 targets (third-most), 19 catches (sixth), seven touchdowns (second), and a 105.0 passer rating (10th). Brown has 17 deep targets (seventh-most), but only six have been actually catchable. He also has a red-zone role with 18 targets – positive regression is coming for Brown. PFF Fantasy's Jeff Ratcliffe and Scott Barrett each rank Brown as this week's No. 12 wide receiver.
As we highlighted last week with the Amari Cooper/Michael Gallup smash, the Vikings secondary is an incinerator to outside wide receivers. Let's run through the updated stats – 154 targets (most), 107 receptions (a patently ridiculous 15 more catches than any other team), 1,325 yards (most), and 11 touchdowns (most). They have allowed the most PPR points to outside receivers on the year.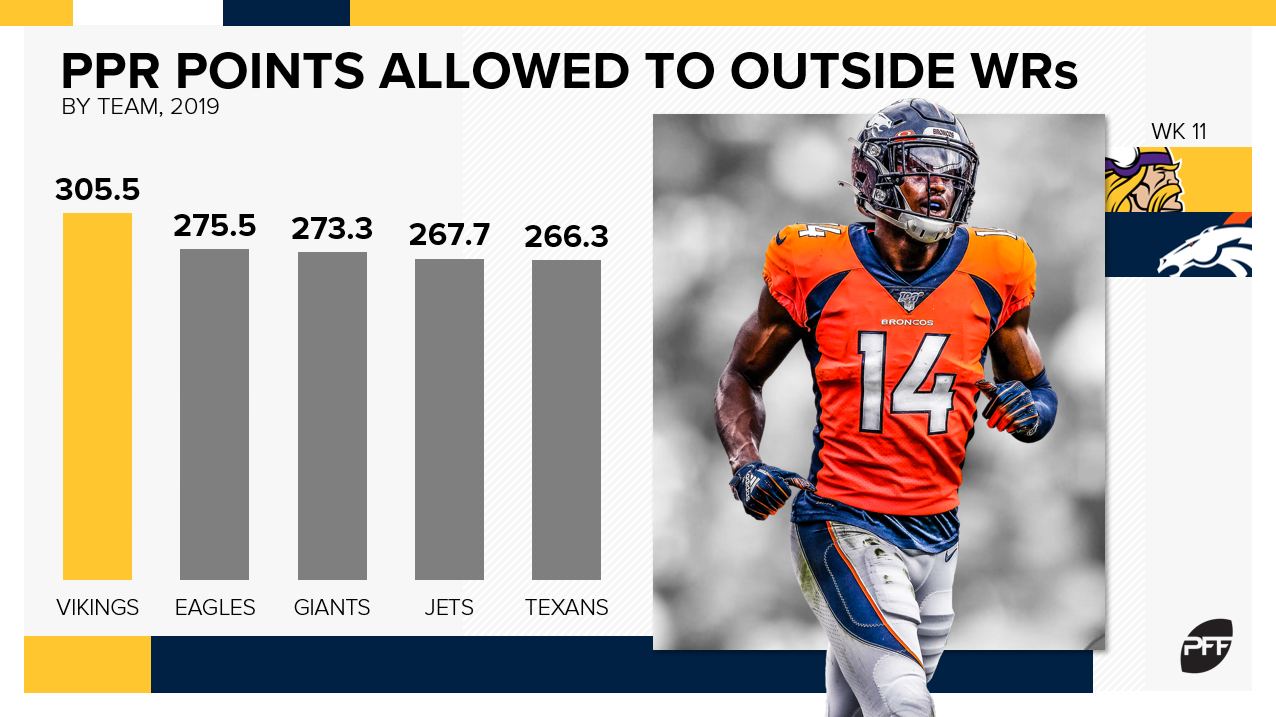 Enter Courtland Sutton (84% wide snap rate), who has PFF Fantasy's seventh-best WR/CB matchup this week and is Daniel Kelley's No. 10 ranked wide receiver. Despite shoddy quarterback play, Sutton is proving to be a straight baller – he is averaging 2.28 yards per route run (10th among all wide receivers) this season. Play the man.
Raise your hand if you knew that the Jets have the No. 1 rush defense in the NFL on a per-attempt basis? *Crickets*. At 3.0 rushing yards per attempt, the Jets are a terminator to opposing rushing attacks – they are stuffing the run both after contact at 2.2 yards per attempt (first) and before contact at 0.8 yards per attempt (third). The Jets run defense even managed to meme the generational Saquon Barkley after stymying him into an eye-popping 13-carry, 1-yard performance.
The Jets swiss-cheese secondary is clueless to defending outside wide receivers – 92 receptions (second most), 10 touchdowns (second), and a 110.7 passer rating (third). Why not take a shot on Terry McLaurin (83% wide snap rate), priced at an affordable $5,600 with PFF Fantasy's 13th-ranked WR/CB matchup? The contrarian minded folks could even scrape the bottom of the QB pricing barrel with Dwayne Haskins in order to jam in the other studs on this slate.
The DraftKings pricing algorithm has finally caught on to the Bucs fantasy philanthropy to opposing passing attacks – peep that Michael Thomas $9,900 price tag. I'm not sure that is high enough. Thomas has a league-high 30% target share and his 2.90 yards per route run trails only Tyreek Hill and Amari Cooper. Such beautiful harmony of volume and production yields an extremely high-floor and slate-breaker upside – the ceiling is legitimately the roof. Thomas also has the fourth-best WR/CB matchup and is PFF Fantasy's unanimous top-ranked wide receiver for the week (check out this week's fantasy projections). You could also take a contrarian tournament dart on Ted Ginn Jr. or Tre'Quan Smith hoping to connect on a deep shot with Brees. The Bucs are vulnerable to passes beyond 20 yards – 20 catches (third-most), six touchdowns (fourth), and a league-high 129.2 passer rating.
Kenyan Drake appears to be the most trusted man in the Arizona backfield, particularly with David Johnson lumbering around in a manner oddly reminiscent of that Planet Earth feature on emperor penguins. Drake had a 64% snap rate last week while monopolizing the all-important fourth quarter work (18 snaps compared to zero for Johnson). Efficiency will probably be an issue, but as Chris Carson demonstrated Monday night, running back volume can yield fantasy production against the 49ers – they struggle before contact where enemy backs average 1.8 yards per attempt (fifth-most). Drake is a contrarian-minded play for tournament lineups that nobody will be on.
The Raiders are a 10-point home favorite over the hapless Bengals – Thanksgiving arrives two weeks early for Josh Jacobs, because he is going to eat in this matchup. Opposing offenses are running the football against the Bengals at a league-high 49% rate to the tune of – 5.2 yards per attempt (second-most), 1.9 yards before contact per attempt (second), 12 touchdowns (second-most), and a 15% rate of explosive 10-plus-yard runs (third). Jacobs has this week's highest touchdown projection and PFF Fantasy's Jeff Ratcliffe ranks him as the number three running back. There is a very good chance that Josh Jacobs is the highest-owned player on the entire slate, but as a wise man once said – play the best plays.
Here are Tom Brady's stats this year when under pressure vs. kept clean:
Under pressure: 34% completion percentage, 4:3 TD:INT rate, 4.0 yards per attempt (28th), and a 47.9 passer rating (27th)
Kept clean: 76% completion percentage, 10:2 TD:INT rate, 8.3 yards per attempt (10th), and a 109.6 passer rating (13th)
The Eagles defense has a league-high 42% pressure rate. The Patriots offensive line has the seventh-worst matchup against the Eagles stout defensive line.
I've been banging the drum on the Patriots wobbly run defense for weeks, as opponents are averaging 3.3 rushing yards after contact per attempt (third-most). Jordan Howard and Miles Sanders are cheap contrarian options to consider for tournament lineups.
The Rams are a shell of last year's fire-breathing unit, with poor play from Jared Goff and the offensive line tanking the entire offense. Check out the discrepancy between Goff's production with the play action fake from this year to last:
2019: 1 TD, 4 INTs, 75.2 passer rating (35/37 qualifying QBs)
2018: 15 TDs, 2 INTs, 115.0 passer rating (9/37)
In fact, Goff's 15 passing touchdowns with play action last year were the most by any quarterback since Peyton Manning's otherworldly 2013 season. What the heck has happened to Goff and the Rams play action game?
The sledding does not get any easier as the Rams offensive line has PFF's third-worst mismatch against the Chicago Khalil Macks. Fade the Rams until further notice.
Fantasy owners will never forget the fireworks from last year's Rams vs. Chiefs supposed-to-be-in-Mexico game. However, this year's game should play out a little differently – expect the Chargers to try to control the game with their rushing attack in order to keep the electric Patrick Mahomes off the field. Melvin Gordon appears to have finally shaken off the rust from his holdout, looking completely rejuvenated over the last two games – his 12 missed tackles forced are the most among all running backs. The Chiefs run defense is missing on a milk carton – 288 rush attempts (fourth-most), 12 touchdowns (second), 5.1 yards per carry (third), and 3.4 yards after contact per attempt (most).