The San Francisco 49ers are not that far removed from a place in the Super Bowl, so Niners fans will soon be looking at the quarterback John Lynch picks at No. 3 in the 2021 NFL Draft as the savior who can get them back to the pinnacle of the sport.
San Francisco does get a quarterback in this three-round NFC West mock draft, but it's not the quarterback many will expect. Elsewhere in the division, the Seattle Seahawks came out on top last season but have almost no draft capital to get younger and better for 2021, while the Los Angeles Rams go another season without a first-round pick but do have a few middle-round picks to work with. Meanwhile, the Arizona Cardinals continue to believe in their tremendous upside but are yet to put it all together on the field in the Kliff Kingsbury/Kyler Murray era.
With little in the way of prime draft capital for these NFC West teams, it will be crucial that each franchise finds early value when the draft kicks off on April 29.
View PFF's 2021 NFL Draft position rankings:
QB | RB | WR | TE | T | iOL | DI | EDGE | LB | CB | S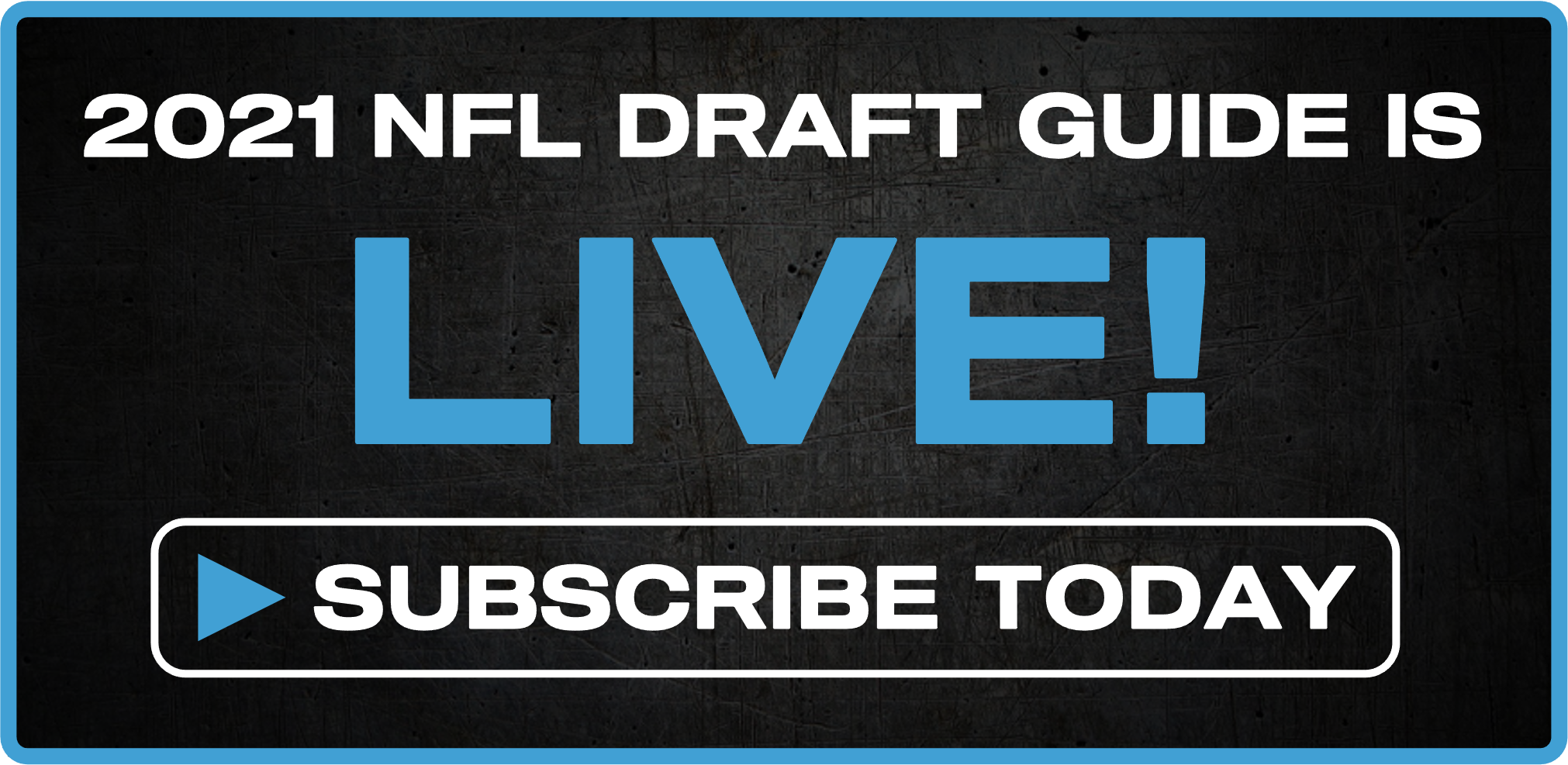 Because we are trying to create the perfect environment and picks for every team, we refresh the mock draft simulator after each team has picked. You can try your hand at building the perfect roster by clicking here.
We'll start our three-round mock draft with a pick that could go a long way toward deciding the NFC West champion in 2021.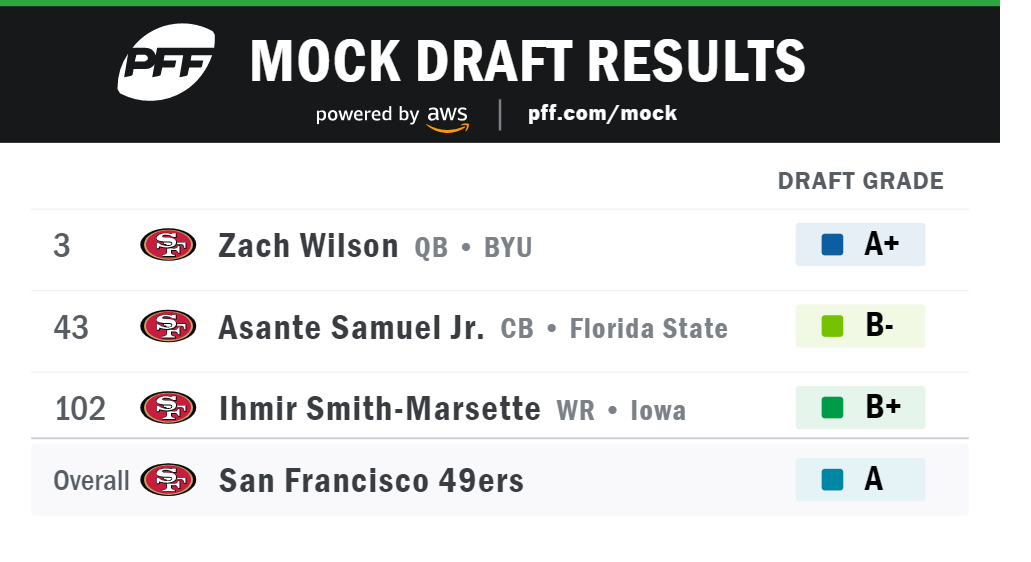 The whole world believes that the New York Jets are taking Zach Wilson at No. 2, but if I've learned just one thing over the years of watching the NFL draft, it is that where there is smoke there is only a 50% chance there is fire.
We hear these rumors every season leading up to the draft, then draft day comes and nothing we thought would happen actually happens. When I fired up the PFF Mock Draft Simulator, the Jacksonville Jaguars selected Trevor Lawrence — as expected — but then the New York Jets selected Justin Fields at No. 2.
And it's not just a glitch in the system. There is a very real chance that we have been fed and will continue to be fed the proverbial serving of draft-related bull excrement. So, in this scenario, the Niners select BYU QB Zach Wilson.
Wilson fits Shanahan's outside-zone boot scheme to a certain degree because he played in a similar system last season. The 49ers have run the sixth-most outside-zone play-action plays in the league over the previous two seasons, while BYU ran by far the most in college football last season. It's a like-for-like match.
Related: The Zach Wilson Dilemma via Seth Galina
The Niners use the 43rd overall pick on FSU cornerback Asante Samuel  Jr., who would step in to replace veteran Richard Sherman.
Samuel is a slightly different cornerback than Sherman is, and I think the Niners will like that. When we think of Sherman, he is the prototype press corner who has excelled in that press-bail zone style. However, he adapted his style to what the 49ers wanted, which was more of an off-coverage corner, and Asante Samuel Jr. happens to be just that.
It ends up being a pretty solid replacement. Samuel Jr. loves to bait quarterbacks by making it look like receivers are open before coming down and getting his hands on passes. He forced an incompletion on just over 20% of the passes thrown his way over the last two years, tied for 14th in the country among players who saw at least 50 targets in coverage.
Simply put, Samuel is a ballhawk. As PFF's Sam Monson wrote when dissecting the FSU product's tape, "OK, this is the kind of play you need to offset that size with. Against Georgia Tech, Samuel reads a route combination so absurdly early in his zone that he's ready and waiting for the pass way before the quarterback ever knows he's attempting it. Samuel is moving to jump the route when the quarterback is still two reads away in his progression.
That's elite mental processing and instincts — the kind of play his father made a career out of in the NFL. This is one of the most impressive plays I've seen from a cornerback so far in this process, even if the end result looks like a pick gifted to him."
If he falls to No. 43, this is excellent value for San Francisco.
Related — 2021 NFL Draft Profile: Florida State CB Asante Samuel Jr. via Sam Monson
The Iowa receiver has been slowly climbing back up draft boards. His average draft position on the PFF mock draft simulator was around 240 from about the middle of February to the end of March, but he has climbed to 125 in recent weeks.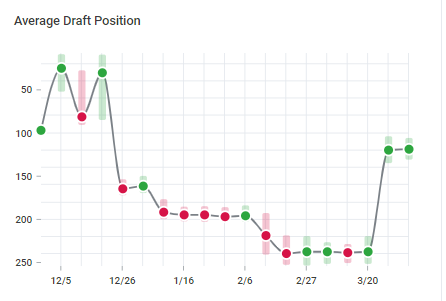 Analysts and mock drafters alike are coming around to the fact that he played with an inaccurate quarterback in college, and we shouldn't let his lack of production affect his draft stock too much. He gets off the ball in a hurry and is someone the 49ers can use down the field right away. Only 12 of his 32 deep targets over the last two seasons were charted as accurate. He will get much more opportunity to make plays in the NFL.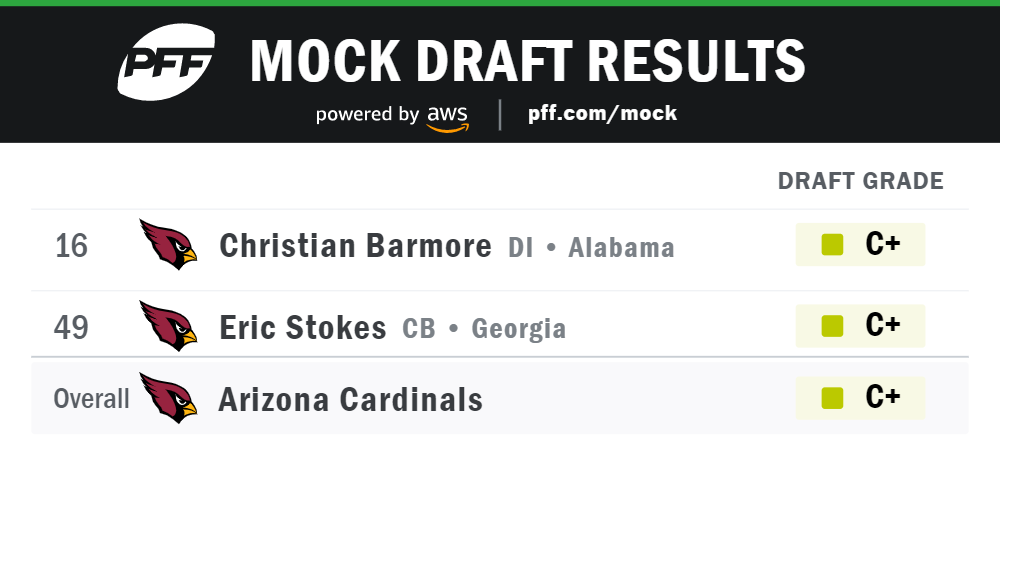 It's not the best interior defensive line class of all time, but Barmore is the best of the bunch in terms of NFL projection, and his production metrics are off the charts. Barmore is nimble-footed, allowing him to perform pass-rush moves that other people his size wouldn't dare attempt. He is athletic as they come on the inside, as Aaron Donald's influence continues to loom large at the future of the position.
Here's Anthony Treash on Barmore's best trait, his bend:
"Barmore is an all-around great interior defensive lineman prospect. His 6-foot-4, 310-pound frame and 34 ⅝-inch arms form the ideal body type, and he additionally boasts great hand usage, burst, power and bend. He has no issue getting low at that size, routinely cornering interior offensive linemen to get to the quarterback]. Over the past two years, Barmore rushed the passer just shy of 500 times, recording a 92.2 pass-rush grade and a 19.7% win rate — both of which led Power 5 interior defensive linemen by a significant margin. He shouldn't slide out of the top 20 in April's draft."
Barmore would be a Day 1 starter for the Cardinals and would join a defensive line that already boasts Chandler Jones and J.J. Watt.
Related: 2021 NFL Draft: Biggest pro and con for each of PFF's top DL prospects via Anthony Treash
Stokes has played so many high-level snaps over the past few seasons at Georgia using techniques that will help him at the next level. He's a perfectly technical cornerback, which helps because he's neither the biggest nor the most athletic player in this CB class.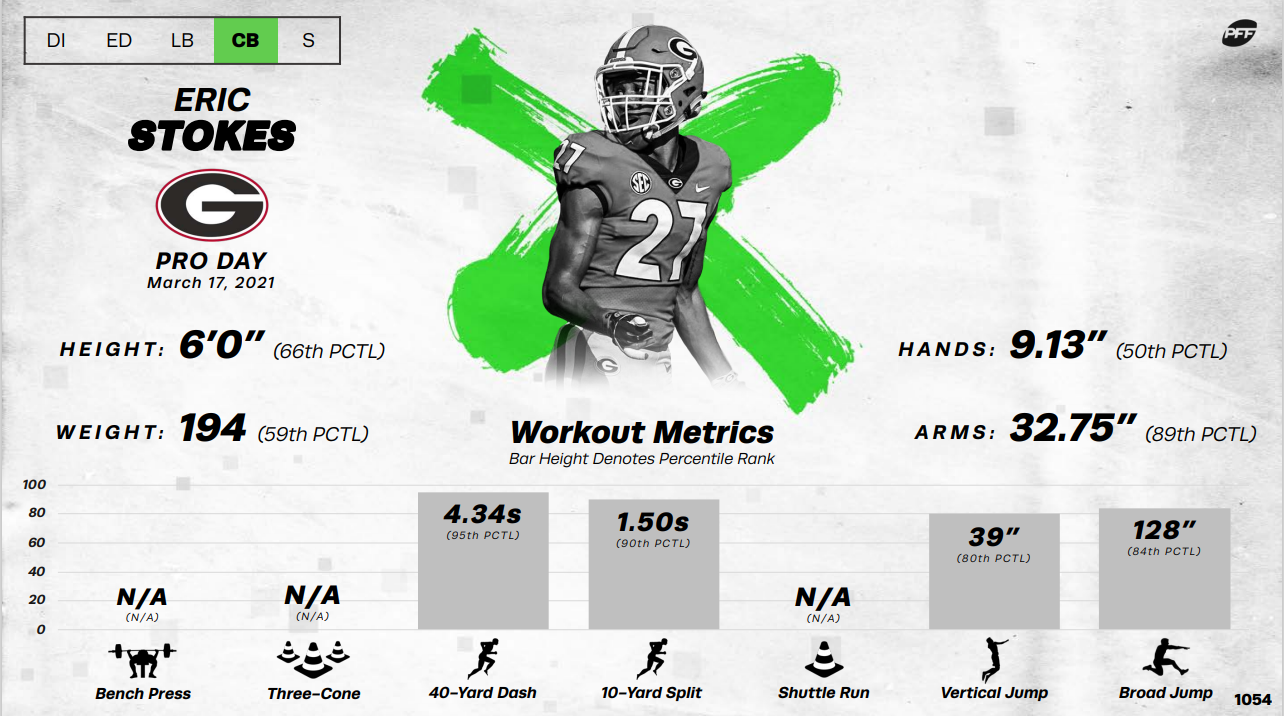 He played the position exactly how these Saban-tree coaches like their cornerbacks to play, and their guys tend to be very good NFL players down the line. Stokes played 402 press-coverage snaps over the last two seasons, the eighth-most among players over that span. The Cardinals are in desperate need of anyone at cornerback as they begin Year 1 in a post-Patrick Peterson world.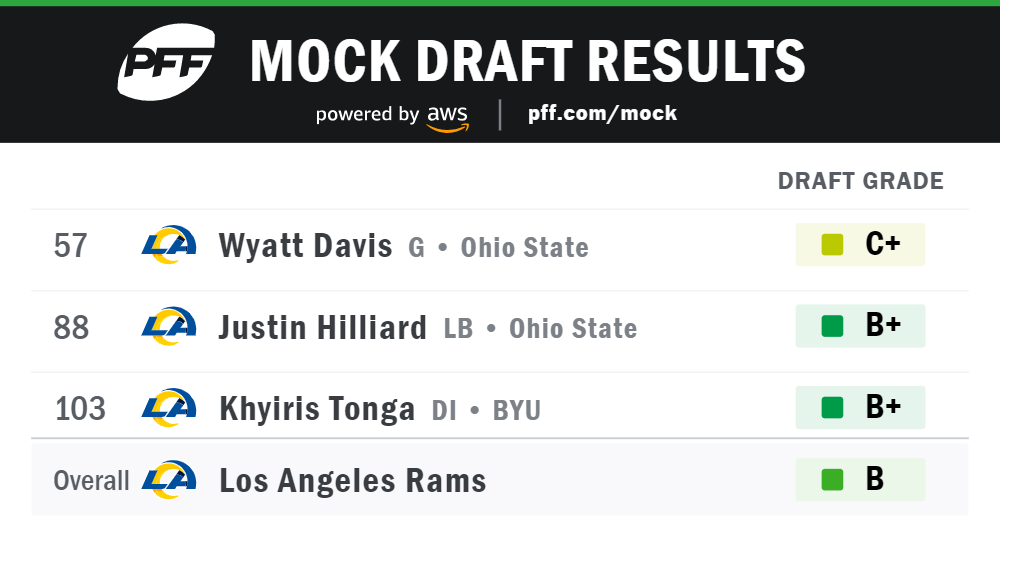 Now that the Rams have Matthew Stafford playing quarterback, one would assume that they will transition to more of a dropback-passing team. Of course, they'll still base out of their outside-zone boot scheme, but you will see more straight dropbacks and fewer rollouts.
They'll need a reliably good pass protector at guard, and Wyatt Davis is that.
The Ohio State offensive line had massive communication issues last season on the inside. You don't like seeing that, especially with the veteran Wyatt Davis there, but that shouldn't affect how teams view him. He has the potential to be a new wave of guard with his athleticism, balance and toughness. He's a technical player who rarely loses and would be a great fit in L.A. He allowed just three sacks and one hit across 691 pass-blocking snaps over the last two seasons while earning an 84.1 PFF grade on outside-zone running plays.
The Rams linebackers were not great last season, but Brandon Staley's system utilized them in such a way that made them replaceable. It remains to be seen whether Raheem Morris will run the same system in 2021; the new defensive coordinator might value that position more and want to bring in more competition.
Justin Hilliard is that competition. If he had played as he did in 2020 in prior seasons, there's no way he falls this late in the draft. He can be that good. With all his recent injuries, we just haven't seen him play enough to get a feel for how good he is, but the potential is off the charts. The Ohio State linebacker graded above 80.0 in coverage and against the run in 2020.
He loves being physical in the run game and running through blockers. At this point, he just needs reps. Here, you could be looking at the steal of the draft.
The Rams could use some depth on the defensive line, especially if they go back to a four-down look under Raheem Morris. Tonga is a man mountain who can eat blocks if he wants but is also nimble enough to beat people off the bounce. He graded higher in 2019 (78.0) than he did in 2020 (71.7) despite facing tougher competition in that 2019 campaign.
There are times when he can get driven back but makes up for it with some absurd run stops. He recorded 47 run stops over the last two seasons, mainly from the nose position. Here you are getting someone who can elevate his game whenever he wants — the question is, how often does he want to do it?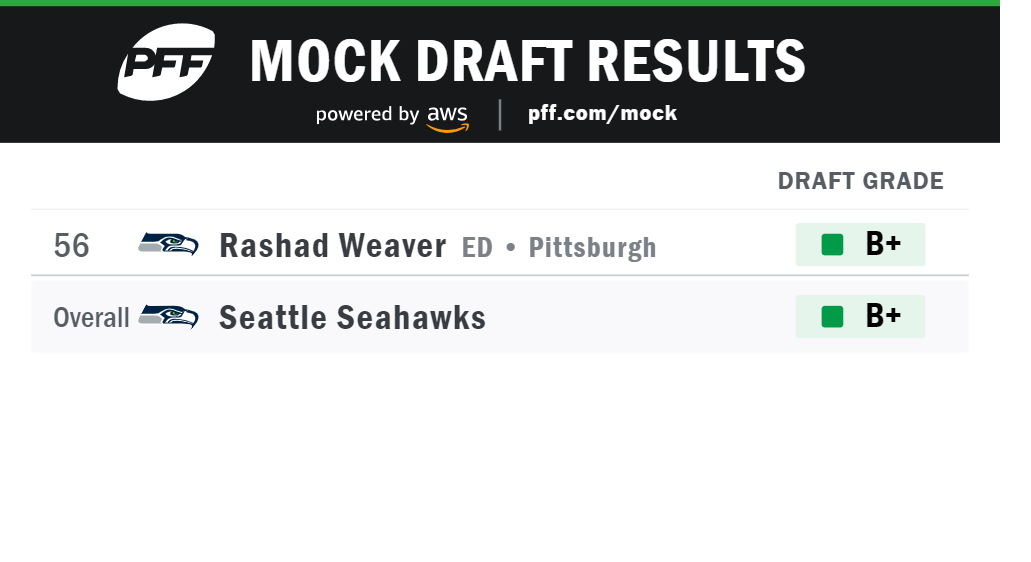 The Hawks have almost no draft capital, and this is their only pick in the first three rounds. They pick pass-rusher Rashad Weaver from Pitt here.
The Seahawks actually churned out great sack and pressure numbers last season but still finished 26th in team pass-rush grade. That tells you they were able to scheme people to the quarterback but didn't have enough individuals who could work offensive linemen. They get that in Weaver, who has a lot of mileage on his tires and could come in and play right away. We know he can stop the run and might not be the preferred pass-rushing NFL athlete, but he generated an excellent 21.1% pass-rush win rate in college.