There are so many different facets to offensive line play. Ideally, you'd want to draft a player who is elite in each of those different areas. That's often a pipe dream, though.
Penei Sewell — more on him later — is the exception among the 2021 NFL Draft offensive line prospects. We've decided to build the best offensive line, splitting them between top picks (for tackles, the cut-off is the first round) and later-round picks (for interior players, the cut-off is closer to the second round) and then splitting them between run-blocking and pass-blocking skills.
Duh. This is certainly not a knock on any of the other tackles who slated to go high in the draft, but Sewell is just a better prospect. The way he cancels out pass rushers and exposes their deficiencies is wild fun. He's a smooth athlete who made his mark at such a young age that you would assume there is still room to grow.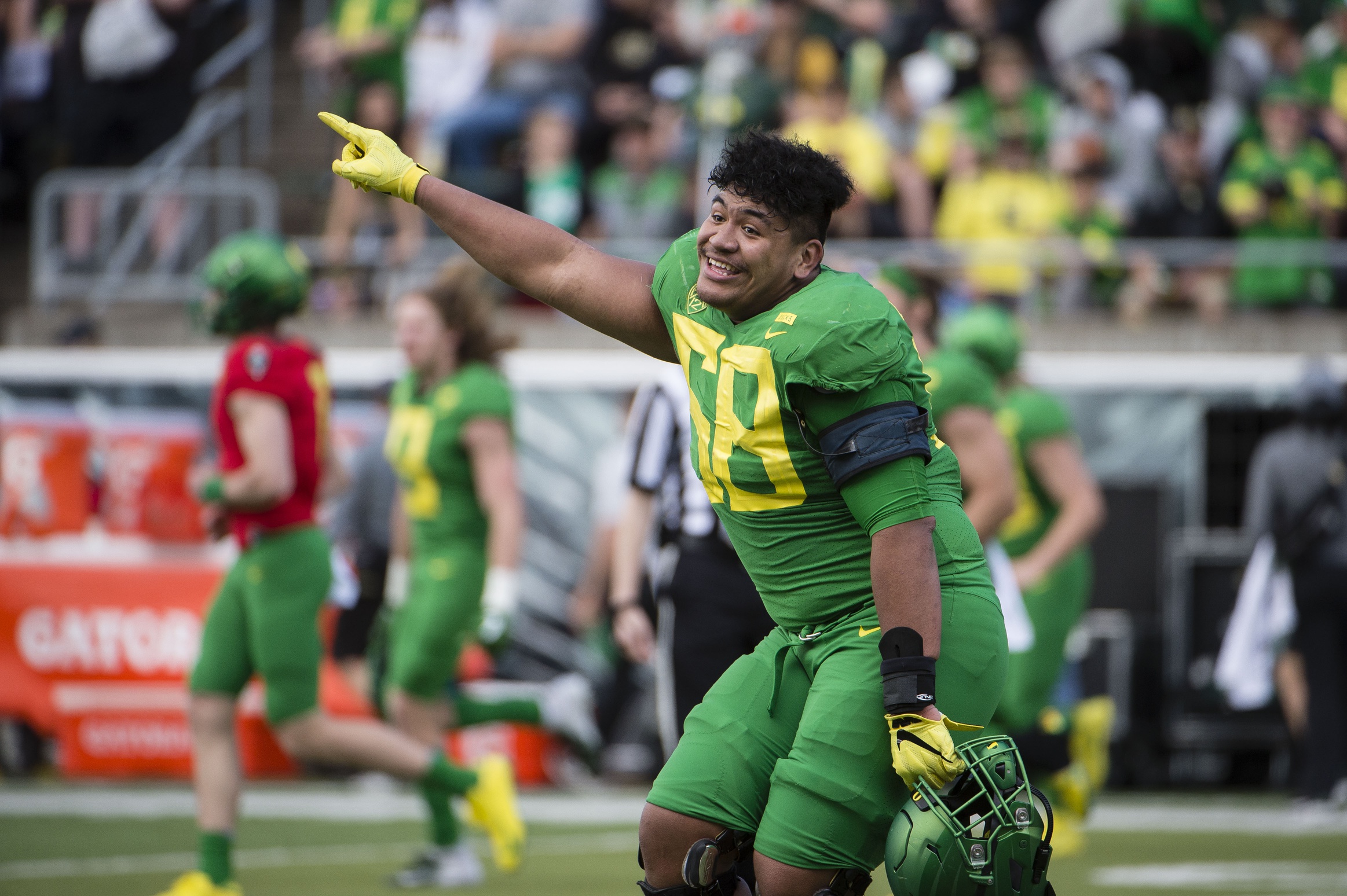 The complaint is always going to be the knock that he didn't play any top pass rushers because the Pac-12 forgot how to recruit edge defenders, but Sewell made everyone who went up against him look like a high school player. You can play against only the competition in front of you, and he made it look easy.
Even as a true freshman in 2018, Sewell produced a 78.7 pass-blocking grade. In his first college football game as an 18-year-old, he posted an 81.4 pass-blocking grade.
Later-Round Pass-Blocking Tackle: Sam Cosmi, Texas
Cosmi saw a lot of reps in his college career, 2,868 to be exact. And 1,529 of those came in pass protection. He also got better each season, seeing his pass blocking improve from 82.8 to 86.0 to 90.7. He was grading out very high even in his first season.
Cosmi is a situation where the production hasn't matched the perceived NFL traits. His individual pressure rate since 2019 is only 2.6%, giving up a paltry 25 pressures. But there are concerns that his technique isn't quite NFL-ready, especially in pass protection, and that's why when he does inevitably drop beyond the first round, he presents a lot of value.
This slot could go to either Darrisaw or Oklahoma State's Teven Jenkins. Both are maulers, and both should go in the first round. Now, the caveat with all of these run-blocking tackles is that they are great pass protectors, too. Not to mention, Penei Sewell would fit here, as well.
Darrisaw and Jenkins both push people around. The nice thing about Darrisaw is that he mauled people on different types of blocks, whether that was kicking out players on pulls or mashing frontside players on zone plays. The fun part about Darrisaw is his almost linear improvement year to year in regard to his run blocking and overall play.
His run blocking grade went from 64.0 in 2018 to 78.6 in 2019 to 93.4 in 2020. He got better every year and exploded this past season. There may still be more improvement to come, which should excite NFL teams.
Any of the BYU players who have seen their stock shoot up because of the team's magical 2020 run carry with them concerns about the level of competition.
Christensen wasn't always dominant against Power Five competition, but that was when he was younger and still growing. There are two parts to Christensen's career: before and after the 2019 Boise State game. From his first game in 2018 to the Week 8 game against the Broncos, Christensen earned a 70.0-plus run blocking in only four of 19 games. Including and after the Boise game, 16 of his final 19 college games graded above 90.0, including nine above 80.0.
Most of his success in the run game came on the backside of BYU's outside zone scheme, where he was able to use his quickness to reach and turn players to open up big cutback lanes for his running backs. It bodes well going forward with the NFL becoming an outside zone-heavy league. Big runs come on cutbacks, and your backside tackle is going to be key in creating those opportunities.
The 2021 guard class is not great, and we could be waiting a while to see the first player at the position come off the board. Wyatt Davis is likely that guy, although he didn't quite have the dominant 2020 season we expected.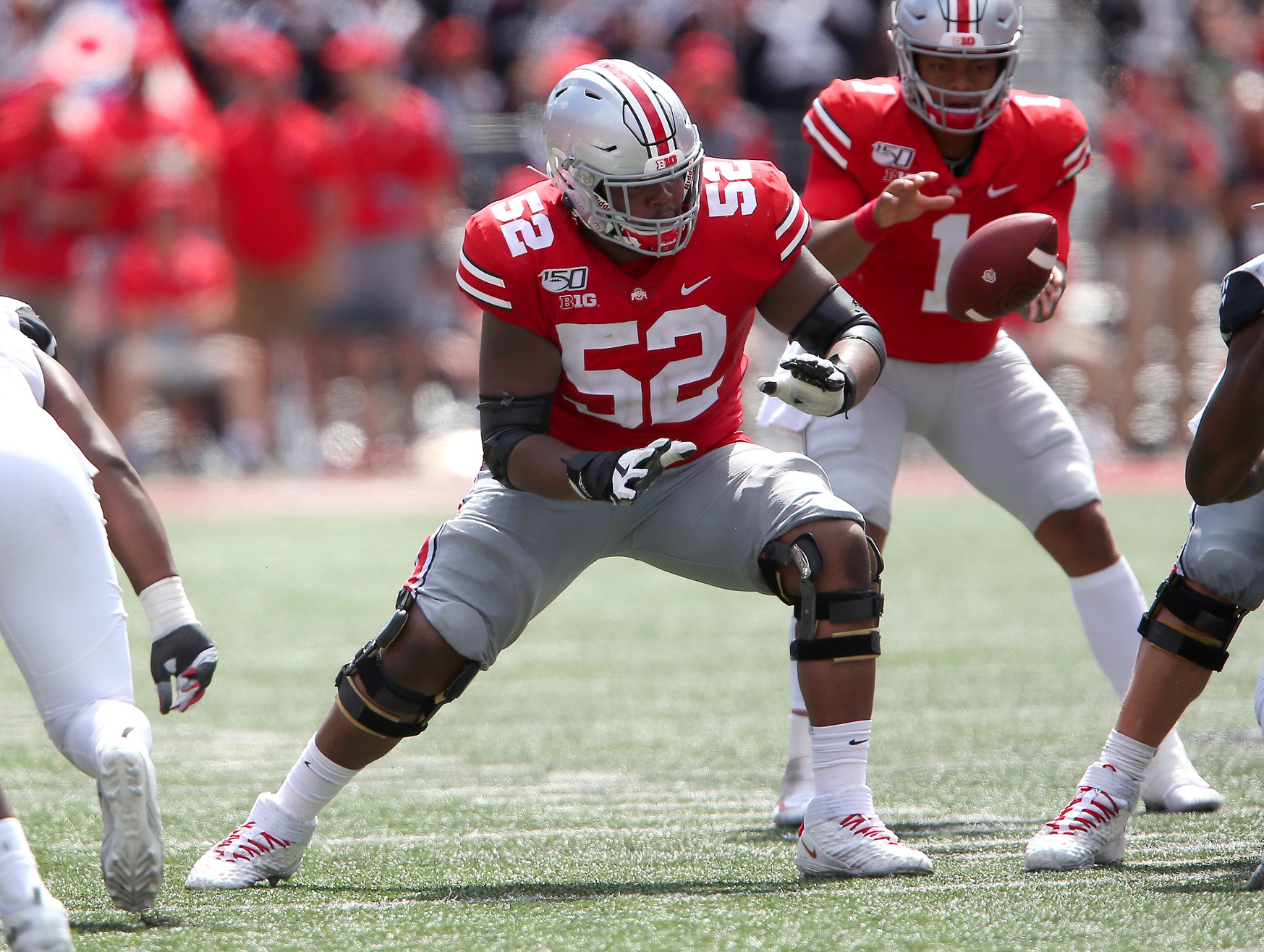 Still, he showed out in pass protection. It's hard to beat him one on one, and his production dipping a bit in 2020 might have had a lot to do with some schemed protection breakdowns from the entire Ohio State unit, especially in the Indiana game. He's a solid player and a really good athlete, which bodes well for his future. He gets top marks for both agility and balance.
Cleveland is huge but surprisingly nimble for his size. The NFL will figure out a good playing weight for him, and if that happens, he could be the steal of the draft.
Teams will attack him with defensive line stunts and force him to use his feet quickly to pass off attacking threats. They'll also try to use quicker linebackers on blitzes against his size, but he performed well in those situations at Georgia. He shows good hand usage, but he's not going to stick on players and grind them, instead choosing to use his technique in pass protection. Cleveland is a very interesting player later on in the draft.
Dickerson might be a first-round pick in a bygone era because he shows the mental makeup of an NFL player already. However, center is not the most valuable position. He could still end up as a second-round pick, and the team that drafts him is getting a versatile player who has started games all over the offensive line.
More importantly — and this may be an old-school approach to the position — every offensive line needs a nasty player inside. That's who Dickerson is. He played one game at left guard this past season, the only time he manned that spot in his college career, and casually earned an 81.6 grade. With his versatility, nastiness and smarts, he will be a steal anytime after the first round.
Guard Kendrick Green played a ton of snaps in his college career, including at center, so you're getting some versatility, too. He's an explosive player who graded out very high among guards last season as a run blocker. Again, the theme is progression, and Green got better each season, going from 60.6 to 83.3 to 88.5 last season in run-blocking grade. That tells you he's improved his technique each year, although it's still a work in progress.