It's almost here. After months of speculation, numerous mocks and the price to bet on Kyler Murray being taken number one rising from +300 to -1000 and back to -350, we're finally ready for the newest crop of college talent to make their way to the NFL. Below are some of my favorite props for the draft, with prices from Bovada, which were discussed on the PFF Forecast this week:
[Editor's Note: To view all of Pro Football Focus' advanced stats and grades for draft-eligible players, check out our 2019 NFL Draft Guide. All EDGE and ELITE subscribers already have access to the guide, and for those who don't, you can get your copy for as low as $9.99! All EDGE and ELITE subscribers also have access to all of our locked article content, including the piece below.]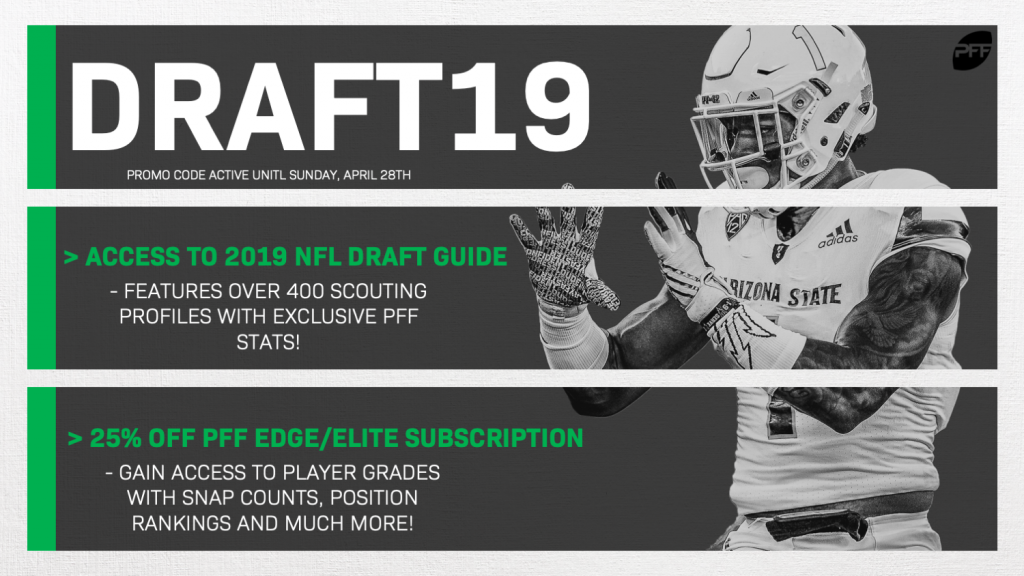 Josh Jacobs draft position UNDER 25.5 (+145)
If I'm being given more than even money to bet on an NFL team "getting back to establishing the run" this time of year, I'm doing it. Jacobs plays the league's most-replaceable position, but he's clearly the draft's best player at it, breaking a tackle once every 3.7 rushing attempts in 2018. The Raiders, having just lost Marshawn Lynch to retirement, pick at 24 and seem like an easy candidate to go running back there if the Tennessee Titans or Houston Texans don't take him at 19 or 23, respectively. I can also be talked into two teams that are usually pretty smart – the Baltimore Ravens (22) and the Philadelphia Eagles (25) – going with a running back here given the Ravens' change in philosophy last season and the relative need in the City of Brotherly Love after an offseason where Jordan Howard was the only acquisition at the position. Bet on the NFL being the NFL here.
Subscribe to PFF Edge to continue reading
Already have a subscription? Sign In