The 2021 NFL Draft is now only three days away, so there's no time like the present to continue our analysis of all things NFL draft.
We studied the NFL draft's one-year wonders last week, examining the past NFL draft prospects who came out of nowhere and played lights-out football in their final college season.
The following chart recaps our main result, which told us that these draft prospects still underperformed their draft position throughout the 2016-2018 drafts, even after exercising some caution around them.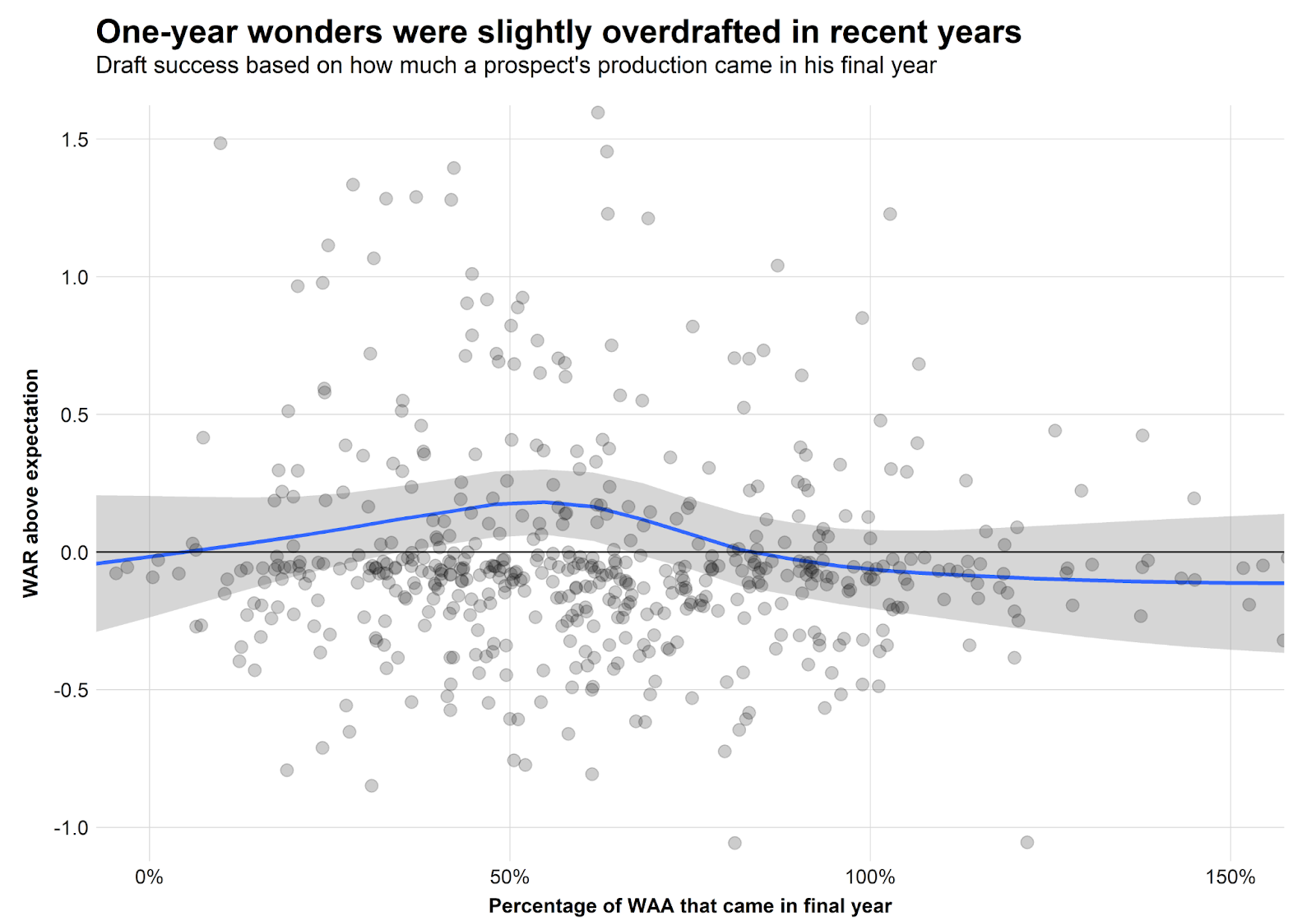 Draft prospects who generated most (or even all) of their value in college during their final year of play might be overrated due to recency bias and the fact that one season is not very large as a sample size.
However, when we closely look at the chart, we also find that prospects who generated very little of their total value in their final year didn't meet expectations as much as prospects in the "sweet spot" of generating 25% to 75% of their value in the final year.
This leads us to take a deeper look into the prospects who declined in their final year in college football.
There are anecdotes in either direction. As far as quarterbacks are concerned, there is Josh Allen and Jameis Winston, both of whom were at their best in their penultimate year in college.
Allen has reached the ceiling he showed only before his final college season, while Winston has mostly failed to recapture the success he enjoyed in Tallahassee in 2013. Interestingly, Winston's development has been almost flat, given that his production has been relatively similar in each year of his pro career. Could we have foreseen the lack of a steady development via the decline in the final college year?
When it comes to non-quarterbacks, some of you might remember that now-stud cornerback Jaire Alexander's best college season came in 2016, not 2017, but that hasn't stopped him from developing into a top-tier NFL cornerback. Of course, his lack of production in his final season was also caused by injuries, but that's what people also said about Harold Landry III, another prospect who declined in his final season. Landry has disappointed in the NFL so far, as he has yet to post a PFF pass-rush grade higher than 65.0.
View PFF's 2021 NFL Draft position rankings:
QB | RB | WR | TE | T | iOL | DI | EDGE | LB | CB | S